The Mitchells vs. the Machines | Available on Digital, Blu-ray & DVD 12/14 @SonyPictures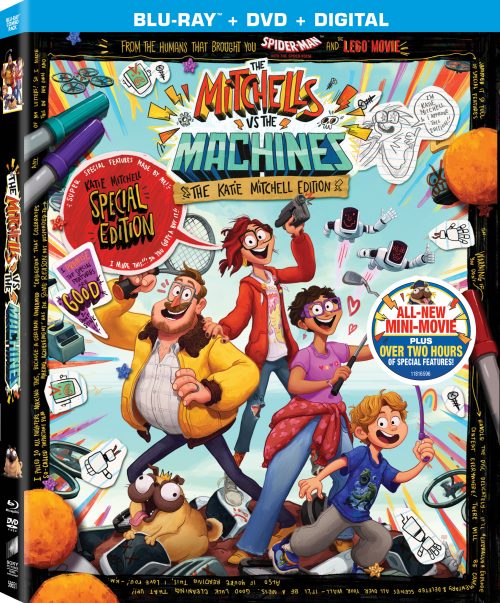 SYNOPSIS
An old school father and his plugged-in, filmmaker daughter struggle to relate as their family embarks on a road trip to her new college. Their drive is interrupted by a machine apocalypse that threatens to tear these unlikely heroes apart unless they can find a way to join forces and save humanity.
BLU-RAY, DVD AND DIGITAL BONUS MATERIALS
Katie's Cabinet of Forgotten Wonders: Take a rare look inside Katie Mitchell's filmmaking process as she gives you an exclusive look into how the movie was made.

Katie-Vision!
Dumb Robots Trailer
The Original "Mitchells" Story Pitch
The Furby Scene – How? Why?
PAL's World

The Mitchells Vs. The Machines: Or How a Group of Passionate Weirdos Made a Big Animated Movie: Go inside the story of The Mitchells vs the Machines and meet a group of first-time filmmakers & talented cast who banded together to take a collective risk on making a unique, original, and totally off-the-wall film about an everyday, epic, world-saving family!
How To Make Sock Puppets: Katie Mitchell opens the door to her film school. Learn how to make sock puppets who could be extras in your next short film!
How To Make Katie Face Cupcakes: Enjoy making cupcakes only a mother could love.
EXCLUSIVE BLU-RAY BONUS MATERIALS
Dog Cop 7: The Final Chapter: Katie Mitchell is back and creating the most hilarious film of her young career – check out an all-new mini-movie, Dog Cop 7: The Final Chapter. In a world where the holidays are being haunted by the Candy Cane Kidnapper, there is only one Dog with the skills to solve the case.
Katie's Extended Cinematic Bonanza Cut! Prepare to witness Katie's director's cut, an extended version of the original film with over 40 minutes of deleted scenes.
8 Bonus Scenes: Get more Mitchells with over 20 minutes of Deleted & Extended Scenes.
Filmmakers' commentary
CAST AND CREW
Directed By: Mike Rianda
Co-Director: Jeff Rowe
Written By: Mike Rianda and Jeff Rowe
Producers: Phil Lord, Christopher Miller, Kurt Albrecht
Executive Producers: Will Allegra, Louis Koo Tin Lok
Cast: Danny McBride, Abbi Jacobson, Maya Rudolph, Mike Rianda, Eric Andre and Olivia Colman
SPECS
Runtime: 109 minutes
U.S. Rating: PG for action and some language
Blu-ray: Feature: 1080p High Definition 1.85:1 | Audio: 5.1 DTS-HD MA
DVD: Feature: 1.85:1 Anamorphic Widescreen | Audio: English 5.1 Dolby Digital
FOR MORE INFORMATION
SONY PICTURES HOME ENTERTAINMENT:
Facebook: Facebook.com/sonypictureshomeentertainment
Instagram: @SonyPicturesHomeEntertainment
Twitter:  @SonyPicsHomeEnt  
YouTube: Youtube.com/user/sonypictures
SONY ANIMATION:
Facebook:  Facebook.com/SonyPicturesAnimation
Instagram: @SonyAnimation
Twitter: @SonyAnimation
TikTok: @SonyPicturesAnimation
YouTube: youtube.com/user/SonyAnimation
ABOUT SONY PICTURES HOME ENTERTAINMENT
Sony Pictures Entertainment (SPE) is a subsidiary of Tokyo-based Sony Group Corporation. SPE's global operations encompass motion picture production, acquisition, and distribution; television production, acquisition, and distribution; television networks; digital content creation and distribution; operation of studio facilities; and development of new entertainment products, services and technologies. Sony Pictures Television operates dozens of wholly-owned or joint-venture production companies around the world. SPE's Motion Picture Group production organizations include Columbia Pictures, Screen Gems, TriStar Pictures, 3000 Pictures, Sony Pictures Animation, Stage 6 Films, AFFIRM Films, Sony Pictures International Productions, and Sony Pictures Classics. For additional information, visit http://www.sonypictures.com/corp/divisions.html