Stay Safer with Zackeez Turn Signal Gloves
Disclosure: I was not compensated for this post, however, I did receive a product from the company below. The opinions expressed in this post are 100% my own. I am disclosing this in accordance with the FTC guidelines.
Stay Safer with Zackeez Turn Signal Gloves
There are more bikes on our roadways now, than ever. Both adults and kids are heading back to school, and many health conscious people are riding their bikes to and from work each day…often before the sun comes up, or after the sun goes down. One of my sons-in-law has a long commute.  He drives his car to the commuter trains, then rides the train to the closest station to his office and then he hops on to his bike for the last leg of his journey each morning.  He does this all in reverse at the end of the day. I worry about his safety riding in heavy downtown traffic.
Bike safety is of the utmost importance and Zackees has come up with a great product to keep all those on two wheels, safer than ever!
Experience Zackees™ Turn Signal Gloves™ with semi-pro cyclist Charles Hobbs as he commutes around the chaotic streets of San Francisco, while signaling his turning intentions to other vehicles on the road.

We spent months making the perfect activation switch between the thumb and index finger. We found that our patent pending custom metal rivets are by far the most natural to use. You'll feel the solid metal click as the glove activates.

Signal behind you just like any other vehicle on the road. Simply extend your arm out in the direction of your turn and then naturally activate the light panel.
With the introduction of the Zackeez "Turn Signal" Gloves, you can stay safe while using your cellphone. These gloves allow you to use your phone's touchscreen without exposing your fingers to the elements.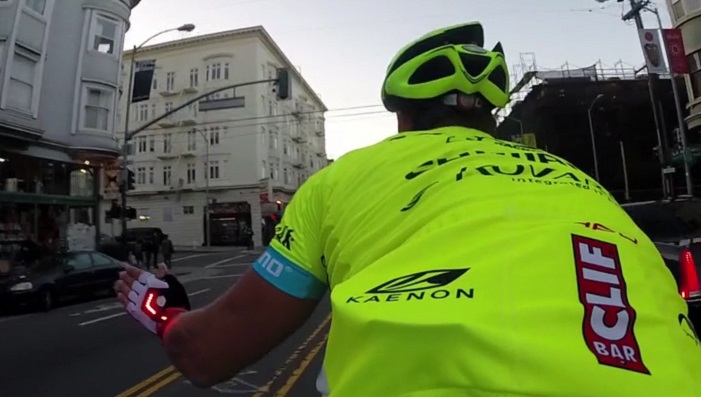 Isn't this fantastic! 
The gloves come in 4 different sizes and 2 different color combinations.  They are machine washable (cold water – remove batteries before laundering). Simply hang to dry.  Batteries (coincell) will stay charged for up to three weeks and when they need re-charging, just plug them in!  Each pair of gloves comes with 2 sets of batteries, so you are always covered!. Zackees are made with not only safety in mind,  but also with comfort details.
Comfortable leather palms, an absorbent towel around the thumb, retro-reflective trim and breathable spandex throughout.

Premium efficiency, 54 lumen LED's
Ambient Light Sensors to increase brightness 4x during the day and extend battery life 4x during the night
Genuine reinforced leather palms, comfortable Lycra Spandex
Two pairs of rechargeable coincell batteries and charger
Sleek, streamlined design – wearable, durable, and machine washable
Manufacturer's Risk-Free One Year Warranty
Keep yourself and those you love, as safe as possible whenever riding, for fun or necessity… with Zackees Turn Signal Gloves.
Connect with Zackees: Shop / Facebook