Satechi LightMate Emergency LED Flash Light with Backup Battery, don't leave home without it!!

When I say that technology is awesome, I really mean it! Satechi recently sent the Satechi  latest LightMate emergency LED flash light and its awesome! If you've ever needeed a compact flash light on hand this is the one to invest in.
The Satechi LED flashlight, backup battery and window breaker, LightMate is ready to assist you in any emergency.
Let me tell you more about the LightMate: it's a multi purposed LED flashlight designed to offer you multiple practical tools for some emergencies.  The LED flash light is easy to assemble and has a very nice design with 5 different features. We have the LED lighting modes,  3 brightness levels, strobe and SOS for different purposes, there is also an integrated window breaker with alloy steel tip , the integrated window breaker will be great to have on hand for those emergency when you may need to break a car window to escape in a bad situation.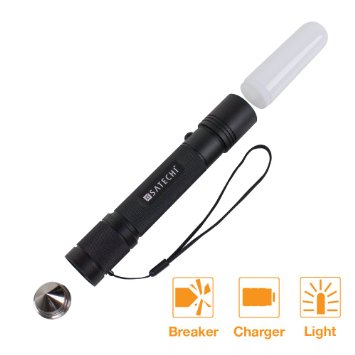 Not only does this awesome emergency flashlight have a breaker , lights it also has an emergency  rechargeable battery double as a backup battery to charge your mobile devices built-in USB port. The LightMate is waterproof, able to withstand heavy rain, being submerged in bodies of water, and accidental spills. The aluminum / steel alloy flashlight body can withstand the weight of an average car.
Having the Satechi LightMate will be a lifesaver ! Do you know that the LightMate is also capable of charging mobile devices? You can use this flashlight for any occasion like, camping, fishing, blackouts, personal emergencies and more. It's the "Best Emergency Tool" I've seen in a long time.
If you're wondering what the LightMate emergency LED flash light is priced at, its $29.99 USD. If you're interested, visit Satechi official site for more details.
You can always connect with Satechi via Facebook & Twitter to keep up with the latest products.
Disclosure: Howdy everyone, I just wanted to inform you that I was compensated for this post. However, all opinions expressed in this post are 100% my own. I am disclosing this in accordance with the FTC guidelines. All prize fulfillment will be provided by Sponsors.