A Pro Skiing Experience on the Alps with Children
Photo by Emma Paillex on Unsplash
Now that you're a parent, you have to rethink how you do nearly everything, that also includes travelling with family. If your ideal vacation is heading to the Alps for some pro skiing time, then that means you have to rethink your ski adventures as well.
Despite the fact that the Alps are a great holiday destination for families, whether in summer or winter, the idea of bringing your kids with you on your next skiing trip may seem daunting. There are so many additional factors you'll have to consider, like childcare, ski school and of course safety.
But once you figure out how to navigate the difficulties presented by a family ski trip, you'll realize just how rewarding it can be. What was once a solo experience becomes a joyful vacation that will help you bond as a family and will be remembered fondly by all.
In order to have a fun and safe experience skiing with your children, you'll need to consider a few things before you head out. Mainly, you'll want to choose the right resort for you and your family, with all of the amenities that you will need for a successful ski trip. So, stay tuned and learn about the best ski holidays in the Alps with children.
La Plagne, France
There are many ski experts, including skifamille.co.uk, who consider La Plagne to be one of the best ski resorts in the Alps for families. That's because it is brimming with stunning views, sumptuously comfortable chalets, plenty of childcare options, including in-chalet, and ski options for every skill level.
In fact, the Ski and Snowboard Guide said of La Plagne in 2016, "La Plagne is an Intermediate's Paradise." In fact, its slope difficulty breakdown is:
Green: 8%
Blue: 51%
Red: 26%
Back: 15%
The town is also home to a number of charming shops, restaurants and bars, and plenty of activities to keep the whole family entertained after a long day of skiing.
Photo by Patrick Robert Doyle on Unsplash
Méribel, France
If you aren't only a ski addict, but also an animal lover, you and your family should definitely visit Méribel. That's because it is home of the Animal Trail Piste, where your animal-loving kids can learn all about the animals they may encounter in the mountains. There are lessons on identifying the tracks each animal makes and how to recognise   each animal's call as well.
What's more, Méribel is a lovely resort in the alps and features a traditional village ambience. While there, you'll have more than 150 km of pistes to check out just in Méribel, and 650 km including the linked ski areas of Courchevel, La Tania and Val Thorens.
While there, you'll enjoy small village charm during the day, and exciting night life at night if you bring a sitter for the kids. The accommodation includes chic chalets and self-catering apartments.
Avioraz, France
Avioraz is definitely one of the best places to bring your family for a ski vacation. In fact, this resort has received awards from the World Snow Awards for meeting the needs of families. They also have "The Children's Village", which has been open since 1975 and includes a ski school that will get them to love skiing as much as you do.
Avioraz also provides you with a built-in contingency plan in case your kids decide they are done with skiing. For that, they have a ski resort waterpark that includes a climbing wall, rope swings and a stainless steel halfpipe.
Oh and just to add to the whimsy of Avioraz, there are no cars allowed in town, so you'll get from place to place in a horse-drawn sleigh.
Orcières France
If you want to have an awesome ski trip but also immerse yourself in some authentic French culture, head to Orcières. Orcières Marlette is located in the Arrondissement of Gap. This resort offers high altitude skiing and a wide variety of slopes for the both the pros and novices in your family.
This little-known resort will take you off of the beaten path, and you'll get to explore an old Provençal village while you're at it. It's also affordable and designed with families in mind. If your family tires of skiing, there is also husky dog sledding, toboggan tracks and the opportunity to sleep in an igloo village.
The daredevils among you will love the 1,800-meter zip wire, the longest in the alps!
Zermatt, Switzerland
If you and your children are experts and don't need services that cater to every skill level, then Zermatt is the ski resort for you. It is Switzerland's most well-known resort, offering everything you could want in a ski vacation: Stunning views, the Matterhorn and narrow, charming streets with quirky chalets.
During the first days of your trip, if you want your kids to warm up before heading to the truly pro stuff, there are plenty of advanced intermediate options, as many of the black runs are really more red.
But after that, you'll definitely want to go off-piste, especially if there's fresh snow. When going off-piste, it is recommended to hire a guide to help with safety and navigation. Before kids, you never would have considered such precautions, but things are different now and you've got more than your own safety and wellbeing to worry about!
Other Considerations
So, as you can see, you've got plenty of great options when it comes to choosing the resort for your pro family ski adventure in the Alps. There are some other things you'll want to keep in mind as well, however:
Make sure to opt for accommodations with ski-in/ski-out services. At the end of a long day, you will not want to have to herd tired kids while carrying extra skis and poles long distances.
You may be a pro, but chances are, that your kids aren't yet. It's ok for you to give them some pointers, but in the interest of everyone involved, it would be better to enroll them in ski school for a few hours a day.
Borrow your gear for your kids, especially if you're just getting your kids started. As much as you may wish that they become the next Lindsey Vonn or Bode Miller, you never know how the dice will role. Only start buying ski gear for your kids once you are certain they love it.
If you are driving to the Alps, make stops along the way so the road trip doesn't result in quarrels even before hitting the slopes.
Be open to spending some days off of the slopes. If you want your family to love skiing as much as you do, it's important to not make it feel like a chore. After some time spent touring the village and taking in some culture, your kids will be begging you to take them back out to ski.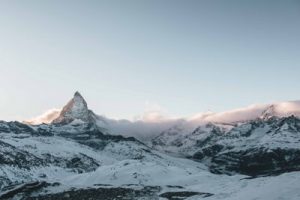 Just because you are a family person now, doesn't mean you have to give up the things you love. And that means activities like skiing too. And whether your kids are just starting out, or if they are already pros, there are plenty of ski resorts that offer something for every level of skier and every family's needs. So have a look at the ski resorts mentioned above and keep some useful tips in mind during your trip, and you'll have started a yearly family tradition.