Party With Vaya and Always Have a Drynk! @VayaLife
I know what you're thinking, and no I didn't spell drink wrong. The creators of Tyffyn took their creative-freedom to name their tumbler an everyday word no one can forget. Drynk! Drynk is a stainless steel tumbler that comes with a gulper and slipper lip.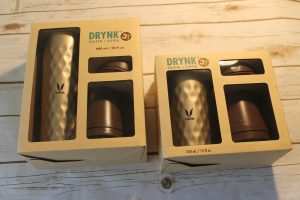 The items are both dishwasher-safe, or feel free to wash the product with a damp cloth and warm, mild detergent if needed. The Drynk tumbler comes in two sizes and multiple hues. The smallest size drinking bottle holds up to 350 ml (12 fl oz ) while the larger size will hold 600ml (20 fl oz). Both sizes are available in black, gold, graphite, green, purple, shiny black, and white.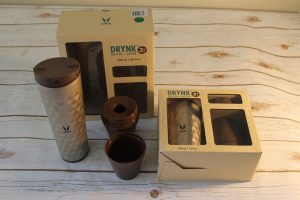 The complementary lids are designed to stay clean with their hygienic, covered spout area. The lids have a magnetic latch that holds down the cover with ease. Not in the mood to sip your coffee? You need the caffeine right now in order to finish this paper? Then worry no more: use the gulper lid! With this lid you can carry along two securely fixed cups on top of your Drynk if you care to share, or if you wish to drink from a serving size cup.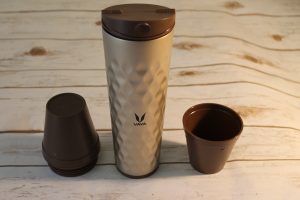 Oh and don't worry about keeping your drinks a comfortable temperature. The tumbler insulation can keep your liquids hot for up to 12hr hot and up to 8hr cold. The Vaya's Drynk is a wonder little device that we all could use in our busy lives. The anti-slip coaster base, slim stainless steel body could be carried and placed anywhere and for anything. Not only is the Drynk FDA approved, BPA-free, non-toxic, and eco-friendly, but it's easy to hold and clean.
Therefore I don't see why you wouldn't want to acquire this for a busy mom, athlete, hard-working aunt, or yourself. I believe a little reminder gift such as a tumbler can say, "I was thinking about you," and brighten up someone's day. One drink at a time.