Nordgreen Allows You to Give the Gift that is Timeless
Disclosure:  I received one of Nordgreen's watches in order to facilitate my review.  All opinions are my own.
Nowadays people do not wear watches like they once did.  But with a classic Nordgreen's watch, you will want to wear it every chance you get.  There are so many different styles to choose from. If you are anything like me it will take you a little time to make sure you get the one that is perfect for you.  (no pun intended honestly)
About Nordgreen
Being watch-lovers Nordgreen believes that all watches should have the best design and be of the highest quality.  They believe in companies that put others first as well as being sustainable and honest.  Before they started their watch company they were looking for an affordable watch company.   But they found that they couldn't find one, they made sure to include these characteristics in their own company.  This is how Nordgreen came about.
As two life-long friends, Pascar and Vasilij were already watch enthusiasts.  They are born-and-bred Danes who are on a mission to produce and deliver actual Scandinavian design and lifestyle to everyone.  You will see this as you look at their watches on their website.
You can read more about their story here on their website.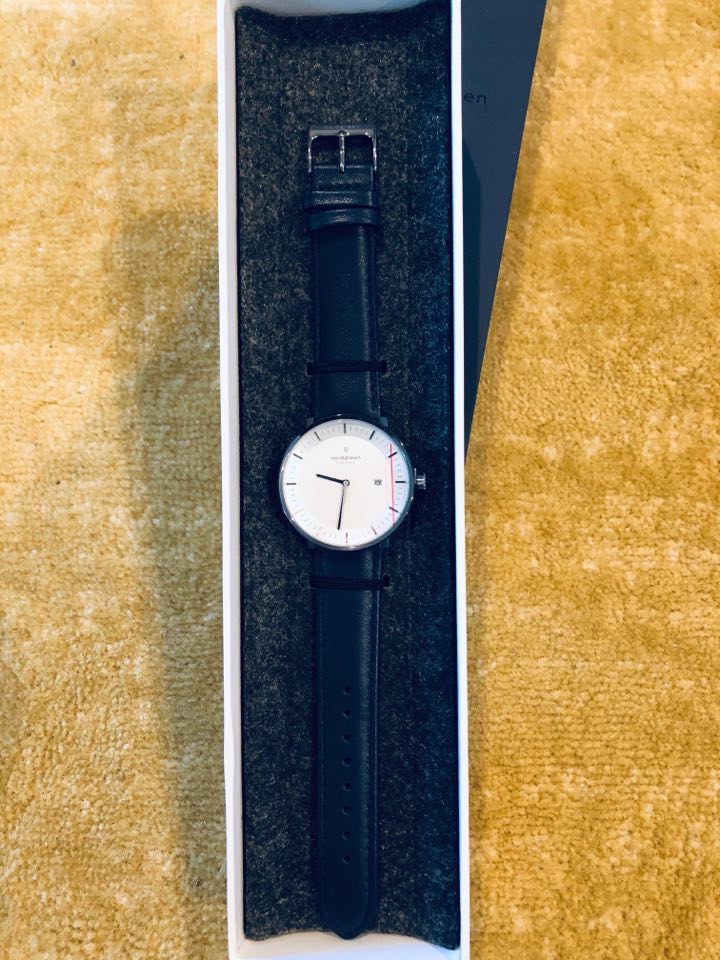 While I was picking out my watch it was so hard to choose as Nordgreen's has so many beautiful watches to choose from on their website.  There is just something about this watch that screams to me elegant yet can be casual.  You can be dressed up and wear it, or in jeans and a t-shirt and it still works.
The case of the watch is made from stainless steel. The case comes in four color choices (silver, rose gold, gunmetal, and gold.). I chose gunmetal as I thought it looked nice with the navy strap. Its movement is Japanese Quartz and the strap is made of leather. It does also allow interchangeable straps and is water-resistant up to 3ATM (Rain resistant).
What Nordgreen's Offers on their Website
Nordgreen offers watches for men and women on their website.  They have different sections like the one that I got came from the Philosopher collection.  They also have a line they call Native as well as a new line called Pioneer.  You will want to look at each line as they are absolutely beautiful.    The women's watches also have different lines like the men's line which you can view here.
Here's one I like it's called the Native – BUNDLE White Dial Rose Gold | Brown Leather / Black Leather / Rose Gold Mesh Strap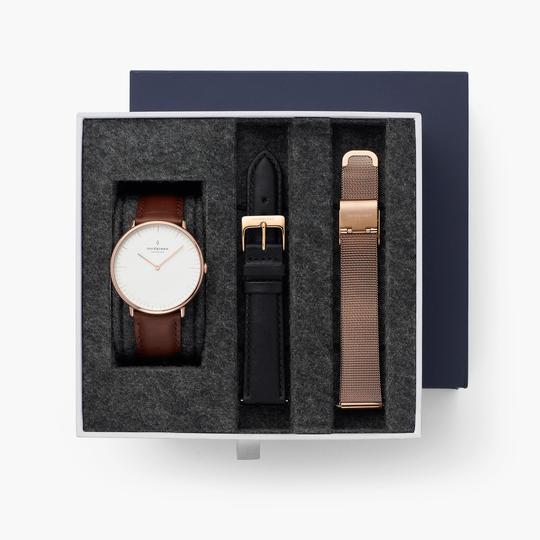 I like this bundle because it has the interchangeable straps that will allow you to change your strap to match any outfit or when you want a more elegant style  you can use the rose gold mesh strap band. There are some beautiful watches on the Nordgreen site and the ordering process is very easy.
So, if you are looking for a new watch that is made of good quality material, comfortable to wear, can be worn with any outfit, Nordgreen has you covered!
You can connect with them via social media: Website  | Facebook | Instagram |
Disclosure:  I received one of Nordgreen's watches in order to facilitate my review.  All opinions are my own.