NewAir Beer Fridge on the Rocks Bundle, it's the perfect Holiday Gift!
Disclosure: I was not compensated for this post. However, I did receive a product from the company and the opinions expressed in this post are 100% my own. I am disclosing this in accordance with the FTC guidelines.
WOW, if you're not sure what to buy your loved one this year, NewAir has an excellent bundle gift called: Beer Fridge on the Rocks Bundle.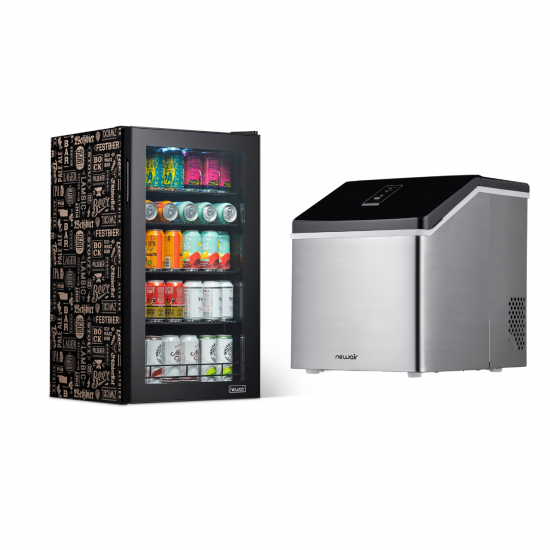 With our refrigerator already crowded with lots of food, kid drinks, and fruit, there seems never to be enough room for all the drinks between the kids and the adult's drinks. Don't let us host a Holiday party at our home; with everything that needs to be kept cold, the space is minimal.
Every holiday, we face this enormous problem, especially when my husband wants a cold beer from the fridge!
Now, he'll never have to worry about not having a cold beer, wine cooler, tea, coke, Crown royal drinks, and more right on hand.
The NewAir beverage beer fridge can now store all the beers/drinks he wishes because he will have his own fridge next to him in his man-cave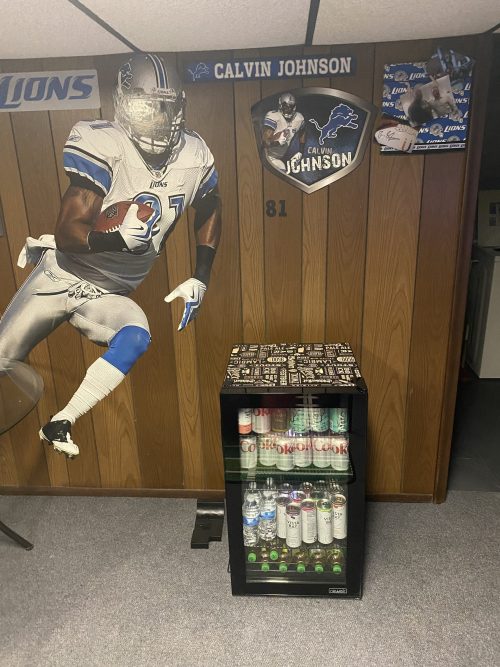 When I tell you this is the ideal fridge for any bar area, man cave, or garage, trust me, it is! It's fitting for any small apartment, under the counter, tucked in the corner of a room, or any small space in your home.
The NewAir  custom-designed "Beers of the World"  Beer Fridge has many key features you will love to keep your beer cold and fresh. This sleek stainless steel glass door fridge with chrome racks will accent any area of your home, especially with its sharp black exterior and all-over printed filled with graphics reminiscent of hand-printed beer signs and vintage bar art.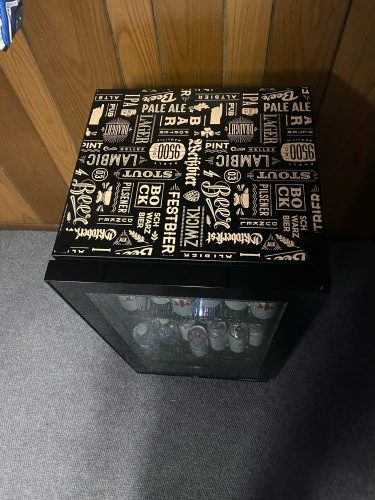 It can hold up to 126 Can Capacity, has adjustable shelves that will allow you to create customized storage for different sized cans and bottles, and the roomy design stores over 20 full six-packs to keep you fully stocked.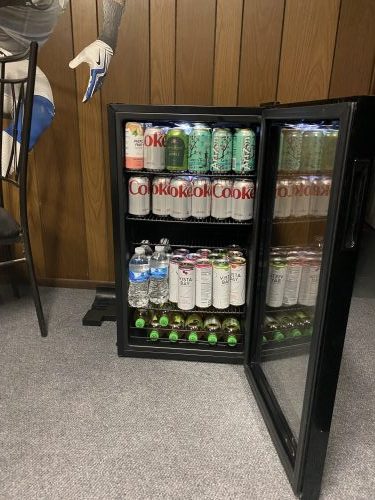 Every can will be cold and refreshing because of the fridge 34F cooling system that can even cool down to 32 degrees. The beer fridge has a 3.6 cubic foot interior, adjustable shelving to help maximize space, seven custom settings, durable stainless steel doors, and LED lighting that adds a stylish finishing touch to the unit's unique design. You can find this superb stainless steel NewAir beer fridge here

When I tell you this is the best Christmas gift to give to your loved one, trust me, it is! This Newair Countertop Clear Ice Maker is AWESOME! One thing for sure you can place this excellent ice maker right on your countertop and still have space.
The NewAir ice maker is straightforward to use and makes CLEAR ICE within 20 minutes. The cool thing about this ice maker is it makes clear ice cubes when water cascades over a super-cooled ice tray to freeze ice layer by layer, leaving no room for gas or other impurities.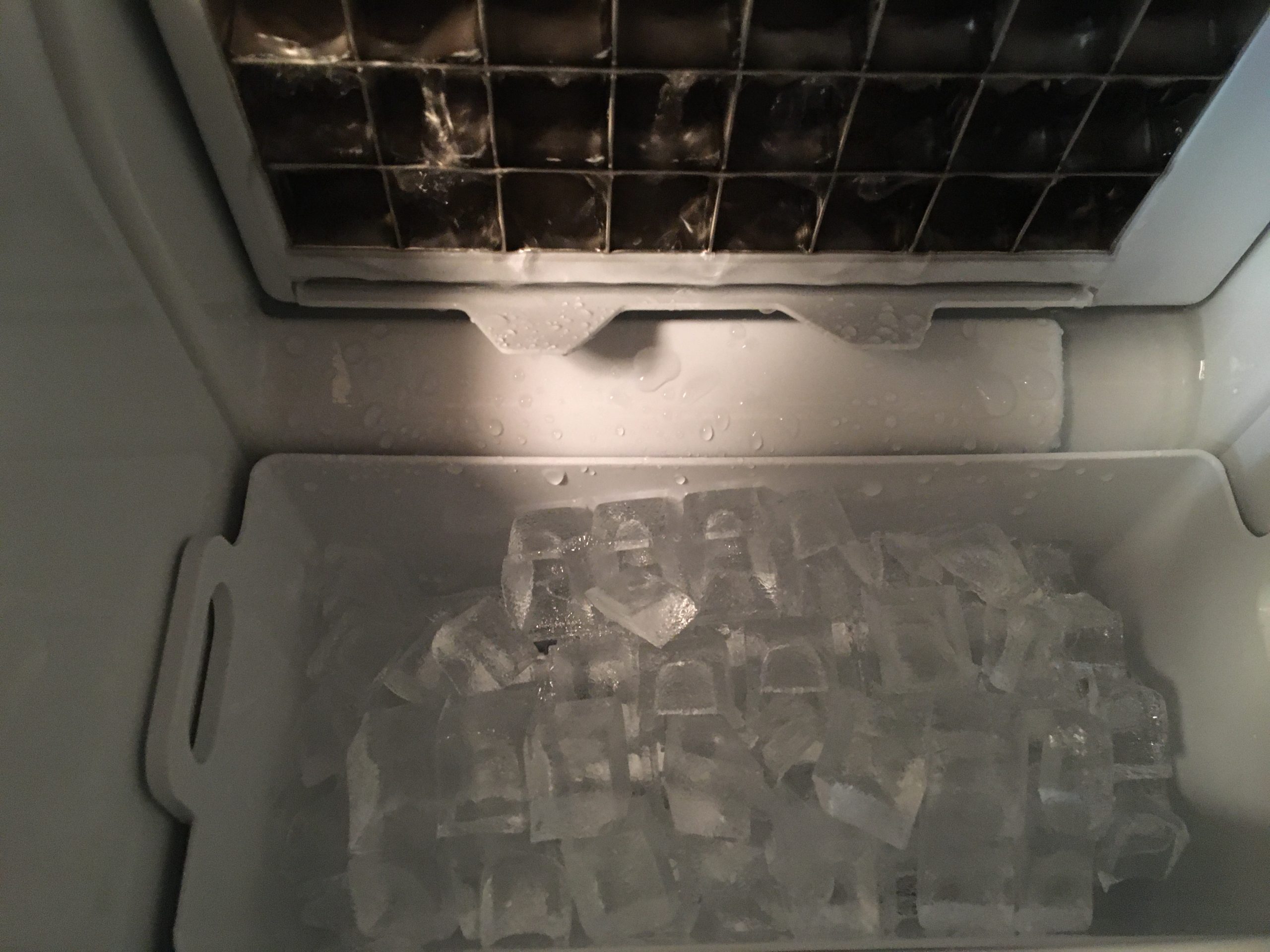 The NewAir ice maker can create up to 40lbs of ice with just the touch of a button located on the top.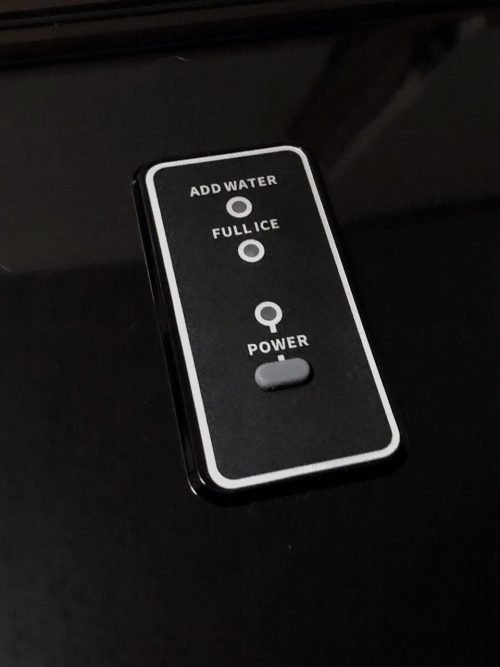 Now, getting your ice maker started is easy First, make sure to wash your ice maker & scooper inside out and the bucket with lukewarm water. Next, pour less than a gallon of water into the reservoir area on the ice maker, wait to make sure all water measures correctly. No worry, there is a line indicator to show you how much water to pour. Hold the button for 5 seconds to power on and start your ice maker. You will see the green light shine, indicating the ice maker is in process.
Before long, your ice maker will begin to make clear ice: I opened my ice maker and dumbed out a lot of ice so the basket wouldn't be too full. I even made a glass of ice so you could see how clear the
NewAir ice maker
is.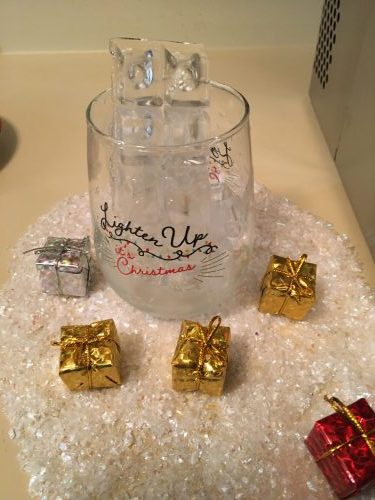 Keep in mind that the machine will shut off if the ice budget is full, so there won't be an overflow of ice. Once you remove and store some of your ice, the machine will finish making your clear ice. After it was all done, I had plenty of clear ice. Just look at the difference in the ice created from my fridge and the ice maker.
This portable clear ice maker features a super-simple two-button interface that lets you get down to the business of making and enjoying your favorite drinks. The Clear indicator lights let you know when ice is ready and when to add water without any guesswork.
Very easy to clean and store. This ETL-certified ice maker comes with parts that are both easy to clean and BPA-free. Finished making ice? Simply remove the filters and rubber drain plug and wipe the interior with a sponge or rag. BPA-free parts mean clean, great-tasting ice that is safe to enjoy as often as you like.
I can genuinely say you are definitely getting a better quality of ice; it melts more slowly, so you don't water down high-quality drinks. Clear ice cubes generate less fizz, so you never end up with a half-filled glass of soda or seltzer, and most of all….it offers a better taste than normal refrigerator ice cubes.
So, you see, there is no way you should pass this NewAir  Beer Fridge on the Rocks Bundle up: it will make an excellent gift for you and your loved ones. This set offers so much, and yes, it will even add style to your home decor!
You can visit NewAir online here, and don't forget to connect with them via social media: Facebook| Twitter| Instagram| and Pinterest to keep up with the latest about all products.

Disclosure: I was not compensated for this post. However, I did receive a product from the company and the opinions expressed in this post are 100% my own. I am disclosing this in accordance with the FTC guidelines.
Disclosure: Some of the links in this post are 'affiliate links.' This means if you click on the link and purchase the item, I will receive an affiliate commission.