Holiday Gift Guide 2021: A Little Something for Everyone
Disclosure: Night Helper Blog did receive sample products from the companies to showcase in our Holiday Gift Guide. We're disclosing this in accordance with the FTC guidelines.
Welcome to our annual Holiday Gift Guide! Below you will see Health Wellness, and Beauty gifts listed for him and he along with each brand's website so you can visit and see all their unique products.
Holiday Gift Guide 2021: For The Family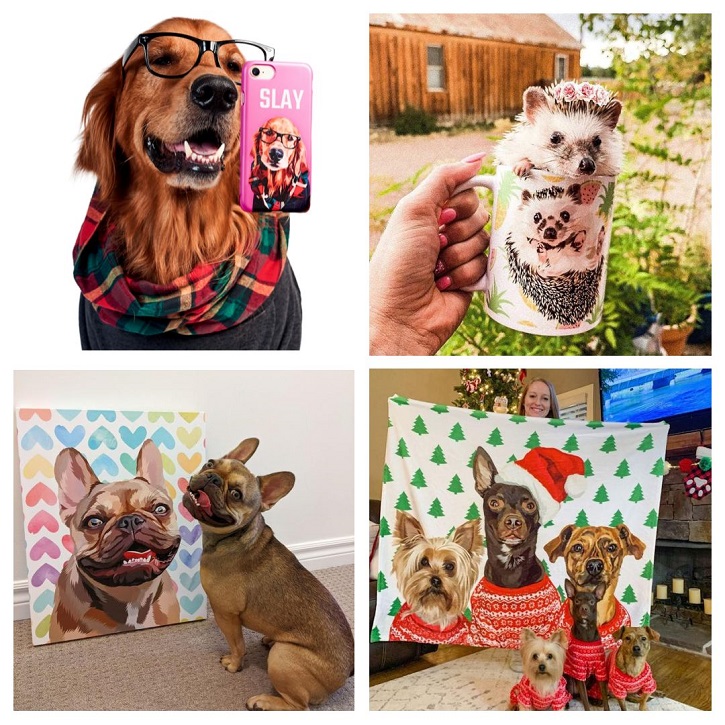 "Our Creativity Begins With You
PetCanva understands the passionate bond you share with your pet. Like you, we love our pets more than we love most people. (Who else would wag when we belt out the theme song from "Titanic"?)
We love our community of pet parents who share the quirky, joyful, goofy stories about their pets.
From doggos to kitties, ferrets to chinchillas, and every lovable critter in-between; we love how you love your pets."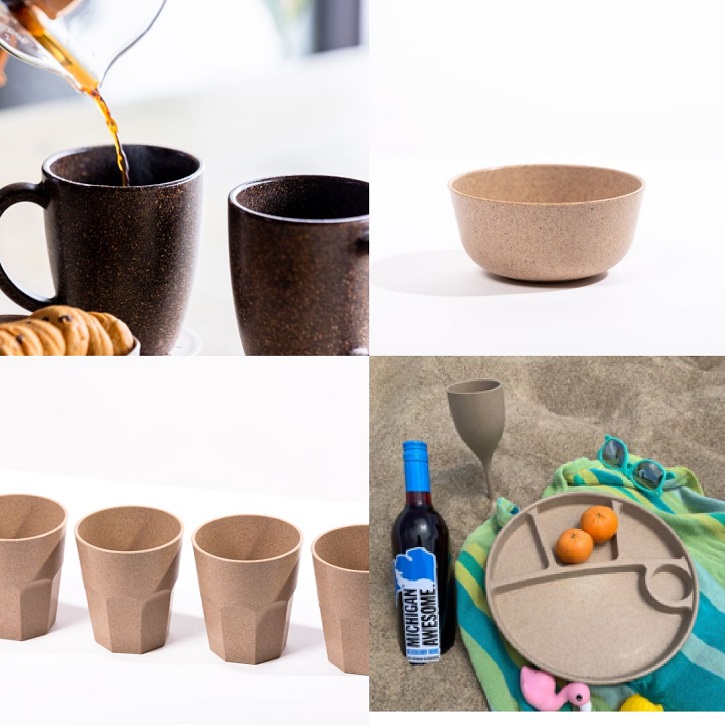 Plastics are EVERYWHERE – Take a look around you! Plastic gives us an amazing amount of flexibility to live our lives, but they stick around for far too long.
Only about 9% of plastic ever gets recycled and the rest end up in landfills or the oceans. That's why Loopy exists – To help solve our plastics crisis, one step at a time.
At Loopy, our goals are to:
-Find sustainable solutions for single use + hard or impossible to recycle products
-Educate people about plastics and the plastics crisis
-Upcycle crop waste, preventing crop burning, landfilling and air pollution
For us, sustainability isn't a buzzword. It's our entire reason for existing.
As material science experts, we know and understand materials and use only the best, industry-leading, high-quality materials to make our products.
These materials and products are designed to last or designed to compost, depending on the product, prioritizing an eco-friendly, greener, sustainable future.
Upcycling plant waste from farming directly contributes to positive environmental changes. This agricultural waste would otherwise be burnt, creating more pollution. Or, sent to landfill.
Products designed with less plastic are a sustainable win, plus many biomaterials produce better + stronger products, which allows us to design lighter parts with up to 20-30% less weight and 50-100% less plastic than they'd traditionally have.
According to CleanTech Group, up to 85% of plastic-based products can now be made with biomaterials. Let's work together and lead that change!
At Loopy Products, sustainability is not a buzz word or a cause to support – It is our entire reason for existing. We create high value, quality products with less of an environmental impact.
Sustainable brand creating eco-friendly products for hard or impossible to recycle items. Huge fans of finding new, kick ass ways to use plant waste."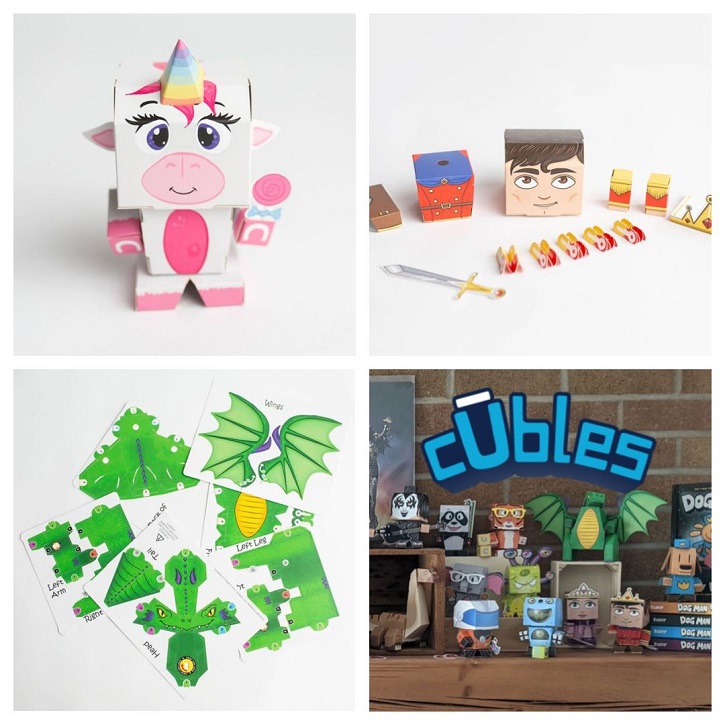 "Do you want to join the Cubles craze??
Build Your Own 3D Paperboard Figures and Toys
Create your own 3D Cuble, no scissors or glue needed! Sturdy CubleStock and moveable parts make it fun for everyone!
Cubles are a unique mashup between origami, puzzle, toy, and craft, that promotes STEM principles. So kids are learning while creating playable and collectible characters. The best part is they have their own series of original IP characters as well as super cool licensed brands such as G.I. Joe, My Little Pony, Dogman, KiSS and more! To top it off, CUBLES are 100% recyclable, are a Restoration Partner with One Tree Planted, and are made-in-the-USA!
Not only is the product a great hands-on learning experience that opens the mind to dimensional play, but parents will also love that no glue or scissors are required. Kids of all ages will willingly want to be away from their screens to turn Cubles into something that starts flat and becomes a 3D creative experience which leads to a strong "Hey, I did that!" factor."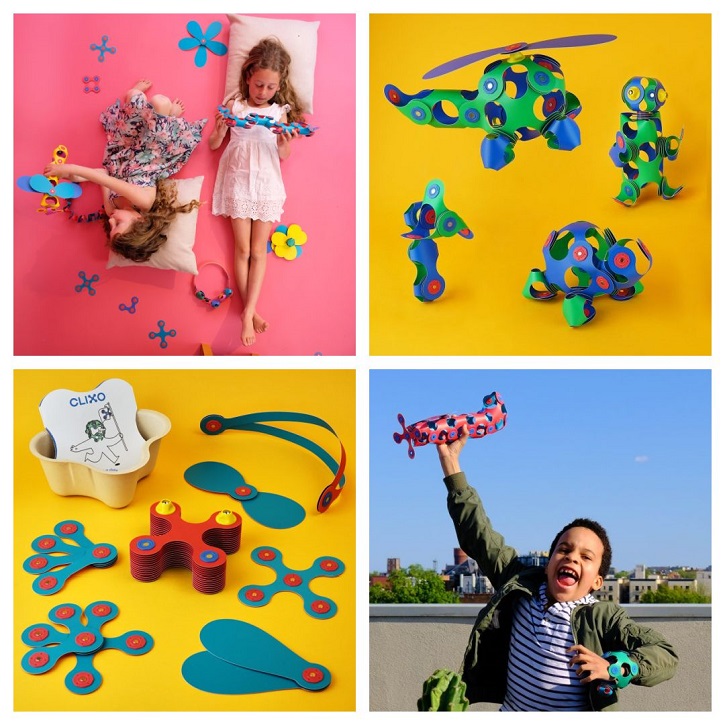 "A magnetic building toy with a modern twist!
✨ The magic of origami + ease of classic building blocks + the power of magnets
👋 Snap it your way. Build it your way. Wear it your way. Play it your way.
Toyish Labs is proud to present Clixo, an intuitive, open-ended play system that combines the magic of origami with the ease of classic building blocks.
Kids at any age and developmental stage can follow their limitless imaginations and physically touch the magic of creation!
Simply click and connect the unique 2D shapes to create 3D objects and structures. It stacks quickly, packs light, and is perfect for wherever and whenever your imagination takes flight."
"Changing the world through magic, one kid at a time
We believe the art of magic, when properly taught, teaches life skills while bringing joy and fulfillment to performers and audiences alike. Our goal, therefore, is to bring the art of magic to everyone, so for every kit sold, we donate one to a child in need.
Magic Box provides a new and exciting way for anyone to learn the art of magic. Included in each Magic Box is a curated collection of fun and easy-to-perform tricks that will satisfy the most curious budding magician. Also included in Magic Box is a complimentary private membership to our online studio which teaches over 100 tricks to help the student grow, practice and master the art of magic. By providing practical tools and engaging resources, Magic Box can also help students of magic develop a wider range of skills that add unexpected magic to their lives.
Build confidence through presenting and connecting with an audience
Solve problems through critical thinking and creativity
Stay prepared through planning and self-discipline
Build fine motor skills through deliberate practice Easy to learn and fun to perform, there's a whole world of magic waiting to be explored."