Newair 24" Pedestal Misting Fan with 8700 CFM of Power With 3 Fan Speeds
Finally, the weather is changing, and I can't wait to update my backyard. For some time now, I've been thinking about purchasing some new backyard furniture and adding some fresh flowers and lights in the backyard.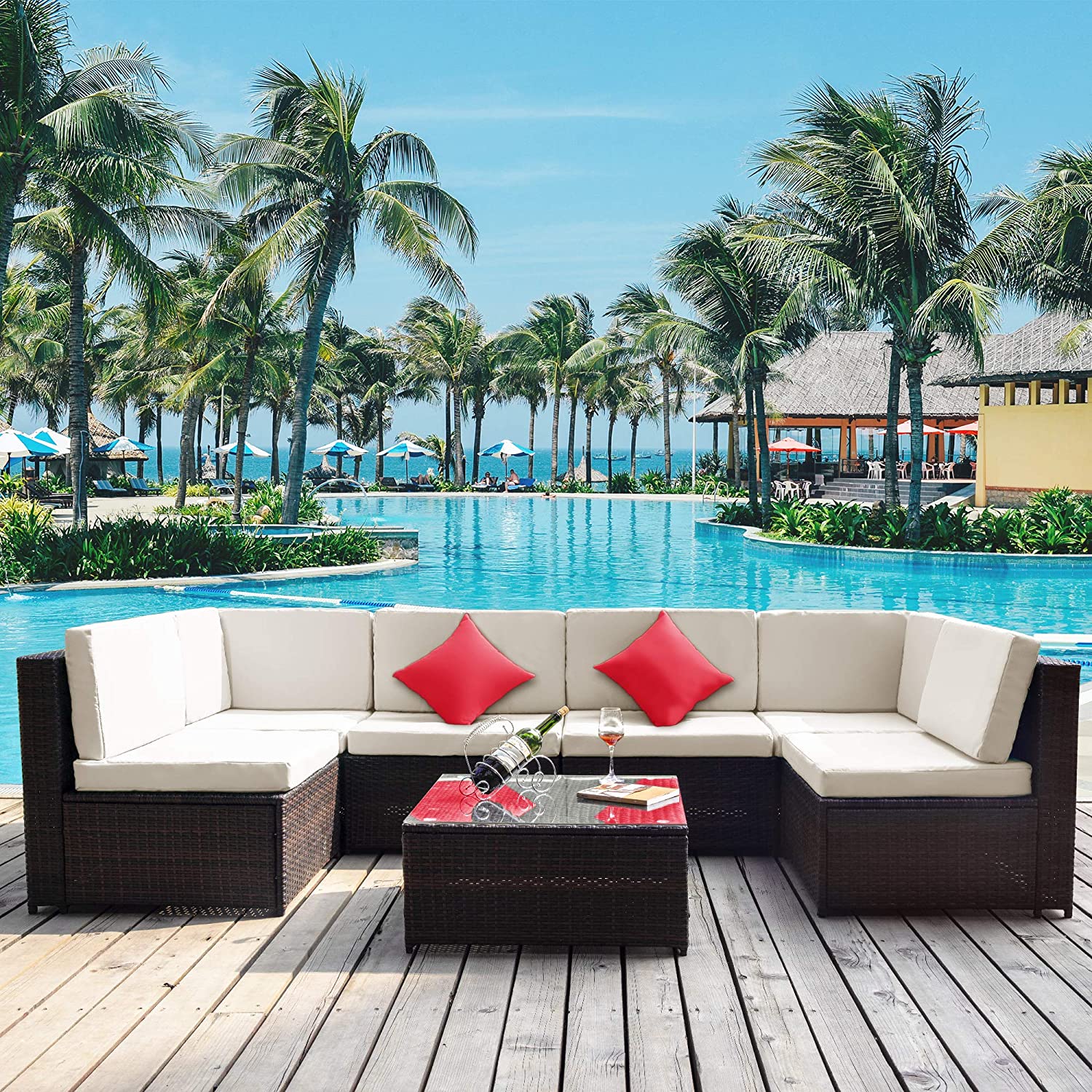 Image credit
Since being on lockdown, I've had a chance to look around a few websites listing what I would need to update my backyard. After all, here in MI, we still are under some restrictions, and for me, I don't intend to visit anyone anytime soon. So, creating my own backyard Oasis is a must!
While searching for furniture, lights, plants, and backyard rugs, I came across the Newair 24" Pedestal Misting Fan with 8700 CFM of Power with 3 Fan Speeds. My first thought was, WOW; this is one heck of a fan!!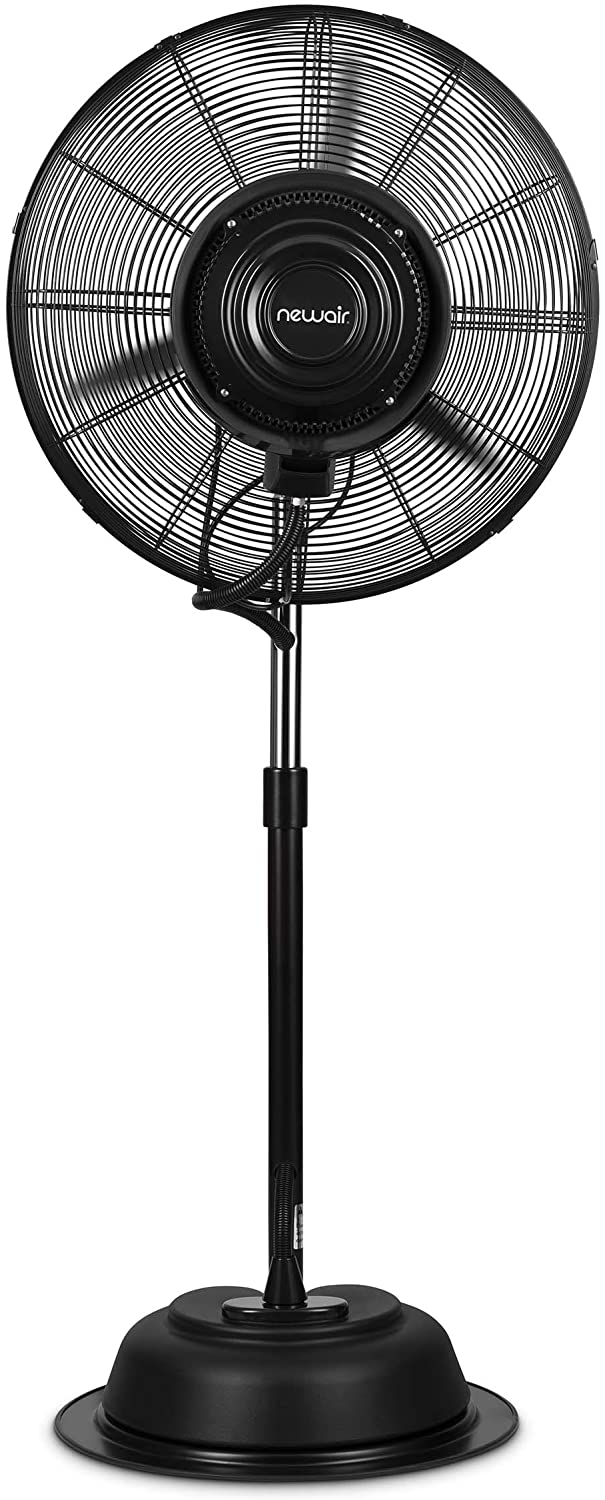 I can hear you asking, what is so "WOW" about this fan? Well, let me tell you, this Portable Misting Fan shares a Cooling Outdoor Breeze Mist on those hot days when you need to cool off.
It has adjustable mist settings, a water tank located at the bottom, and 3 Fan Speeds!
It's perfect for the Patio, Back Yard, or indoor events; the NewAir Pedestal Misting Fan provides wide-reaching relief from even the most unbearable summer heat. The elegant design is sure to enhance any area of your backyard or inside décor.
The blades are black metal, have an anti-corrosive finish, and wide-angle oscillation so the entire family and guest can enjoy the mist. The refillable water tank and water recycler provide mess-free operation without the need for a hose hookup. Dimensions are 17.50 inches, which is tall enough to match an adult; it has 7,500 CFM enough to spread mist to everyone within the fan area and holds 1.76 gallons of water. It also has an anti-rust epoxy-resin coating that protects your unit and provides durable good looks in any setting.
Misting fans are a great way to add extra comfort to any patio or outdoor space, especially on hot days. There has been an increase in the popularity and demand for these cooling appliances. There are many misting fans available on the market, but for me, I think the NewAir 24" Pedestal Misting Fan with 8700 CFM of Power With 3 Fan Speeds is by far my first choice.
I can see my new backyard deck all dazzled with new furniture, new plants, and rugs, along with my new NewAir 24" Pedestal Misting Fan with 8700 CFM of Power With 3 Fan Speeds.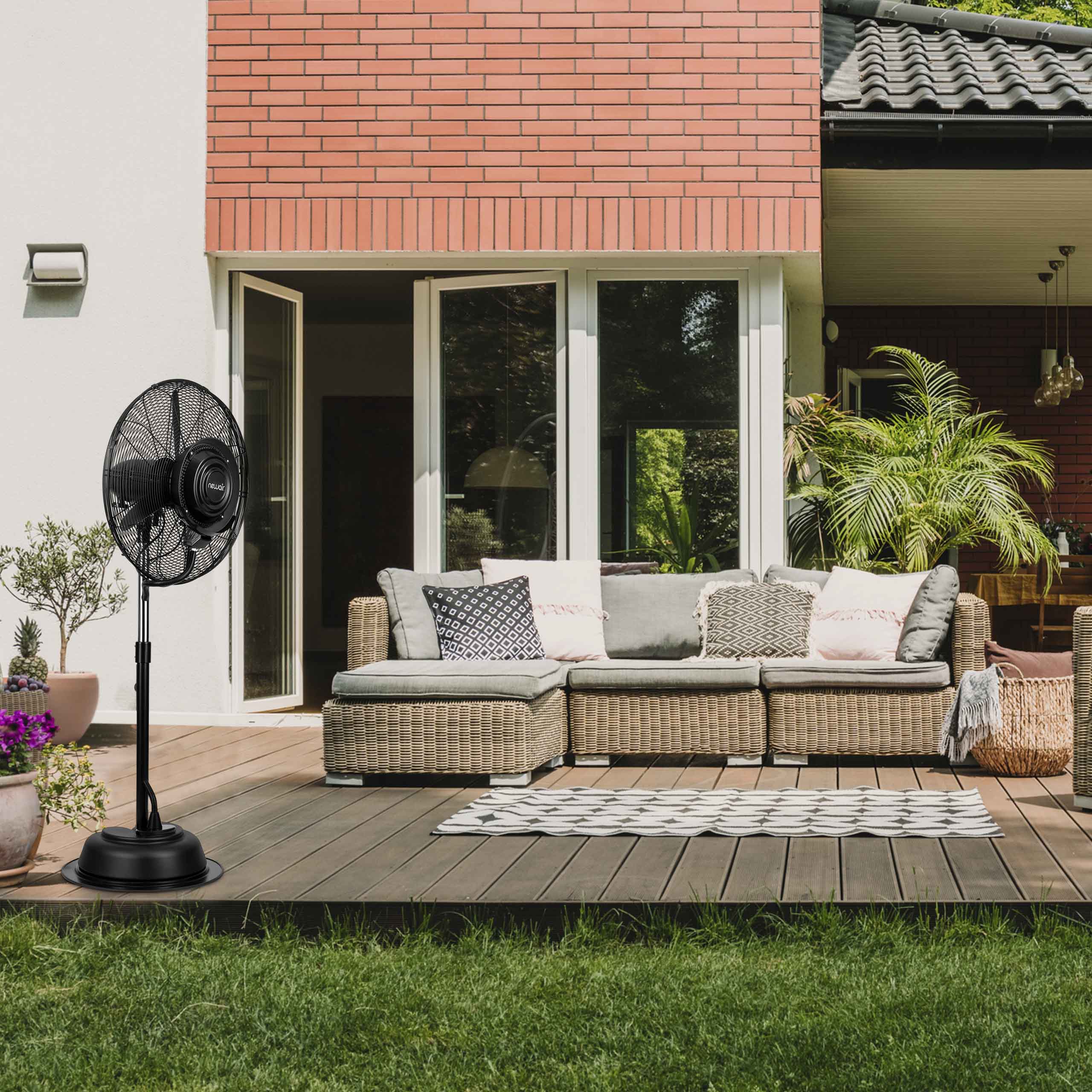 When shopping for a portable misting fan, it is vital to make sure you get the right kind for where and how you will be using it. One thing for sure NewAir has a wide selection of Mist Portable Fans that would work great in any backyard.
If you're seeking to find a much smaller Mist Fan, you may want to check out Newair Outdoor Misting Fan and Pedestal Fan Combination, 600 sq. ft. With 3 Fan Speeds and Sturdy All Metal Design, which connects directly to your hose.

COOL MIST FAN – This misting cooling fan is perfect for chill summer patios, pool parties, and BBQs

FEATURES – With 3 fan speeds, wide-angle oscillation, and a slim design this mist fan has it all

ECO-FRIENDLY – Instead of freon and other chemicals, get climate control that uses clean evaporation

QUALITY – This personal misting fan is made with quality materials, to keep you comfy all day

NEWAIR – With good quality products and excellent customer service, NewAir is a name you can trust
Another thing you may want to consider if you have a regular floor or pedestal fan, you can purchase a misting fan kit that will make it possible to attach a garden hose to your existing fan for a cooling mist. I know some of these fans are great to have on hand, but some may be a little out of your budget. So the best thing to do is find what's the best Mist Fan for your budget and enjoy a relaxed, cool mist breeze on those hot, scorching days!
I'll keep you posted once I have updated my backyard with our new furniture and our  NewAir Mist Fan!
You can visit NewAir online, and don't forget to connect with them via social media: Facebook| Twitter| Instagram| and Pinterest to keep up with the latest about all products.
Disclosure: I was not compensated for this post. However, I did receive a product from the company, and the opinions expressed in this post are 100% my own. I am disclosing this in accordance with the FTC guidelines.