New Russell Stover Chocolate Line, can you say MMM, MMM Good!
Howdy everyone, I just wanted to inform you that I was not compensated for this post. However, I did receive a product from the company below and the opinions expressed in this post are 100% my own. I am disclosing this in accordance with the FTC guidelines. All prize fulfillment will be provided by Sponsors.
When I say chocolate is my weakness, trust me it is! I'm sure many people besides myself feel the same as I do, it's like the moment someone mention chocolates my brain alarm goes out…lol!
Many people may not be aware of this but over $10 billion is spent on chocolate every year. When I saw the statistic I was at awe as to how many consumers really enjoy chocolate. Now I knew I wasn't alone in loving chocolate I just never knew that many people enjoyed it too. As the largest producer of boxed chocolates in the United States, Russell Stover decided to 'unbox' its chocolates after more than 90 years of offering its candies in a box format usually reserved for holidays and happenings.
Now when Russell Stover  sent me some chocolate from their new line, lord my heart begun to beat fast…lol! The assortment they sent was a total of (8) 6. 5 oz. bags.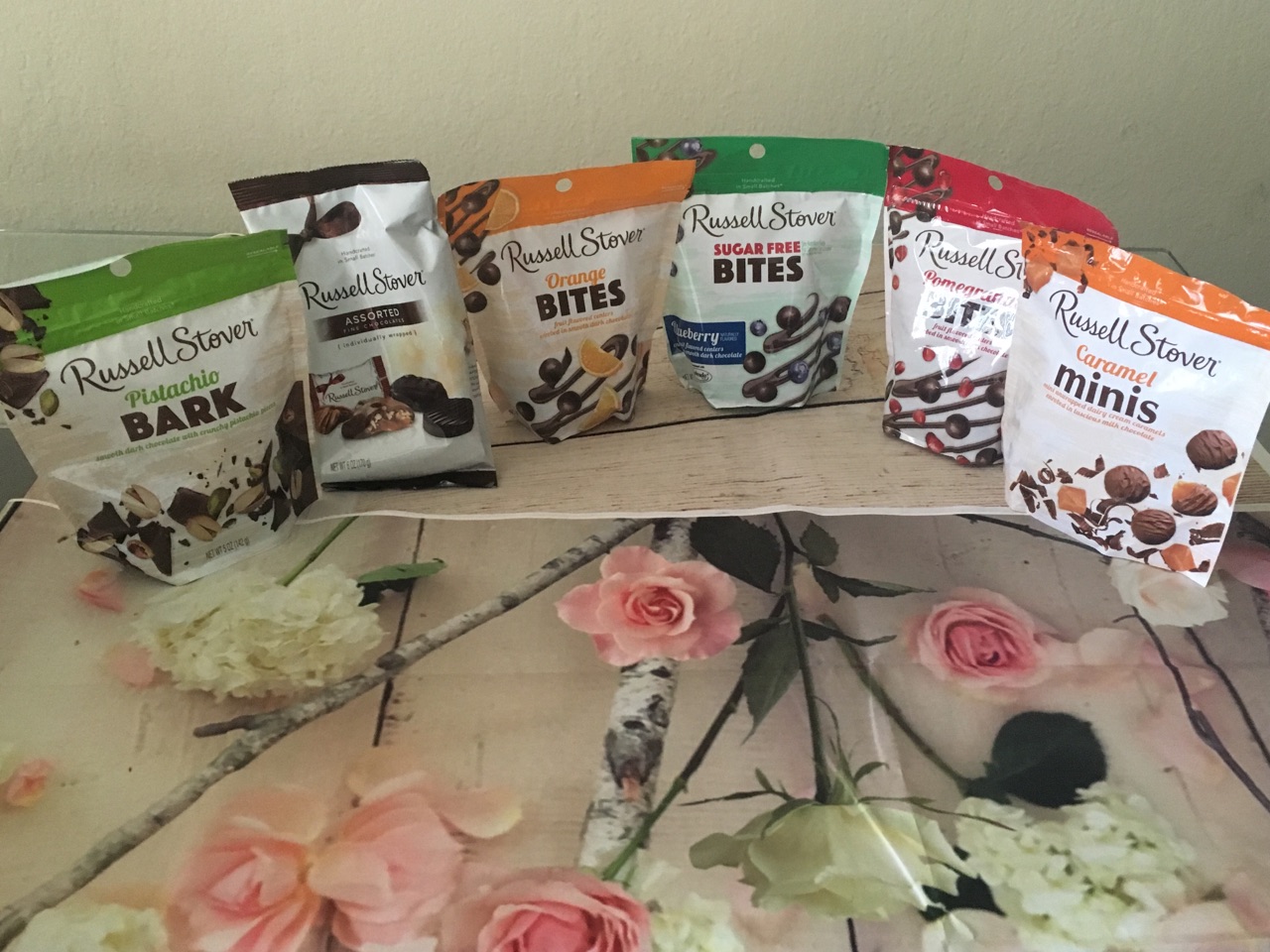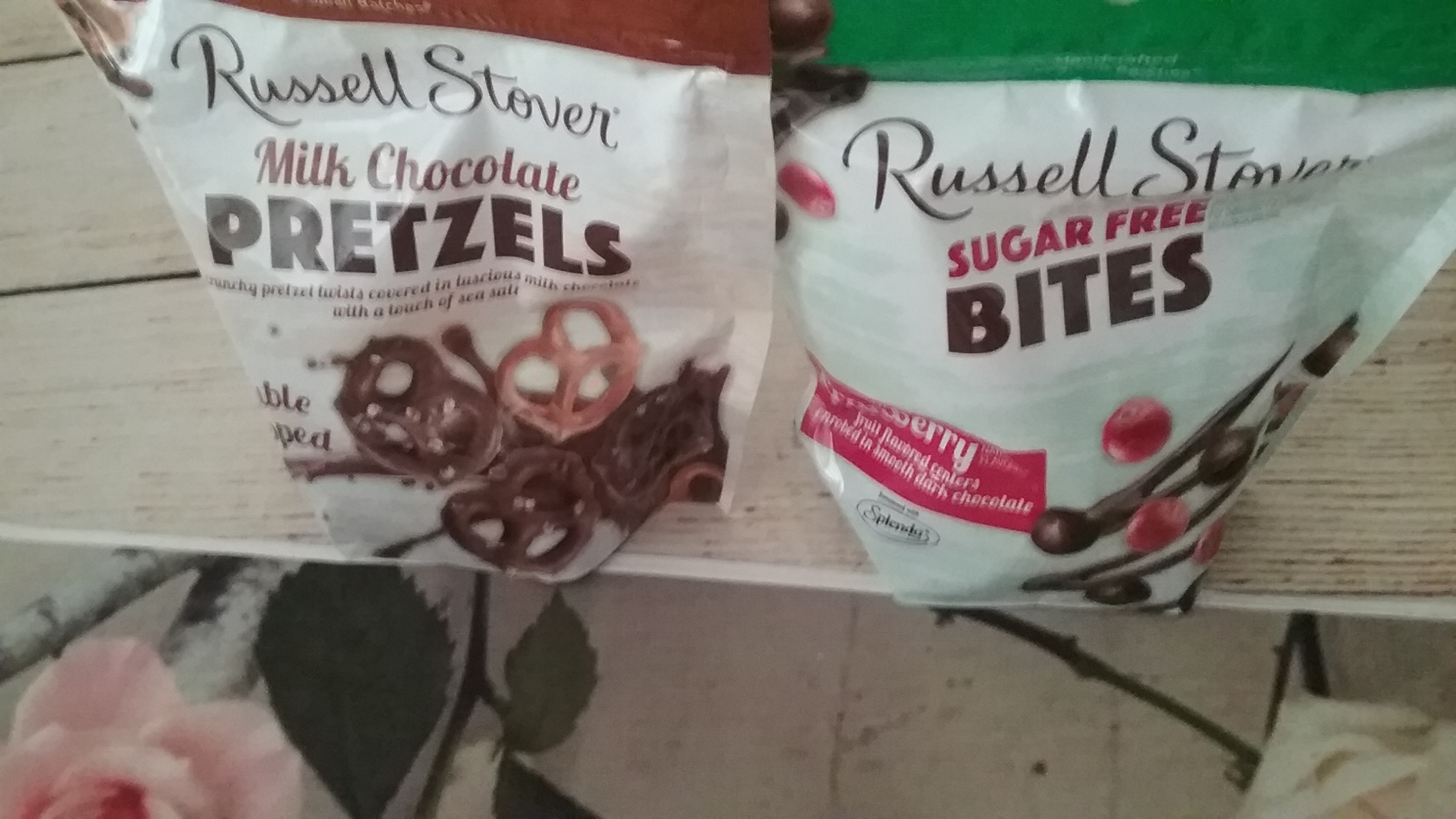 Now you too can enjoy Russell Stover in individually wrapped treats, snackable bites, sugar free bites, barks and pretzels, minis and more all available in re-sealable bags. I love how you have the option to enjoy a sweet snack when you have that chocolate craving and once you're finish you can seal and put away until later.
Since we love blueberries so much we decided to give the Russell Stover Blueberry Bites a try first:
The Russell Stover Blueberry Bites has such a good blend of Sweet blueberries and rich dark chocolate bite-sized pieces. Dip your hands into the easy re-sealable bag for a quick fruity treat any time of day. The taste is great and neither the blueberries nor dark chocolate over powers each other. They're pretty good to be honest.
Russell Stover's fruit-flavored bites are dipped in chocolate and come in cranberry, pomegranate, orange and blueberry.
With none of the sugar but all of the taste, Russell Stover Sugar Free offers a great "sweet treat" for chocolate lovers who are mindful of their sugar intake. This is me most definitely If I have sugar, I have to watch all sugar intake daily.
Next we had our hands into the Russell Stover Carmel Minis and the Russell Stover Milk Chocolate Pretzels.


Wow they both where delicious and before we knew it both packages were empty…LOL! The kids and I didn't waste any time enjoying both bags that's just how tasty and great these two where. I can't wait to see what the Russell Stover new Pistachio Bark tastes like,
The minis are available in caramel, pecan delight and coconut. Last we gave the 6 oz. Bag Assorted Mini Chocolates.
Russell Stover Assorted Chocolates selection contains individually wrapped pieces of Milk Chocolate Pecan Delight, Dark Chocolate Coconut, Milk Chocolate Caramel, and Dark Chocolate Mint patty. Perfect to discover your favorite or to share with friends.
I found the Milk Chocolate Pecan Delight to be my favorite selection from this assortment. You can also find the Russell Stover Assorted Chocolates in the confections aisle of grocery and drug stores. Drawing on decades of feedback from happy customers. Russell Stover identified their fan favorites. Allowing them to wrap them individually.  Fans can enjoy their favorite Russell Stover Candies year round.
Well here you have it, Russell Stover Candies new line of chocolates that includes individually wrapped versions of time honored favorites along with great tasty snack bites, barks, minis and pretzels all available in a re-sealable bag.
So the next time you're ready to get your chocolate on, remember these awesome Russell Stover new Everyday Chocolates.
You can connect with Russell Stover via Facebook