Looking for that right shoe, shop Reef today!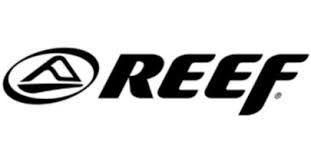 Well, soon summer will be over but until then I am going to visit every park/beach I can. I'm just not ready to let go of all my summer shoes and apparel.
Actually, just the other day I purchased a few more summer shorts and dresses to wear for a trip. Now I need to find a few pairs of summer, cool stylish shoes for both my husband and I.
We are headed to the beach and to a water park next week and I not only want to be walking in style, but in comfort too. That's why I selected the Miss J-Bay sandals from Reef…aren't they cute!
Not only are they cute, but they look like they will give me the walking support I need. They have that girly sporty look designed with a full grain padded leather strap which I really like but most of all I like that they have the Triple Density Eva Footbed with Anatomical Arch Support. Every woman needs to make sure her arch is supported well from a good pair of shoes and their signature Tulip Logo on the bottom is so unique.
While I was browsing for me a pair I also found a cool, sleek pair for my husband. He's really not a sandal kind of guy he enjoys wearing gym shoes, but since we will be at a water park and doing a lot of walking I found a pair I think he would like as well. They're called the LEATHER FANNING
Oh yes, he will love these since they will match his black and white short set I purchased for him. He's going to look fresh and comfortable with these sandals but hold on to your seat these unique designed sandals has a Church key to open your "soda" bottle, yes you heard me right they can open your soda.
WOW, I can see him sitting at the beach with a nice cold soda that he opened with his Mick Fanning's signature footwear. Men will envy him everywhere when they see this shoe *wink*
This shoe also has high quality full grain leather upper, comfortable glove leather lining, contoured compression molded EVA footbed  with anatomical arch support and much more.
I don't know about you I think I am going to order me a few pair of Reef shoes, they not only have sandals they have boots, girl deckhand shoes, flats, men apparel, men deck hand 2 shoes, kids shoes, even back to school backpacks.
I think I'm going to ask my hubby to get these for me for the Fall Season. They are called the REEF HIGH DESERT, wow they are cute and priced at an affordable price too!
Visit Reef website today so you too can walk in comfort and dress in style!!