LENNOX USES ART TO COMMUNICATE EFFICIENCY, INTELLIGENCE AND QUIET.
Disclosure: Howdy everyone, I wanted to inform you that this is a sponsored post written by me for the Lennox and Sverve Campaign. However, I did not receive a product and the opinions expressed in this post are 100% my own.

About a year ago we experienced the most drastic thing with our furnace: it blew out. That wasn't even the peak of the ice-burg,  it blew out right in the middle of a bad winter storm. The temperature at that time was -3 degrees, and we had about 6 inches of snow on the ground.
We couldn't imagine what would happen next at a time like that. We waited to make a few calls the next morning to find the best high quality furnace to not only offer us warmth, but has great quality, energy efficiency, affordability, and much more.
By the end of that day we had found just what our home needed, which was a "Lennox Furnace!" As a homeowner, we never really think much about our furnace. I can say that it was one of the most overlooked appliance in our home. That is, until my family experience how our uncomfortable it was when the furnace went out.
If ever there is a time to think about your Home Heating & Cooling system, then today is the day. You see, Lennox has decided to use murals in a creative way to express what a great Home Cooling & Heating is supposed to represent, and how it will make you feel.
This is their mural of a Dragon & Lennox XC25 Air Conditioner. To me, the mural represents warmth, quietness, and reliability! It's as if I know that my Lennox will always be there to keep my family comfortable!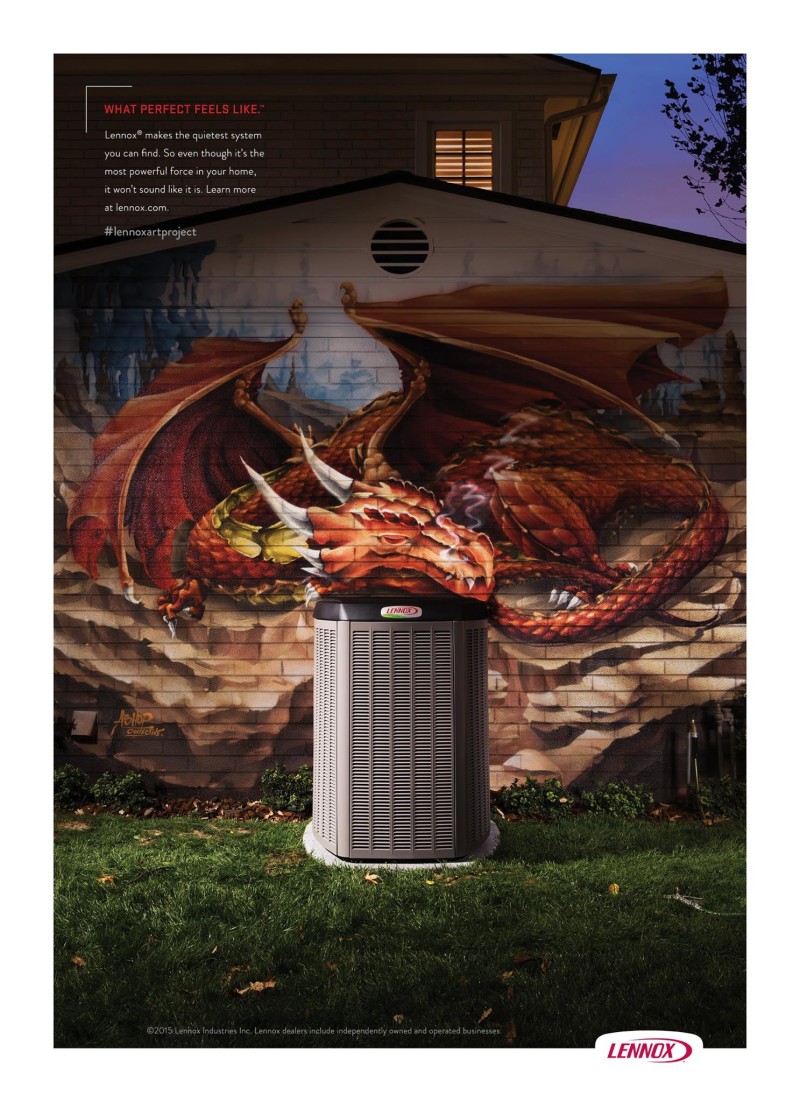 Another great mural is the Lennox Vault! If you ask me what it represents? I would say savings, security and efficiency and comfort!
Now, I can only say that this mural is surely a conversational piece that will catch the attention of everyone.
You can take a moment to see all the creative artist from the A'shop that created these awesome murals!
Overall, the Lennox HVAC system is the best money can buy, and I completely agree! It's the most energy efficient, the quietest, and the smartest. I think purchasing the Lennox System was the best investment for my family.
One thing's for sure, when you purchase a Lennox you're  not only getting comfort, you're also getting a peace of mind. The reasons for this are because it's
Smart: Lennox iComfort WiFi® technology allows you to control your HVAC system remotely from your phone whether you're in bed or at the airport,
Quite: While being bigger and more powerful than your dishwasher, Lennox HVAC with SilentComfort™ technology is just as quiet, so you can peacefully enjoy your home,
Comfortable: That's why you have an HVAC system. But a Lennox HVAC system allows you to precisely control the temperature and humidity in every room in your house and eliminate impurities in the air. Your fancy stove needs that kind of technology.
And Efficient: Nothing is more important to reducing utility bills and environmental impact than your HVAC system. Lennox offers the most energy-efficient system in the world. The tank-less hot water heater doesn't compare.
Last, did you know that you can help the environment? A front-loading washer/dryer will not save the planet, but a Lennox SunSource® is the only HVAC system that can be powered directly by solar panels to reduce bills and environmental impact.
By now I know you are asking? What is #lennoxartproject? Art is a big part of this campaign, and it will be for years to come. In order for Lennox to capitalize on this, Lennox wanted to reach out to as many people as possible. People like me, you and the community. It's important for Lennox to be able to tag every communication area with the #lennoxartproject. Doing this will allow them to showcase their partnership with the art community and to immerse viewers in their brand's creative problem solving.
Lennox now has a Spring Promotion going on now for both U.S. & Canada! Now, through June 12. you can save up to $1,700 on qualifying systems. (U.S. PROMO,) and for (CANADA PROMO)  you can save up to $1,800 on qualifying systems through June 12,2015.
Take a moment to check out Lennox "Behind- the- Scenes Video for the Dragon"!
You can always keep up with the latest about Lennox via Facebook| Twitter| Instagram|
Disclosure: Howdy everyone, I wanted to inform you that this is a sponsored post written by me for the Lennox and Sverve Campaign. However, I did not receive a product and the opinions expressed in this post are 100% my own.