Koch Foods Cravers Chicken!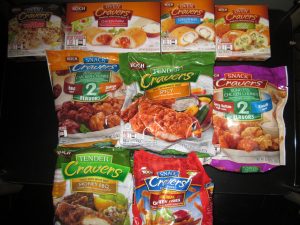 Are you looking to make simple but good meals for your family? Let Koch Foods Cravers help you with their great new selection of chicken.
From their tasty chicken chunks, BBQ chicken with two selections of sauce,  chicken Cordon Bleu and much more!
The Koch Foods Cravers can bring a different selection to your table daily. Or what about that March Madness Basketball event you may be having at your home. You can grab a few bags of Cravers from any local Walmart and make a few different meals that will keep everyone happy.
I decided for lunch today that I would try the Oven Cravers Broccoli & Cheese.
Can we say scrumptiously delicious? The chicken blended with the broccoli and cheese is very tasteful. Inside the box you will receive two ounce portion size breaded chickens. Keep in mind they are raw and must be fully cooked.
I only ate one breaded stuffed broccoli & cheese chicken with a small side of chips.
The great thing about Cravers chicken line, is there is many to choose from and can be eaten at anytime or served for any occasion.
You don't have to trust me, visit your local Walmart store to purchase your Cravers and see how tasty they are for yourself.
Hey, how about grabbing some Buffalo Style Chicken bits to share with the kids when they get home from school.
They are a quick and easy snack to prepare until dinner time.
Well , once again Cravers has provided us with a tasty experience with all their great new chicken selections.
Tune in next week when I share another  Koch Foods Cravers, I'm sure your mouth will be watering for more.
Don't forget to follow Cravers Chicken via Facebook, Twitter, Pinterest and Tumblr.
Disclaimer Statement
I was not compensated for this post, however I did receive a product sample from Koch Foods. The opinions expressed in this post are 100% of my own and any product claim, statistic, quote or other representation about a product or service should be verified by the above mentioned store, PR,or product designer.