Kick Start Your Healthy Journey With The New Power AirFryer Oven @PowerAirFryer
Disclosure: Howdy everyone, I wanted to inform you that I was not compensated for this post. However, I did receive a product from the company below and the opinions expressed in this post are 100% my own. I am disclosing this in accordance with the FTC guidelines.
I don't know if you are aware that air fryers are becoming more and more popular. As someone who has been seeking to eat more heathier, I've been intrigued by all the new air fryer gadgets. Now, I've tested many air fryers and I must say I really do like them but, I had the pleasure of trying out the 6qt. Power AirFryer and might I say…..I've fallen in LOVE with the Power AirFryer Oven!
Now everything you need to get you started is included in your Power AirFryer Oven Box.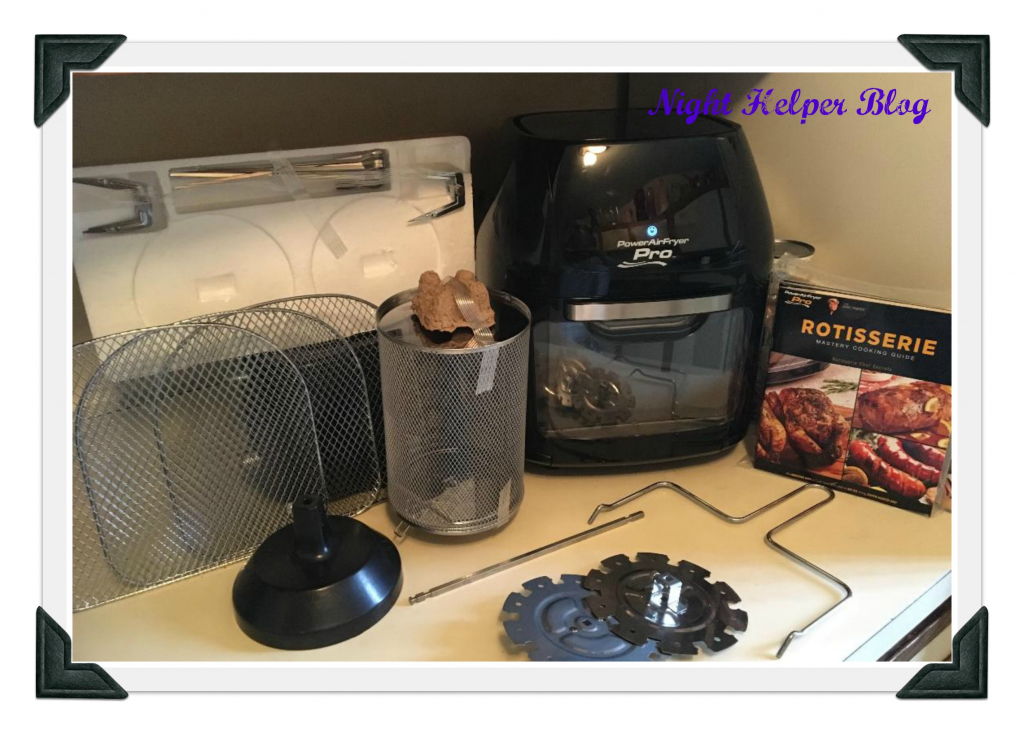 Of course, you have the Power AirFryer Oven, the mesh basket for your small foods, the stainless skewers, stainless rotisserie spit, 4 racks, a black rotisserie stand, 2 rotisserie wheels, recipe books (3), rotisserie handle, and grocery coupons. The great thing about this Power AirFyer Oven is you can cook so many great dishes all without using any grease. No fatty foods or calories to worry about when using this awesome fryer!
Now the unit is not heavy, but it is large, you will need some space to make sure when in use you have the proper space for ventilation. I selected to place mine on my kitchen corner near my stove since that space was big and well ventilation. Keep in mind that not only is the Power Airfryer Oven a fryer, it's a rotisserie, and a dehydrator.
After reviewing Chef Eric Theiss recipe books, I was eagered to roast a chicken for dinner that evening. So, I followed his recipe directions, basted my chicken with all the recommended seasons, and placed my chicken inside the Power Airfryer Oven. Now one thing I will say is make sure your chicken is under 4lbs, I didn't notice my chicken was  4lbs until I had seasoned it and placed it in the oven. You are supposed to be able to fit an entire chicken for rotisserie with ease. I would say to be safe stay within a 3 1/2- pound whole chicken this way your fryer can rotate easily and not touch the bottom tray, or the top!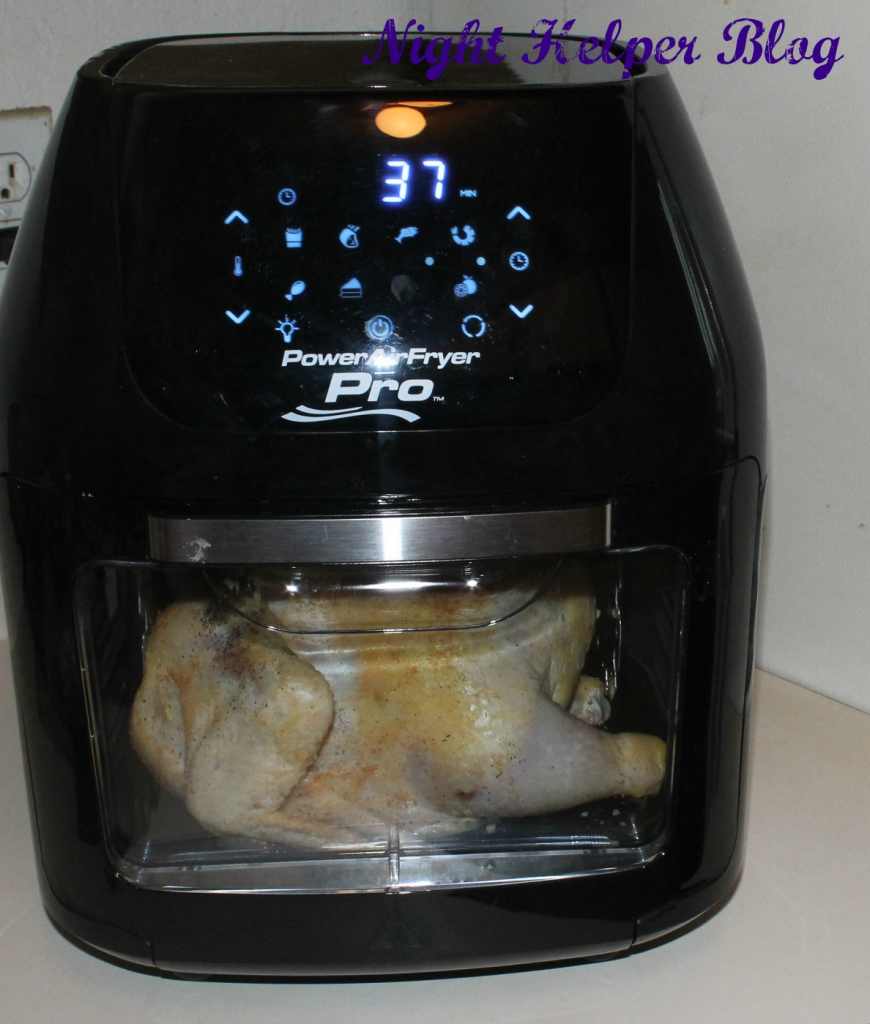 When using the oven, the first thing you'll do is turn on the power which is the center button above the Power AirFryer's name. Once lite up you will see the innovative LED Digital Display Panel that has 8 one touch pre-set buttons, keep in mind that the unit cooks up to 400 degrees, so no matter what you'll looking to roast, fry, or dehydrate this oven has you covered. Plus, due to the glass door of the Power AirFryer Oven you can stand by and watch your food cooking.
Once we selected the chicken icon the temperature registered and we added the chicken. It took 30 minutes for the chicken to cook and we added 5 more minutes just to make sure it was well done. Don't worry, once the Power AirFryer is finish cooking your desire meat, it will automatically turn off and before you know it…. Viola!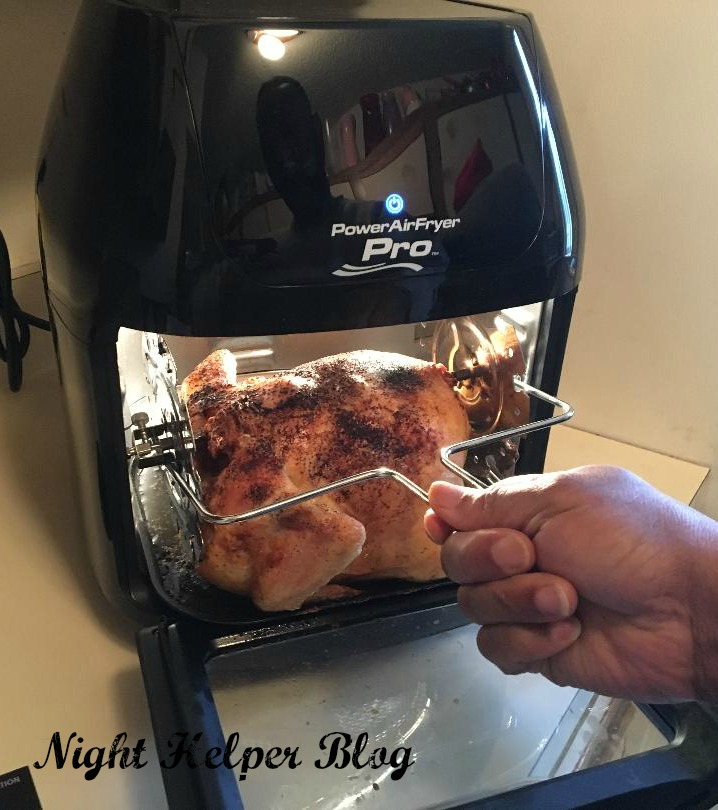 We removed the chicken with the rotisserie handle and placed it on a plate. Amazing, it was crispy, juicy, very tasty due to Eric recipe recommendation and before long the kids ate the whole children, no JOKE! This was the first time I have ever seen the kids eat a whole chicken…lol!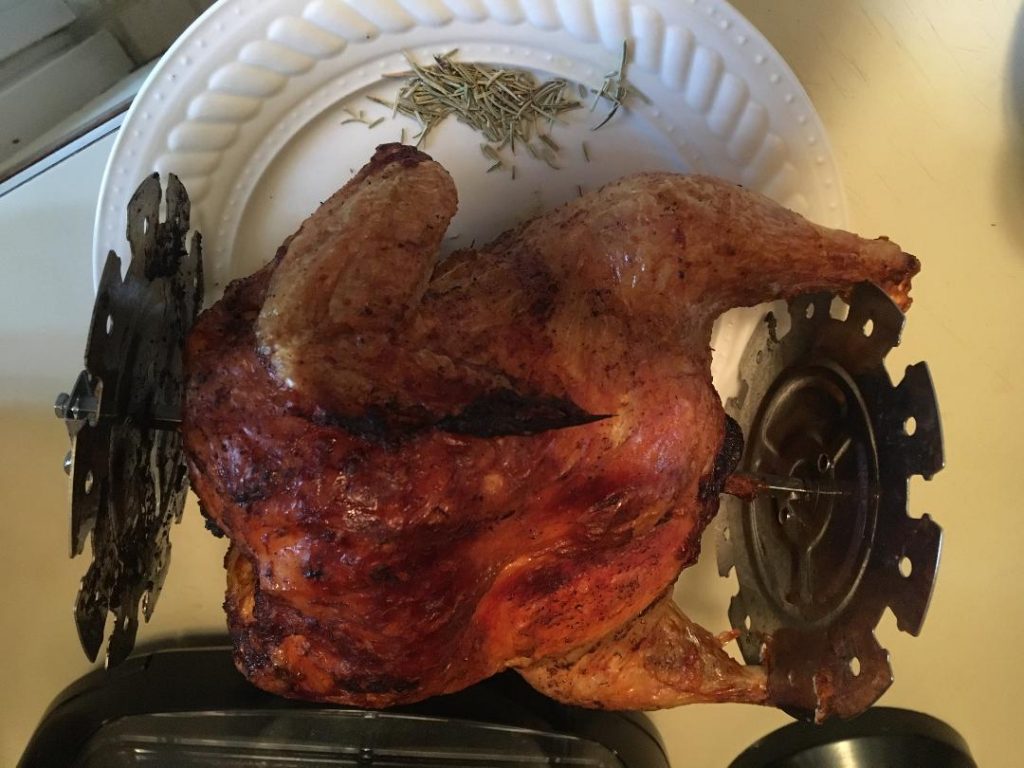 It was nicely seared on the outside and the inside was tender and so good. I even went as far as cooking ribs the next day I was so excited over the Power AirFryer Oven.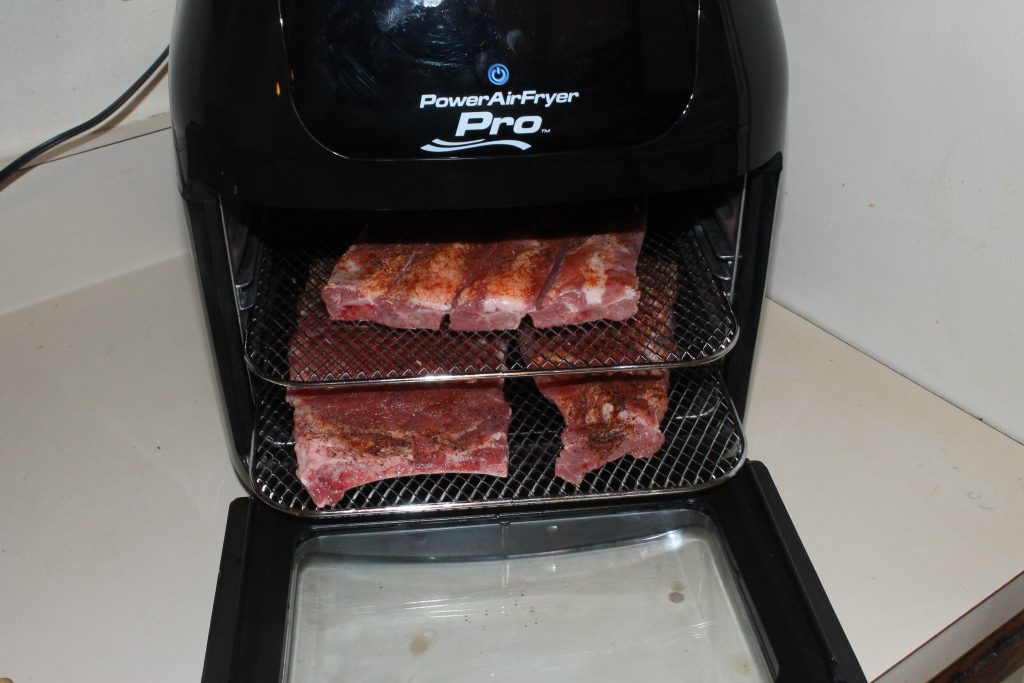 Once again, I used a recipe from Eric book and the ribs turned out really great. One thing I will say is follow the heat temperature recommendations, I added a little more time for the ribs when I really didn't need it. So, make sure whatever meat you are cooking follow the recommended temperature.
Cleaning up the Power AirFryer was a breeze, just remove your trays, removable door and wipe down the oven with damp cloth. I did use a small amount of dish soap to clean my trays, rotisserie handle, and the 2 rotisserie wheels but I also let them air dry too.
You can cook so much food in the 6-OT Power AirFryer Oven, my next meal will be chicken kabobs, I can't wait to see how they turnout!
Here are the specification of the Power AirFryer: