Jabra VOX Earbuds Review, the headset that brings clarity to your ears!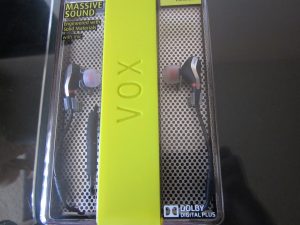 Welcome to Jabra Vox earbuds review.
No more big bulky headphones! The Jabra Vox earbuds are sleek, stylish and sure to make your ears happy with their soft ColorCore EarGels for comfort and deep sound.
The Jabra Vox earbuds allow you to experience the best audio clarity from any device, whether its from your Android, Iphone, Ipads,Computers and other tech devices.
Even though they are small don't let the size fool you, they really are high performance earbuds. I love how the Jabra Vox earbuds contours to your ear giving you a good fit for better listening, you don't have to jam them into your ears at all.
The Jabra earbuds are guaranteed to take your music to another level of enjoyment, quality and clarity!
.
The Jabra Vox earbuds cable is 52 inches in length and made with a sturdy tangle-resistant rubber that reinforces the area where it splits to the left and right earbud. This is what I found to be so fascinating, the Jabra Vox has small magnets two-thirds of the way up. This allows the right and left earbuds from tangling. Jabra advertises that the cables rarely tangle, even when placed away in pockets. The Jabra earbuds also comes with a Jabra signature cloth carry case.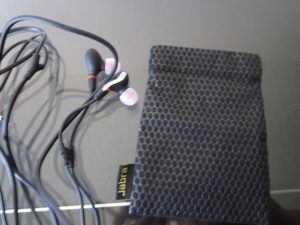 .
They only weigh 0.6oz but offers a high frequency sound that will impress any music enthusiasts like myself! Another great feature to the Jabra Vox earbuds is the
Volume Multi-Function button in-line control located right on the cord, I was really impressed with this feature. It is designed to make it easy to adjust your volume up, down and is very easy to use.
Overall, I am very pleased with my Jabra Vox earbuds! My experience with their earbuds has been Awesome, they are well constructed, great quality, offers many great features and most of all they allow me to enjoy my music with a smile!
No matter if you are a musician or just a music lover you will surely want to invest in a pair of Jabra Vox earbuds. They are crisp, offers the ability to enjoy great vocal and instrumental sound clearly, you can download the Jabra free sound App which combines with Dolby Digital Plus, which will optimize the sound. Everyone knows when you add Dolby Digital to any device you are sure to get the best of the best quality!
Disclaimer Statement
I was not compensated for this post, however I did receive a product sample from Jabar. The opinions expressed in this post are 100% my own and any product claim, quote or other representation about a product or service should be verified by the above mentioned store, PR or product designer.