Its Movie Night With Disney…..all DVD's Arrive June 11, 2013!
I was not compensated for this post but I did receive sample DVDs for review from Disney,however all opinions expressed in this post are 100% my own.
Its Movie time with Disney, each movie will arrive on DVD -June 11, 2013. Everyone knows when it comes to Disney Movies the whole house comes together to enjoy their wonderful films.
First we bring to you "OZ THE GREAT AND POWERFUL" (Combo Pack)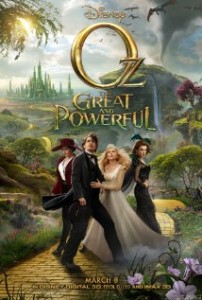 Storyline: Oscar Diggs (James Franco), a small-time circus magician with dubious ethics, is hurled away from dusty Kansas to the vibrant Land of Oz. At first he thinks he's hit the jackpot-fame and fortune are his for the taking. That all changes, however, when he meets three witches, Theodora (Mila Kunis), Evanora (Rachel Weisz), and Glinda (Michelle Williams), who are not convinced he is the great wizard everyone's been expecting. Reluctantly drawn into the epic problems facing the Land of Oz and its inhabitants, Oscar must find out who is good and who is evil before it is too late. Putting his magical arts to use through illusion, ingenuity-and even a bit of wizardry-Oscar transforms himself not only into the great and powerful Wizard of Oz but into a better man as well. Written by Walt Disney Studios Motion Pictures
Our view, an Outstanding movie with great color, awesome sound and a great plot of how the "Wizard Of OZ" came about. It is a must see movie that the whole family will enjoy.
Next we have the ATLANTIS THE LOST EMPIRE & MILO'S RETURN: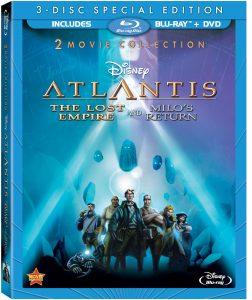 (Combo Pack)
Storyline: The creators of The Lion King and Beauty And The Beast take you under the sea into an amazing world of excitement and exploration. Discover Atlantis: The Lost Empire and Atlantis: Milo's Return – together for the first time on Blu-ray, complete with digitally restored high definition picture and sound. Many great actresses and actors like Micheal J. Fox.
I can't wait to watch this one plus its a Combo set also. I'm waiting til the kids finish up with school so we can enjoy this one.
We can't forget about LILO & STITCH. (Combo Pack)
Oh my goodness, who could forget about Lilo & Stitch, this is another one of our favorite Disney Movies. Its just so cute and is sure to keep the kids entertained as with all Disney Movies!
Storyline: Lilo is a lonely little girl, and Stitch is a mischievous little creature from outer space. When Stitch crash-lands in Hawaii, Lilo adopts him as her pet, but he soon turns her world upside down. The laughter continues as Stitch helps Lilo prepare for the big island hula contest in the hysterical sequel. Discover that 'ohana means family, and celebrate the unbreakable bonds of friendship like never before with these two unforgettable movies on Disney Blu-ray!
What about the "The EMPEROR'S NEW GROOVE & KRONK'S NEW GROOVE.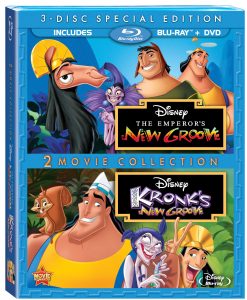 Two hilarious movies that will surely have everyone LOL! The kids really enjoyed watching them both and yes it was quite entertaining for us adults also. *smiling*
Storyline: When the young and spoiled Emperor Kuzco is transformed into a llama by his sinister advisor Yzma, it takes a thoughtful peasant to restore the kingdom and show Kuzco just how much fun it is to be true to yourself. Then laugh along with Yzma's hilarious henchman Kronk as he cooks up big trouble in the hilarious sequel. These two comedy classics are better than ever on Disney Blu-ray!
Last we wanted to share with you MINNIE'S THE WIZARD OF DIZZ.
Now everyone loves Mickey and Minnie Mouse so when I heard that Disney had created MINNIE'S THE WIZARD OF DIZZ, I was excited to see what it was all about. Let's just say your children will enjoy it and the illustration is Beautiful!
Storyline: Journey to a wondrous land of enchantment and surprises! The classic tale gets a brand-new twist in Minnie's new full-length adventure: The Wizard Of Dizz. Before you can say "pink tornado," Minnie and Pluto end up in the silly but spectacular land of Dizz. It's an amazing place, with rainbow trees, butterfly bows and friendly "Chipmunchkins," but what Minnie wants most is to get home. Together, Minnie and her new friends Scarecrow Goofy, Mickey the Tin Mouse and Donald the Lion set off to ask the wonderful Wizard of Dizz to make their dreams come true. But look out! Bad Witch Pete wants Minnie's magical, sparkly green shoes, and he's got a few tricks up his sleeve.
Well there you have it. Disney will be releasing all these great movies on DVD June 11th, 2013 and you and the whole family will be forever entertained this summer.
Many if not all are in Combo Packs and come with digital DVDs and Blu-ray. So get the kids, pop your popcorn, grab your soda and enjoy!
I was not compensated for this post but I did receive sample DVDs for review from Disney, however all opinions expressed in this post are 100% my own.