Illuminate Any Room With Newair Prismatic Series 126 Can Beverage Refrigerator with RGB HexaColor LED Lights Model: NBC126HX00
Are you ready to bring your apartment, home, gaming room, bar, dorm, office, or mancave room alive? 
Right now, Newair can help enhance any room in your home with their new Newair Prismatic Series 126 Can Beverage Refrigerator with RGB HexaColor LED Lights: Model: NBC126HX00 .
This Prismatic Series 126 Can Beverage with RGB HexaColor LED Lights Refrigerator is absolutely fantastic.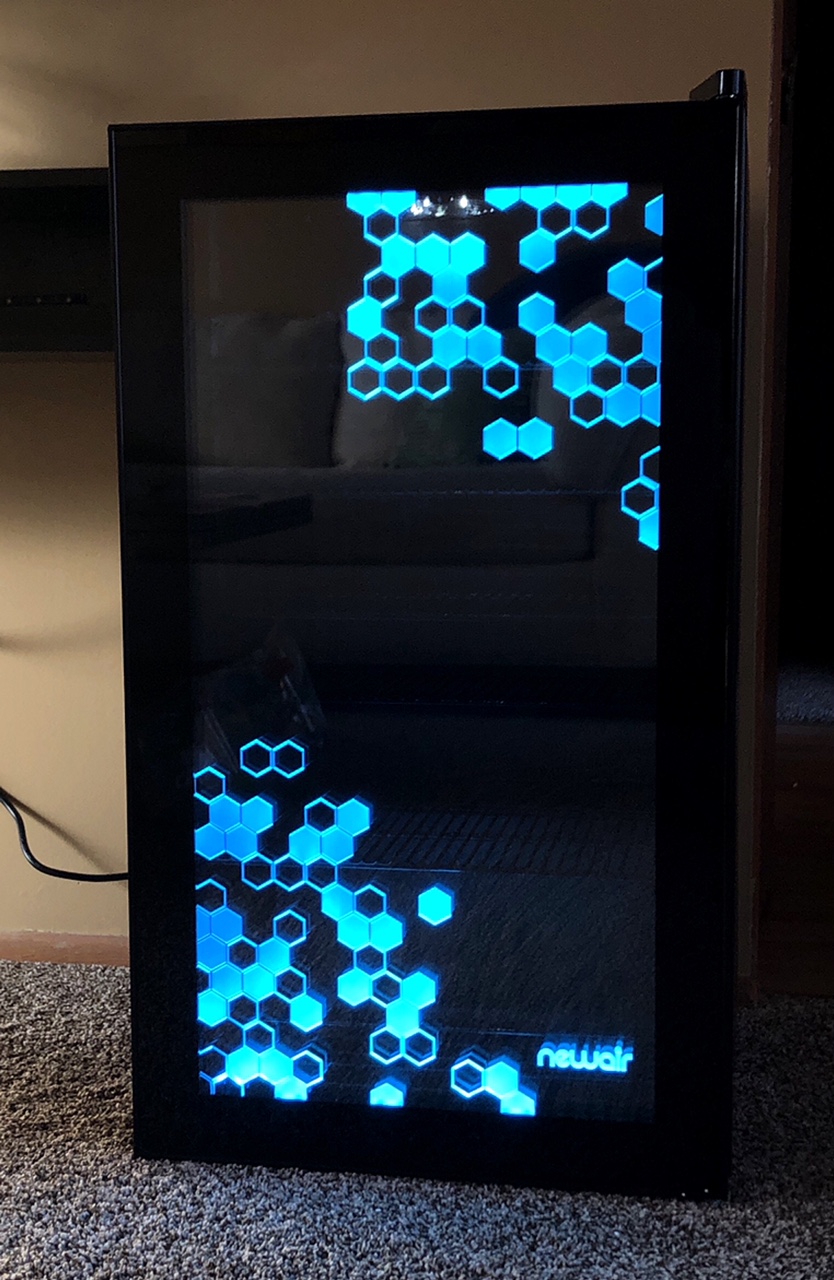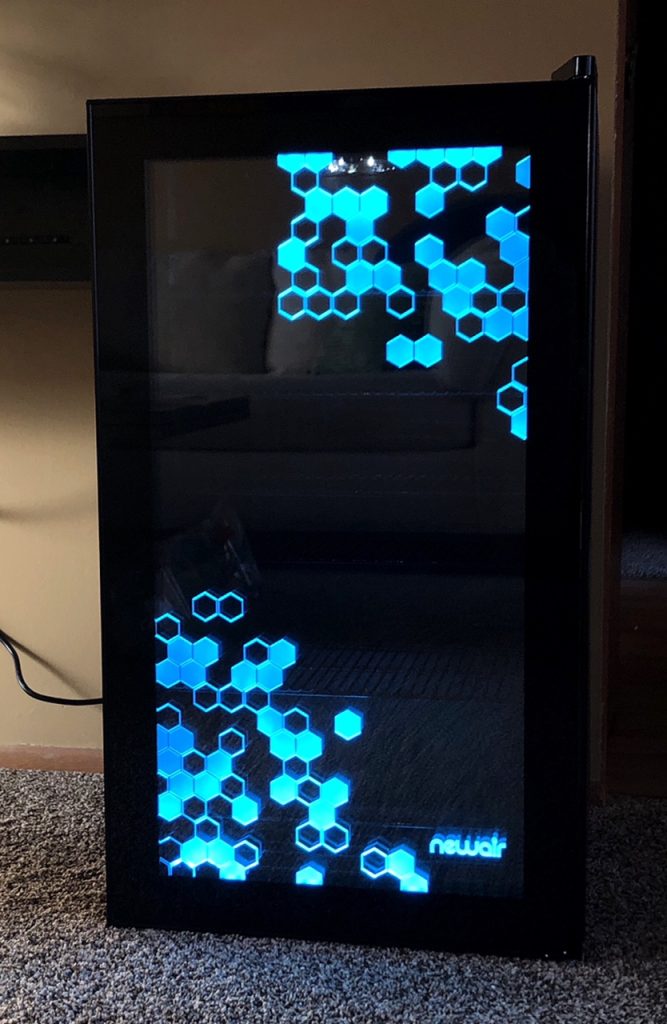 You can lose yourself in an enthralling visual experience as the fridge illuminates with a spectrum of vivid colors thanks to the RGB HexaColor Lighting feature. The distinctive and adaptable hexagon-inspired design of Newair is intended to blend in perfectly with the overall aesthetic of your setup. The Newair Prismatic Series 126 Can Beverage Refrigerator, by far, has the most incredible lighting effect of any beverage cooler I've ever seen. 
Everyone who enters your home and sees these amazing HexaColor Lights illuminating from the  Newair Prismatic Series 126 Can Beverage Refrigerator will be captivated.
The great thing about the unit is you have the ability to design the ideal lighting scheme that complements your individual style. Select between single and dual zone setups, and experiment with 10 dynamic mode preset effects, which range from calming fades to pulsating colors with your remote control.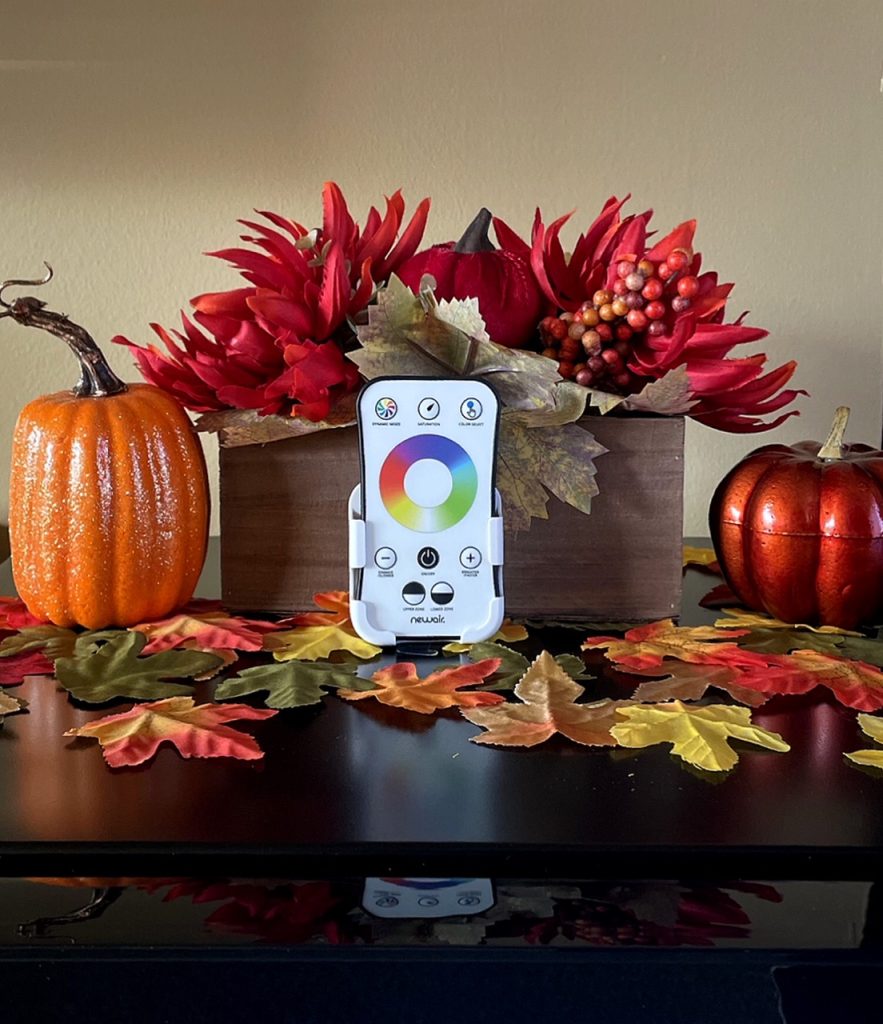 Now, let's dive deeper.
The lighting is bright and highly adjustable with lots of color and setting options. I really like that you can change the two lighting zones independently for a gradient, fade effect. When I opened the beverage refrigerator door, I found the shelves to be firmly packed and quite sturdy. However, they are simple to reorganize, and there are a few half shelves as well, making it simple to change to accommodate your preferred beverage—whether that be water, wine-sized bottles, beer, juices or cans.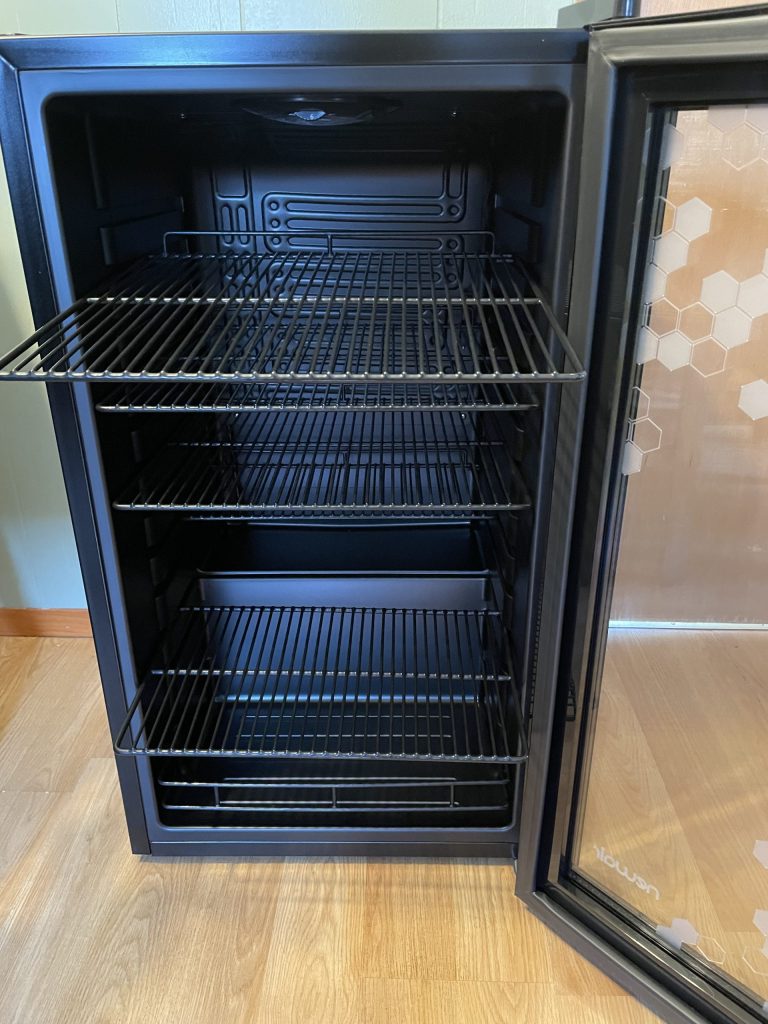 Cooling wise it works as it should, and the interior has a light as well. Definitely would recommend to anyone looking for a mini fridge for a mancave or game room. It fits the vibe perfectly.
The Newair PrismaticTM Series Beverage Fridge with RGB HexaColor LED Lighting makes colors pop. This fridge has a Newair exclusive hexagon-inspired design that complements any area with the ability to combine more than 50+ distinct colors and ten pre-programmed Dynamic mode effects on two separate color zones, again, you can effortlessly create a captivating visual show that perfectly reflects you.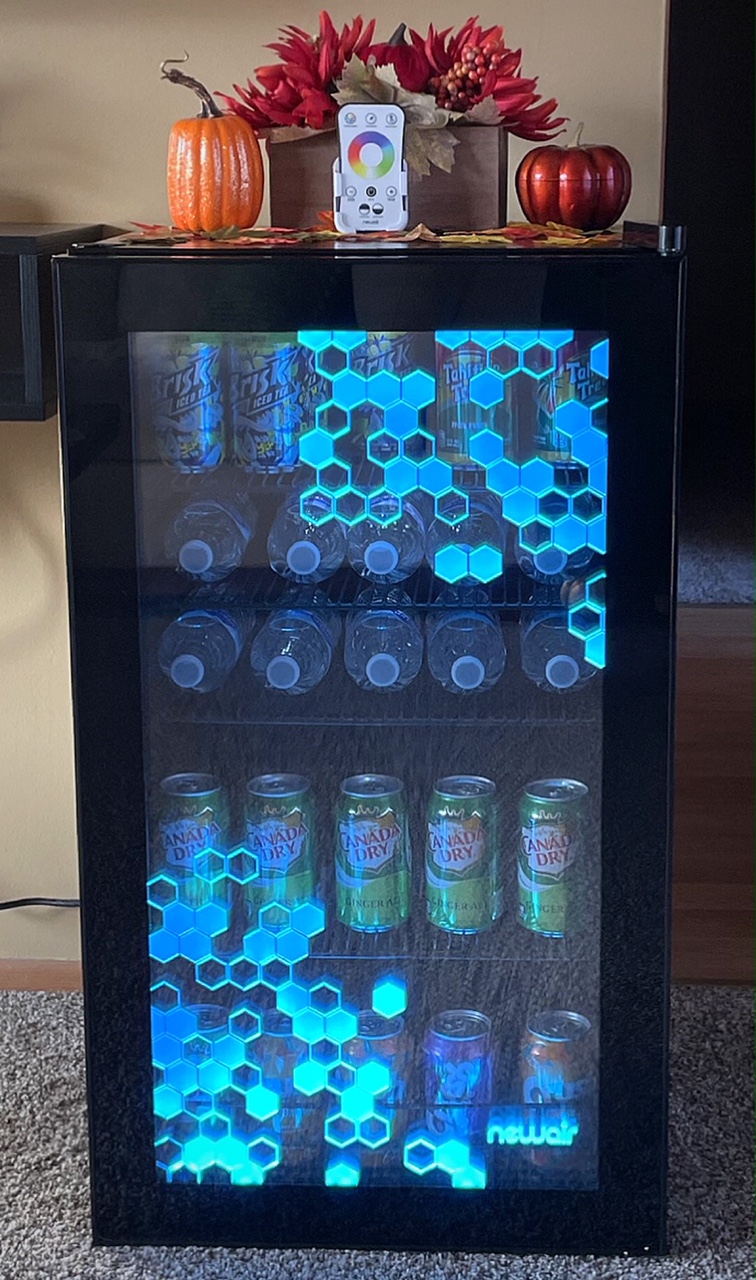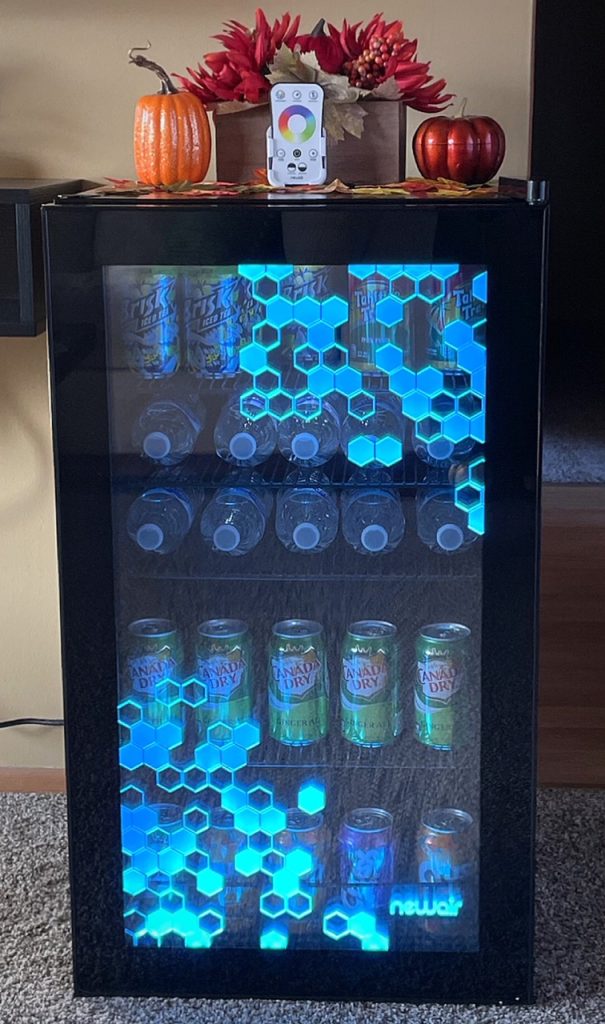 The set-and-forget thermostat guarantees silent and effective operation, and the easy-to-use Color Wheel remote control makes customization simple. Make your beverage fridge a focal point by keeping your favorite drinks, snacks, and necessities right at the tip of your hand.  The Newair Prismatic Series Fridge will do more for your home than simply make it seem better, whether you're getting ready for a game night, a party, chilling watching your favorite movie or hosting guests, it will be the talk of the day/or night.
It was very easy to load and set up the Newair PrismaticTM Series Beverage Fridge with RGB HexaColor. To guarantee that the unit has enough ventilation, make sure there is space between it and the wall before plugging it in. I waited for a while after turning the unit on before filling it with water and cans, but thanks to the compressor that uses cooling technology, the unit became cold quite quickly and was very quiet.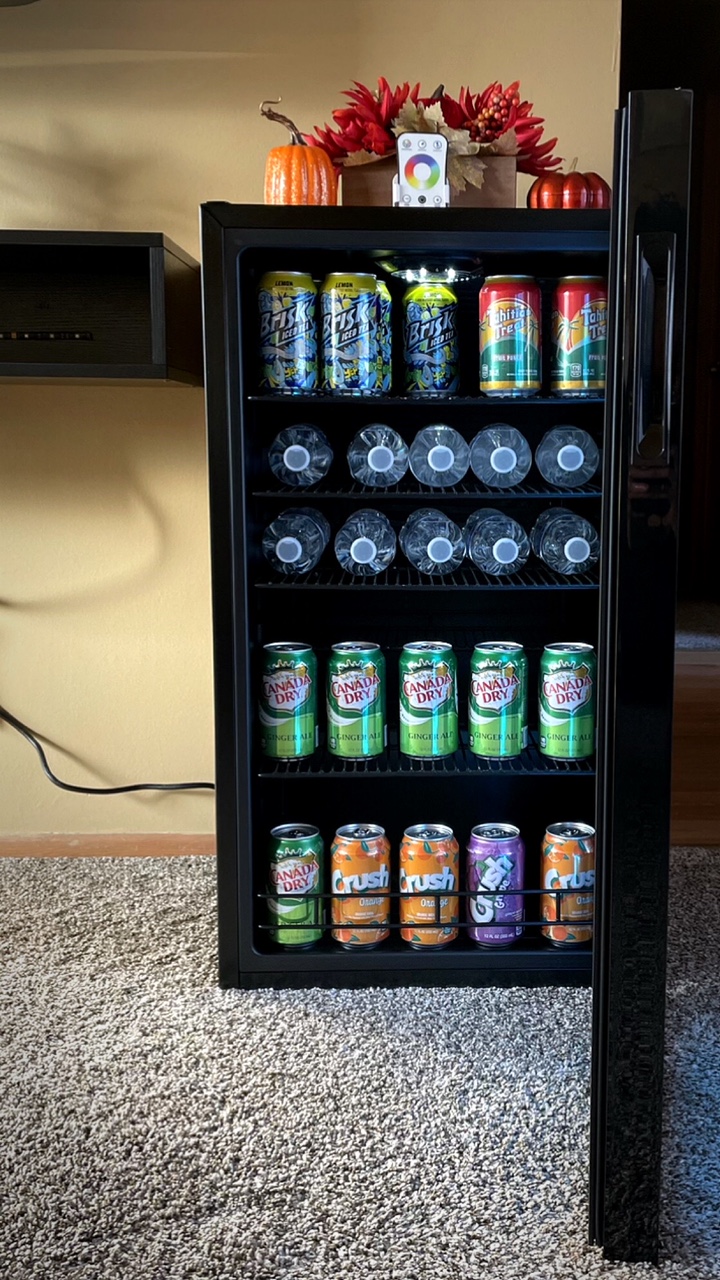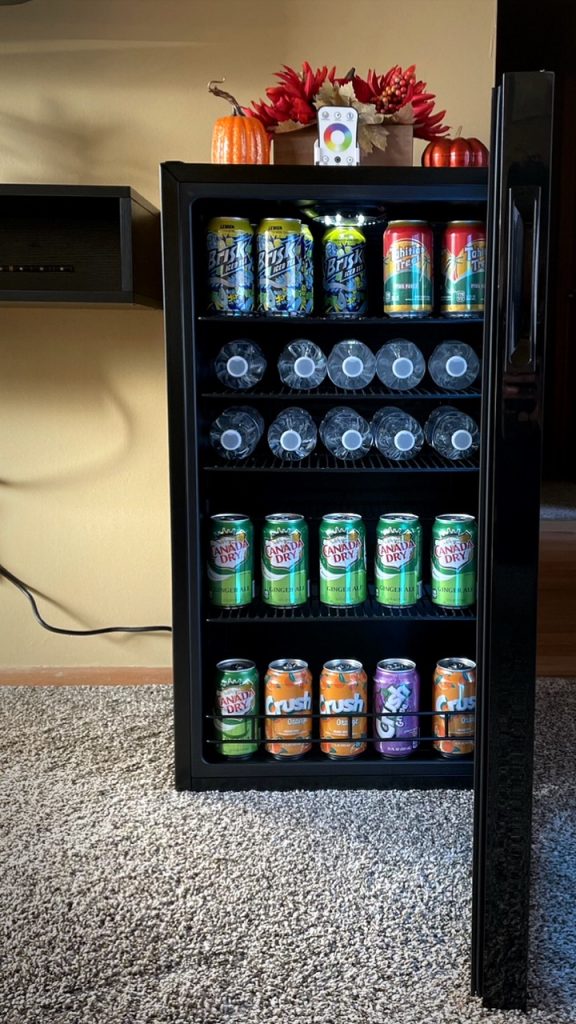 It's advisable to familiarize yourself with your beverage fridge by reading the user's manual. Everything you need to know about the desired temperature, safety of your refrigerator, how to use it, how to maintain it properly, and what to do and what not to do when cleaning is contained in the manual. It is also recommended that you don't place your beverages to close to the back or side walls, this is to make sure your fridge gets good ventilation when in use.
It is very spacious inside, runs quietly and efficiently. It comes with a one-year warranty and a 30-day money back guarantee.
I really appreciate the freestanding, matte black design of this fridge. It's sure to fit anywhere in your home and is straightforward to install plus, it will improve the decor of any room no matter where you put it. It's available in 126 cans & 85 cans.
So, you see adding the Newair Prismatic Series 126 Can Beverage Refrigerator with RGB HexaColor LED Lights: Model: NBC126HX00 to your home will set the atmosphere for any occasion.
Simply position it where you'd like, fill it with your preferred beverages, grab the remote, personalize it to fit your style, then relax and enjoy. You won't want another fridge in your house once you get this Newair Prismatic Series 126 Can Beverage RGB HexaColor LED model NBC126HX00 .
Here are some key features:
1. RGB HexaColor™ Lighting
Immerse yourself in captivating and customizable color. Our unique and versatile hexagon-inspired design is meant to harmonize seamlessly with the aesthetics of your setup.
2. A Complete Spectrum of Possibilities
You have the power to create the perfect lighting palette and program that matches your unique style. Choose between single zone or dual zone configurations and explore 10 preset effects in dynamic mode, ranging from pulsating hues to soothing fades.
3. Seamless Color Customization
Customize your lighting experience effortlessly with our intuitive remote control. Select colors from the color wheel and personalize your atmosphere to match your preferences. Fine-tune the saturation and brightness to achieve the perfect lighting mood for any situation.
4. Unmatched Convenience
Say goodbye to unnecessary trips to the kitchen. With adjustable shelves that can hold up to 126 cans, you can keep your favorite beverages, snacks and more right at your fingertips. Thanks to the dual-pane glass door, you can swiftly scan the contents without disrupting your flow. Stay focused, stay refreshed, and stay in the game without missing a beat.
5. Level Up Your Beverage Game
Enjoy the perfect balance of quiet operation and icy-cold refreshment, as this fridge keeps your drinks at the optimal temperature every time. With its air-tight door seal and set-and-forget thermostat, you can trust that your beverages will be chilled to perfection, ready to be enjoyed whenever you need it most.
To anyone looking to upgrade their home beverage game, I heartily recommend this Newair Prismatic Series 126 Can Beverage Refrigerator with RGB HexaColor LED Lights: Model: NBC126HX00.
 You won't be disappointed, and you can have it delivered in time for the Holidays.
Newair has also created a 10% discount code: NIGHT10
Don't forget to connect with them via social media: Facebook| Twitter| Instagram| and Pinterest to keep up with the latest about all products.
Disclosure: We were not compensated for this post. However, we did receive a product from the company, and I am disclosing this in accordance with the FTC guidelines.