How to Plan your Home Theatre Seating Arrangement?   
If you dream of bringing the theatres to your home, you indeed have a good taste of indoor relaxation. While there are many reasons why having a theatre at home could be of immense benefit to your family and friends, one critical thing to get right is the planning.
While you, of course, would be looking into the correct type of screen to use in your setup, one other important thing to consider is microfiber home theater seating for utmost relaxation. If you are uncertain how to plan the seating arrangement for your home cinema or need expert suggestions, you can find below some professional tips to help you get it right.
Work with the Available Space
How much room is there to work with? This is the first thing to consider when planning any interior furnishing. And for your indoor home theatre, you surely want to create enough room for relaxation. Having the seats crumped up next to each other could make it challenging to get that cinematic vibe.
So instead of cramping the seats together in a small space, you want to make sure that there is room for everyone to relax and unwind in as they catch their favorite entertainment.
You want to make sure there is enough arm and legroom for relaxation, and if you choose to opt for reclined seats, you want to ensure they don't bump against the seats in front of them. It may be a good idea to go with those that are capable of recline up to 180 degrees suspending the user in a position where they can easily fall asleep.
And this is not because the entertainment is boring, but because you just happen to have a perfect seating arrangement that is so relaxing and therapeutic.
Design a Sketch to Work With
Once you have the picture in your mind for how you want the theatre space to look when it is finished, the next thing to do is prepare a sketch to work with. This will help assist you with the installation process and make changes to the already existing layout. By doing so, you will be preventing any mistakes with the assembly when you get into furnishing the space.
You want to include measurements between the seats and the wall and each row and column. Remember to factor in when the seats are reclined and ensure up to 20 inches are available, so the seats don't brush up against each other. This will help prevent wear and tear and ensure that you don't have to make amends regularly to the furnishing.
Get Creative with the Seating Arrangement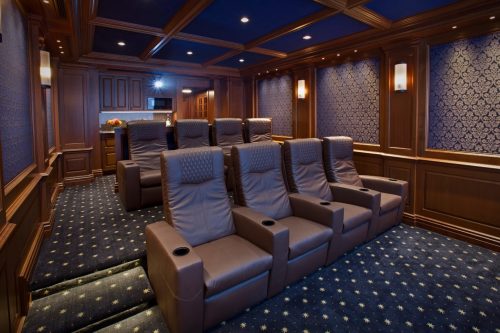 While you may be tempted to go with the style at your local movie theatre or the cinema you visited in a foreign country, remember this is your home, and you have every right to design however you wish. So, in addition to making the right choice of seats, you want to ensure that you include a bit of creativity in the process.
You obviously want to settle for quality sofas and recliners that could easily make a grown-up fall asleep. You can either do this by working with a renowned theatre interior expert or visiting the store to find out the options available. You should have a good number of seats available to give the theatre room that cinematic vibe, but you want to ensure that you don't crowd the space with seats.
Remember to go for seats that come with an armrest and cup holder to make it easy to relax. And to complete the relaxation effect, you surely want to ensure that they can be reclined to an extent, like a movie theatre recliner, to reduce the stress on the waist for days when you choose to go for a movie marathon with the guys. This page here has suggestions for setting up home theatre seats.
Get the Viewing Angles Right
It is not enough to have fancy seats and entertainment equipment in place. If the viewing angles are not properly structured, it could affect how viewers enjoy the entertainment. And a rule of thumb is that you want to ensure that even those at the back row can get a good view of the screen without any obstruction when everyone is seated.
You want to keep the viewing angles between 35 degrees and 50 degrees. But you want to ensure that you work with your seat spacing to achieve the right fit. If it happens that all the seats can't be able to get a perfect view of the screen, you want to identify the ones with the best views, so you know which ones to recommend to guests when it's time to catch a movie or game.
Don't Forget to Get the Sound Checked
One important thing about using the theatre is the sound appeal. And this is important if you want to make your time at your home cinema one to remember. So, in addition to going big on the acoustics, you want to make sure that surround systems attached to the seats do an excellent job of providing users with top-notch entertainment.
You will have to invest in sub-woofers to bring out the best bass quality in your indoor theatre entertainment systems. And you want to make it easy for everyone seated to feel the vibe while they are bolted to their seats. You can check here https://www.lifewire.com/separate-components-theater-system-setup-1846358 for tips on setting up your home theatre sound system.
Final Note
Setting up an indoor home theatre could be an expensive project, especially if you want to get the best quality entertainment. So it may be a good idea to plan adequately for the expenses and make sure you work with experts in the setting up process.
Remember to place more importance on the home theatre seating, sound, and view from each seat. You can always find examples online or in-home interior magazines that could be useful in planning your space the right way.