How to Grow Plants When You Feel You Don't Have Gardening Skills
Have you ever wanted to grow plants or vegetables at home? Even if you are not a fan of gardening, there is absolutely no reason why you cannot grow stuff in your garden.
You can employ many techniques that will help even the most reluctant gardener create beautiful garden space. It is an enjoyable and rewarding hobby that the whole family can enjoy. Let's have a look at some tips for growing plants.
Consider Xeriscaping
When you think about gardening, attention usually turns to watering and looking for sunny spots. You might not have the time or desire to maintain a full garden, but that does not mean you cannot grow anything at all.
Xeriscaping is the practice of planting native plants in your garden, which require very little water, sun, and nutrients. This means less maintenance, so you can focus on other areas of your life. This is a great option if you want to grow plants but don't have the time for a conventional garden.
Get Rid of Lawn Grass
If you are trying to save water and create a low-maintenance garden, getting rid of the old lawn might be a good idea. Lawns are thirsty and are difficult to maintain. If you have a lot of lawn area, this could be the perfect opportunity to give it up.
You can turn that area into a garden or patio. You could even put some raised beds in place on one section of the lawn if you do not want to go completely grass-free.
Automate Watering
If you are like most people, you might find it difficult to remember to water your plants every day. Cats, kids and work all get in the way of watering our gardens.
One solution is to install a garden watering system. In this setup, the base of the garden can already provide water for the plants, so you won't have to ever think about watering them again.
You can also use automatic water sprinklers. Watering by hand is hard to do as it requires a lot of time and effort. You can set up a sprinkler or two throughout the garden so that plants are watered evenly. It can work with a controller, so you can schedule when it turns on and off.
Start with the Easiest Plants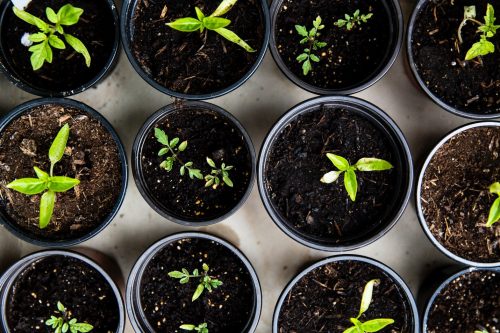 If you are new to gardening, it might make sense to start with the easiest plants. These are chosen based on their climate preferences, how much time they need for care, and sunlight requirements. Popular choices include rosemary, thyme, sage, basil, and mint.
These types of plants require low maintenance, so that means less work for you. They also do not need a lot of water and can cope with sun or shade, so you don't have to worry about finding the perfect location for them.
Decorate Your Garden with Pebbles
You can make great paths through your garden by adding pebbles. If you are doing this on your lawn, you can reduce the amount of grass you need to cut by creating gravel paths.
Aside from looking great, pebbles are also easier to maintain than lawns. You don't have to worry about it needing water or fertilizer. They only require a light level of maintenance, so they will last for a long time without too much frustration from you.
Make a Focal Point
If you want to encourage butterflies, birds, and other wildlife into your garden, consider creating a focal point. A lot of people enjoy building birdhouses or bird feeders in their garden, which is a lovely way to make a great impression on the surrounding environment.
You could also create a water garden. It will provide a great habitat for insects, frogs, and other small animals.
Begin with Food Scraps
If you want to save money and the environment, consider starting your garden with food scraps. You can add these to a compost bin or turn them directly into soil for the garden.
This will allow you to grow plants without adding fertilizers and chemicals. Even better, you can help save the environment and test your gardening skills for a few days or weeks before you go all out.
Do Hydroponics
Hydroponics is a popular way of gardening. In it, you don't have to worry about soil or fertilizers because you use water instead.
You can set up a hydroponic system with little experience and very few tools. You just need a container, nutrient solutions, and the plants themselves. If you want to get started with hydroponics, consider choosing plants such as lettuce and tomatoes. They also get the job done quickly.
A gardener is always defined by how they maintain their garden, so it's up to you on which method of gardening you want to try. Either way, with persistence and some research, you can get over your reluctance.