How Can Blank Apparel Help You Express Your Creativity?
The clothes we wear have long since gone beyond the practical effect of protecting us from the weather. We have to recognize they are a mirror of our personality, a way in which we can express ourselves, convey a message, or show our mood or feelings without saying a word. Sometimes you might want to stand out, to wear a tie dye shirt reminiscent of the 60s counterculture, or you might be a fan of blank apparel, a canvas for your free expression, with the added benefit of versatility and simplicity. The possibilities are truly endless.
Why Blank Apparel May Be the Perfect Choice for You
Blank apparel represents the perfect blend of minimalism and comfort, allowing for outfits that can be customized in all sorts of different ways, based on your personal needs and fashion sense. For decades, this remained a treasured wardrobe essential, and here are just a few reasons why they should continue being a part of any closet: 
The Versatility of Blank Apparel:
Whether we're talking about a black T-shirt to fit a more formal occasion, or we're talking about a white sweatshirt to wear to a family get-together, or maybe a grey tank top to wear as an undergarment, the truth is that possibilities are endless when it comes to clothes that don't have distinct features that make them stand out. 
They can be paired with any style of clothing, and depending on your fashion style, can be suitable for any occasion.
Saving You Money: 
Blank apparel can be a great way to save money, especially if you prefer to buy your clothes in bulk. The fact that we're not talking about extravagant designs that involve expensive printing operations can help you save money and time that can be invested in your own business. And speaking of your business:
Benefits for Your Business: 
Maybe you are a new business owner and you want to print your logos and designs. You should think about how the quality of your product will influence a customer's choice to recommend your brand and buy from you again, and for this, you may need a complete set of quality blank apparel that will act as a mirror to your creativity. And speaking of your creativity:
A Blank Canvas:
Do you have a plain shirt you don't use anymore? Then congratulations, you have unlimited possibilities to customize it. From professional printing services that can imprint any design you want, to acrylic colors that you can utilize on your clothing in an act of supreme creative expression. The beauty of blank apparel is that it can be used in any way you want, acting as a mirror of your personality. while allowing you the flexibility to use your clothes in any circumstances.
Maintenance:
Maybe you don't care about all that stuff, maybe the only thing that interests you is the simplicity and ease with which it can be maintained. Then you're in luck, because the simpler the design, the easier the process of cleaning and ironing your garments.
A white sweatshirt, without any logo, or any print is more likely to stay in good condition for a longer period as long as the quality of the materials is optimal.
This doesn't mean that garments that have a custom print are more susceptible to failure, but the whole process represents an extra step that needs to be taken into account when looking for new clothes.
What About a Tie Dye Shirt?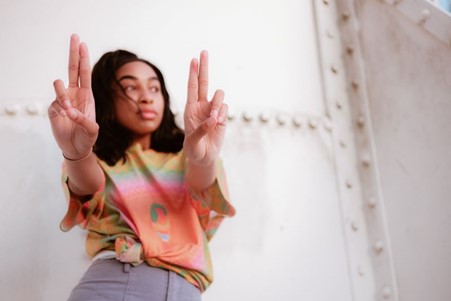 What is the first thing that comes to mind when you see a tie dye shirt? Psychedelic patterns? Countercultural expression? Fun DIY project? 
According to Chandye, tie-dye shirts entered the modern cultural pantheon along with the anti-war movement of the 1960s. Colorful, flamboyant, and extravagant apparel suddenly found themselves in high demand as symbols of resistance against authority. But tie-dye shirts didn't just remain a symbol of a long-forgotten period, as they had a major revival during the pandemic. 
According to Oprahdaily, since last year, interest in "tie-dye loungewear" has increased by five thousand percent, and tie-dye garments have become somewhat of a symbol of our creativity and resistance during the pandemic. 
Perhaps there is something primal that draws us to pastel colors and abstract patterns. Maybe it's the complexity of the sheer randomness of it all. It's hard to say, but the process of tie-dyeing has accompanied us throughout our history, with the first examples in this regard beginning to appear in China in the 5th century AD.
Tie-Dyeing a Shirt as a DIY Project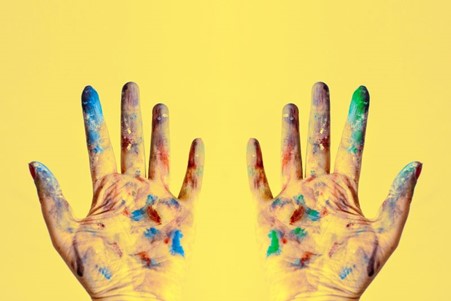 The process of making our own tie dye shirt can be a perfect pastime activity that allows us to engage and bond with our family. It has been scientifically proven to help youngsters develop hand-eye coordination, patience, and dexterity, as well as encourage young children to become more aware of the colors in their environment by observing the shapes and patterns they see all around them. 
And besides, it's a fun activity that can be done at any age. There are countless possibilities for designing your tie dye shirt, just as there are countless ways the whole process can surprise you. 
From colorful swirls to abstract stripes and pastel circles, all you need for a fun-filled afternoon with your family is some blank items to act as the canvas for your creativity, and a set of non-toxic dyes to work on the cotton fibers of your garments. Warning: To get the best results it is important to use clothes that are 100% cotton. 
It's a fun activity, but maybe you are only interested in the final process and you want the best results at the best possible price. In this case, maybe you will be interested in an already curated tie-dye shirts collection, available in a variety of patterns and colors, every item designed around premium materials that offer you the best value for money and help you express your personality in the best possible way.