Here's Why Axvoice Is One of the Best VoIP Providers
 VoIP Service stands for Voice Over Internet Protocol. If your internet connection is of good quality, then you can get yourself a VOIP phone. The main reasons people are choosing VOIP for both residential and business purposes include increased functionality, easy scalability, and a lower per-call cost.
Compared to traditional phone service, VOIP costs much less. This is mainly because VOIP uses a single network to carry both data and voice. And, the service offers the ease to do things not previously possible with the traditional phone lines. Whenever you plug into the network, the incoming phone calls are routed automatically to your VOIP phone. You can take your VOIP phone anywhere with you. All you need is an internet connection and, you can easily receive incoming calls.
Since we have established that VOIP is pretty cool, how to get the best VOIP service? With plenty of VOIP service providers available, it is no easy to choose a single one. After trying out numerous options, we have chosen Axvoice as one of the best VOIP service providers for you.
About Axvoice:
Axvoice is a popular VOIP service provider that offers low rate domestic, and international calling plans to both residential and business customers. Axvoice is currently the most affordable VOIP phone system in the United States. Due to an expansive variety of features, Axvoice has become one of the best VOIP service providers and rightly so.
People can use Axvoice to make calls without having to worry about their phone bills. It offers excellent plans for both residential and business VOIP plans with high-quality voice calling. Apart from a high-quality call service, it is offering a wide array of features in a very economical range. Presently, Axvoice is offering the lowest rates for domestic and international calling to both business and residential customers.
You can manage your online account from anywhere. Axvoice comes with an easy installation so as soon as you buy the VOIP service, you are all set to use your phone system. You can make unlimited local and long-distance calls with Axvoice's residential plan that starts from $8.25/month.  With the business plan, you can purchase their business plan for $14.99/month. The business plan offers 200 outgoing minutes across the US & Canada. The best thing is that the activation and setup are free for both.
Axvoice offers great value for money and that is why it ranks amongst the best VOIP service providers. The customer support is quite responsive on email and performance of customer service is more than satisfactory. They are yet to have a live chat support.
Features of Axvoice:
Let's take a look at the features of Axvoice:
Outbound Call Features: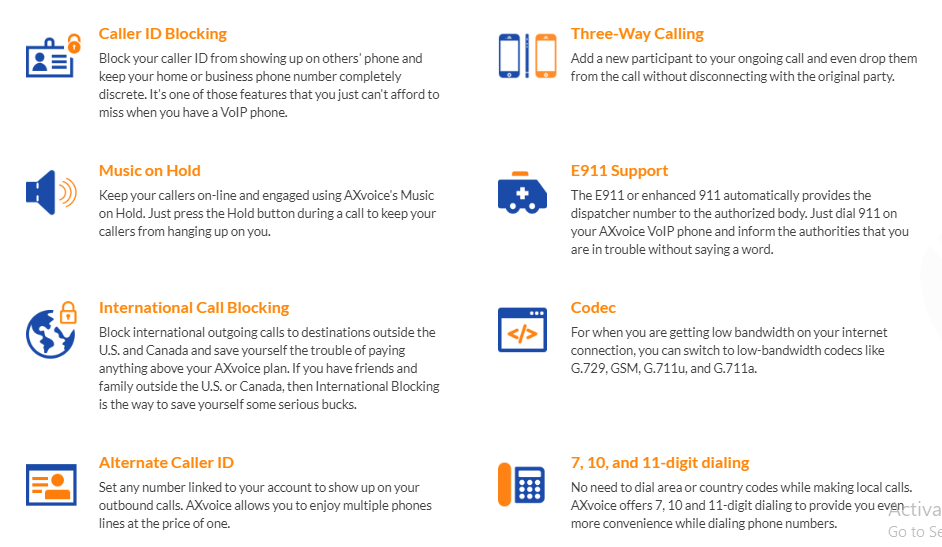 Axvoice offers the users with plenty of outbound features with the help of which you can manage your outgoing calls. Here's how:
Caller ID Blocking: You can keep your home or business phone number private and block your caller ID from displaying on other person's phone. When you have a VoIP phone, you just can miss that.
Alternate Caller ID: Axvoice allows you to enjoy more than one phone line with a very marginal fee. You can set any number linked to your account so that it shows up on your outbound calls.
Music on Hold: You can keep your callers engaged with the "Music on Hold" feature when they are put on hold. This also tells the callers that they are still connected to the line, decreasing the number of dropped calls, overall.
E911 Support: In case of any trouble or emergency, you can inform the authorities by dialing 911 and not saying a word. The E911 stands for enhanced 911 and it provides the dispatcher number to the authorities.
International Call Blocking: You can block international outgoing calls to places outside Canada and the U.S. This way, you can save yourself from spending more than your Axvoice plan.
Three-way Calling: You can benefit from three-way calling by adding a new participant to the ongoing call. You can also disconnect them from the call without disconnecting the original party or call.
Codec: You can switch to low-bandwidth codecs such as G.729, GSM, G.711u as well as G.711a if you are getting low bandwidth on your internet connection.
7, 10, and 11-digit dialing: With Axvoice, you don't have to dial the area or the country codes when making local calls. The service provides you with 7, 10, and 11-digit dialing for convenience.
Incoming Call Features: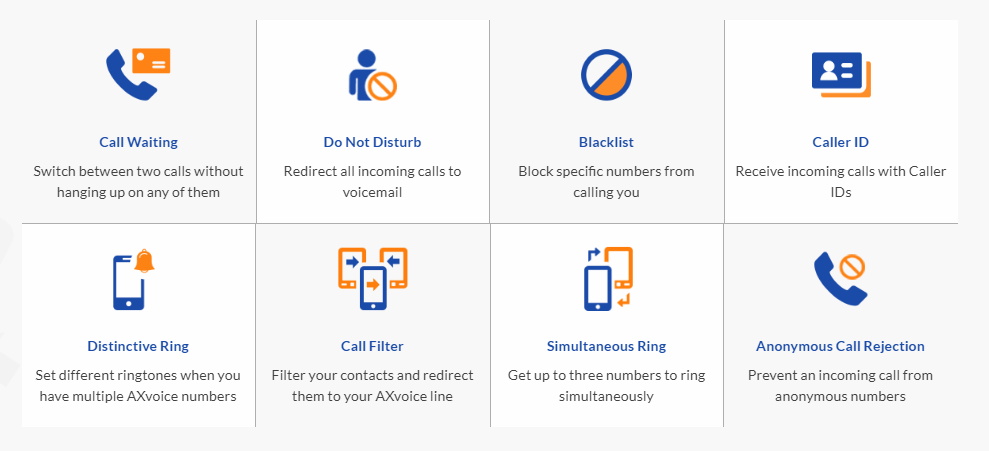 There are some amazing incoming call features of Axvoice that let you improve the control over your incoming calls and the timing of the incoming calls.
Call waiting: You can switch between two calls without hanging up on any of them.
Do not disturb: Don't feel like talking? You can redirect the incoming calls to voicemail.
Caller ID: You can see the caller IDs of the incoming calls.
Distinctive Ring: You can set different ringtones if you have more than one Axvoice numbers.
Anonymous Call Rejection: You can prevent any anonymous number from calling.
Call Filter: You can filter your contacts and then redirect them to your Axvoice line.
Simultaneous Ring: You can get up to three different numbers to ring simultaneously.
Blacklist: You can block unwanted numbers from calling you.

Call Forwarding Features:
Axvoice also has a variety of call forwarding features. This way, you can never miss a call again. The call forwarding feature is easy to set up makes it convenient for those businesses who cannot afford to miss any of their client's calls.
Call Forwarding: You can redirect the unanswered calls to specific U.S. and Canada phone numbers.
Failover: If any issue arises such as the ISP being down or a power outage, you can forward your calls to a specified number.
Find Me Follow Me: With the Find me/Follow me feature, you can redirect unanswered calls to specified numbers in a pre-specified order.
Advanced Features:

That is not all. Axvoice has a range of advanced features as well for both its Residential and Business plans. There is no additional fee or usage terms either.
Enhanced Voicemail: You can use your Axvoice web account to check your voicemail from any browser-based device.
Cal Logs: You can view the call logs for your missed, incoming, and outgoing calls in real time.
BYOD Support: You can set up your Axvoice line on an unlocked VOIP device after a simple configuration process.
Softphone Support: You can use your Axvoice VOIP to make calls without using a touchphone if you download a softphone software on your cell phone, tablet, or computer.
Free In-network Calling: You can make calls to other Axvoice numbers without paying a dime.
Price:
Here is a breakdown of the prices according to Axvoice's residential and business packages.
Residential VoIP
Business VoIP
$8.25 per month
$14.99 per month
ü  Unlimited local & long distance calling

ü  Keep your number

ü  E911 support

ü  Free hardware & activation

ü  Money-back guarantee

ü  30+ calling features

ü  200 outgoing minutes across the US & Canada

ü  Add multiple phone lines

ü  Conference calling

ü  Free hardware & activation

ü  Money-back guarantee

ü  30+ VoIP calling features
 Pros of Axvoice VOIP Service:
Here are some of the advantages you can benefit from using Axvoice:
Even if your internet connection is not working properly, you can lower the bandwidth so that the quality of the call is not affected.
The phone system management is very simple to understand and use.
Axvoice offers excellent call quality for long distance calls as well.
The users have a 15-day money back guarantee service if they are not satisfied with the service.
You can both port your existing phone number or use a new local number for Axvoice VOIP.
Axvoice service can be run on mobile devices with the help of third-party softphone apps.
Drawbacks of Axvoice:
Axvoice has 30+ features for its users but has few drawbacks:
They do not have 24/7 customer support yet.
Axvoice's 15-day money back guarantee comes with few limitations.
The unlimited plan has the usage policy of 3000 minutes.
Final Words:
Axvoice is the most affordable VOIP service provider amongst all. With both basic and advanced features, it packs a punch for both residential and business needs. The customer support is great. And even if there is no free trial version, they offer a money back guarantee which is not so bad. You can also go through individual customer reviews to more about Axvoice.