Help Your Children Regulate Their Sleep
Help Your Children Regulate Their Sleep

Children tend to have their own internal clocks.  Unfortunately those clocks don't always correlate with the actual time that they should be getting up. As parents we want our children to get adequate amounts of sleep…and to LET US SLEEP TOO!
It's usually best to help children learn to regulate their sleep, rather than allowing them to turn everyone's schedules upside down.  But. it's hard to stay calm and focused when we are desperate to crawl back into bed! Night time and early morning waking can become a battle of wits, which makes everyone cranky.
Vincent Claessen, father of 5, discovered that his children often interpreted certain things, like birds chirping or changes in the degree of light in their rooms, as being time to get up.  He wanted to find a way to teach his kids how to know when it was really time to get out of bed.  Thus the first Kid'sleep was born. These special nightlight clocks teach children in a fun way, that is easy for them to understand.
THE KID'SLEEP MOON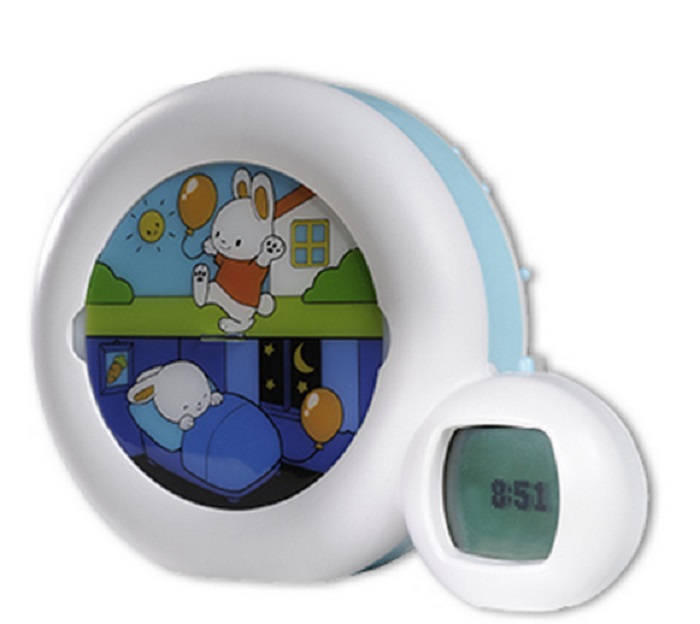 Starting at birth, the Kid'sleep Moon can be used as a traditional night light. It also plays lullabies, fountain noises and intrauterine heartbeat sounds. As baby grows, they can see images that will help them determine if it's time to get up, or to roll over and go back to sleep. Parents choose what time the sun "rises" and it's time to get up for the day.
With 4 levels of brightness and 4 different alarms (or you can choose no alarm at all), you can find the perfect setting for your little one. Claessens' also has a Kids Classic in Pink and Blue along with a My First Alarm Clock in both Pink and Blue.  Choose the one that best fits your needs, and help your child to help himself or herself, to know when it's time to go to sleep and when it's time to greet the new day!
Connect with Claessens' Kids:  Shop | Facebook
Disclosure:  I was not compensated for this post. However, I did receive a product from the company below and the opinions expressed in this post are 100% my own. I am disclosing this in accordance with the FTC guidelines. All prize fulfillment will be provided by Sponsors.