Head Back To College with the fastest Wi-Fi from AMPLIFI!
Now that many children are headed back to College one of the most important things they will need in their dorm room or apartment is a good WiFi connection. I can remember when my oldest daughter moved to her dorm room the first thing we all noticed was just how poor her Wi-Fi connection was.
She was so frustrated from constantly losing her internet connection? She even had to visit the library more in order to conduct her assignments. Well, no more frustration, she and many other children and families can enjoy being connect to one of the fastest networks around called AmpliFi Wi-Fi.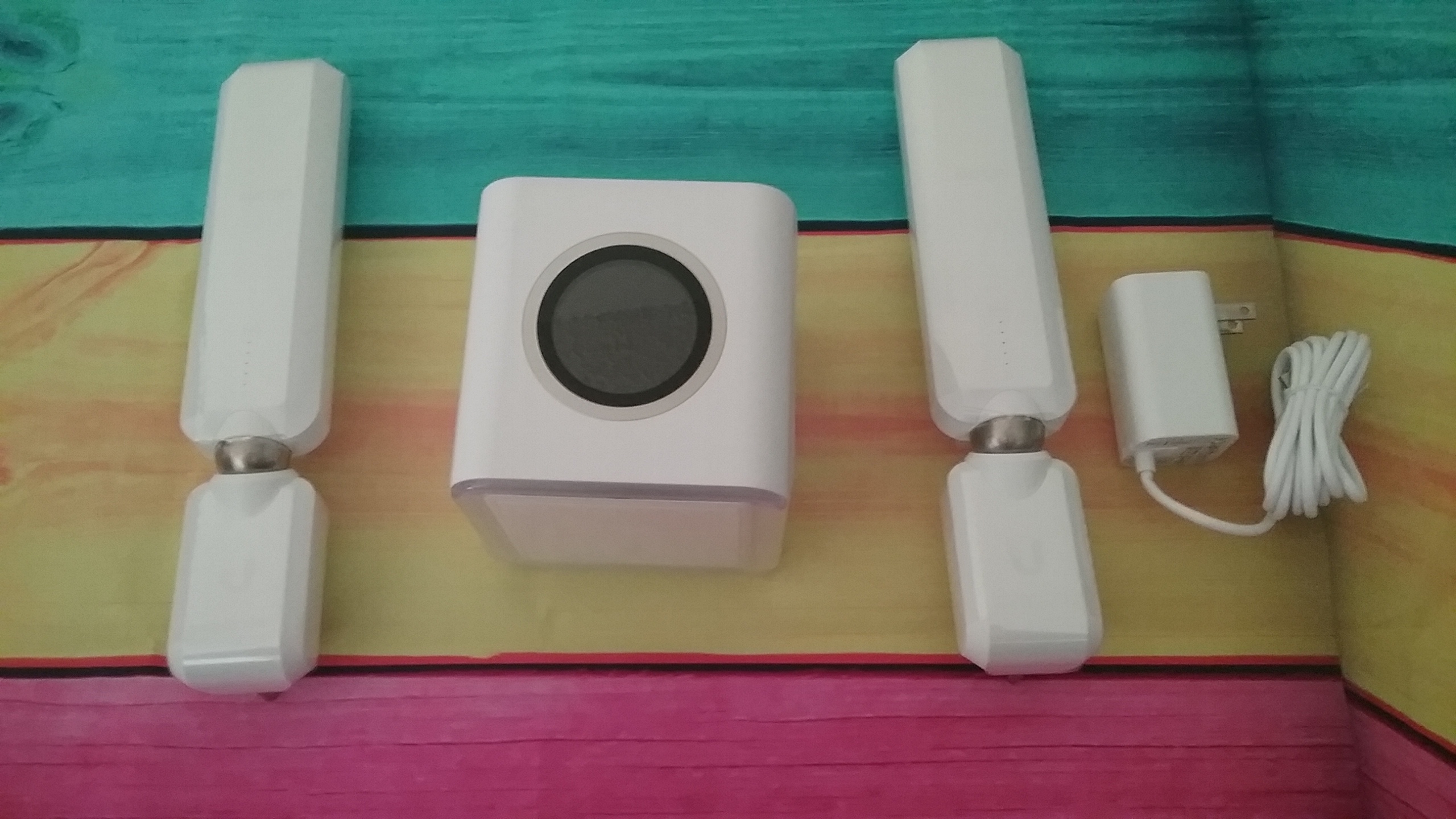 So you may be wondering how will the AmpliFi Wi-Fi work, well AmpliFi Wi-Fi system promises to eliminate deadspots and deliver inescapable Wi-Fi coverage throughout your home. You heard me right, eliminate all those deadspots where you can't connect your devices!
You know how in many areas of your home you may find it hard to pick up a Wi-Fi signal connection? Well, The AmpliFi uses mesh networking to push out a strong, reliable signal to every corner of your home. The AmpliFi base cube takes the signal from your modem and transmits it to each mesh point throughout your home, this in return will provided every user with better, stronger networking coverage throughout your home or office. Next the AmpliFi iOS and Android app connect to the base station via Bluetooth LE and will act as your main control. The great thing about the AmpliFi system is you will be able to manage your network, monitor speeds, check security, and so much more.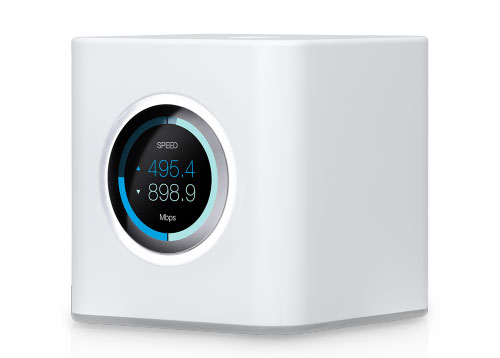 This cute, unique router can be placed in any room, no need to hide this router like you did with all the other ones. I know my old router is extremely big and is hidden behind my desk. With the way the AmpliFi is design I'll be happy to proudly display this unique router on my desktop. On the front, you'll find a touchscreen display that shows the time and upload, download speeds, a LED glow in the dark display that helps controls the brightness, and there's 4 Gigabit Ethernet ports to connect 10/100/1000 Mbps wired network devices to the Internet
I love that even if I'm upstairs this AmpliFi Wi-Fi will still be able to provide me with a boost of speed and fast connection to watch a good movie unlike other routers I've used upstairs.
You can sync up your AmpliFi easily because the router features a companion app for Android and iOS devices which makes it easy to get your router setup for wireless communication. Before long your AmpliFi will deliver "high-performance connectivity," including parallel video streaming and other intensive bandwidth applications per the company. The AmpliFI app also allows parent controls, guess networking and Mesh Point LED lighting adjustment on iOS and Androids devices.
Now each AmpliFi's mesh points are included in your box and can be plug into any outlet. Just plug them in your socket and sit back and watch them boost your signal strength without any problems. These awesome mesh points are filled with great antenna technology that will self-configure and help get the job done without a doubt. Another great thing about the AmpliFi's mesh points is they also pivot on a magnetic connector that's intended to deliver power and adjustability.
Once plugged into an outlet, the antenna on each of AmpliFi's mesh points can be adjusted to bring you the best signal coverage. Don't forget the AmpliFi's iOS and Android app can be downloaded and set up in less than 60 seconds. Once you have the app ready it will act as your main contact for your Wi-Fi network, you can keep track of all functions and much more.
The system comes equipped with everything you need to get you started.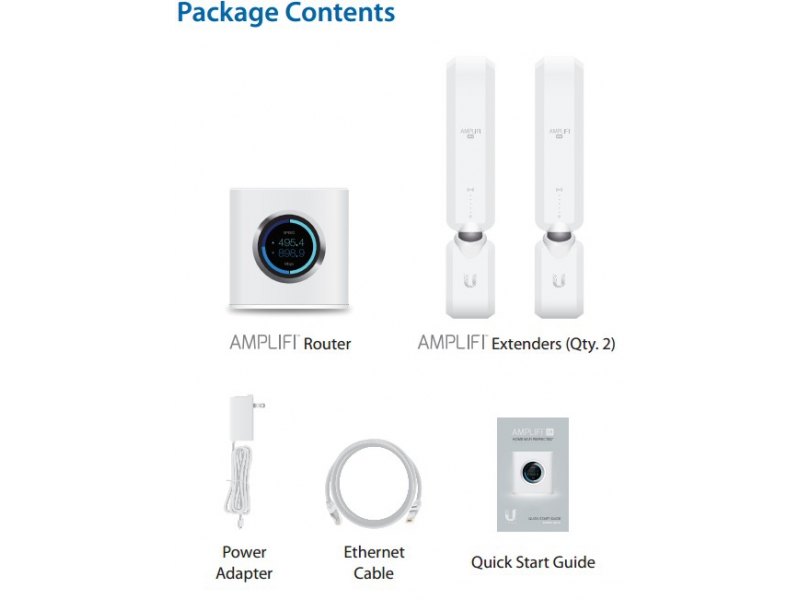 There are 3 different network configurations. All of them includes a router base station and two wireless mesh points which are all different according to these factors like speed, ranges, and more:
AmpliFi: Max power is 24dBm, with 4 radios, 10 MIMO chains, 2.36 Gpbs speed, and a 10,000 square foot range. The AmpliFi Standard is available for purchase and shipping right now.
AmpliFi LR (Super Long Range): Max power is 26dBm, with 4 radios, 10 MIMO chains, 2.35 Gpbs speed, and a 20,000 square foot range. This one is available for purchase and is shipping end of August.
AmpliFi HD (High Density): Max power is 26dBm, with 6 radios, 18 MIMO chains, 5.25 Gpbs speed, and a 20,000 square foot range. The AmpliFi HD is shipping in September.
You can order yours now for $199, $299, and $349. Don't wait till they are sold out order yours now.
Well, I can't wait to see my daughter set the AmpliFi system up in her dorm room. I'm so glad she'll have a high performance router that will allow her to get all of her work done right in the comfort of her own room. I won't have to worry anymore about her leaving out at night after doing her studies at the library!
You can connect with AmpliFi via Facebook | Twitter |ShopAmpliFi