Greet Your Employees with a Heartfelt Welcome Box
Types of Items to Include in an Employee Welcome Box
Making sure that your new employees feel welcome and comfortable in their new workplace is key to their success. An employee welcome box is one way to make your team members feel special, as well as provide them with the important tools they need to be successful. Here are some of the types of items you should include in an employee welcome box:
Office Supplies and Accessories: It's important that your new team members have all the essential office supplies they need on day one. Include items such as pens, notepads, post-it notes, highlighters, paper clips, staplers and more. You could also include any necessary office accessories such as a mouse pad or USB drive. 
Snacks and Refreshments: A great way to help relieve stress on the first day is by providing snacks and refreshments for your employees. This can be anything from energy bars to fresh fruit or even a gift card for coffee or lunch at a nearby restaurant. 
Gifts and Souvenirs: Showing appreciation for your new staff members can go a long way in making them feel welcomed into the workplace family. Consider adding small gifts such as branded mugs or t-shirts with your company logo or even souvenirs that are representative.
Best Practices for Creating an Effective Employee Welcome Box
Creating an effective employee welcome box in Singapore is an important part of onboarding new team members. A welcome box can help make a new hire feel appreciated and give them the tools they need to get up to speed quickly. Here are some best practices for creating an effective employee welcome box:
Customize the Contents to Suit the Recipient's Needs: When putting together a welcome box, it's important to think about what will be most helpful for your new hire. Consider their role within the company and add items that will help them succeed in their position. Think about adding items like a personalized office supply kit, a guidebook outlining company policies, or even something fun like branded swag.
Carefully Choose Personalization Options: Part of making your employee feel welcomed is including personalization options in your welcome box. Find ways to make each recipient feel special by including items such as their name printed on stationery or custom-labeled snacks with their initials or favorite flavor written on them. These little touches can really go a long way toward making someone feel appreciated and welcomed into your organization!
Invest in Quality Packaging Materials: The packaging materials you choose for your employee welcome boxes should reflect the level of care and attention.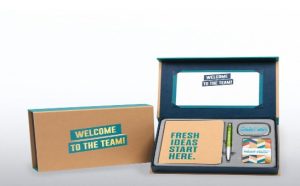 Conclusion
The employee welcome box is an effective way to welcome new employees and make them feel part of the team. It's a great way to show them that you care about their comfort, goals and success. With thoughtful items that can be used for work, home or leisure, it also serves as a reminder of your appreciation for their hard work. All in all, the employee welcome box is an excellent way to make new hires feel valued and appreciated from day one.