Dyson DC59 Motorhead Slim Cordless Vacuum, lightweight and powerful!!
Disclosure: Howdy everyone, I wanted to inform you that I was not compensated for this post. However, I did receive a product and the opinions expressed in this post are 100% real and that of my own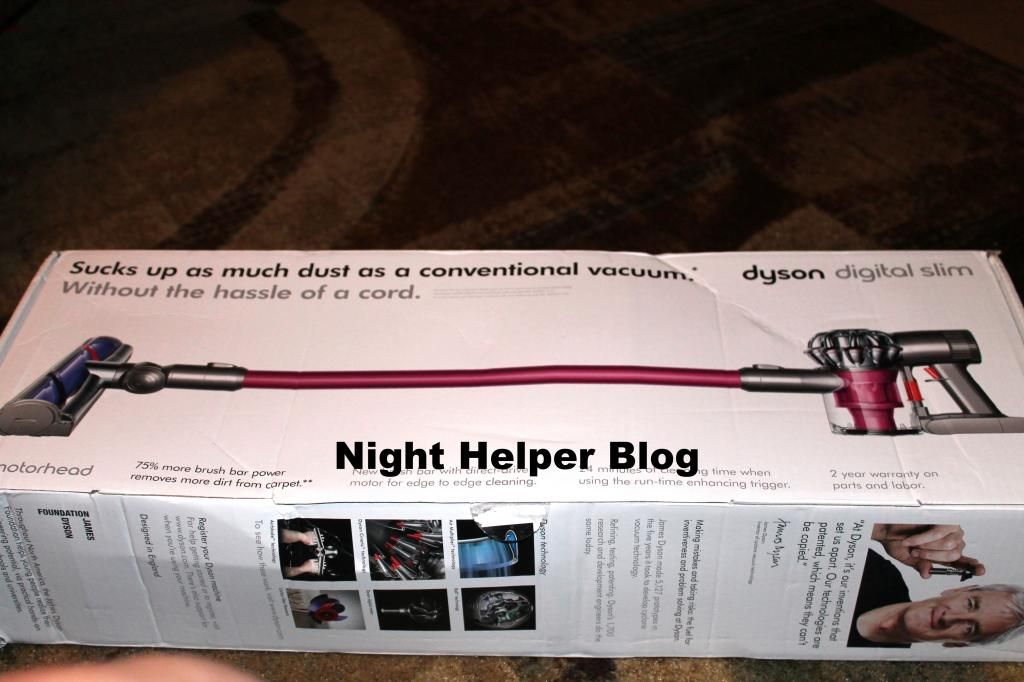 Are you in need of a new vacuum? Do you find your old vacuum to be bulky and heavy? Well move over because Dyson's DC59 Motorhead Cordless Vacuum is here to save the day. It's the perfect answer for every household. If you're anything like me, I'm sure you too do a lot of searching before buying any product for your home. I like to make sure every product I purchase meets my needs not only with the results they provide but the needs of making my daily life easier. Wouldn't you agree?
So when I was asked to review the Dyson's "Awesome" DC59 Motorhead Cordless Vacuum I was real excited. Let me inform you why, I really don't have a good vacuum nor do I have a cordless lightweight one that packs the power that this Dyson's pack. Being a person with a chronic back injury vacuuming is something I can not do if the vacuum is heavy.
When my husband opened the box we saw everything we needed to get us started. Every part was packed and secured and ready for its user to place it all together. Sometimes when we consumers open products like this seeing all the parts can sometimes be intimidating but not the Dyson DC59. This was a very easy assemble, it was a one, two click setup and everything I needed was inside the box along with Dyson's consumer friendly instruction.
Within a few minutes my husband had it completed and ready for me to give it a try.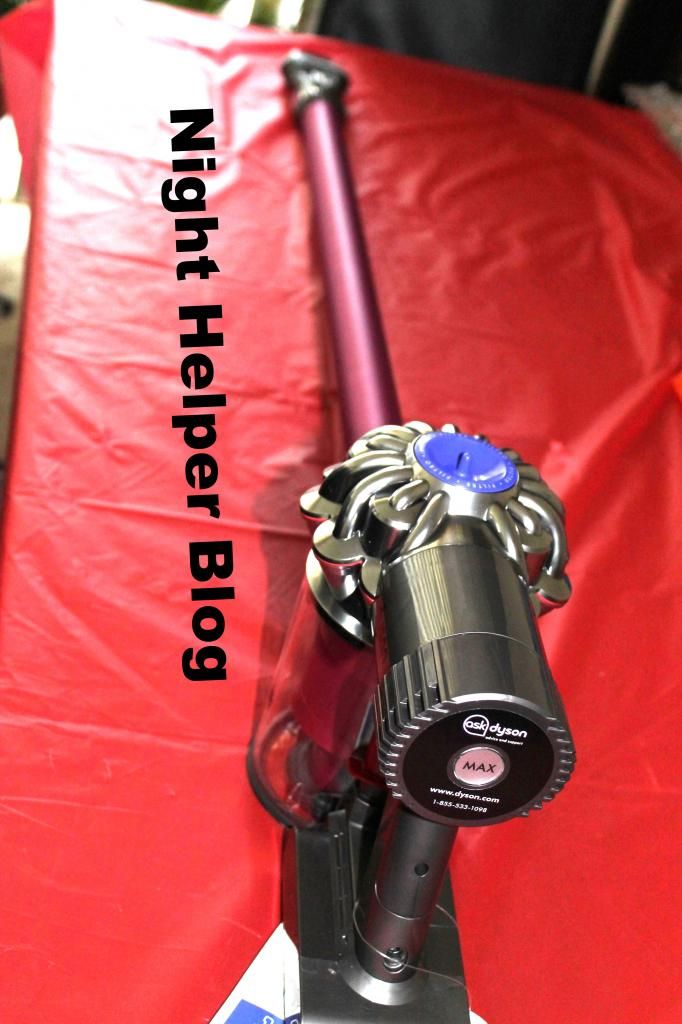 Now keep in mind that the Dyson Motorhead DC59 Cordless Vacuum has a lot of attachments that will help address every area of your home. You can vacuum your floors, stairs and even your curtains with some of the attachments. Trust me, you're sure to get more cleaning power out of this Dyson because of all the features and powerful power.
The great thing about this new Dyson is the company took it one step further, the DC59 Motorhead has a second motor in the vacuum's cleaning head which is a great solution. I do remember hearing about Dyson adding a second motor and if I'm correct I believe it was their Dyson's DC23. I think this feature will provide better deep cleaning results for both fabrics and carpet.
With the new cool suction motor design features and superior suctioning power the DC59 Motorhead is by far the best vacuum out on the market right now in my opinion.
I was amazed when I turned the Dyson's DC59 Motorheard Cordless Vacuum on, it was like I could feel the suction power before I even started to vacuum and yes the handheld Dyson's Motorhead is very lightweight and so easy to maneuver around with or without attachments!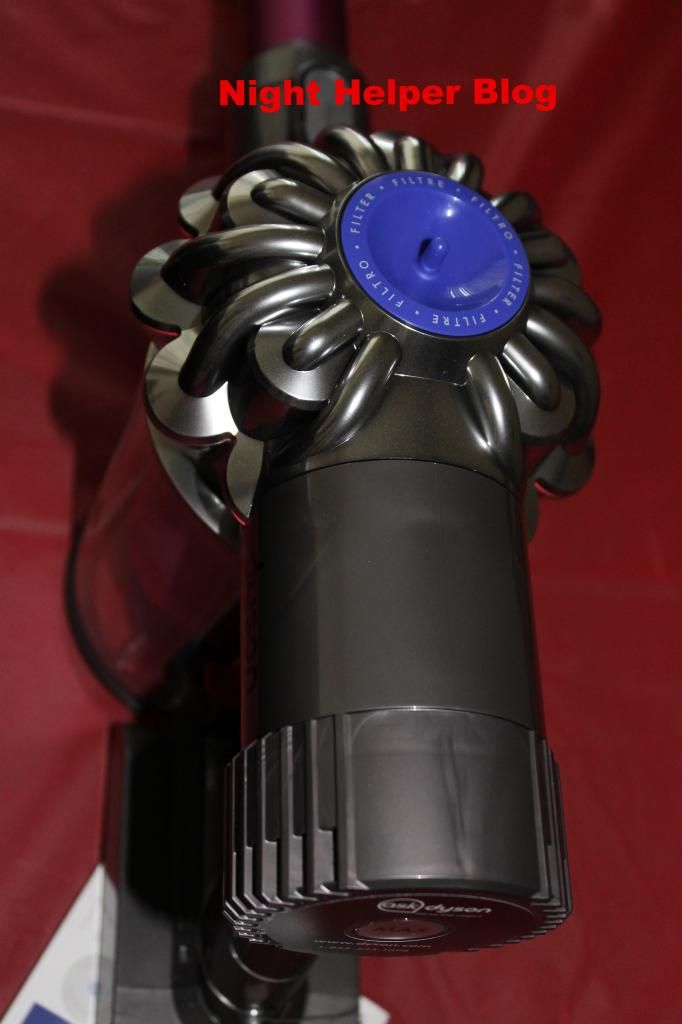 I have heard many others say the improvements of the new Dyson's DC59 Motorhead Slim Cordless Vacuum has been greatly received!
I do know with the type of motor/suction within this Dyson's picking up debris off of chairs, floors and couches should be a breeze and don't worry, it will also remove grime that is stuck on your tile and hardwood floors. My main goal was testing it out on my blinds that are hard to reach. I really don't have a vacuuming tool that extends far enough to assist me with cleaning dust in that area and to be honest climbing on a chair to do this isn't safe.
So I asked my husband to attach one of the attachments which was the brush and let me see how it works and feels.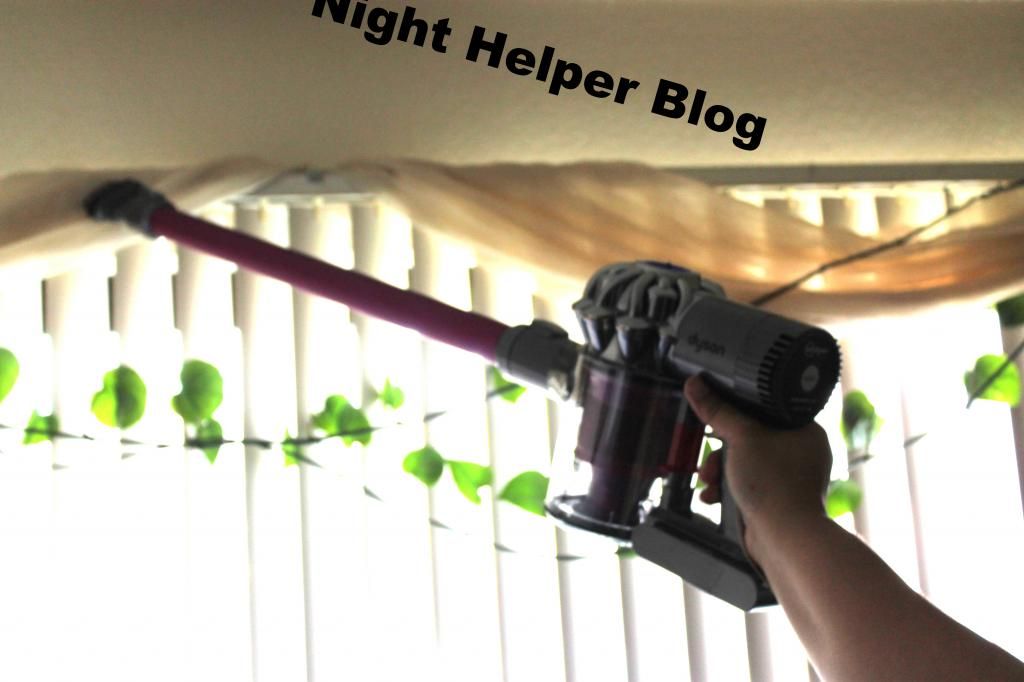 I was amazed as to how fast the dust was being removed, but most of all as you can see the handle extended just right so there was no need for a chair… Yay!! Within in minutes I was done and actually ready to tackle my next chore it was just that easy, plus you have all the versatility you need with this handheld vacuum. The Dyson DC59 again is cordless, has a swiveling ball joint that can maneuver around in any area, great battery life, plus an easy to empty bagless bin.
No more unwinding cords or bulky upright vacuums just the new Dyson's DC59 Motorhead that will offer each user great powerful suction, awesome balance with great grip handle, the ability to clean in any awkward place, power control that will help save battery life, 2year warranty on parts and labor, many attachments to meet your cleaning needs and 24 minutes of cleaning time when using the run-time enhanced trigger and lets not forget you can also hang your Dyson on the wall in its docking station for charging, Using this Dyson will be zero effort!
So you see vacuuming should never be hard nor a chore you regret doing, the Dyson's DC59 Motorheald Slim Cordless Vacuum is here to save your day! The next time you're in the market for an innovative new sleek, powerful vacuum just know that Dyson has you covered.
Here is more specifications about the Dyson DC59 Motorhead Cordless Vacuum:
The DC59 Motorhead cordless vacuum cleaner is powered by the Dyson digital motor V6. This 350W motor, 2 Tier Radial™ cyclones and a re-engineered nickel manganese cobalt battery combine to provide powerful suction. The latest motorized head with a direct drive motor located inside the brush bar drives into carpet pile to remove ground-in dirt. Together, these technologies enable the Dyson DC59 Motorhead to out-clean most full-size vacuums across carpet and hard floors.
Powered by the direct-drive motor
DC59 Motorhead contains a direct-drive motor in the brush bar, centralizing weight distribution of the brush bar driving stiff nylon bristles into the carpet to remove ground-in dirt. The direct-drive motor delivers direct power – 75% more power than DC59 Animal.
DC59 Features
Direct-drive cleaner head
Dyson digital motor V6
2 Tier Radial™ Cyclone technology
Powerful cleaning across hard floors and carpets
The DC59 Motorhead retails for $549.99
You can keep up with the latest about all Dyson's products via Facebook, Twitter and Pinterest.
Disclosure: Howdy everyone, I wanted to inform you that I was not compensated for this post. However, I did receive a product and the opinions expressed in this post are 100% real and that of my own