Designing a beautiful outdoor space around your pool
Do you have a love for grilling? Then you need an outdoor space where to spend pleasant moments with your loved ones. If you have a backyard that features a pool, then the space surrounding it is the perfect spot for creating a patio. A well-designed outdoor space can completely change the way your backyard looks. The pool patio can serve multiple purposes, from an open-space for lively gatherings, to a relaxation spot where you can escape from the bustle of the town. You can transform it according to your preferences, to design the perfect outdoor space. All you need is a vision, you have to decide what its purpose will be and what features you want it to include.
What the main function of the outdoor space will be?
You should not start the remodeling project before you establish the function of the area. You should close your eyes and try to imagine how your ideal backyard would look like. You should not confine yourself to a conventional idea. Here are some of the most-loved ideas:
Bistro Patio
If you want to create a private setting where to spend time with your family, then you should bring to the backyard a bistro table and a few chairs. The fact that they are placed close to the pool will offer a pleasant atmosphere. It will offer you the possibility to enjoy night meals with your loved ones and to spend time at the pool in a cheerful way.
Sun Deck
If you are the type of person who loves to invite your friends to your house, you will find a sun deck a great idea. The sun deck will offer you a lot of space close to the pool. All you have to do is to install some comfortable lounge chairs. If you want to take the project to the next level, you can install the sun deck inside the pool, above the level of the water. This way you will have immediate access to the water when you want a quick cool off.
Outdoor room
If you live in a geographical area where the summers are hot and long, then an outdoor room will prove to be a good idea. It will serve you as an outdoor kitchen or dining area. You can craft a cabana and install waterproof furniture to have a comfortable stay. The outdoor room will be the perfect space where to gather with your friends, or to have a quick swim, or to have fun. Just keep in mind that for all your pool cleaning needs you can always use a Robotic Pool Cleaner.
Garden Oasis
If you relax while gardening, then you can transform your backyard into a garden oasis. You should check the options you have for creating a waterfall and place small furniture items between plants. It will be your refuge space when you want to get away from your house.
It does not matter what purpose you find to the space, make sure that the pool is in a top state when you start remodeling the space surrounding it. In case you have small children or pets, it is advisable to use a cover for the pool, for the moments when they will spend time on the patio unsupervised. www.1stdirectpools.com/ recommends investing in a quality cover, to resist in time.
Aspects that will enhance the design of the outdoor space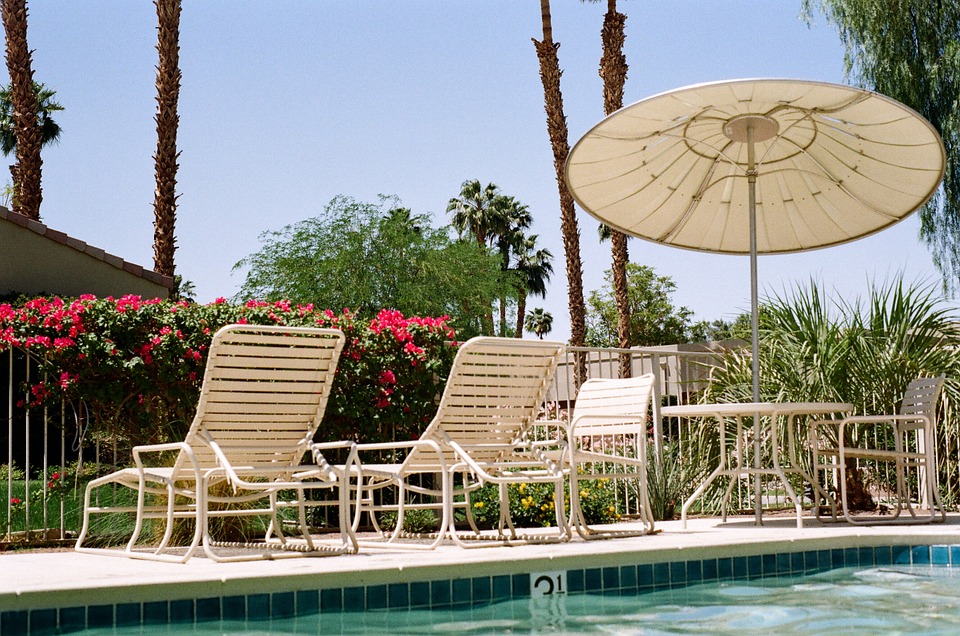 Lighting
If you want to create a cozy ambience, then you should include a lighting plan in the project. Illuminate the area you want to transform in a patio, and use lighting effects to draw attention to certain features. Lighting can be used to create detail and it will entertain the atmosphere during dark nights.
Shade
You can install the most gorgeous furniture in the backyard, but if it is placed in a spot where the sun shines the entire day long, you will have the feeling of staying in a desert. You should design the patio in a spot where trees are located, or you should create shade by using umbrellas or a gazebo. If you create a roof over the deck of the pool, you will be able to spend quality time there all day long.
Vintage furniture
If you want the outdoor space to be worthy for posting pictures with it on your Instagram account, then you should consider installing a few vintage furniture pieces. Vintage details can bring charm to a space and they will immediately enhance the atmosphere. If you find single pieces, you like, you can bring them together to other items, and you can create an interesting style. A wooden table is timeless and it can be easily placed next to a sofa. If you run out of ideas, visit OutdoorArtPros.com to have access to lots of one-of-a-kind and vintage looking furniture.
Modern features
If you want to make the space, look uncluttered then you can use modern design features when designing the space. Modern design counts on angles and lines, but depending on the space you have available, you will have to find a way to create balance. You can use abstract elements to make the space look more interesting. Polished stone, chrome and steel are only some of the materials used for outdoor modern furniture.
A beautiful dining set
If the function of the space is to host family dinners then you have to search for the perfect dining set. You have to determine the number of people who will use the set regularly, and if the set can be extended, in case, you host a larger gathering. Dining sets come in multiple shapes and according to the form of the outdoor space, you will have to decide what shape better fits the area. Comfort is an essential feature all dining sets should have. If the set does not come with cushions from the beginning, you should invest in some fancy ones for a pop of style.  Click here to read more about the outdoor kitchen.
Mix and match different items
All outdoor spaces are informal areas, so you can play with the items you place there. There is no rule when you choose the furniture items, they do not have to match, especially if there are plants in the backyard. Combine chairs of different styles, use cushions of different styles, and install a lighting system that comes with various types of bulbs. An eclectic style is perfect for the patio.