Choosing a Great Finish for Your Bedroom Set
Bedroom set pieces are among the largest investments you will make when it comes to decorating your home's interior. The furniture in your bedroom will also be some of the first things you will see when you wake up in the morning and some of the last when you head to bed each night. Therefore, you want to choose a set that is easy to match with your existing décor, as well as any décor items you may add in the future.
A big part of what makes a beautiful bedroom set so appealing comes by way of its finish. The color and tone of a furnished piece can be a large part of setting the mood of a room. This article will help you choose the right kind of finish for your set based on your personal taste and design goals.
3 Major Considerations on Choosing a Bedroom Set Finish
#1. Modern, contemporary, or mid-century? Before you settle on a bedroom set, the first thing you'll want to do is choose a theme or design period. "But, what does this have to do with a finish?" you ask. Well, classic designs typically have a darker finish, while more modern pieces tend to use lighter finishes. Then there are certain patterns that lend themselves better to one style or another.
Designs with more intricate patterns tend to suit more classic styles, while clean lines and more geometric-oriented patterns lend themselves well to more modern designs. This doesn't mean you can't bend the rules and have a white headboard with amazingly detailed scrollwork, but it will make it more difficult to bring your bedroom décor all together.
Some may be up to the challenge, but others will want a design aesthetic that is easier to manage. After all, a mismatched assortment of accessories and décor items will give your bedroom a cluttered look, something you don't want in a room designed to be elegant and comforting.
Still undecided? HGTV's bedroom personality quiz is a quirky, unscientific online quiz that may not help you choose among the many elegant bedroom sets available but will help you to think more openly about the process.
#2. Consider lighting changes throughout the day. A white bedroom set can look amazing during the daytime, especially if the room has a decided island feel with plenty of other light-colored items to complement its style.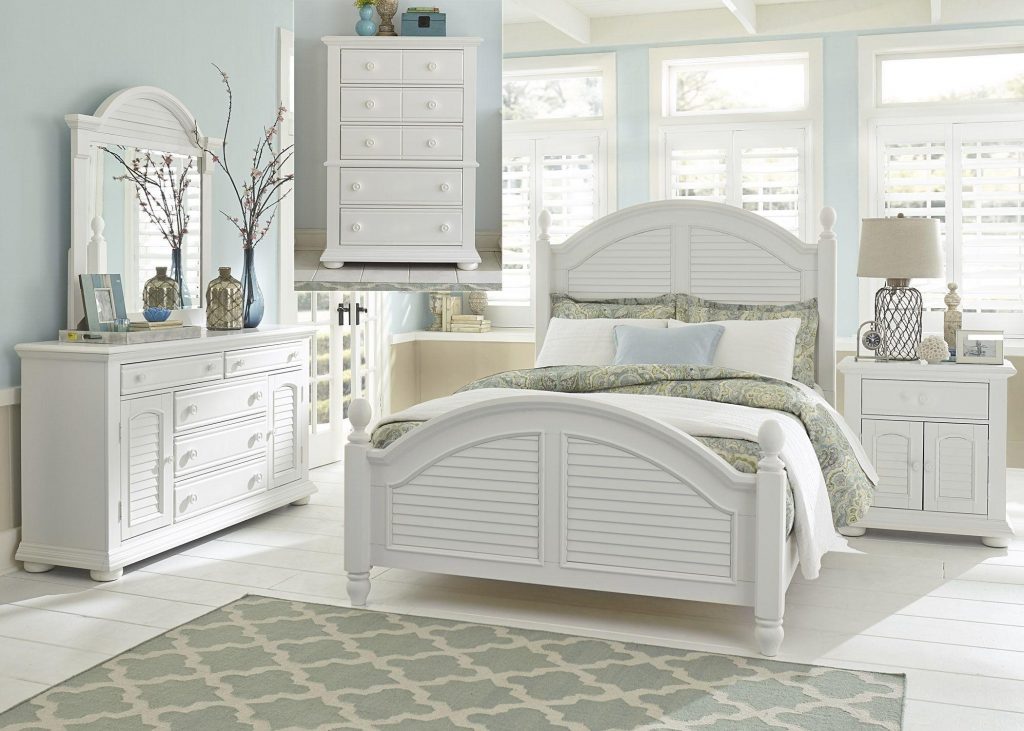 But, if the bedroom set is the lightest piece in your room's décor, it makes other design elements seem out of place during the twilight hours. Yet, you also don't want to go with an overly dark décor unless you plan on incorporating various lighting elements, such as floor lamps, pendant lights, and table lamps.
One bedroom set that is predominantly white, yet retains a simple scrollwork is the Coralayne Silver Bedroom Set by Ashley. The unique design of this set lends itself to classic, contemporary, and more modern, eclectic settings.
#3. Light or dark finish?
Do you typically like to wear light or dark clothing? Do you tend to gravitate to rooms with a brighter or darker color temperature? Answering these questions can help you choose a bedroom set that best suits your personal style and unique tastes. Choosing a set with a light or dark finish can be the difference between creating a dark and gloomy room and one that is overly bright and distracting.
For larger rooms, darker shades of accessories and bedroom furniture tend to give the room a cozier ambience, while finishes with a lighter shade create a more open feeling. The color temperature (or shade) of a room has such an effect on its overall presentation that it receives a fair amount of attention in Wikipedia's article on interior design. Houzz, a great online resource for interior design ideas, makes some great points of why you should use dark furniture in large spaces.
If you are looking to go with a darker finish, the Hamilton III Black Sleigh Bedroom Set fulfills all classic and contemporary considerations, while also staying mindful of customers' budget requirements. Like many full bedroom sets on our website, this is available as either a two- or four-piece set, allowing you to mix and match pieces from different brands or collections.
Closing Thoughts
A bedroom — no matter how big or small — should be a space that is among the most comforting and beautiful in your home. If you try to fill a larger space with too many pieces of furniture for the sake of filling it out, then you wind up creating a room that feels overly distracting and overly busy.
Secondly, take note of the shade or color temperature of your current favorite room (or a room that you find to be the most relaxing in your home). This can even be a room you once had as a child, or one you've envisioned for years. This concept can serve as inspiration for the shade and color of the walls and furniture for your bedroom's future décor.
Lastly, don't try to fill out a larger space with too many pieces of furniture just for the sake of making it feel "complete." Many homeowners have a hard time removing décor items rather than adding, so start out slowly as you add accessories and other pieces. If not, you will likely end up creating a room that is overly busy and distracting.
Good luck on your redecorating project!