Check Out Our 2019 Easter Basket Gift Ideas, there's something for everyone!
Well, here we are once again getting ready to celebrate Easter Sunday. In this guide you will find many cool products that can be placed in your kids Easter Baskets, displayed on your dinner table, toys to play outdoors, sweet treats, jewelry and much more for the entire family.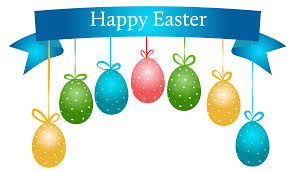 Our first Easter product comes from a well-known jewelry company called: AJ'S COLLECTION.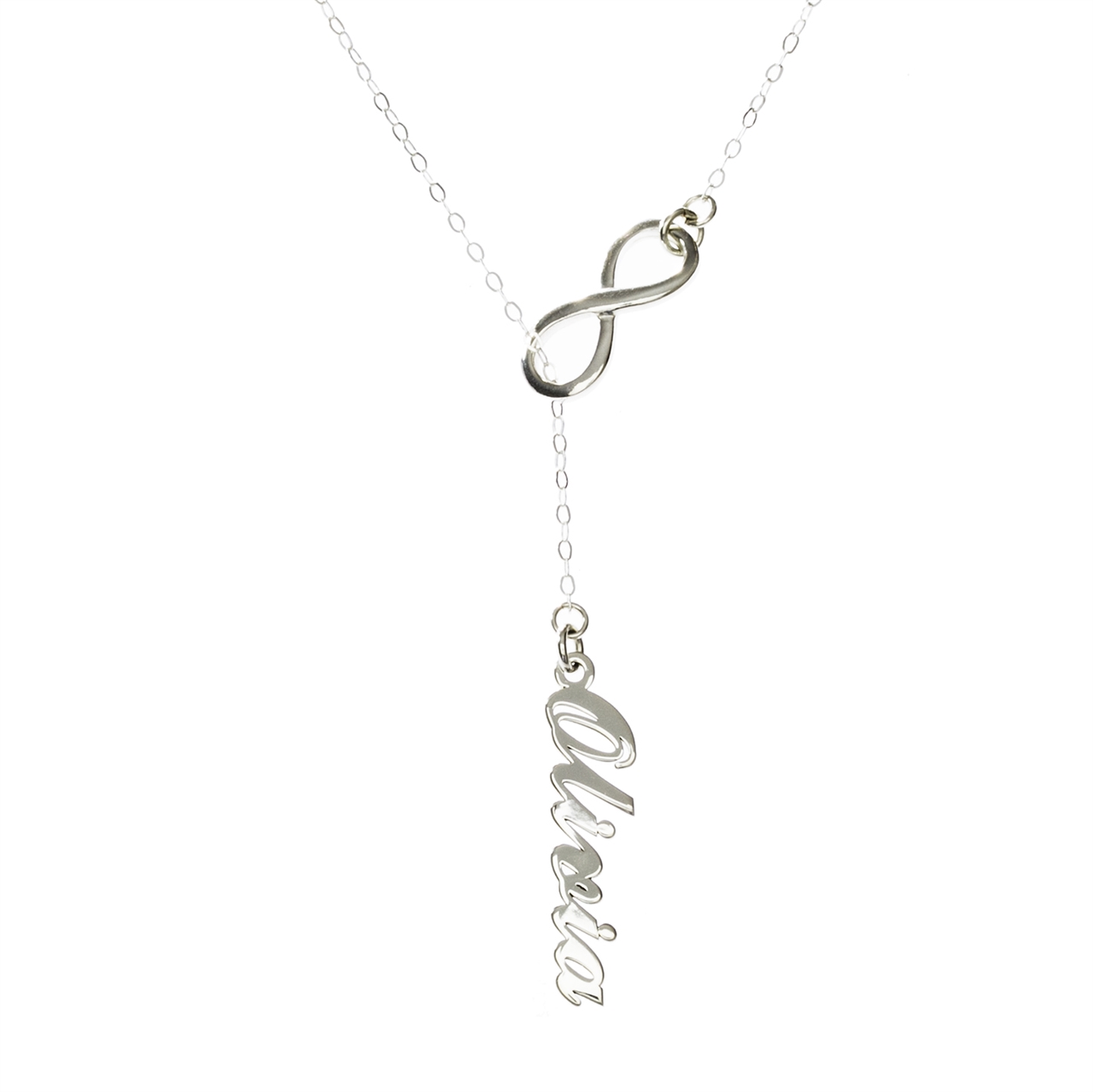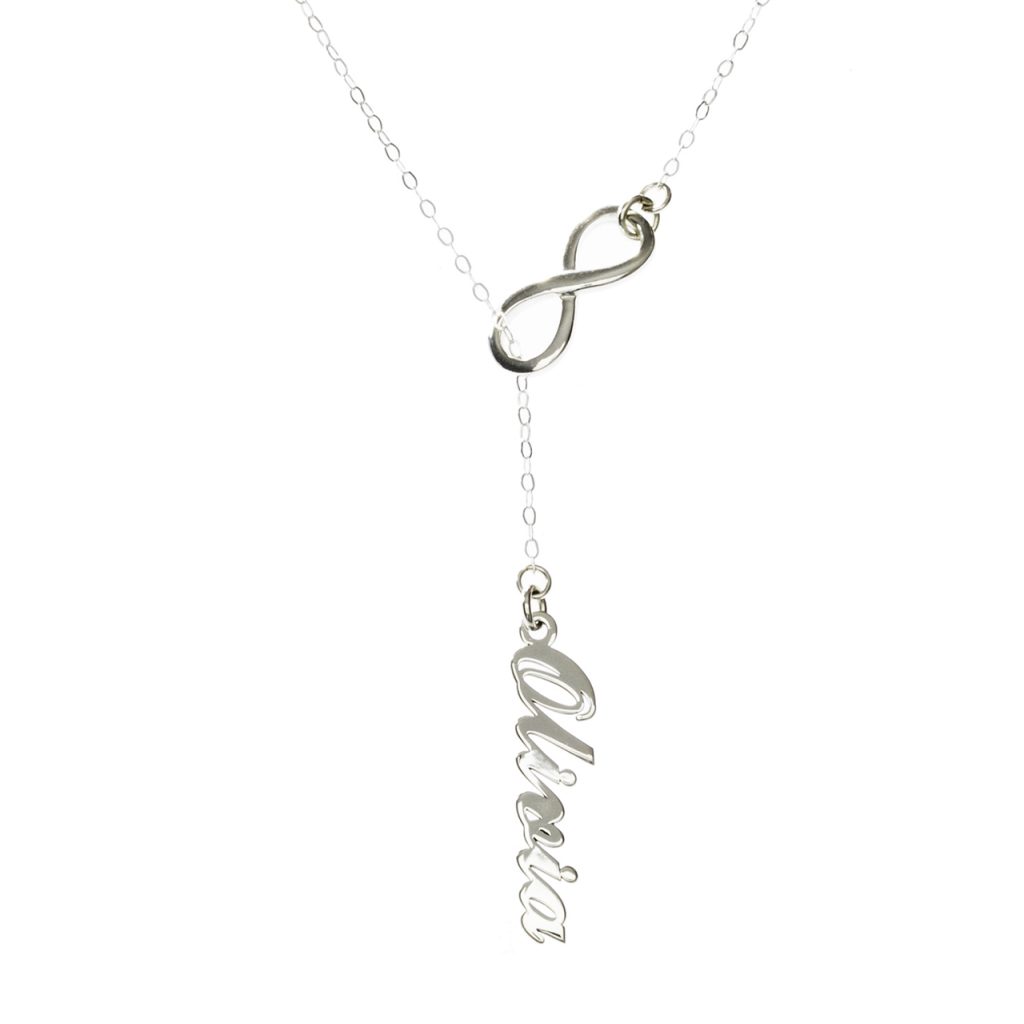 This piece is called the Infinity Name Plate, this beautiful piece is a part of AJ's Collection line of beautifully hand finished, sterling silver necklaces and charms that will fulfill both desires for the young ladies in your life.
It will be a perfect piece to add to your daughters Easter Basket and a piece that she'll forever treasure. This lariat-style, sterling silver infinity charm necklace is a classic and timeless piece, no matter what the occasion may be! It hangs together with their custom-made name plate and is beautifully crafted in sterling silver. The Sterling Silver Chain sizes 16″-24″ inches.
You can have this necklace customized with the recipient's name and you can choose from more than 100 different charm patterns and designs that are sure to touch the heart of the girl who receives them. Swarovski birthstones can be added as well. These unique necklaces are made in the USA with quick turnaround and delivery. Right now AJ's Collection is offering a sale on the Infinity Name Plate, visit the site today to see this necklace and many other gorgeous pieces here.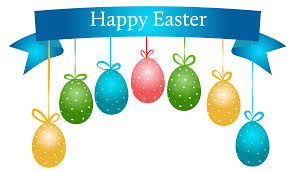 Here we have some  cool Easter basket gift ideas from the Play Monster Company. These are the Automoblox® Mini 3-Pack (Rex, Fang, Manta).
This cool, fun 3-Pack of Automoblox vehicles made of European Beech wood body and interchangeable parts includes 36 mix-and-match components to build three approximately-4" cars! Pieces can be mixed with other Automoblox mini vehicles (sold separately) to make customized creations! Build, race, and collect the whole Automoblox line! For ages 4+.
Kids can play with and collect cool sedans, rugged trucks, sporty vans, and more. The more they collect, the more customizing they can do. Plus, they're fun to race! It's easy enough for kids as young as four to get in on the fun, and the cool designs appeal to older kids as well! You can check them out here at Play Monster and on Amazon.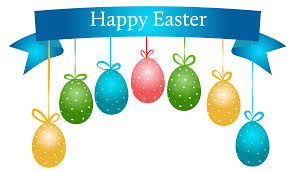 Ok, let's keep it moving.  This is another great product especially for your little daughter, it's called My Fairy Garden Scented Fairies.
Goodness, these fairies are so cute! each one of these adorable Fairies comes with a pretty flower, butterfly and child's hair clip! The fairy's flower smells just as the name would suggest, like roses! The butterfly is a fun play accessory or can be attached to the hair clip and worn as a barrette!
These fairies will be fun to play with on their own or will be great to add to any My Fairy Garden playset!
My Fairy Garden® is the first of its kind: a toy that's also a real, live garden! Children love kits that allow them to grow plants at home; it gives them a connection to nature and a sense of satisfaction at having nurtured a living thing. Check them out here, and on Amazon ,Ages 4 & Up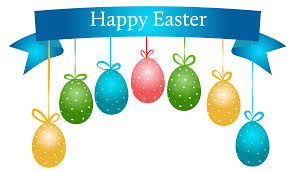 AQUA Driver is next! Now the weather is warming up this will make a great product to add to your kids Easter basket also.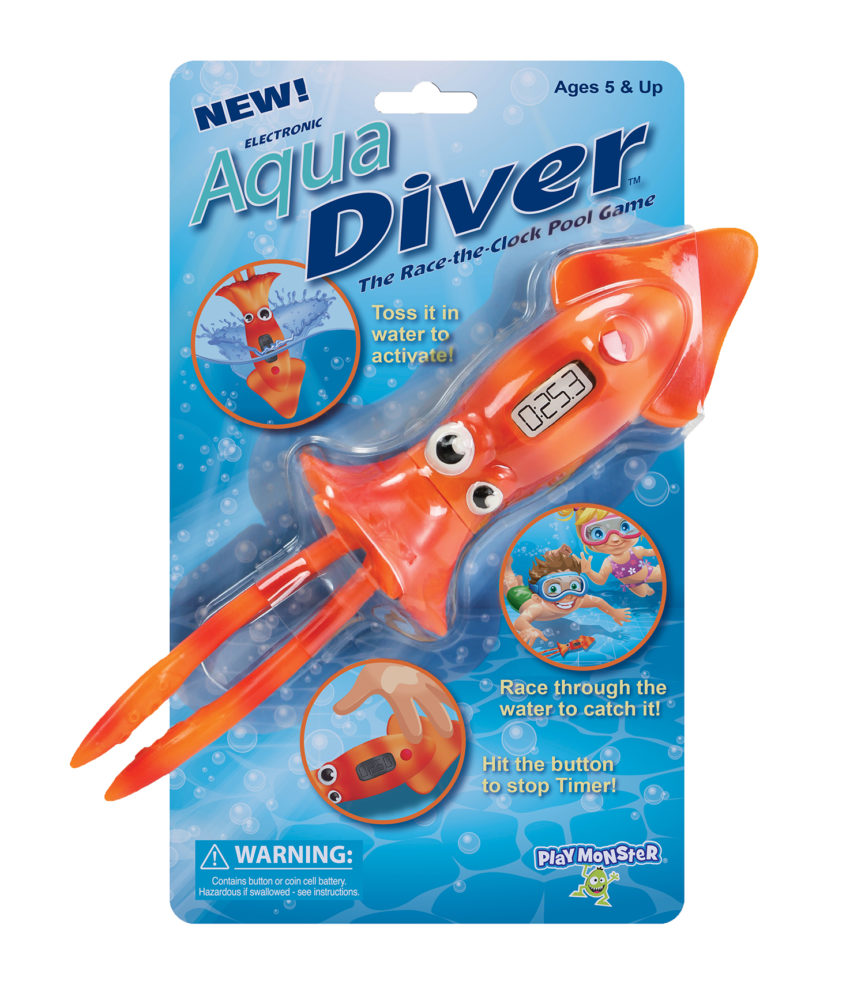 AQUA DRIVER is a Race-the-Clock Pool Game™
It's pool-time fun! Toss Aqua Diver into the pool, which starts the timer, and then dive in after it and race to catch it! Hit the button to stop the timer and see how quickly you found it!
Try and beat your best time, or see who among your family and friends is the best at the game. Play it over and over again! Includes 3 button cell batteries.
You can check it out here and on Amazon
Here are some sweet treats to help fill your kids Easter baskets from the candy company Goetze's. Original Vanilla Caramel Creams®
Goetze's Original Vanilla Caramel Creams are perfect for parties, Easter baskets, holidays, and snack stands!
No matter where you are these Vanilla Caramel Creams treats will satisfy your sweet tooth no matter where you go!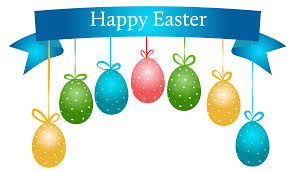 Here's another awesome Goetze's candy that even I enjoyed as a kid and even now as an adult. Cow Tales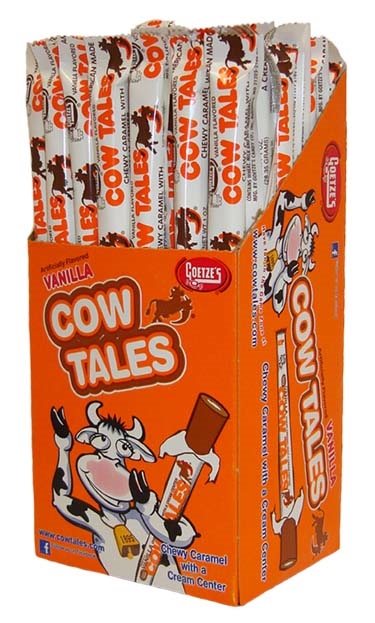 These chewy caramel candies are wrapped around a rich creamy center. They are available in Caramel, Apple, and Strawberry and will be also great for any occasion.
So, if you're looking to add that extra sweet treat to your kids Easter basket, order your Goetze's candy today .
All of Goetze's candy's come in variety sizes, made with wheat flour, caramel and real cream.
Goetze's caramels are branded under the Caramel Creams® and Cow Tales® names, and are always made with the finest ingredients in our plant in Baltimore, Maryland.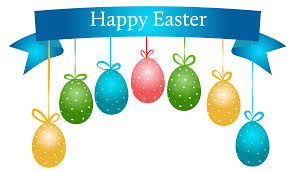 Kidz Bop Mad Moves is next, it's a game everyone can play and enjoy.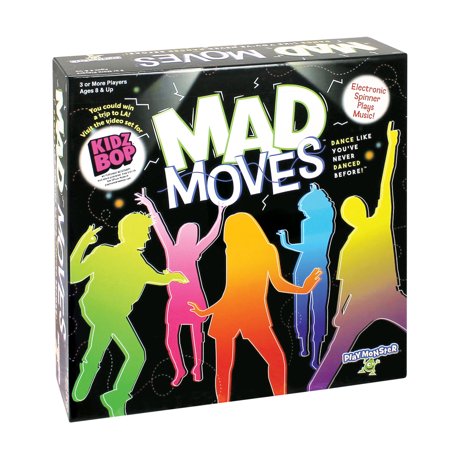 Now you and the kids can dance like you've never danced before! Have you ever performed ballet as a T-rex would, or maybe you've done the limbo like a baby? No? Well, now you just might!
Get ready to dance like you've never danced before! Roll the die to see HOW you'll be dancing (like a certain person, animal or action) and spin the spinner to see WHAT you'll be dancing (ballet, limbo, tap, twist or dance battle).
Combine the two and get groovin', while everyone else tries to guess what you're imitating! For 3 or more players. Requires 3 AAA batteries not included. You can learn more at Walmart.
Ages 8 & Up Content: 22 Action Cards, 22 Person Cards, 22 Animal Cards, 22 Tomato Cards, Electronic Spinner, Die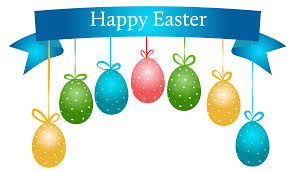 Our last Play Monster Easter basket gift idea is ….drum roll please….. Orangutwang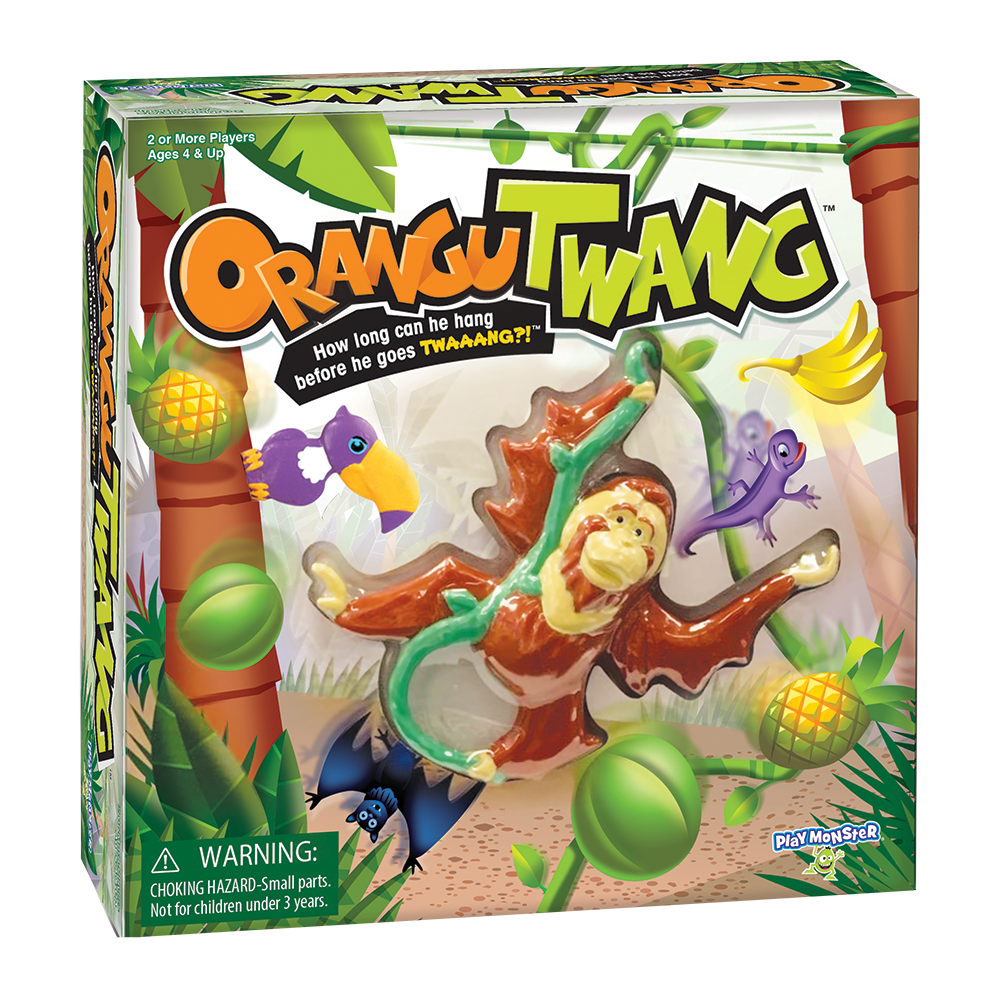 I can tell you already my kids are going to enjoy this game, they love all things related to Monkeys!
How much can you hang before he goes twaaang?!
Orangutwang is a fun, suspenseful and wild game! Take turns hanging fruit and jungle friends on the orangutan but watch out!
At some point, he'll be holding too much, and he'll spring up and send the fruit and friends flying…you just never know when! WOW this sounds like lots of fun! No batteries required; easy set up.
For 2 or more players and you can grab yours at Amazon, Target and soon to be Walmart.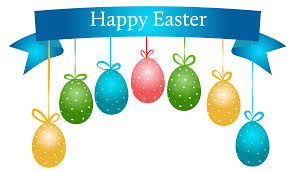 ThinkFun games last longer than candy!
I have grand kids of all ages…from 18 months to 26 years.  ThinkFun games offers so many great games that can be played by the whole family. Two brand new games in their lineup are Heads Talk Tails Walk, and HypnoGraph.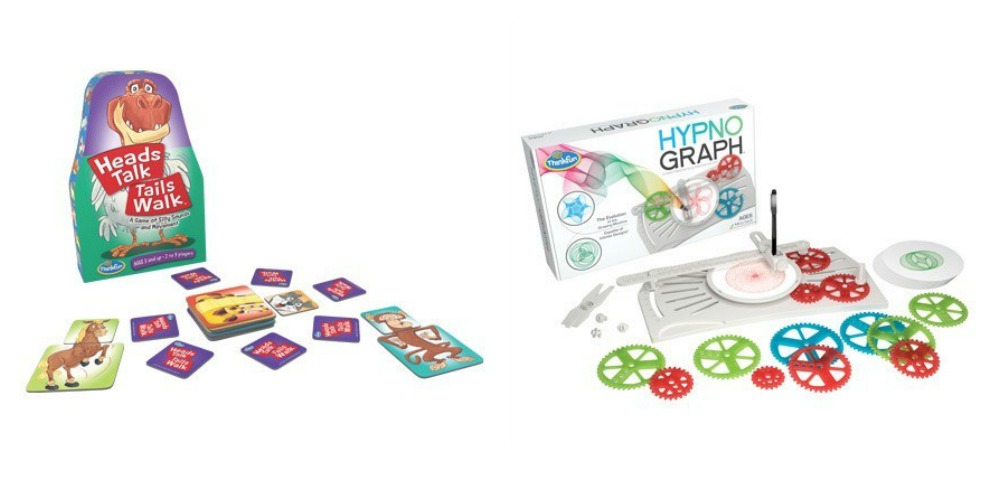 Heads Talk Tails Walk™
A Game of Silly Sounds and Movement
Can you hop like a frog while clucking like a chicken?
Have a blast trying with this delightfully silly game for ages 3+. Players try to match hidden head tiles to the correct body tiles. If the head and body don't match, the real fun begins! Players walk and talk like the mismatched tiles—with hilarious results!
HypnoGraph™
Create Mesmerizing Mechanical Art
Create complex epicycloid drawings with ThinkFun's HypnoGraph, a marvelous drawing machine! Easy to use and fascinating to watch, the machine creates an infinite variety of drawings consisting of beautiful repeating curves. Fully adjustable parts can be configured differently to create drawings using the 13 interchangeable gears of varying sizes. Create drawings using our guided setups or rearrange the gears to design something completely unique!
Click here
to download a printable template for more HypnoGraph circles.
Check out all the old favorites and new offerings from ThinkFun  HERE.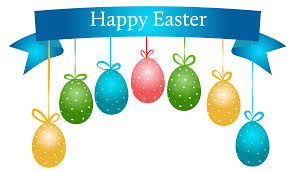 Wonder Crate – a subscription box that's loads of fun!
Choose your subscription (or order a single if your like), and then wait for the fun and learning to begin.  Your kids will be so excited each time their Wonder Crate arrived at the door! It's so fantastic to find ways to keep our youngsters minds and hands busy.  There is a time and place for technology, but I prefer to limit the amount of screen time for my grandkids. Wonder Crate offers them so many hands on activities, they won't be missing TVs or tablets at all!
Their mission is to inspire kids to look within and take positive action in the world! We want kids to expect their own efforts WILL change the future and give them the tools they need to do it!
Check out Wonder Crate here.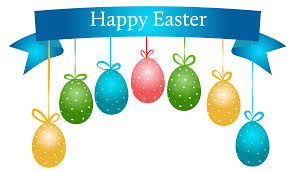 Precious Moments Angel Eggs 10″ Ceramic Serving Platter &  Angel Eggs Salt and Pepper Shakers.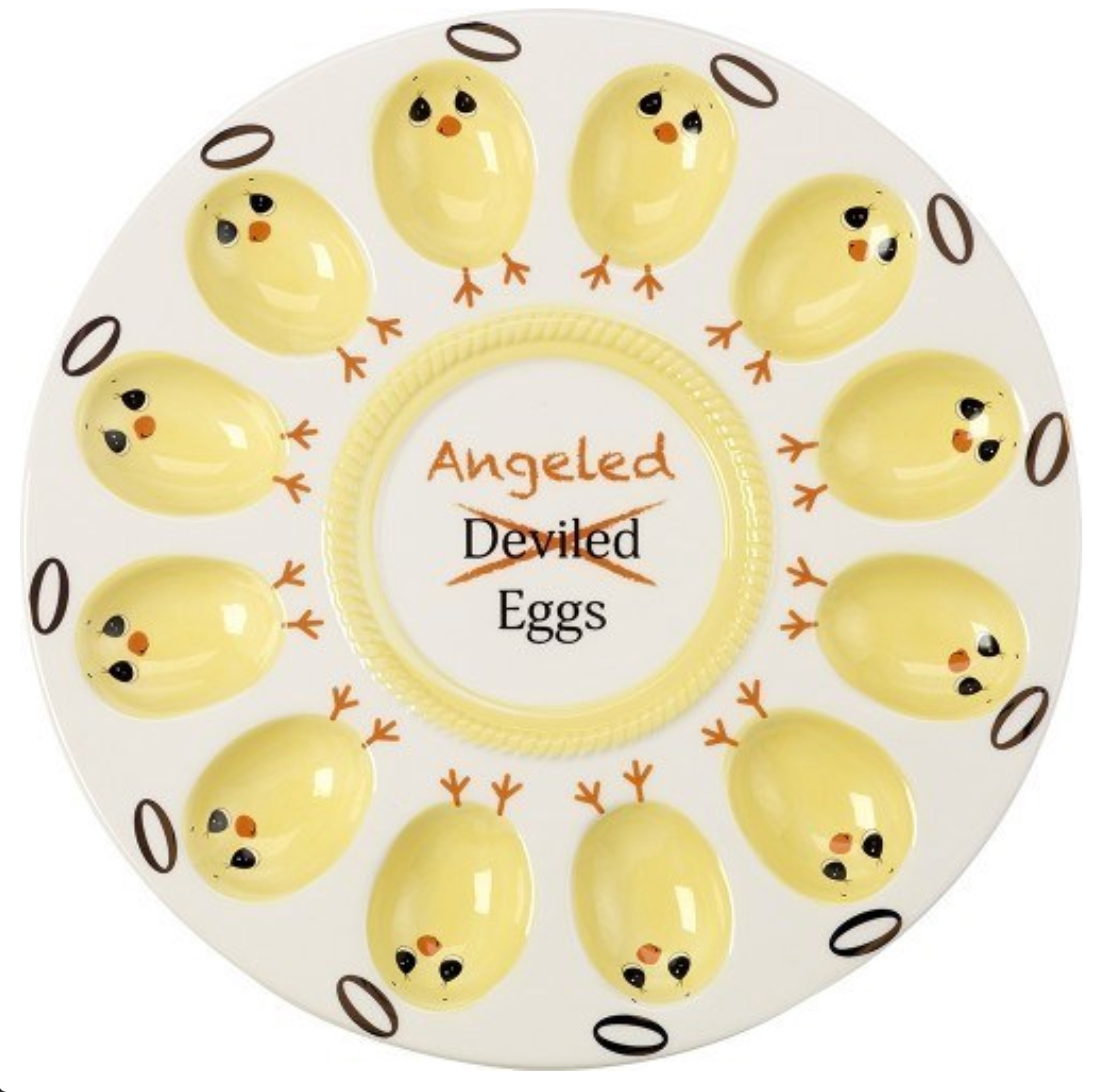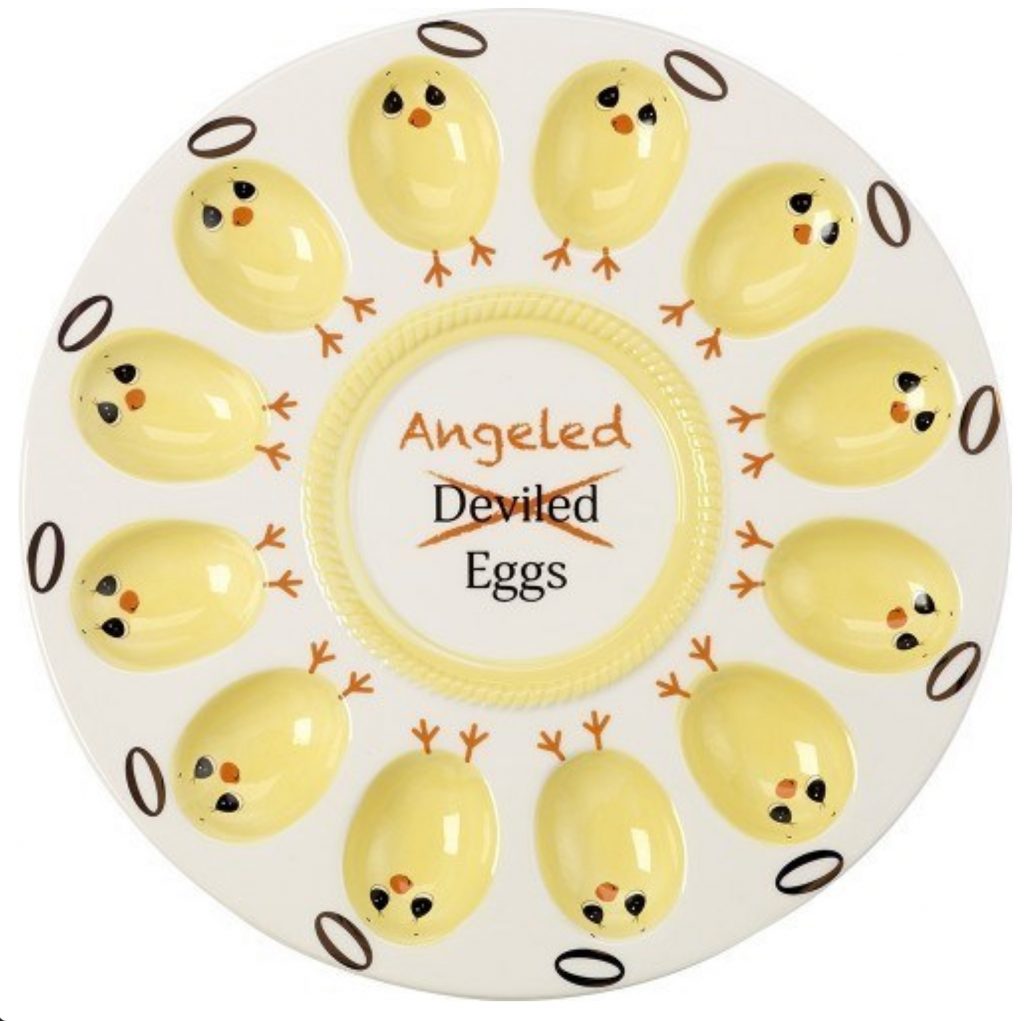 This practical and adorable round platter is a great way to serve "angeled" eggs, featuring cute yellow chicks with halos and a clever message in the center
Celebrate two of the best parts of the holidays and every day – yummy treats and lasting traditions with family and friends
It's one of the perfect Easter platters for your table, it's carefully crafted of ceramic and holds 1 dozen angel eggs. it is also approximately 10 inches in diameter and is made for hand wash only. Grab yours today here
You can also add this cute Angel Eggs Salt and Pepper Shakers set to your table this Easter.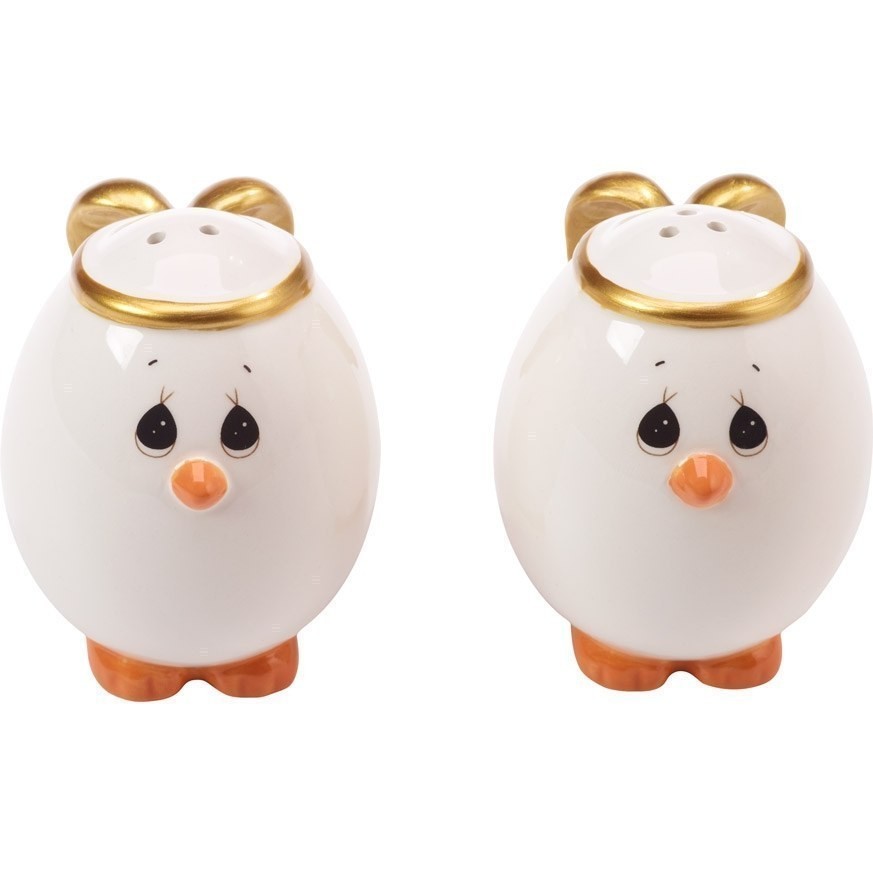 These salt and pepper shakers are so cute! Two little "egg angels" with Precious Moments eyes and golden wings add a smile to every sprinkle. This sweet gift is perfect for dressing up your Easter dinner table, it's also carefully crafted of ceramic and hand wash only.
You can add both the "angel egg" platter & "angel egg" salt and pepper shakers to your Easter decorations and watch everyone at the dinner table mention how adorable they both are. Visit Precious Moments here so you can see this set and many other great Easter ideas!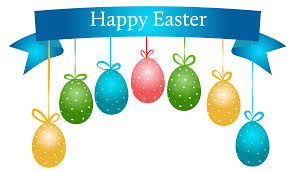 Nickelodeon Paw Patrol Ultimate  Rescue Rocky Recycle Truck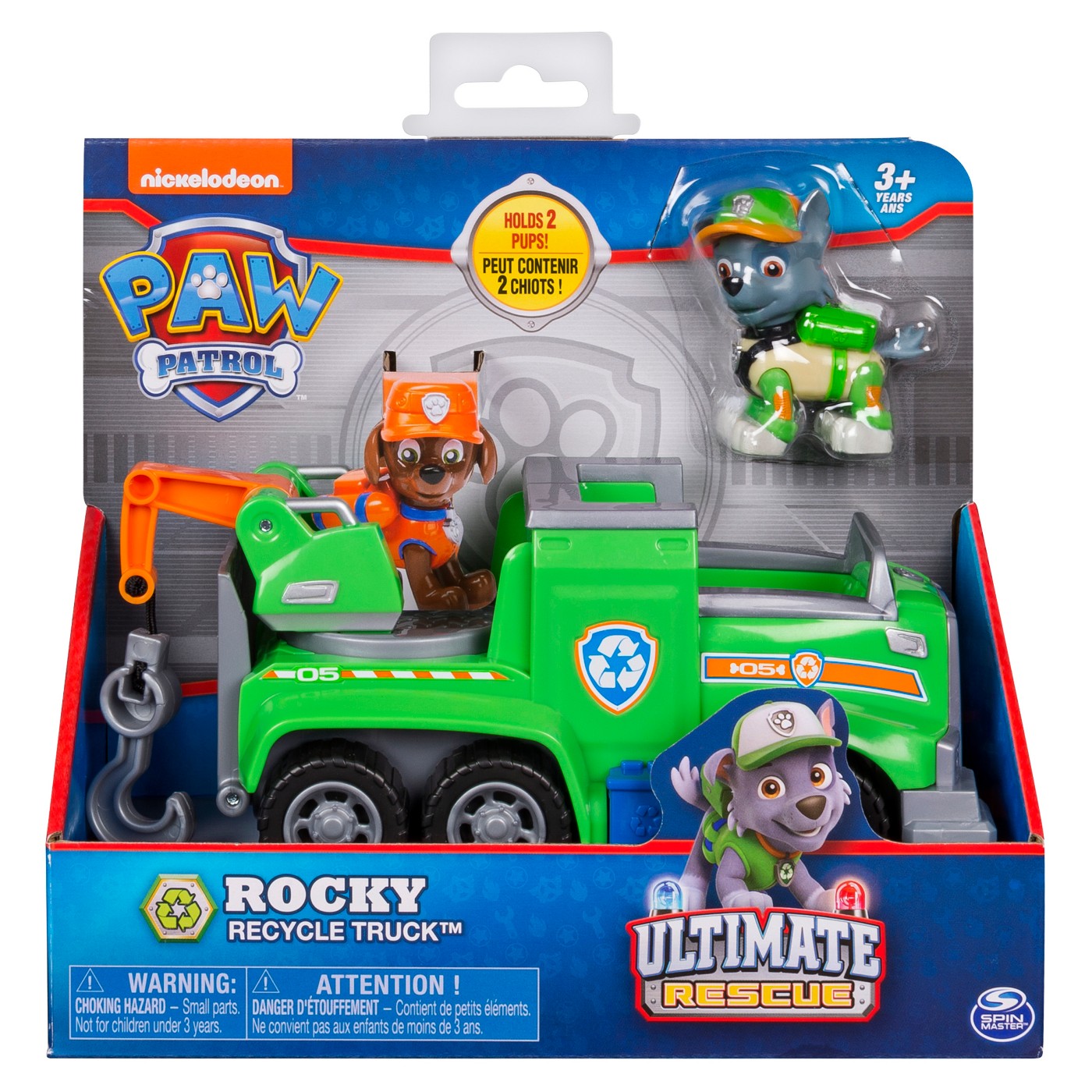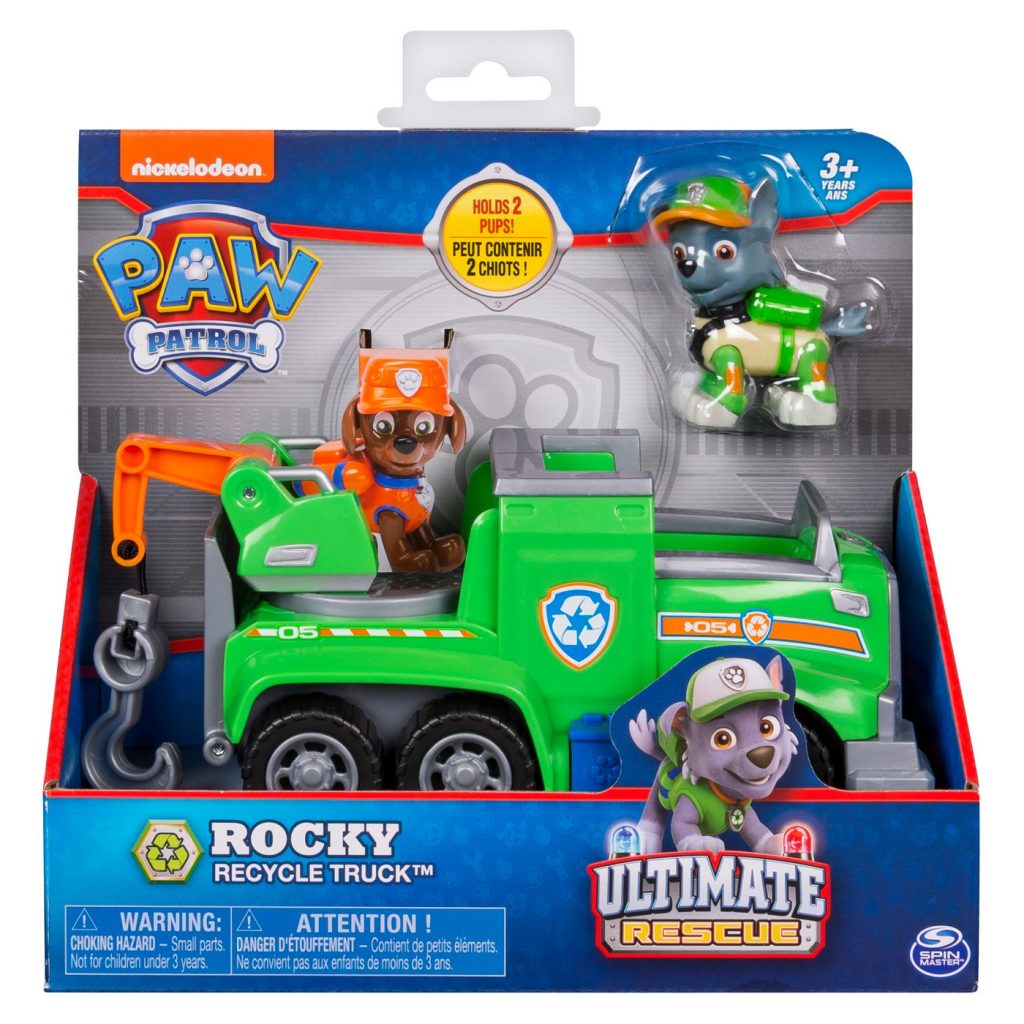 Go on an Ultimate Rescue with Rocky's Ultimate Rescue Recycling Truck! With Rocky (figure included) behind the wheel, there's room for one more pup (not included) on this Recycle Truck! Load in your favorite pups and head out to save the day in Adventure Bay! Rocky's Ultimate Rescue Recycling Truck comes equipped with everything you need for an action-packed Ultimate Rescue mission: roll with the real working wheels; lift and lower the rescue crane: and flip open the back ramp to rescue the citizens of Adventure Bay! For truly daring missions, connect Rocky's Recycling Truck to the PAW Patrol's Ultimate Rescue Mini Vehicles (not included). With his pals by his side, Rocky's ready for anything! Featuring realistic detailing, this Recycling Truck brings all the excitement and action of the hit TV show to life! Join the fun and head to an Ultimate Rescue with Rocky's Ultimate Rescue Recycling Truck! You can grab the Rocky's Ultimate Rescue Recycling Truck at Target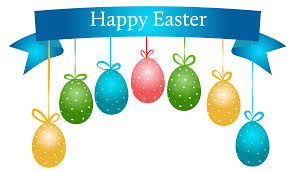 Hatchimals has always been a big hit in our home and this Easter, I think they'll be a big hit in your children's Easter basket too.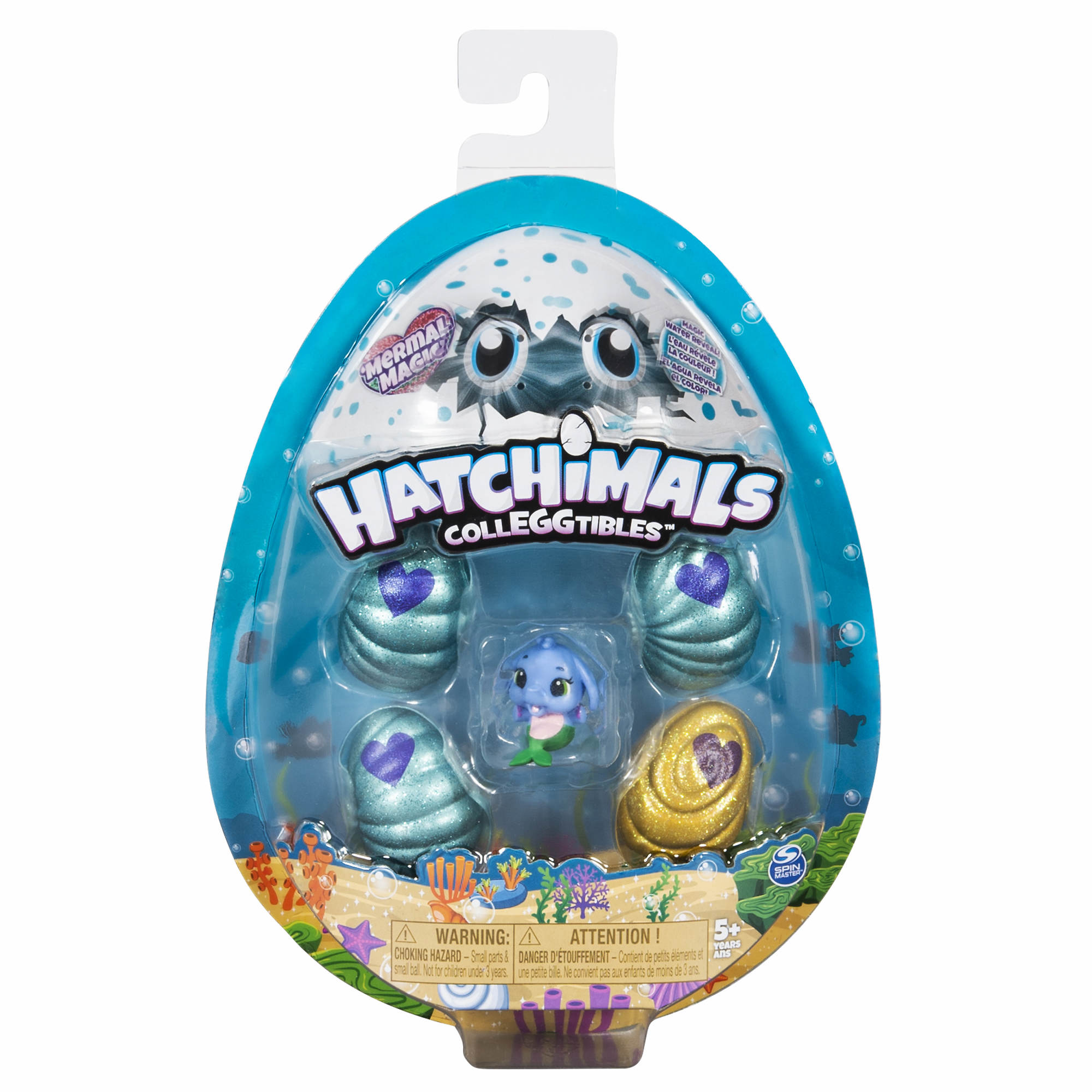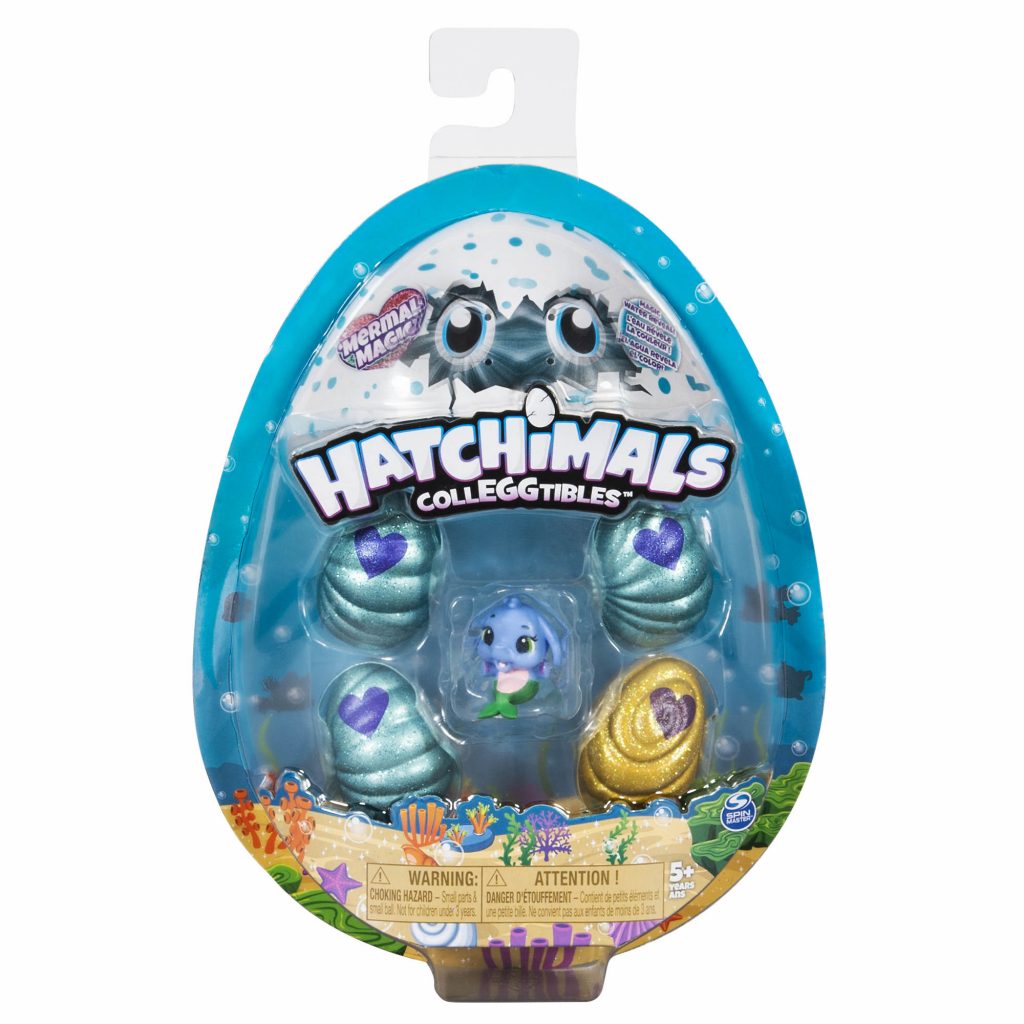 Hatchimals CollEGGtibles, 4 pk. plus Bonus CollEGGtible. Now your kids can Hatch and collect adorable creatures with the Season 2 4-pack with a bonus collEGGtible. Inside this set are four Hatchimals CollEGGtibles hidden inside eggs, and one CollEGGtible that's out-of-egg. Start hatching your new friends by holding one egg in the palm of your hand. Use your love and care to warm it up and the heart on the shell will change from purple to pink.
Press down until the shell cracks and you see your new best friend. With over 100 Hatchimals CollEGGtibles to find, you may discover adorable creatures from Savannah, Garden, Crystal Canyon and Farm, or even the Golden Hatchimal! Happy hatching! They are available at many retail stores nationwide.
Here is another great Hatchimals set: Hatchimals CollEGGtibles 6 Pack Shell that will fit easily in your child's Easter Basket.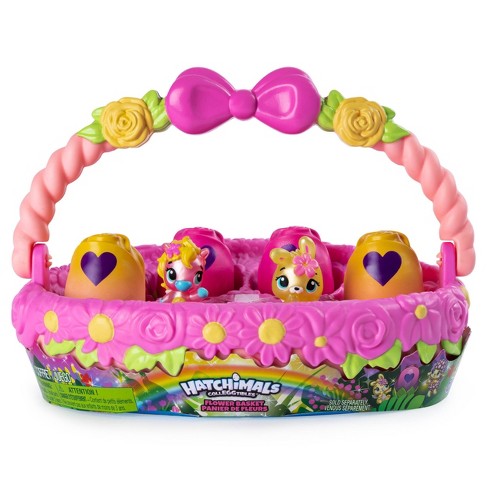 It's a Hatchimals EGG-travaganza! Find six exclusive Hatchimals CollEGGtibles inside a colorful Spring Basket! With four in-egg and two out-of-egg characters, there's so many new friends to hatch and collect! These eggs have a vibrant yellow to pink ombre finish, and a beautiful purple scalloped heart! To hatch, hold each egg in your hand, rub the purple heart until it changes color, then press down to crack the shell!
Who will you hatch? These pastel-colored characters have a luminous pearly finish and glittery wings! Tuck your new friends into the Spring Basket and carry them wherever you go! They are available at many retail stores nationwide. Hatchimals Spring Basket is for kids aged 5+.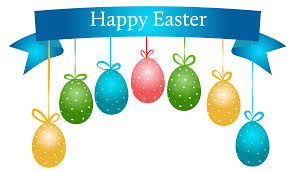 Get ready to enjoy some outdoor activity this Easter with the Coop Hydro Lacrosse set.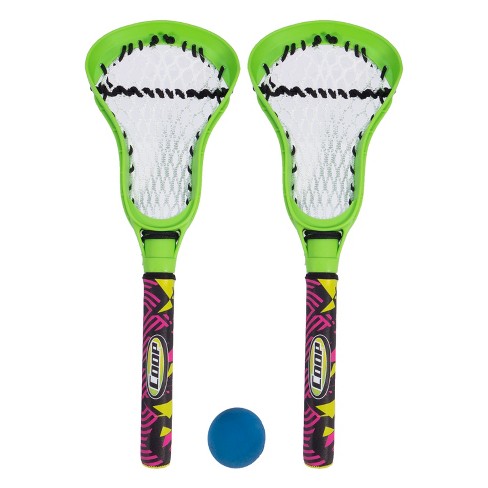 Take one of the most popular games with you wherever you go! The Coop Hydro Lacrosse game set is great for playing lacrosse at the pool and the beach. The soft design and waterproof foam handles of this fun water toy make it easy for all skill levels to catch, scoop, cradle and throw the ball. Coop Hydro Lacrosse is an excellent choice for encouraging young players who are not quite ready for a larger lacrosse stick.
Features quality construction for long-lasting play and the colorful, on-trend graphics add to the fun! Two lacrosse sticks and one ball in each set. Each set sold individually. Colors and styles may vary. For kids age 5 and older. You can find this awesome game
here
and at many retail stores nationwide.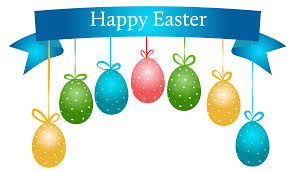 SwimWays also has you covered with some outdoor fun this Easter with their
Toypedo Hydro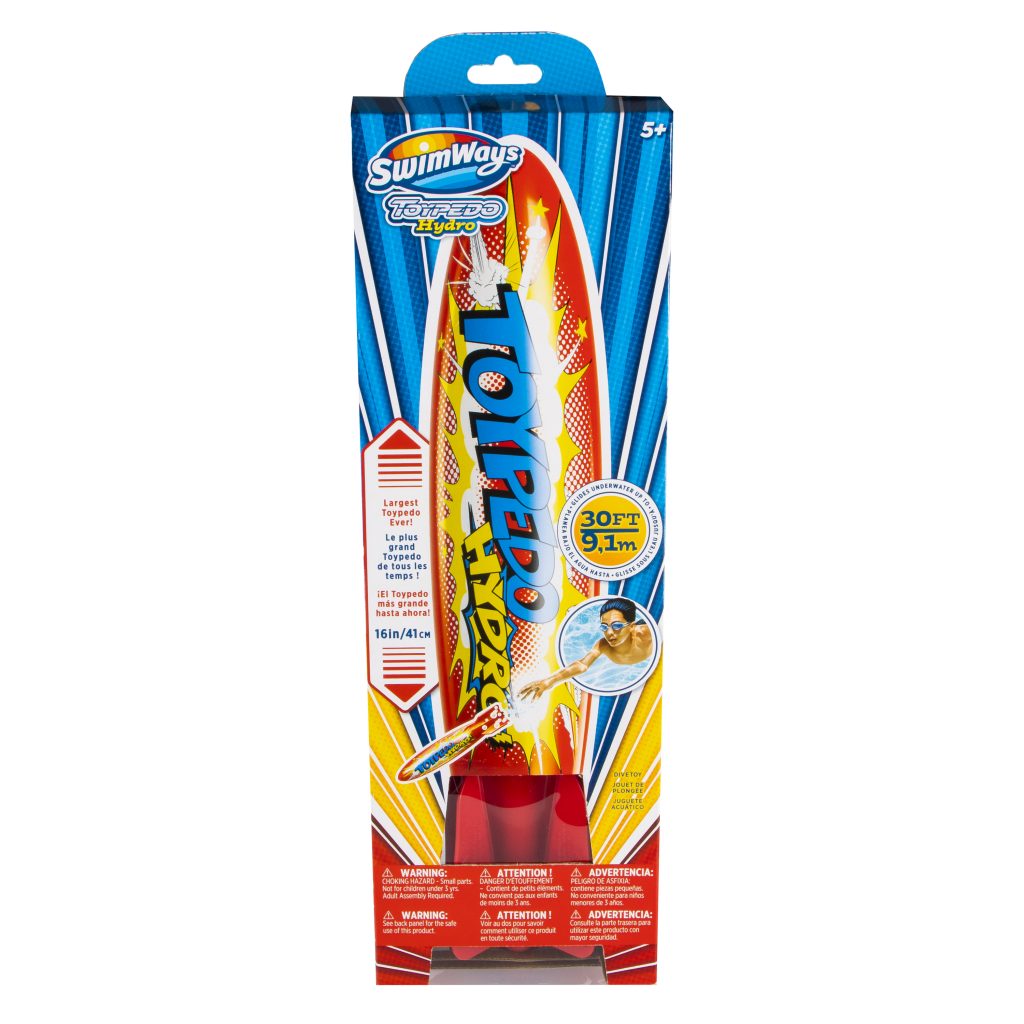 The SwimWays Toypedo Hydro is a torpedo-shaped dive toy that is hydro-inflatable, giving it neutral buoyancy! This pool toy glides underwater up to 30 feet.
Have endless fun in the pool with the SwimWays Toypedo Hydro. Fill the Toypedo up with water and watch it travel underwater or follow the toy as it moves for practice swimming.
Suitable for ages 5 and up, is now available in the largest size ever – 16 inches long! Kids can play catch underwater or see if they can outswim the Toypedo!
Available in two comic book styles for bright underwater graphics and can be purchased here Academy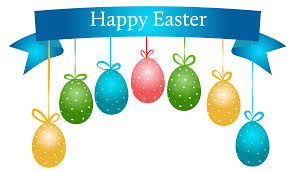 Aerobie Pro Ring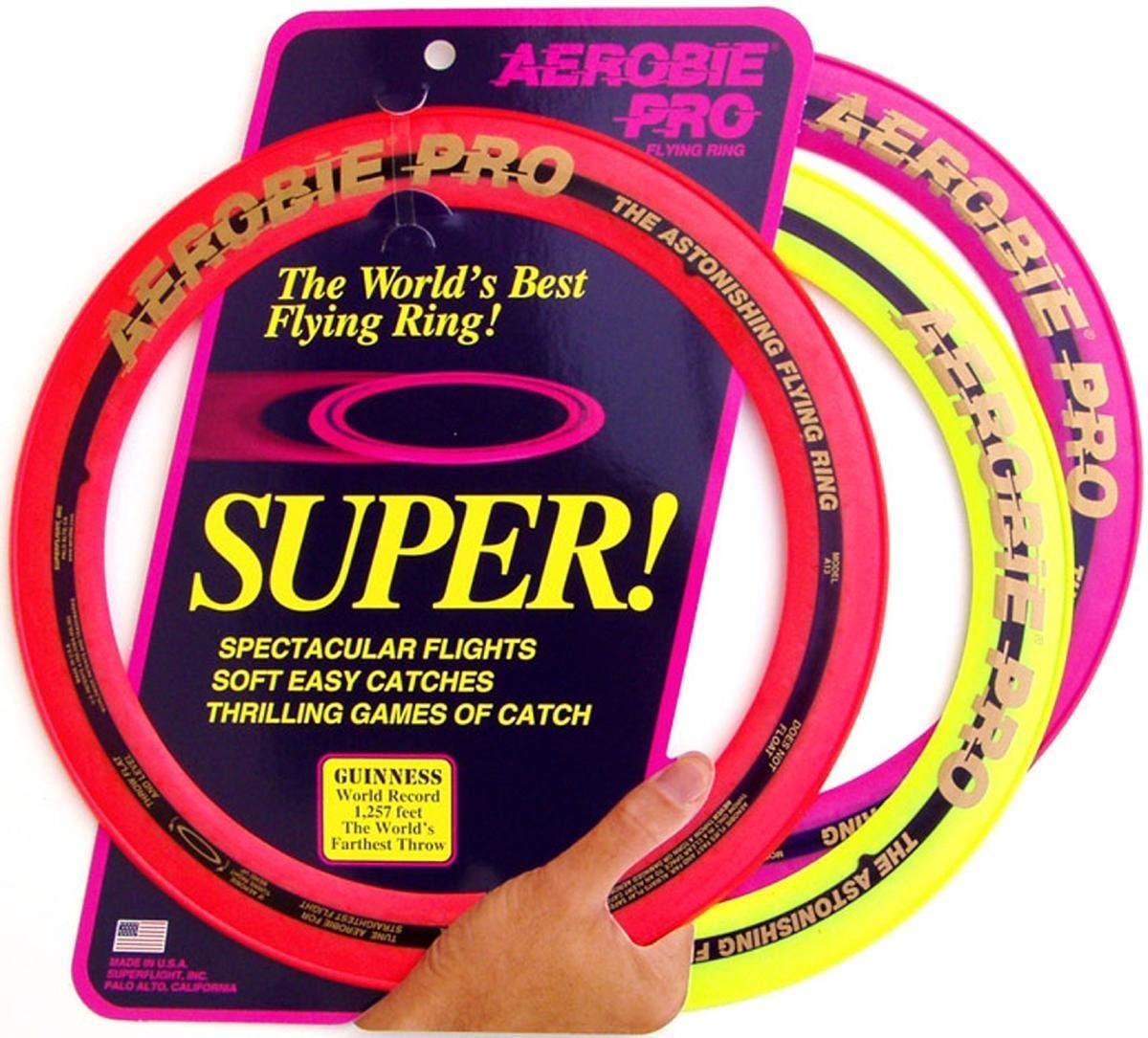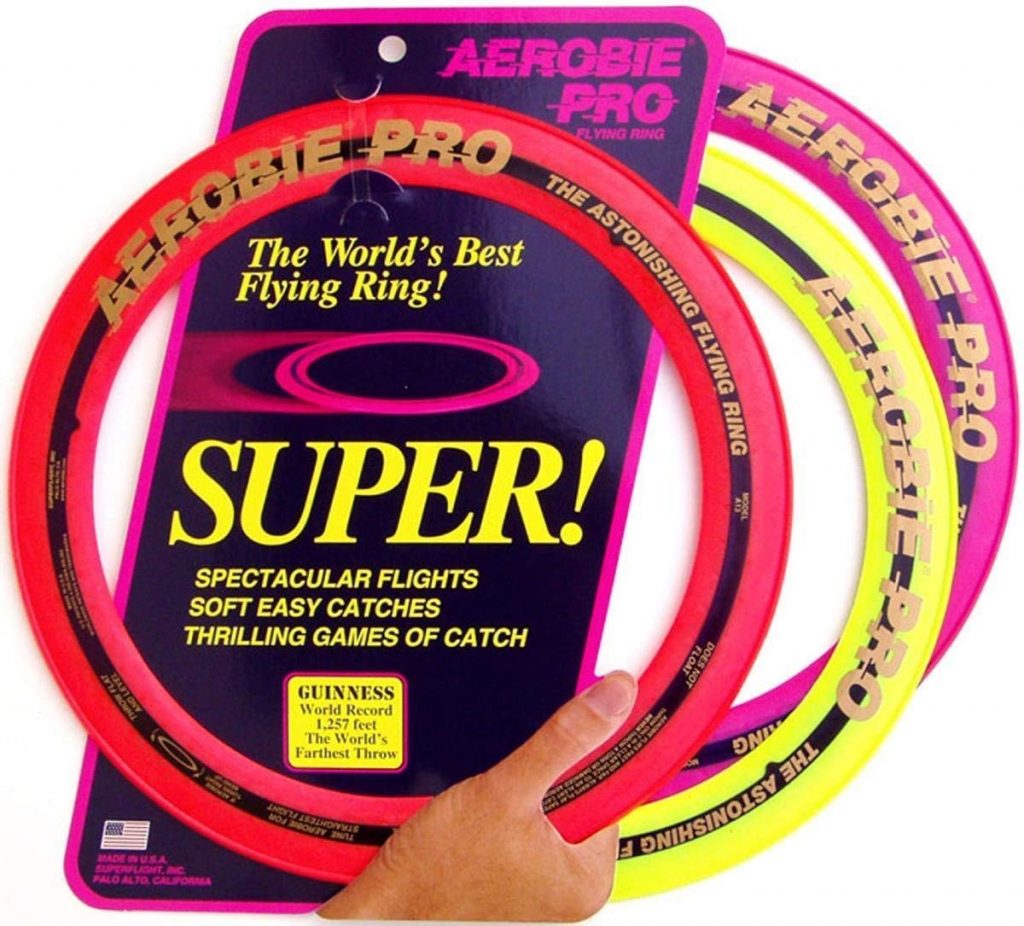 For exhilarating flying disc games, nothing compares with the high performance of the Aerobie Pro Ring. This flying disc was used to set a Guinness World Record for the farthest throw, an amazing 1,333 feet (406 meters)! The thin design of this 13-inch flying ring allows the disc to travel longer distances and features soft edges for comfortable catches.
The open center allows each player to personalize their throwing and catching style – catch the edge with your hand or use the center to catch it with your arm or foot. Create your signature moves with Aerobie flying discs! The Aerobie Pro Ring measures 13 inches in diameter. Available in assorted colors. Sold individually. Note: This disc does not float in water. Ages 12+.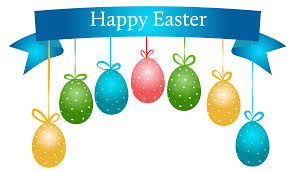 Kestrel Fairway Driver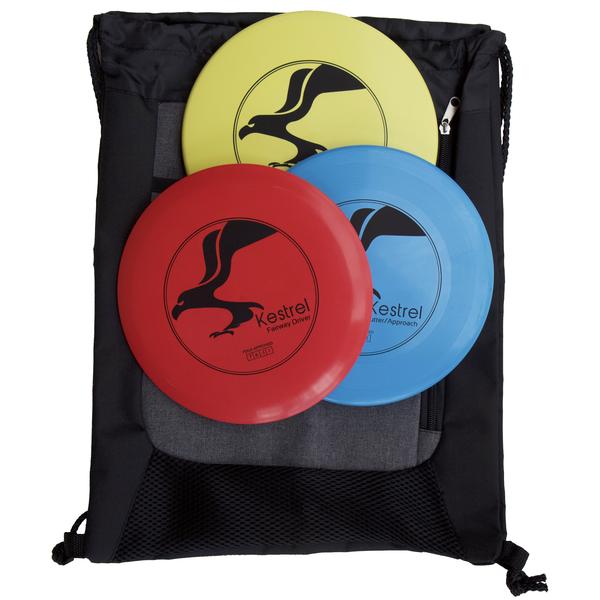 This Kestrel Fairway Driver game will be prefect to add to your kids Easter basket. It includes 3 DISCS + BAG, Fairway Driver, Mid-Range and Putter to get you on the course as quickly as possible. It's a great KID-FRIENDLY STARTER KIT that will be| Perfect for starting children out with the wonderful outdoor game of frisbee golf. Disc Golf is an outdoor game for adults and children that is rising in immense popularity. These discs are not meant to thrown or caught like a normal frisbee. It's PDGA APPROVED and made with flexible plastic to give you the bend and distance you need in your game. 172 Grams with perfect molds for distance, accuracy and flexibility and the Frisbee Golf Disc Set is designed to improve your accuracy and lower your score. You can grab your set here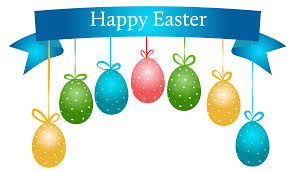 Cool Maker KumiKreator Friendship Bracelet Maker Activity Kit by Spin Master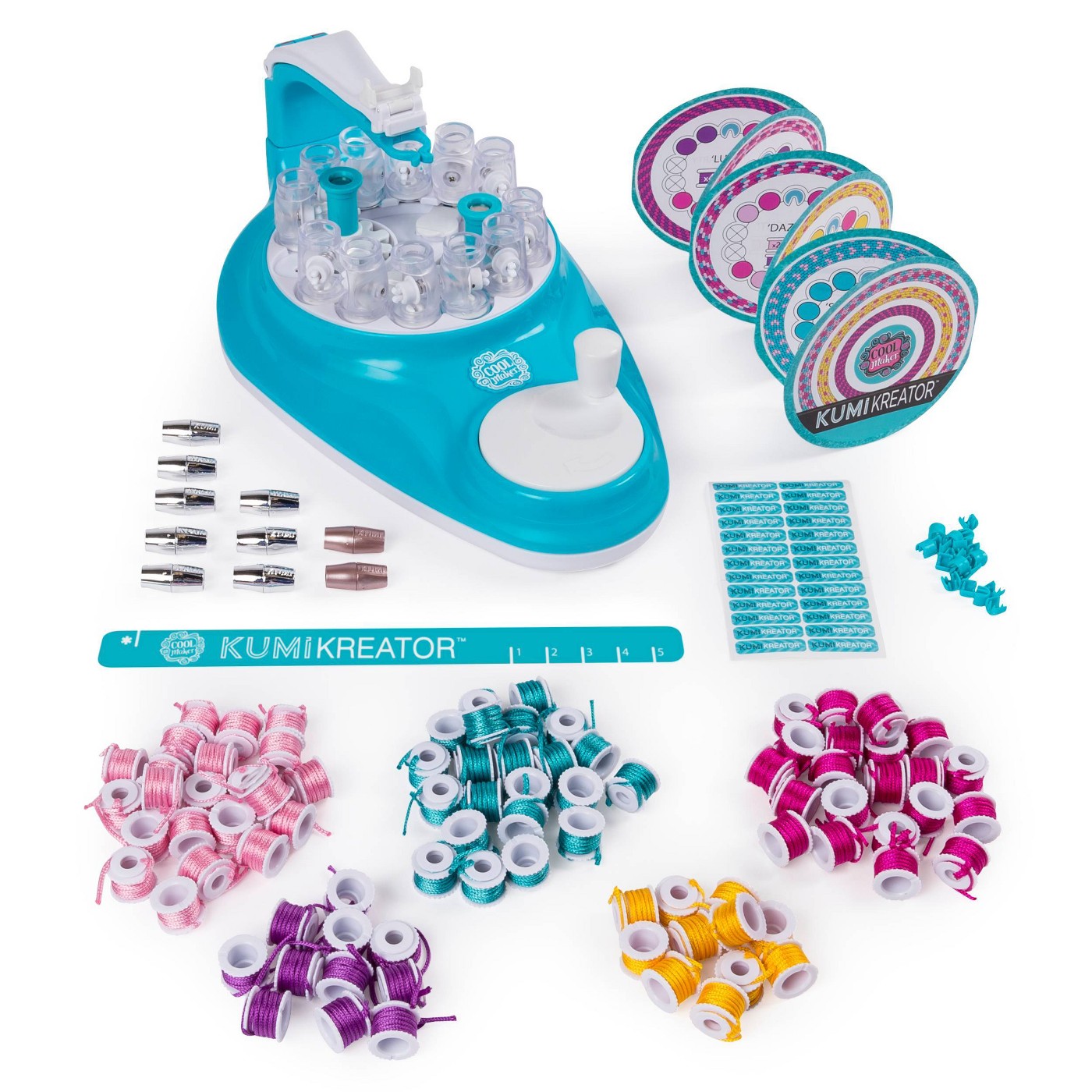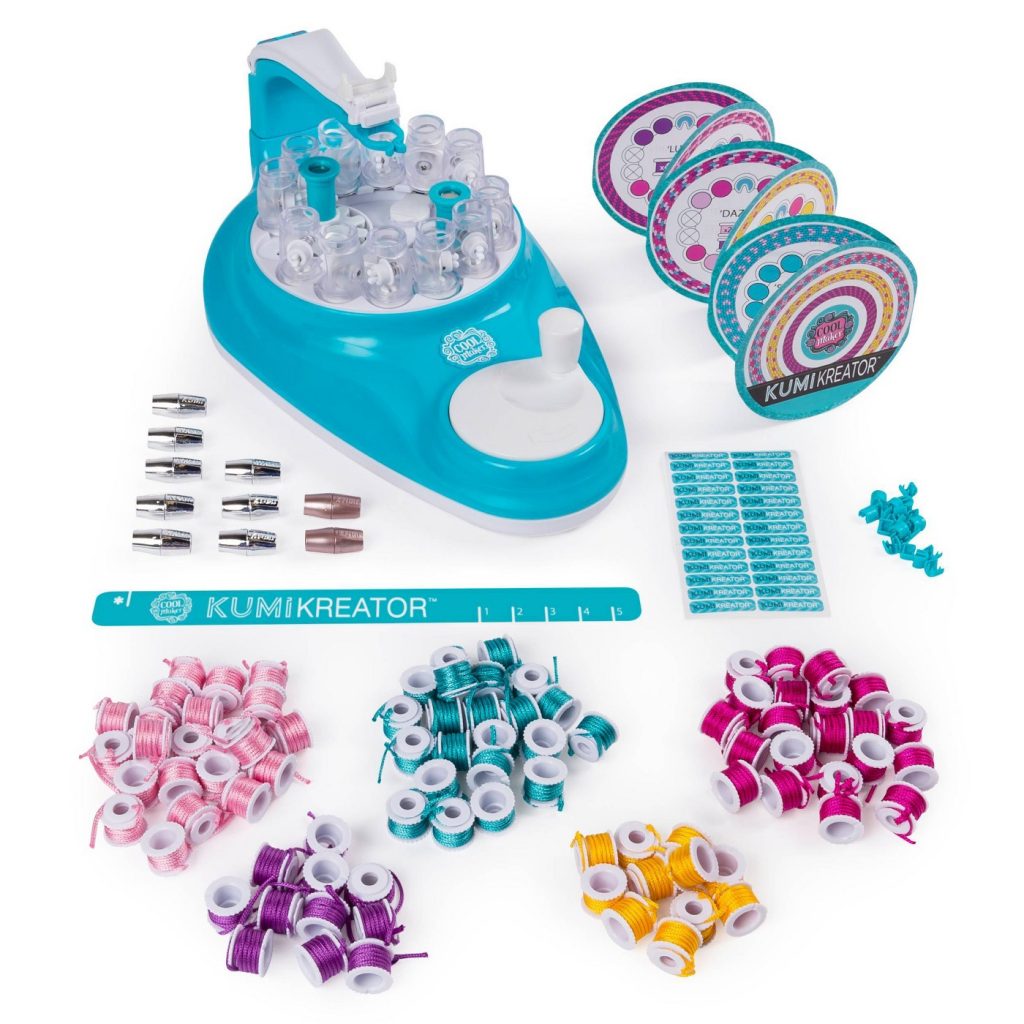 Get ready to customize a cute bracelet for your BFF with this awesome Friendship Bracelet Maker. The Cool Maker KumiKreator is a breakthrough way to braid beautiful friendship bracelets before your eyes! Drawing inspiration from the art of Japanese Kumi bracelets (Kumihimo in Japanese means "gathered threads"), the KumiKreator makes it easy to create stylish and intricate Kumi friendship bracelets. The KumiKreator DIY kit includes 88 spools of string and everything you need to make up to 10 unique bracelets! Select one of the stylish bracelet patterns from the design booklet, or create your own pattern! Next, choose from 5 different colors of string, load the ready-to-use spools into the machine following your bracelet design and spin to create! As you turn the handle, the spools dance around the machine, magically weaving your bracelet together in minutes! When your bracelet is finished braiding, remove it from the machine and customize with a stylish clasp – no knots are needed! Grab yours today here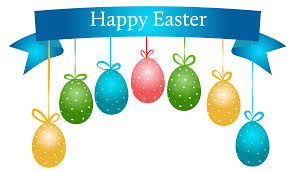 Here we have Kinetic Sand The One Only Sandcastle Set.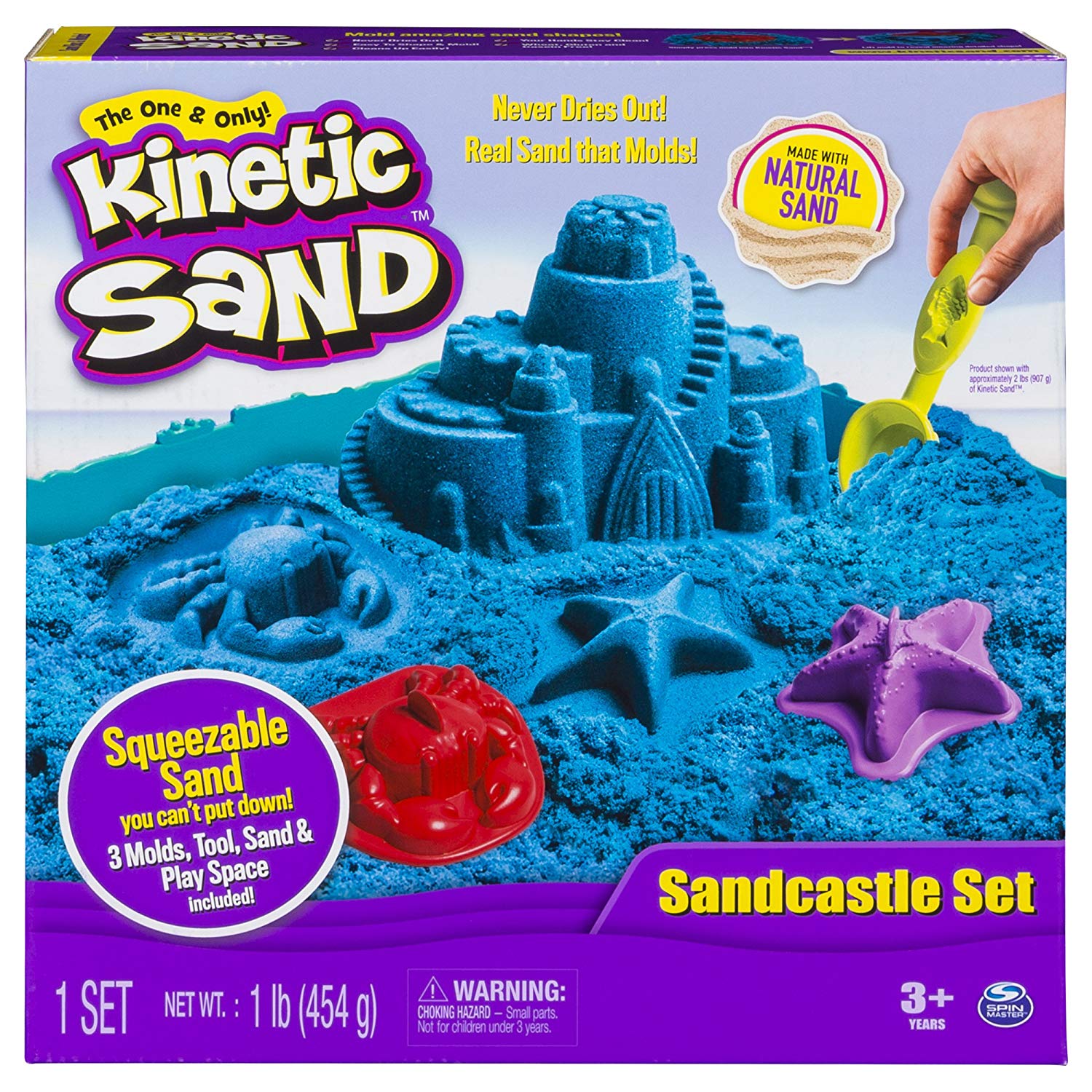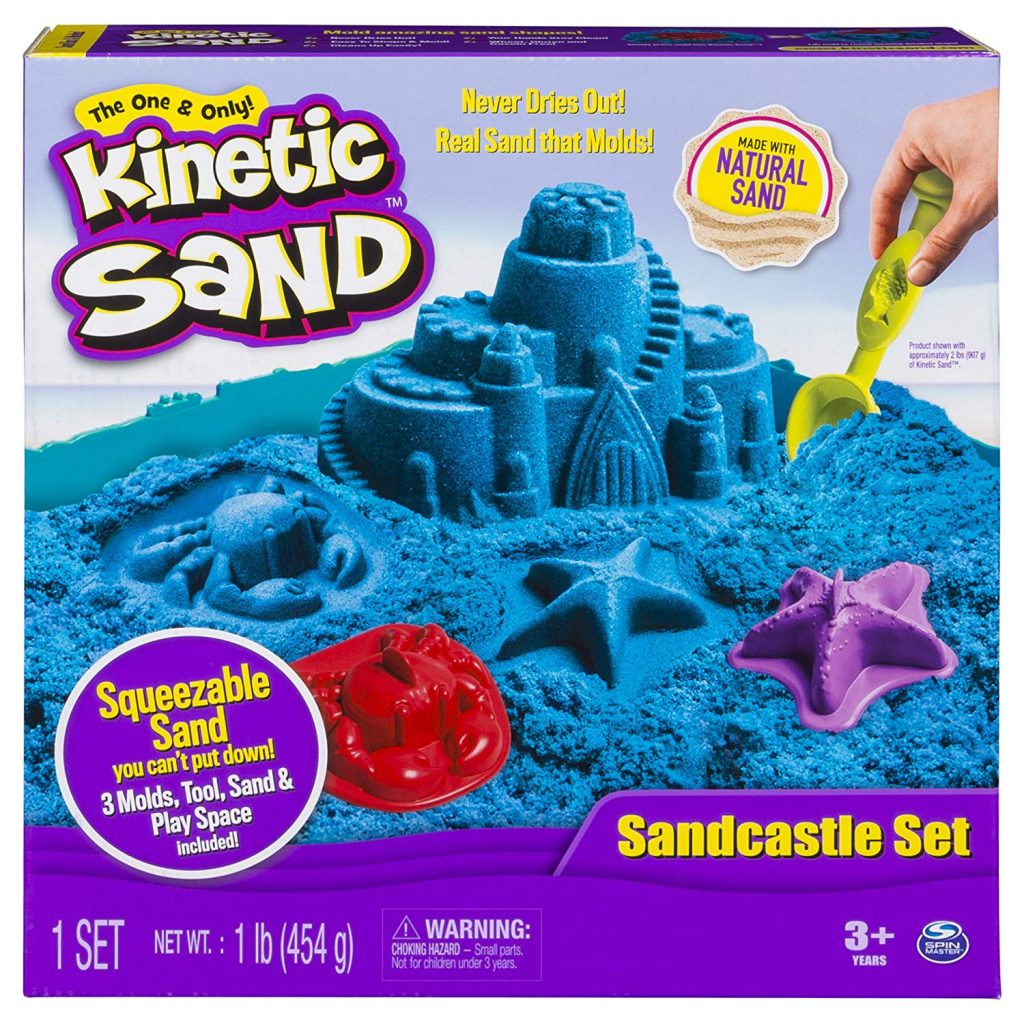 Kinetic Sand is the squeezable sand you can't put down! It sticks to itself and not to you! It flows through your fingers like magic, leaving them completely dry. Kinetic Sand stimulates children's creative skills, allowing them to create anything they can imagine over and over again. The Kinetic Sand Sandcastle set comes with 1 pound of blue sand, 3 molds, a beach tool, and a sand box to play in — the creative possibilities are endless! Kinetic Sand never dries out, and this soft sand is easy to clean up. Feel the fun with Kinetic Sand, this kit is available in many retail stores and on Amazon!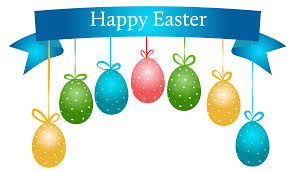 Well, we are winding down we only have two more Easter Gift Ideas left. Here we have an Easter gift idea for him or her. It's a pair of Horizon I Sunglasses, these chic sunglasses are sure to keep the sun out of your eyes this Easter.

The Slope lenses – Horizon 1 sunglasses are made of light, strong polycarbonate (PC) that makes them highly impact resistant and provides excellent clarity. They have a 9 base curve that wraps them around the wearer's face for an unobstructed view. To make these curved lenses distortion-free, they are decentered, which places the optical center directly in front of the wearer's eyes. All of Horizon 1 lenses supply 100% protection against both UVA and UVB rays. Each lens has an anti-scratch coating for durability and an anti-reflection coating on the inner surface to eliminate glare off the lenses when the sun is behind you. Your sunglass order includes: The glossy black Horizon I sunglass frames, 3 pairs of interchangeable lenses (grey, rose, and clear tints) with all lenses in the same style (Slope, Wave, or Mesa). Also included is a zippered soft carrying case with belt loops and a clip on the outside and lens storage pockets inside, a lens cleaning cloth, lens-changing instructions, and our Warranty.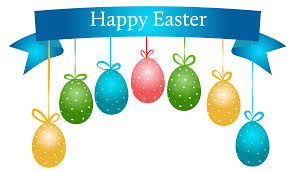 Dying eggs this Easter with the Eggmazing Egg Decorator Kit will be the highlight of the day. That's because this easy, fun, egg decorator will be able to decorate your kids eggs all without the mess.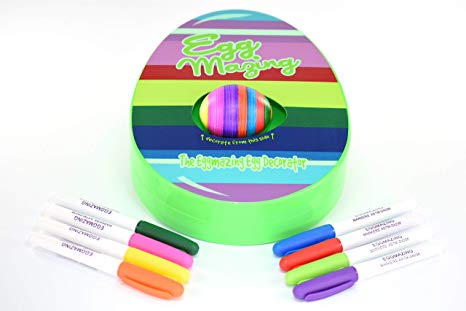 The Original EggMazing Easter Egg Decorator Kit – Includes 8 colorful quick drying nontoxic markers The Eggmazing Easter Egg Decorator Kit is a new, DIY, creative, no mess solution to decorating Easter eggs. Their product allows you to be a part of the decorating process instead of watching and waiting for messy dyes to work. Package includes: Eggmazing Machine (Egg Holder, with spinner) 8 colorful quick drying nontoxic markers – dark green, purple, orange, pink, blue, yellow, red and light green. Uses 4 AA batteries (not included). Easy to use, you put a hard-boiled egg into the machine and turn it on. The machine holds and spins the eggs. Then you hold a marker on the egg as it spins to create stripes, lines or other designs. For Best Results: Use Large Grade A eggs. Make sure hard-boiled eggs are dry before decorating. Make sure caps are put back on markers to prevent drying out. Kids will have lots of fun crating their own eggs this Easter, recommended for ages 3+ and this kit is available nationwide.
Well, there you have it! So many awesome Easter ideas to add to your children's Easter Basket and many ideas for your home, personal fashion, outdoor entertainment. Take a moment to visit every brand so you can learn more about their wonderful product and order your selection today.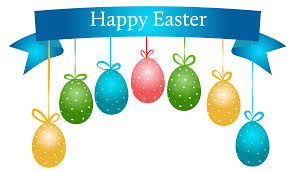 Ryan's World Splash Out and Head Splat from
Far Out Games
. For loads of outdoor fun.  Let the kids (and adults if they're game) get a litte – or maybe a LOT – wet, while haveing a great time!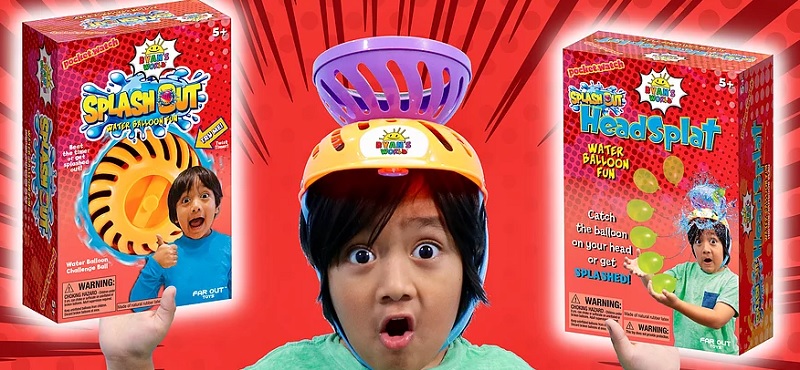 Far Out Toys has teamed up with YouTube star 7-year old Ryan of the massively popular Ryan ToysReview YouTube channel for a Ryan's World version of the original Splash Out! Splash Out is an action-packed extreme outcome game, where you need to provide answers quickly and correctly, and pass the ball on, or you will get splashed out! At its core, Splash Out features a ball that contains a water balloon. It includes a wind-up timer, and when the timer goes off, the water balloon is punctured. Whoever is holding the ball gets splashed with water! Splash Out comes with 1 Splash Out Ball, 24 Water Balloons, 1 hose nozzle adapter and 1 adapter for indoor play option. Splash Out is recommended for age 5+ and retails for $12.99
Far Out Toys has developed a flip on classic Splash Out play with the new Ryan's World Head Splat – a new water challenge game with epic splash outs… on your head. The concept is simple: players use their heads to flip a water balloon into a wacky looking hat. The challenge is to keep the balloon away from the rough edges of the cup otherwise they will SPLASH OUT! Head Splat is great fun for the entire family! Challenge moms, dads, grandparents and little siblings to water balloon flippin' fun!  Head Splat comes complete with the Head Splat hat, adjustable Head Splat cord, and 24 water balloons. Recommended for age 5+ and retails for $12.99
The Ryan's World line of toys are available now on
Amazon
and
target.com
and will be in Target stores on Easter day!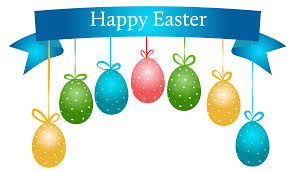 Disclosure: Howdy everyone, I wanted to inform you that I was not compensated for this post. However, I did receive a product from the company below and the opinions expressed in this post are 100% my own. I am disclosing this in accordance with the FTC guideline.