Buying Watches as Investments
Buying Watches as Investments
Any investment requires taking some risks. Whether you put money in the stock market or invest in gold, the idea is to make money. Many watch collectors buy luxury watches that will keep their value or appreciate with time. Here are some tips for investing in watches.
Watch Type to Buy
Modern watches usually don't make good investments because they have large markups, so it is difficult to make money on them. Mechanical watches are the predominant choice for collectors, but some digital and quartz watches can make good selections too.
Some collectors put their money only in vintages watches, while others will invest in both new and vintage timepieces. People shouldn't go into watch investing thinking to make money, but to collect the watches they want to own.
Investment Watches
Certain watch brands make better investment choices than others. Collectors always want to know which ones will increase or maintain their values. Some of the watches that are better at increasing in value are:
Rolex
Patek Philippe
Breitling
Cartier
Omega
IWC
The Rolex GMT is a watch that some experts consider as one of the best choices for men. Many professional aviators select it as their watch of choice when in the cockpits of their planes.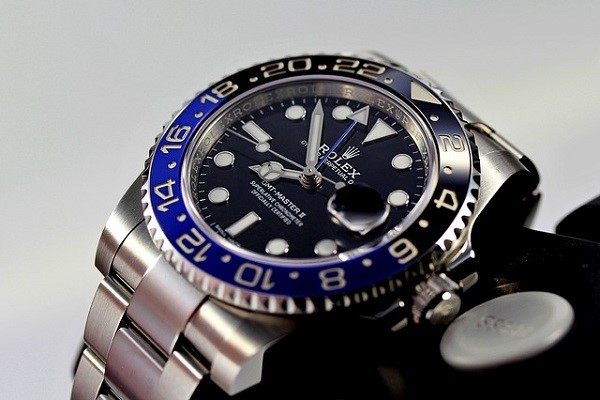 Image Credit
Factors to Consider
Before you start looking at watches to collect, there are several factors to consider, such as:
Brand Recognition
Heritage
Exclusivity
Availability
Demand
The main consideration is demand when it comes to a watch keeping or increasing in value. Rolex is one of the most in-demand brands of watches because of its recognition, availability, and both collectors and non-collectors want them.
Due to mainly their price, Patek Philippe is another watch brand that many collectors covet. While a Rolex can cost as much as $37,000 new, Patek Philippe watches can easily run into the six figures, and sometimes seven.
Affordable Investments
If you don't have $20,000 to $100,000 to splurge on a watch, there are many more affordable options to consider. One of the most popular collectible watch brands that are available for sale under $100 is Swatch.
Swatch watches first came onto the market in the early 1980s. An influx of Japanese digital watches was heavily challenging the Swiss watch industry, so watch engineers came up with the Swatch.
The funky quartz watches became very popular and helped save Swiss watchmaking.
Starting a Collection
If you have an interest in collecting watches, experts agree that you shouldn't buy them intending to make money as it is often a guessing game if a watch will increase in value. Instead, you should buy watches because you like them.
If you have a love for antiques, then consider buying vintage watches. If a digital or quartz watch catches your eye, then you should buy it for your collection.
Even everyday watches, like some Timex models, can become collectors' pieces and retain their value if you keep them in good shape. To keep your watch collection in pristine condition, take them to a jeweler about once a year for service.
By reading these five tips, you should be able to decide which watches to put your money into that has the best chance of increasing in value.