Battroborg Father's Day & Grads Coupon Offer
Are you looking for a great Father's Day Gift for Dad, or maybe a gift for that Grad in your life? Check out the Battroborg game by TOMY.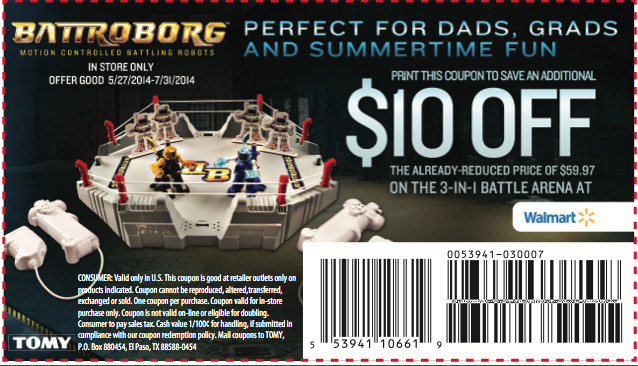 Battroborg, the award-winning motion-controlled battling robots game from TOMY that paved the way for a new generation of battling is on SALE NOW!  With Father's Day just a just over a week away and graduations happening as we speak, I was hoping you would consider Battroborg as a great gift idea for an upcoming post.
The first robotics toy of its kind, Battroborg uses advanced motion-control technology to bring you the rush and grit of true in-your-face combat action. Whether you're a brawler, a glass jaw or a southpaw, Battroborg promises pure excitement, ultimate battling action and knock-out fun!
The new low price is $59.97($20 off original price) and we'd love you to share an additional $10 off coupon for purchase at their local Walmart (see attached).
You can connect with Battroborg.com to find out more product details!