2019 Summer Fun Guide @teachmy @Walmart @PBSKIDS @amazon @theairfort #starluxgames @coconutfloat @DefinitiveTech
Howdy everyone, I just wanted to inform you that I was not compensated for this post. However, I did receive a product from the company below and the opinions expressed in this post are 100% my own. I am disclosing this in accordance with the FTC guidelines.
It's here! The nice weather has arrived and now is the time to get off those gadgets and off those couches and get outdoors. Listed below are some pretty cool Summer products for the entire family.

First we have a wonderful product from the company Teach My which is one of their Yoga Mat Set – Fish & Learn
Here's a fun way to help your child  master the alphabet, numbers, shapes and colors, while on the move! With a coordinated yoga mat, magnetic fishing rods, magnetic fish and inflatable dice, your child can have so much fun fishing and doing yoga, they won't even realize they are learning!
The yoga mat is super soft, easy to roll & unroll and carry anywhere, it's the perfect size for your kid's 48″ x 24″ for the kids. The set includes a storage tube that holds the fishing rods, inflatable dice and 54 magnetic fish. Yoga ties hold the yoga mat together when stored.
The Teach My Yoga Mat Set – Fish & Learn is also a double sided mat for twice the fun! One side is a pond scene that encourages fishing for alphabet, numbers, shapes and colors. The other side includes yoga inspired pond poses and shapes poses. As we always say education is the key to success and Teach My Yoga Mat Set is one way to encourage learning all while having some fun. Available here

Here we have something for your daughter from Walmart, it's LittleMissMatched 12″ Let You Be You Girl's Bike, Pink/Blue
Do you have a little girl who marches to her own drummer and loves to stand out? Well the Sweet style from Little Miss Matched is practically a parade float you can pedal. The sturdy steel frame is brightly colored and outfitted with mismatching accoutrements, from the grips and pedals on down to the cool tires. The high rise BMX style handlebar makes steering easy, and the rear coaster brake make stopping a breeze.
The seat height is easily adjustable with the quick release seat post lever that requires no tools. It even comes with front axle pegs and a sweet matching handlebar mounted carry bag. This bike is so hip it has style right in its name and a matching handlebar mounted carry bag.  Available here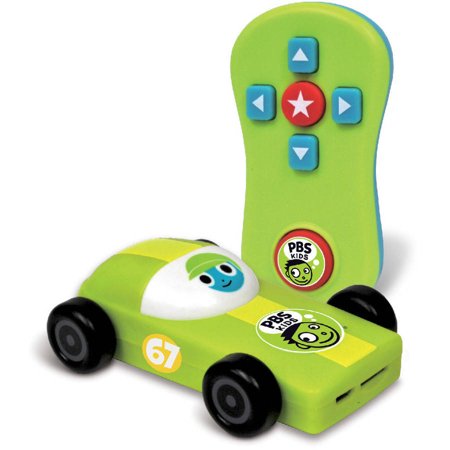 Experience the New Way to Play TV with the PBS KIDS Plug and Play television stick. As the world's first and only kid-safe television streaming stick, parents will never have to worry about what their children are watching again. Stream dozens of shows from PBS KIDS directly to your television and watch PBS KIDS programming live.
When children are not enjoying the collection of PBS KIDS shows that are available to watch, they can sing along with their favorite songs from PBS KIDS and play fun, educational games that will keep them entertained for countless hours. Plug the PBS KIDS Plug and Play into your television right out of the box and your child will enter a world full of endless fun and learning opportunities. Available at many retail stores nationwide and here

Ooze Labs Tube 9: Glowing Galaxy Slime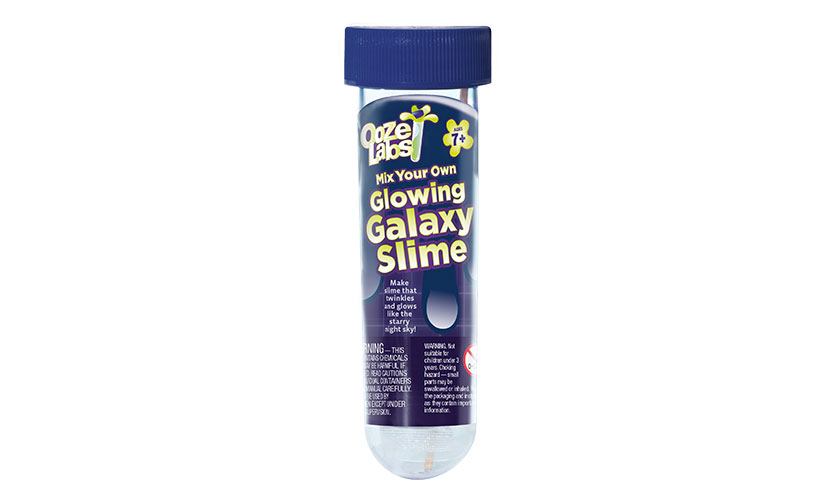 Ready to explore the world of slime with Glowing Galaxy Slime, a cosmic slime that twinkles and glows like the night sky. Using a combination of blue slime powder, glow pigment and two types of glitter you can create your own unique galaxy slime. Completely safe and non-toxic. The included durable and chunky test-tube can be used and re-used for additional projects.
Available now on Amazon, at Nordstrom and at your local toy store. Ages 7+

Get ready to take your indoor/outdoor fun to a whole new level with the Airfort Build a Fort in 30 Seconds Inflatable for Kids Beach Ball.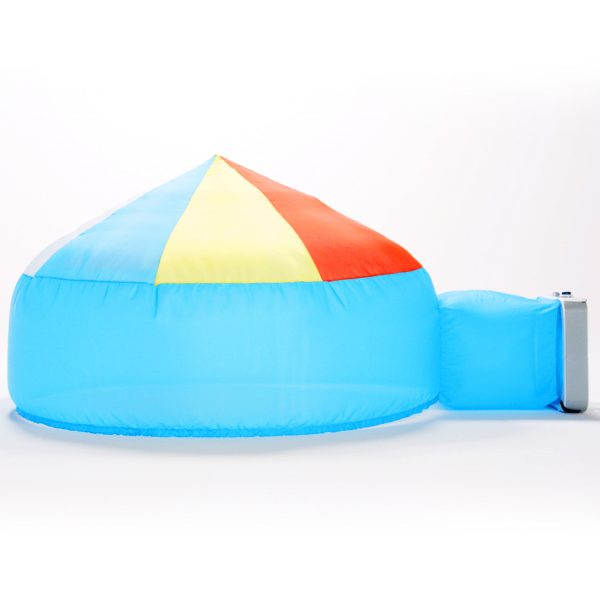 The AIR FORT is the first kid's fort to hit the market that inflates in seconds with the switch of an ordinary household fan. When inflated the AIR FORT is large in size fitting several kids and adults. When deflated the AIR FORT stuffs into its own matching carrying bag the size of a folded pair of jeans, taking up no storage space!
The AIR FORT inflates in less than 30 seconds. When the kids are ready to play, simply attach your AIR FORT to a fan and you're ready to go! No cushions, blankets, pillows needed. Create a mess-free fort quickly and easily. When bedtime hits, unless a slumber party calls, all you have to do is stuff your AIR FORT into its matching carrying bag and you're done. The carrying bag is small in size taking up almost no storage space. Kids will love it and so will parents! It's easy to set up and even easier to put away. Plus, the AIR FORT is Child Safety Tested and Approved!
Airfort features:
·        -5 color options
·        -No floor for an easy entrance and exit
·        -Viewing window for kids to see in and out
·        -A light polyester fabric that is both breathable and durable
·        -A mesh divider to prevent access to fan *child safety approved*
·        -Velcro stickers to secure AirFort to fan
Box Fan is not included, available here

Indoor-Outdoor Jungle JumpaRoo Jungle Gym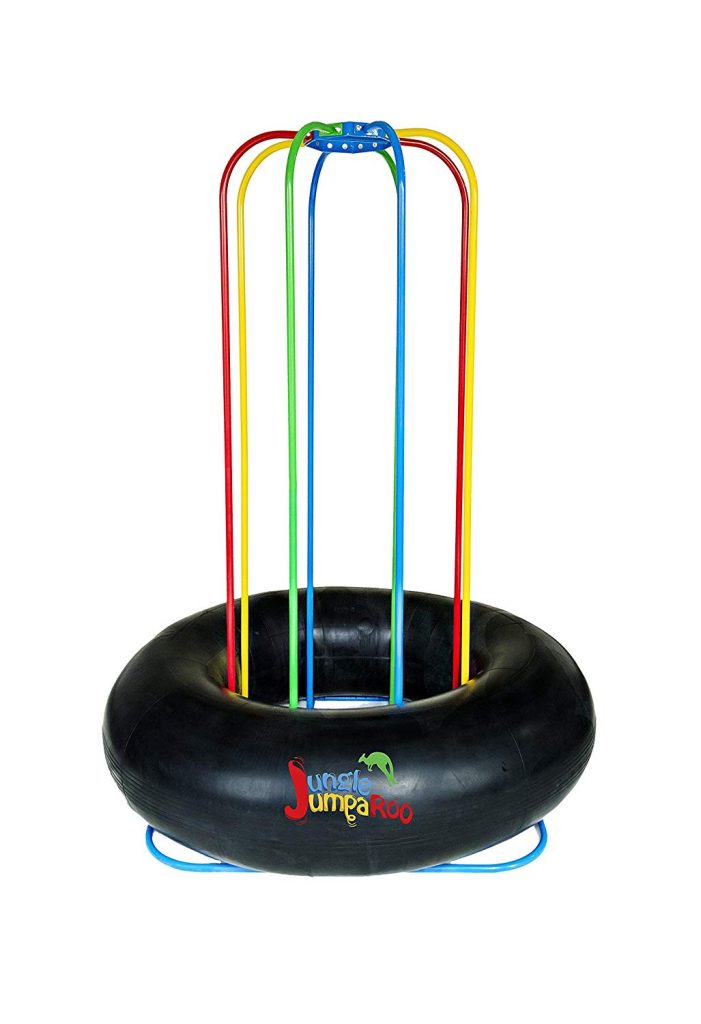 Jungle Jumparoo is designed for ages 2 years & up. It is perfect for backyards, indoor playrooms, pre-schools, daycare centers and playgrounds. The Jungle Jumparoo® is ideal for both indoors and outdoors. The steel poles are painted with a special powder coating that insures a rust-resistant and weather resistant frame.
This allows for a longer lasting and durable product. The inner tube is also weather resistant and is acceptable to place indoors or outdoors.
This product does not include the tube cover, bumper covers, or rope swing. All accessories are sold separately. This item's packaging will be visible when delivered and cannot be gift-wrapped. Box Dimensions 45″ x 20″ x 5″  Available here


Wizards and Werewolves Glowing Outdoor Adventure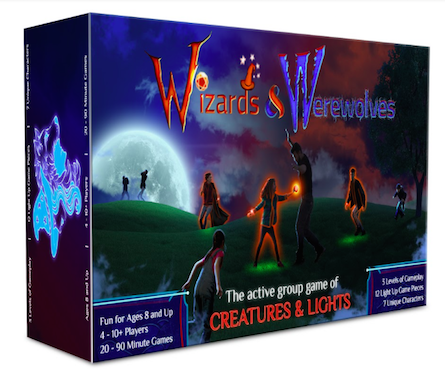 Get ready to have some outdoor fun with your friends & family with this new Wizard & Werewolves game. This new outdoor glow in the dark game is a mythical adventure that offers fun for all ages. From Werewolves hiding the crystals to Wizards finding them and avoiding the Werewolves, team work, speed and strategy are all part of the action.
Wizards will concentrate on destroying the Alpha, and breaking the curse, while Werewolves will try to infect Wizards and force them to join the pack. This active group game of creatures and lights involves speed and strategy with every turn. Three levels of game play, appropriate for ages 8 and up, 4-10+ players can play. Available here www.starluxgames.com

Inflatable Triple Water Slide Kids Toy Slip N Slide Backyard Play Spray Splash
The H2OGO Water Slide gives you and your friends more summer fun with an inflatable landing, splash take off and extra-long 18′ triple slide. It also features side sprinklers and a splash pool with end bumpers. This water slide with ramp has water cascades that help keep it wet and slick. It has bright, festive colors that will spice up any summer outing.
Invite friends and family over to cool down and enjoy a good time. The triple water slide has a lagoon funnel that makes it easy to have a long, wet ride. It also boasts convenient handles on the side. Children 5 to 12 years old can don their bathing suits and have fun. Available at many retail stores and Amazon.

Here are two cool pool floats everyone will want to have on hand. First we have Indoraptor from Coconut Float.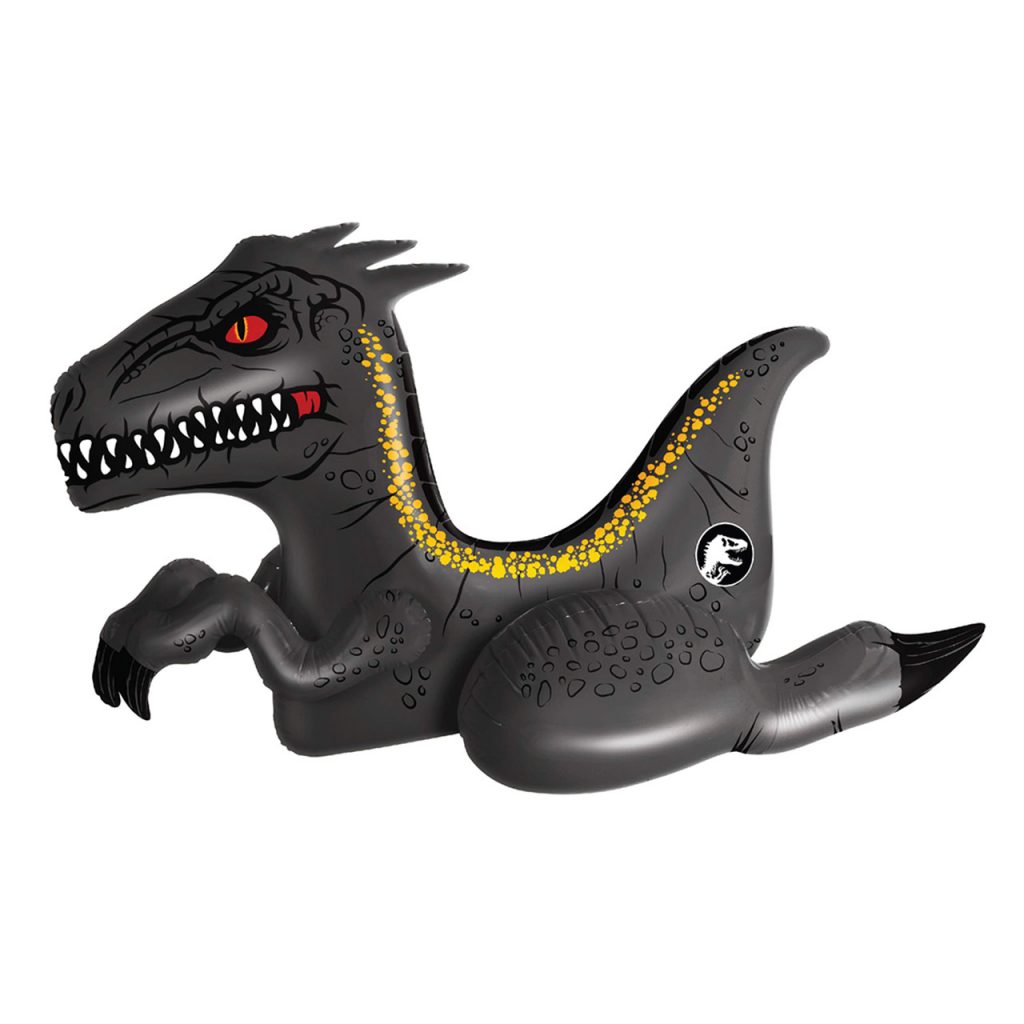 All you Jurassic World sci-fi lovers will really get a kick out this cool, innovative,  Indoraptor.  They hail from the Fallen Kingdom but will feel at home along the cul-de-sac. Being prehistoric, they are huge – a whopping 5 feet wide. You don't need to mine amber and splice DNA to get dinosaurs for the pool.
If you're attending a pool party or throwing one yourself everyone will be fascinated when they see your Indoraptor float. Kids will be lining up to take turns having fun with this dinosaur.
Each pool float highlighted is made of heavy duty, durable 0.25mm vinyl and resists punctures!
They are available at many nationwide retail stores and here

Coconut Float SWAN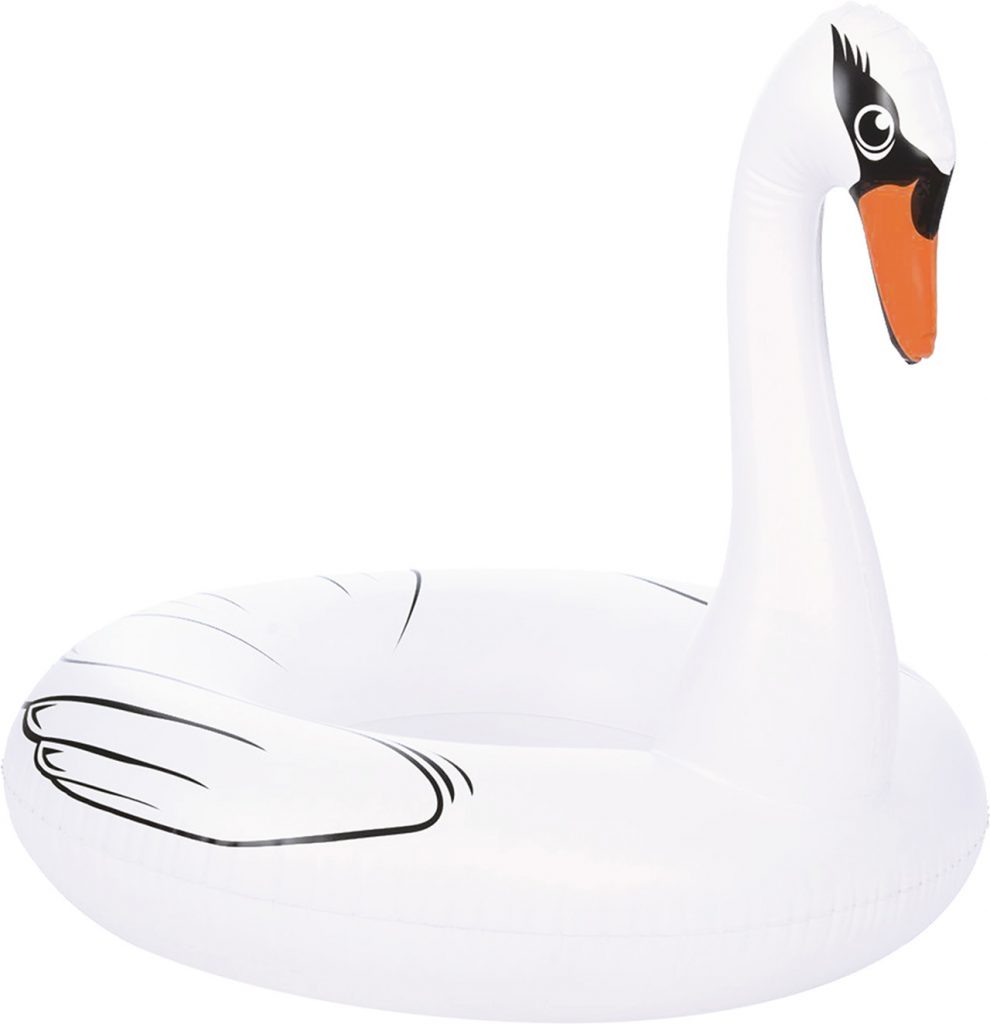 Here's another awesome pool float from Coconut Float.com. This inflatable float is perfect for any size pool and of course is made of heavy duty, durable 0.25mm vinyl and resists punctures.
No matter where you're summer pool fun will be, lake, backyard pool, hotel pool, or grandmas pool you're sure to have a relaxing time in the water with your cute SWAN!
Coconut Float.com has been known to provide their clients with lots of fun with their wide selection of floats, beach balls, and outdoor toys.
They are available at many nationwide retail stores and here


Definitive Technology AW6500 Outdoor speaker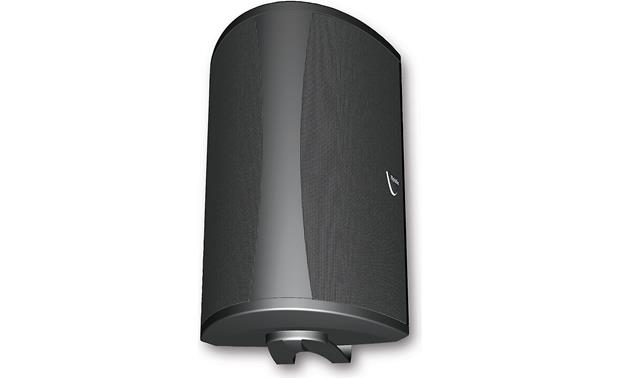 Now you can listen to any tune you wish with this awesome black AW6500 Outdoor speaker. No matter what genre of music you love this speaker will provide a well rounded smooth sound.
Rich, dynamic Definitive Technology sound meets rugged all-weather construction in the AW6500 outdoor speaker. It features some of the same advanced technologies as Definitive's highly acclaimed indoor speakers, but it's ready to stand up to the hardships of outdoor living. Buy a pair to place near the pool or on your deck — their non-resonant PolyStone enclosures are fully sealed and built for direct exposure to the elements. And the included bracket lets you rotate the speaker up to 360° for maximum flexibility. Available here

Well there you have it a few, fun, adventurous summer toys that everyone can enjoy. Don't forget to click each brand link to see their products listed and more. There's still time to enjoy this summer weather!
Howdy everyone, I just wanted to inform you that I was not compensated for this post. However, I did receive a product from the company below and the opinions expressed in this post are 100% my own. I am disclosing this in accordance with the FTC guidelines.