2017 Holiday Gift Guide Featuring Red Copper Cookware!@BulbHeadIdeas
Well, it's that time again, Holiday Gift Guide Ideas! The Night Helper Blog is getting ready to share some awesome Holiday Gift Ideas from now until Dec 18th! We will share products in just about every category plus we will list links where you can grab any of these product for your Holiday Gift List. So sit back , grab your pen & paper and enjoy!!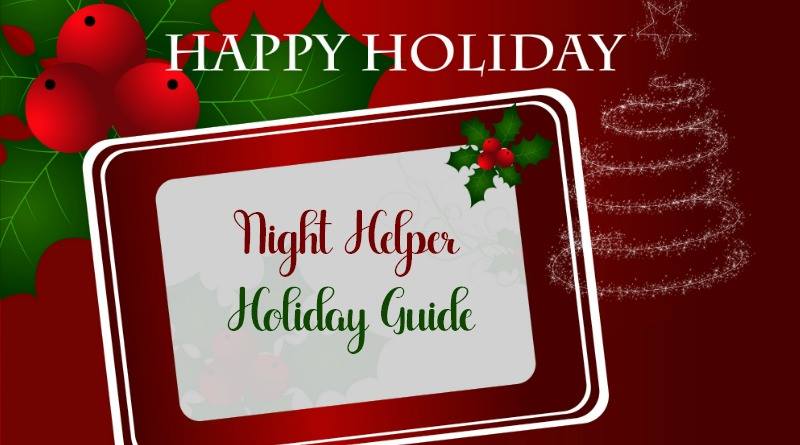 Today we have two cool products from Red Copper Cookware.
Now if you watch TV which I'm sure you do, you too have seen many commercials about Red Copper cookware. They have a wonderful line of cookware products that everyone will love like: pots & pans, flipwich sandwich maker, brownie bonanza pan, 5 minute chef and many others.
The Red Copper 5 Minute Chef would be great to have on hand for the holidays and here's why.
This amazing Non-Stick Cooker is sure to cut your cooking time in half. The Red Copper is the new revolutionary electronic meal maker that cooks your meals in just minutes. The 5 Minute Chef has two deep wells that cook the top and bottom of your food simultaneously. The copper infused ceramic cookware has a non stick surface so your food can just slide out.
The scratch-resistant copper can withstand use. You can cook many home cook meals , breakfast meals, desserts, and even snacks. The Red Copper 5 Minute Chef would be a perfect addition tour your kids dorm rooms or apartment!
More details: 
Electric meal maker
Nonstick, scratch-resistant surface
Flips for even cooking
Quick-lock and stay-cool handles
Dual cooking surfaces Copper infused ceramic cookware
Wipes clean PFOA and PTFE Free Measures 13" x 4.5" x 3.75" –
On to our next Red Copper Cookware, this one is called the Red Copper Flipwich Sandwich Maker
If you enjoy creating sandwiches, then you'll definitely want to add the Red Copper Flipwich Sandwich Maker to your cookware line! You can now make hot sandwiches within minutes! With Flipwich  two interlocking grill pans that are coated with a copper infused ceramic surface, this  lightweight, non stick pan will create a twin sealed environment for cooking your sandwich. The aluminum induction plates rapidly distribute heat evenly.
Red Copper Flipwich allows you to flip your sandwich in a single step. Grill a variety of foods like gooey grilled cheese, stuffed French toast, indoor smores, pudgy pies, and waffle and bagel sandwiches.
You can even use Flipwich for grilling burgers, sizzling warps, and Panini. I don't know about you, but, both of these Red Copper cookware products would make a great gift this holiday!
More details:
Non-stick, scratch resistant surface
Stay-cool handle
Handle-clip that locks tight
Aluminum induction plate distributes heat evenly
Durable, riveted handles
Cooks without butter, oil, or grease
PFOA and PFTE FREE
Not dishwasher, microwave, or oven safe
Copper infused ceramic cookware 1 Red Copper™ Flipwich™ sandwich maker
Any cookware that can cut down my cooking time is alright with me! You can view both of these products on the BulbHead Ideas website and they can also be purchased Nationwide.
Don't forget to follow BulbHead.com via Facebook | Twitter | Pinterest | Instagram | to keep up with the latest.
Howdy everyone, I just wanted to inform you that I was not compensated for this post. However, I did receive a product from the company below and the opinions expressed in this post are 100% my own. I am disclosing this in accordance with the FTC guidelines.