We're Having A Baby Shower, come one, come all, check out these awesome baby gift ideas!
Disclosure: I was not compensated for this post. However, I did receive a product from the company and the opinions expressed in this post are 100% my own. I am disclosing this in accordance with the FTC guidelines.
YAYYYYY, we're having a Baby Shower! Today we will be showcasing baby gift ideas for both mom and baby. Products from Newborns to Toddlers, we'll have something for both listed below in our 2019 Baby Gift Guide.  Sit back, grab your friends, hubby or just grab a pen and jolt down these awesome gifts for baby.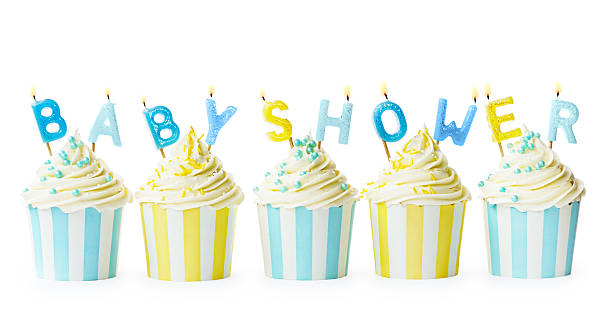 Let's get started, here we have a wonderful product from the company The Weego, TWIN Baby Carrier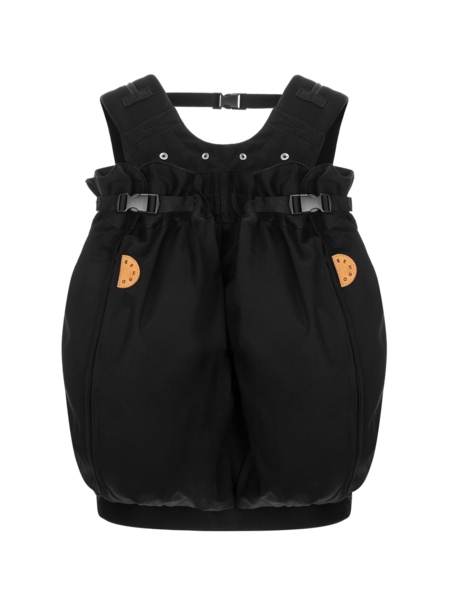 Moms of twins will no longer have to worry about carrying their little ones around one by one because the Weego, TWIN Baby Carrier has them both covered. First the carrier will be easy to use, it's specially designed for Twins from birth, suitable for premature babies from 4 lbs (1.800 g), has a unique double-pouch construction so both babies can sit comfortably, ergonomic and hip healthy for baby and it grows" with the baby. This carrier will provide both babies a warm, safe, comfortable place to rest upon mom while she's out and about or around her home. Moms can simultaneously comfort both twins especially when their having a fussy day. That's a big plus alone! Weego TWIN Baby Carrier will not only be a lifesaver for parents but also for the babies, it's a great way to help parents and babies' bond. It's cool to know that due to the way the Weego Carrier is constructed you can easily pass your babies to another person without removal from the carrier. No matter where you are mom don't forget to keep your Weego TWIN Baby Carrier on hand at all times! You can learn more about the Weego TWIN Baby Carrier here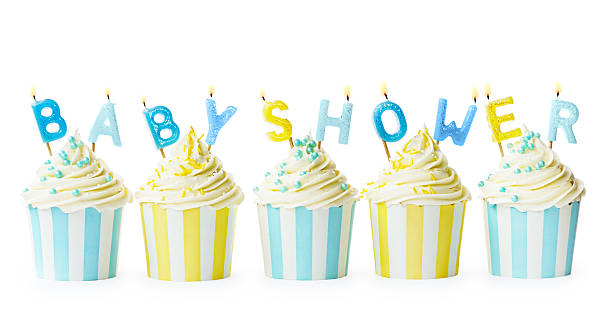 Here we have Costway 3 In 1 Multifunctional Baby Infant Activity Gym Play Mat Musical W/Hanging Toys
This baby gym play mat provides a cozy surface for floor time play. Adopt the colorful and bright colors to get your baby's love. The multi-mode gym has a unique design that features 5 fun ways to play as baby grows: newborn, active discovery, tummy-time, sitting, and crawling. The walls of this fresh, fun and colorful gym can be adjusted up or down.
The walls act as a barrier during play time and tummy time. The toy bars are adorned with 5 detachable take-along toys to encourage baby's fine motor skills. This gym mat is perfect to grow with babies.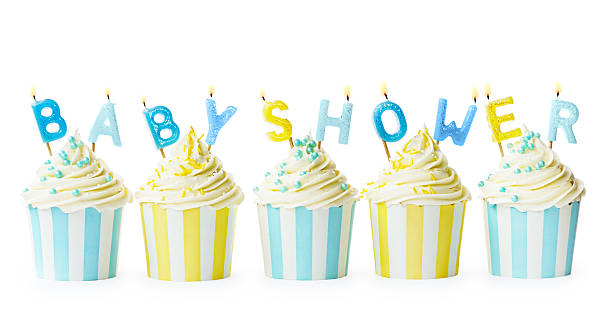 Ingenuity Dream & Grow Bedside Bassinet – Dalton
Keep your baby close and comfortable. The Dream & Grow Bedside Bassinet from Ingenuity holds your little one safely within reach, right at your bedside. The height adjusts to accommodate the height of mom and dad's bed, making it easier for you to care for your baby – even in the middle of the night. The open mesh sides allow more breathable comfort and visibility. When it's time to move baby to the nursery, you can move the mattress down to create a more spacious sleep environment for your growing baby. Soothing sounds help your baby fall asleep and stay asleep. Includes a soft night light to check on baby. This smart design is versatile enough for your baby's use for up to a year.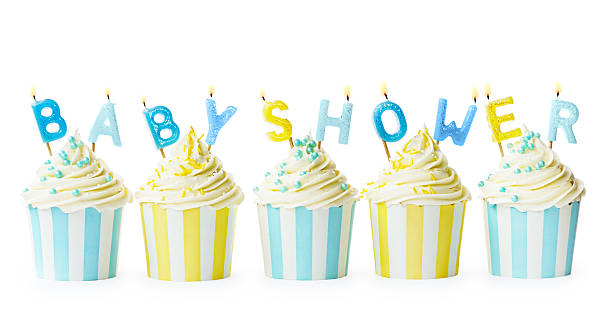 Today we have a line of products from SwimWays. Now baby and mom can get ready to enjoy the warm weather with these two awesome water floats. This Baby Spring Float Splash Station will be great for your little one.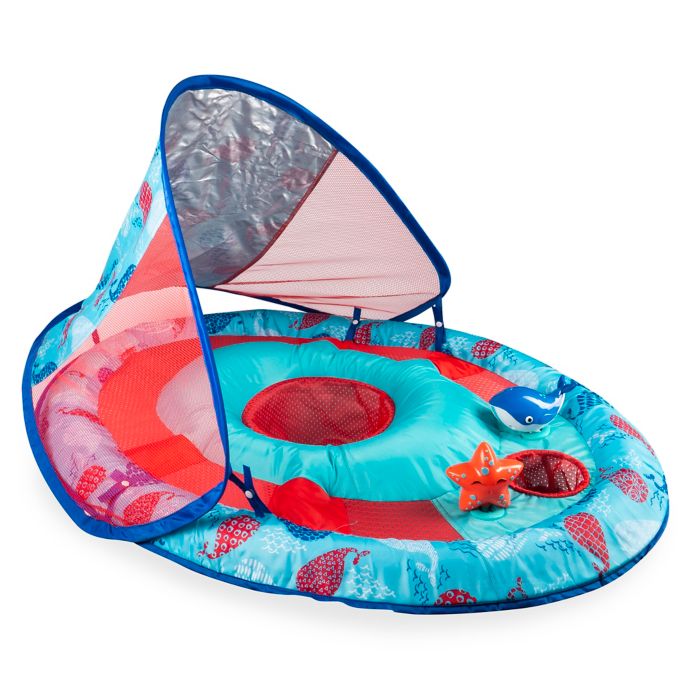 Bring playtime to the pool with the SwimWays Baby Spring Float Splash Station. Made of PVC this baby float features a built-in interactive play station with an overhead shade to keep your baby entertained and out of the sun.
SwimWays Baby Spring Float has no given weight limit; the age range given is 9 to 24 months which typically corresponds to children who are 20 to 33 lb. It is Swimways' general practice to provide age ranges for our swim aids because we find ages and associated abilities to be a better determinant of product fit than weight alone. For Baby Spring Float, if your child becomes agile enough to start climbing out of the float, use of the item should stop immediately, and they should be moved into a more active style of flotation aid that allows for more movement and the beginning stages of learning to balance and paddle. You can grab your baby's My First Splash SwimWays Baby Spring Float here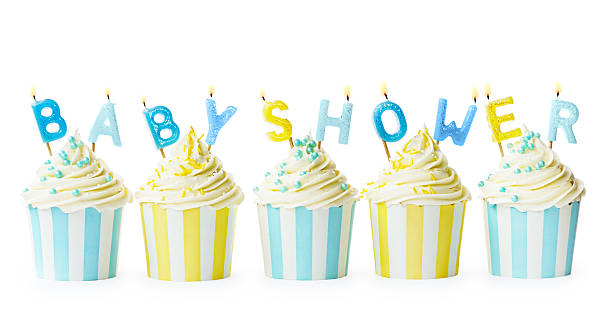 Move over little one because mom will be able to relax and enjoy the pool too with her SwimWays AquaLinx pool float.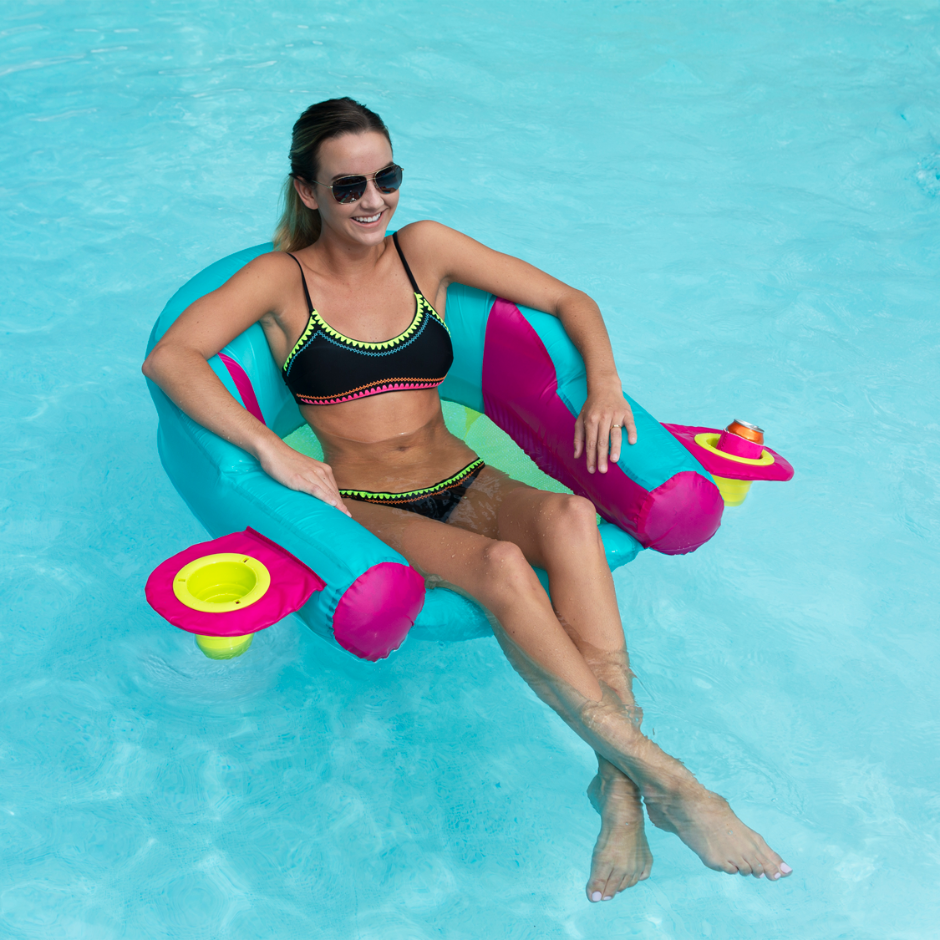 AquaLinx floats literally bring family and friends together! Keep your friends close as you float the day away by connecting these brand new SwimWays AquaLinx floats together! Simply line up the cup holders and connect two or more floats together at the pool, lake or ocean and enjoy quality time with friends and family! These floats also include all the features loungers love! The comfy mesh seat allows water to flow through, helping to keep you cool on hot summer days.
This sit-up style float allows you to comfortably float with its supportive backrest! The durable fabric covered flotation provides long lasting usability. The float's large cup holders allow you to keep your drinks close by, so you stay hydrated and are free to enjoy hours of floating fun! They are available here and in many vibrant colors. Each one of the SwimWays floats will make great gift ideas for both mom and baby!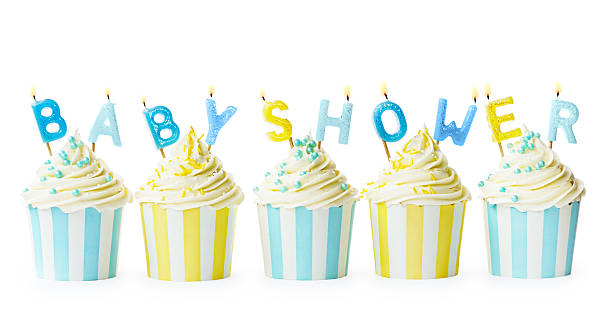 We're not done, we have some great product from the brand Infantino. This is the Infantino Go Gaga! Bubble Ball Inflatable Bath Tub
This tub will be great for your little one's bath time. You see the Bubble Bath Inflatable soft bath tub will allow your little one to have lots of water fun safely in your tub. This supportive whale tub turns into a splashy ball pit with 10 floating balls and a jingling tail. Perfect for helping your baby transition into a large tub.
Release plug to drain water when bath time is done. Deflates and folds easily, making it perfect for home or travel and the inflated size: 30 in x 18 in (76.2 cm x 45.7 cm) and can be purchased here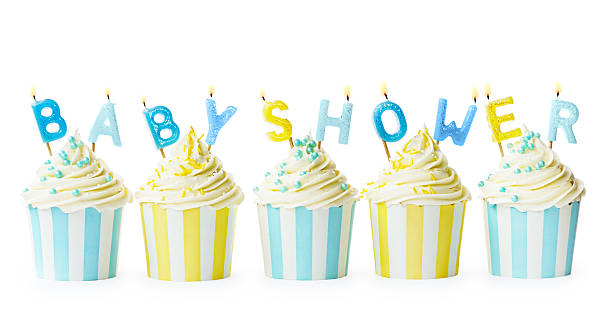 Infantino Cuddle UpErgonomic Hoodie Carrier, now mom and baby can really bond with this comfortable baby carrier.
This ergonomic carrier features a unique arched canopy hood that keeps baby in full sight and happily covered. The wide, ergonomic seat supports baby's hips in the "M" position. Baby is supported from knee-to-knee with a naturally rounded back for a safe and comfy ride.
Mom and Dad will love this carrier too with the plush, adjustable shoulder straps and wide waist belt that transfers weight to wearer's hips for a more comfortable fit. The Cuddle Up carrier is as adorable as it is functional, with the removable teddy bear hood and a hoodie-inspired pocket for parent's hands. It's great for a nice walk on a sunny day or at the beach with the family, or just hanging out with mom at home. You can grab your Cuddle Up carrier here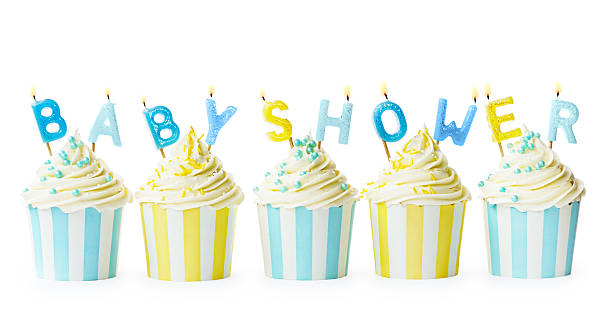 Look what we have next, it's the Safari Jumper by Creative Baby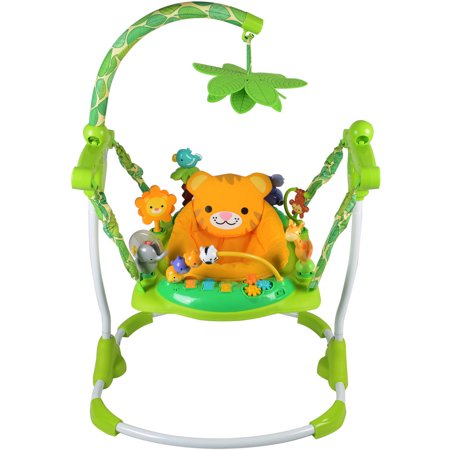 This adorable Safari jumper will physically engage your child while giving parents a little rest time. Includes multiple sensory toys, sounds, lights, and music for your child to enjoy for a few hours.
The activity jumper comes with safari tiger and his friends. It's adjustable with 3 positions, has a 360 rotating cushion seat, integrated snack tray and cup holder, has a wide base with rubber feet underneath prevents scratching on floors and it's very well constructed and safe for ages 6+ months. Maximum weight: 25 lb
Batteries: 2 AA batteries is required (not included) Check it out here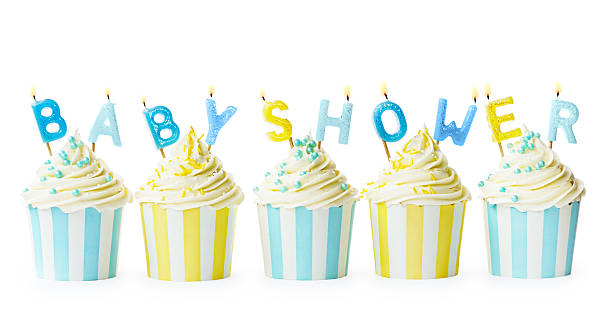 Here we have the company Hello Bello Plant-Based Baby Products. I don't know about any other parents, but my goal is to always use plant based baby products on my baby.  The Hello Bello has a complete line of products that are designed to give every parent access to high-quality, better-priced everyday essentials that are better for babies, budgets and the planet. Hello Bello will launch with 10 products, ranging in price from $1.88 to $23.94, with the majority under $8. All available at Walmarts nationwide.
We have first Hello Bello Wipes: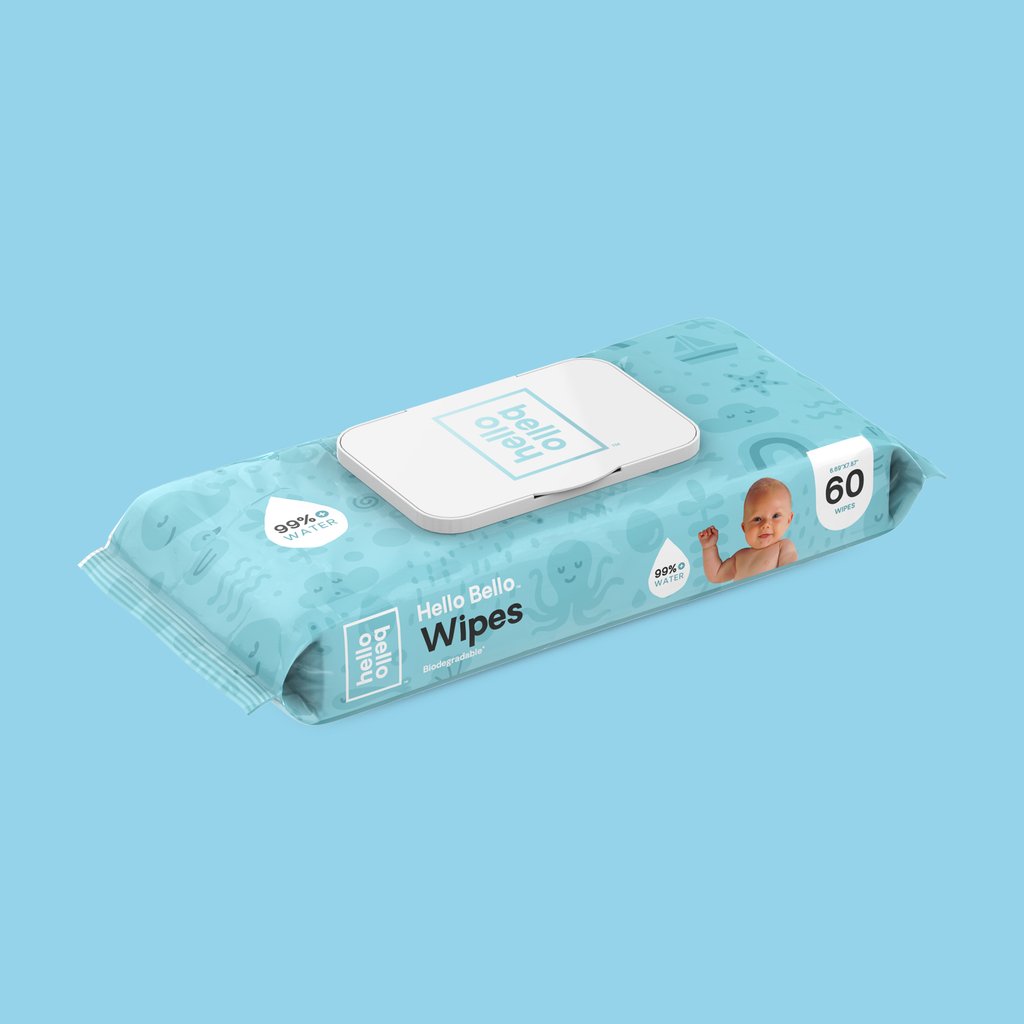 Made with 99%+ pure water with a touch of organic aloe and a wee bit of chamomile extract. Hello Bello Wipes are super soft and super strong, all-in-one.
Using a touch of organic Aloe and a wee bit of Chamomile extract, you can trust them to help quickly soothe and clean baby's delicate skin. And our thick, plant-based, medical-grade cloth makes these wipes tough enough to handle any cleanup.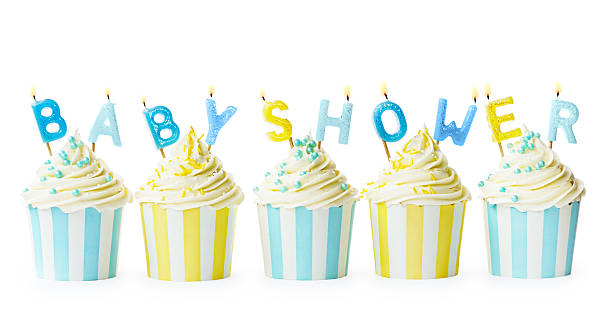 Another Hello Bello product comes from their Diaper collection.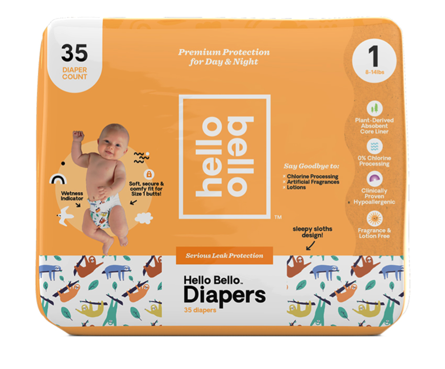 The Hello Bello diapers are Soft, Stretchy, and offers your baby a Comfy Fit.
Their Ultra-soft, cloth-like feel, inside and out, wraps your baby tenderly.
Stretchy side panels for freedom of movement.
Stays snug when soiled, reducing sag and keeping a secure and comfy fit.
They are available in sizes  N-2, with selected patterns and don't worry mom. With Hello Bello core technology your baby is sure to get the extra absorbent he or she will need to help keep it all in.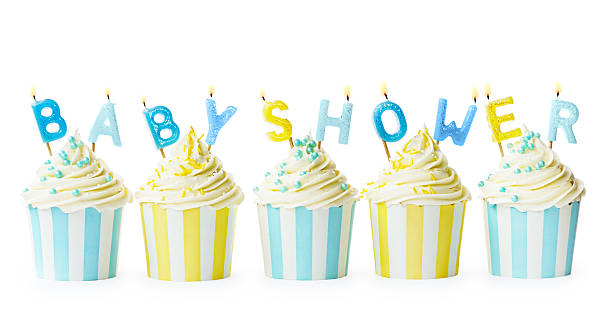 We have two more Hello Bello products,  Hello Bello Shampoo & Body Wash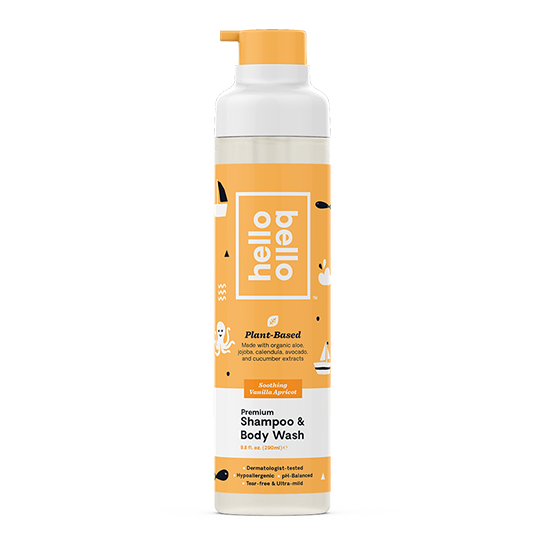 Clean your kiddo from head-to-toe with our two-in-one formula that soothes with Organic Aloe Vera, Calendula, Avocado and Cucumber Extracts while moisturizing with Organic Jojoba and Sunflower Seed Oils.
It's extra gentle cleaning for extra dirty babies.
Made without:
sulfates
SLS and SLES
synthetic fragrance
phthalates
parabens
formaldehyde donors
common allergens (gluten, peanut, dairy)
MEA, DEA, and TEA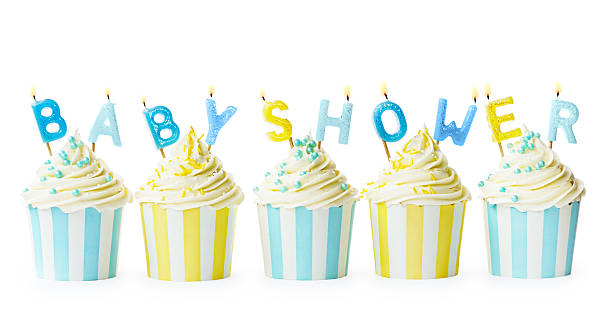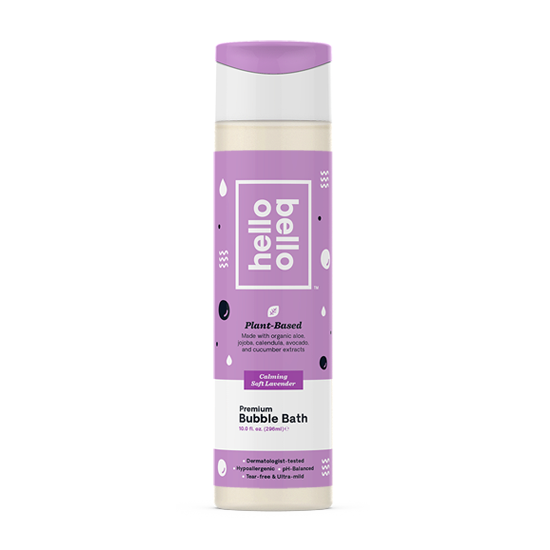 In addition to creating bubbly bliss, our formula soothes with Organic Aloe Vera, Calendula, Cucumber, and Avocado extracts, while moisturizing with Organic Sunflower and Jojoba Seed Extract. It nourishes skin while getting it squeaky clean. It all adds up to extra fun bubbles for extra happy babies!
Made without:
sulfates
SLS and SLES
synthetic fragrances
phthalates
parabens
formaldehyde donors
phenoxyethanol
common allergens (gluten, peanut, dairy)
PEGs, MEA, DEA, and TEA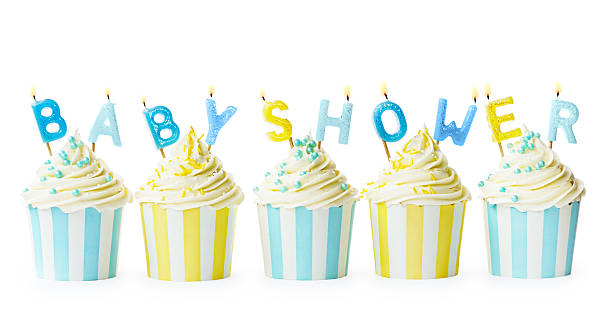 Our next baby gift idea comes from one of my favorite brands, Baby Einstein Playful Discovery First Words monthly bundle subscription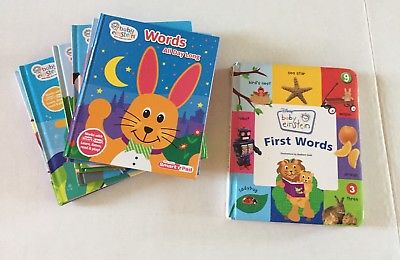 Build your baby's vocabulary with this new first words book. Split into familiar categories such as animals, nature, food and babies themselves, the youngest learners will be able to identify the names of familiar objects.
Baby Einstein Books is an imprint of developmentally appropriate, interactive books designed to introduce children ages 0-3 to classic poetry, art, and foreign languages in a fun and accessible way.  A combination of playful images, beautiful photography, and bold illustrations with multilayered text will captivate and stimulate babies and young children.  This "humanities for babies" program, based on the award-winning video series, taps into the natural learning potential of young children—and their parents' aspirations for them. You can order your monthly Baby Einstein Books here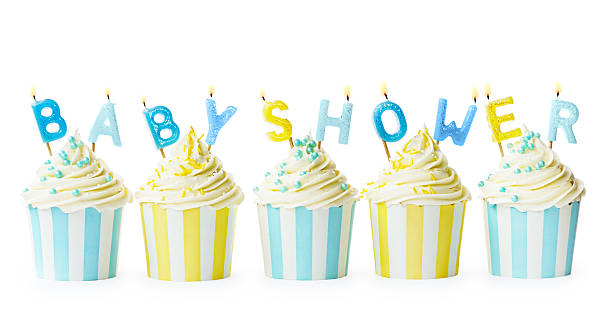 Here's another gift idea come from the company EXERGEN, it's their Temporal Artery  Thermometer.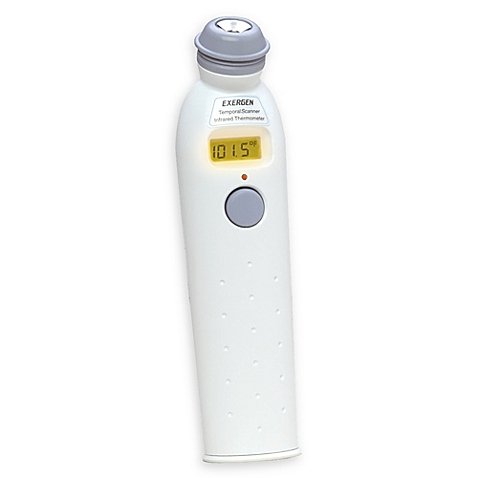 When it comes to becoming a new parent one things for sure you want to make sure you have all the necessary baby essentials on hand. The Temporal Artery Thermometers will keep an eye on your family's health with this Temporal Artery Thermometer from Exergen. This thermometer is great for all ages, taking away the hassle and discomfort that comes with under-the-tongue or in-the-ear thermometers. It works by capturing naturally emitted heat over the temporal artery through the skin. A softly glowing display makes reading the output a breeze, even when you're groggy from lack of sleep. First it scans like a video camera, capturing naturally emitted infrared heat from the arterial blood supply at about 1000 "frames" per second, locking in the highest temperature it senses Second, a patented system measures the ambient temperature of the site where the temperature is being taken Finally, the patented "arterial heat balance" (AHB) software synthesizes the two separate readings to accurately determine and display body temperature. You can purchase your EXERGEN Temporal Artery Thermometer at many retail stores and Amazon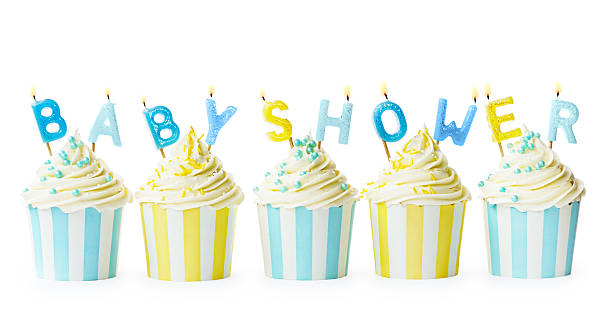 Next, we have a baby gift that every home needs to have on hand. It's the Regalo Baby Eight Panel My Play Portable Play Yard.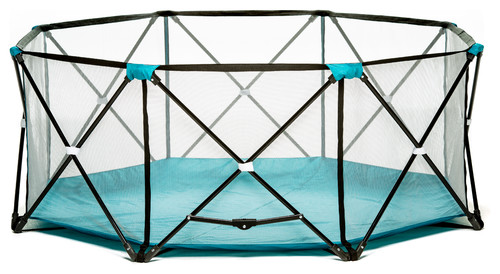 You may be asking what is this Regalo My Play, 8 Panel Portable Play Yard? Well, it's a well-constructed play yard for your little one that is portable, and very easy to setup! It will create a safe play area for your child in seconds, it's a lightweight, foldable, play yard that is perfect for at home, when traveling, at the park or a day at the beach. Boasting an all-steel construction, this attractive play yard measures 62″ wide and 26″ high and was built with durability and strength in mind and it locks on sides. Equipped with soft, ventilating mesh sides and an easy cleaning nylon bottom, the yard easily accommodates children between 6-24 months.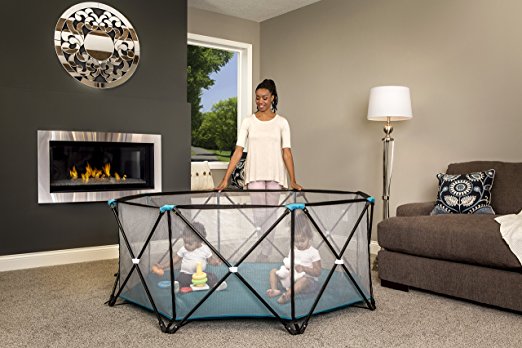 Once mom and baby are done with the Regalo My Play Portable Play Yard she can fold and place it right in its comfortable carrying bag until next use.
The Regalo My Play Portable Play Yard is backed by a manufacturer's limited 90-day warranty. This safety gate has been certified by the Juvenile Products Manufacturers Association (JPMA). It also meets the safety standards set by the American Society for Testing and Materials .
One things or sure mom can sit back and enjoy watching her child/kids play in a secured safe environment!  No more running around trying to chase down your little one , just setup your play yard, lock sides, grab some toys and place your child inside! You can't go wrong with this purchase at all and it would make a great gift for all new parents!! You can learn more about the Regalo
My Play Portable Play Yard and other products
here.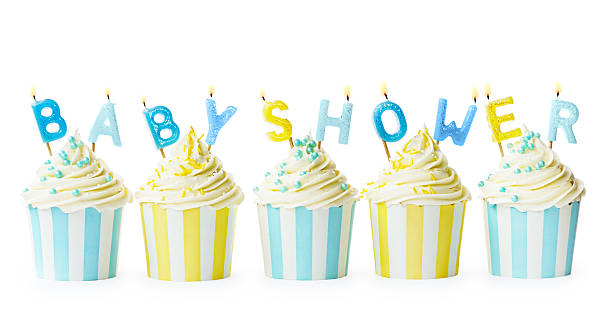 Here we have the Happypop Saying Baby Infant Socks Gift Box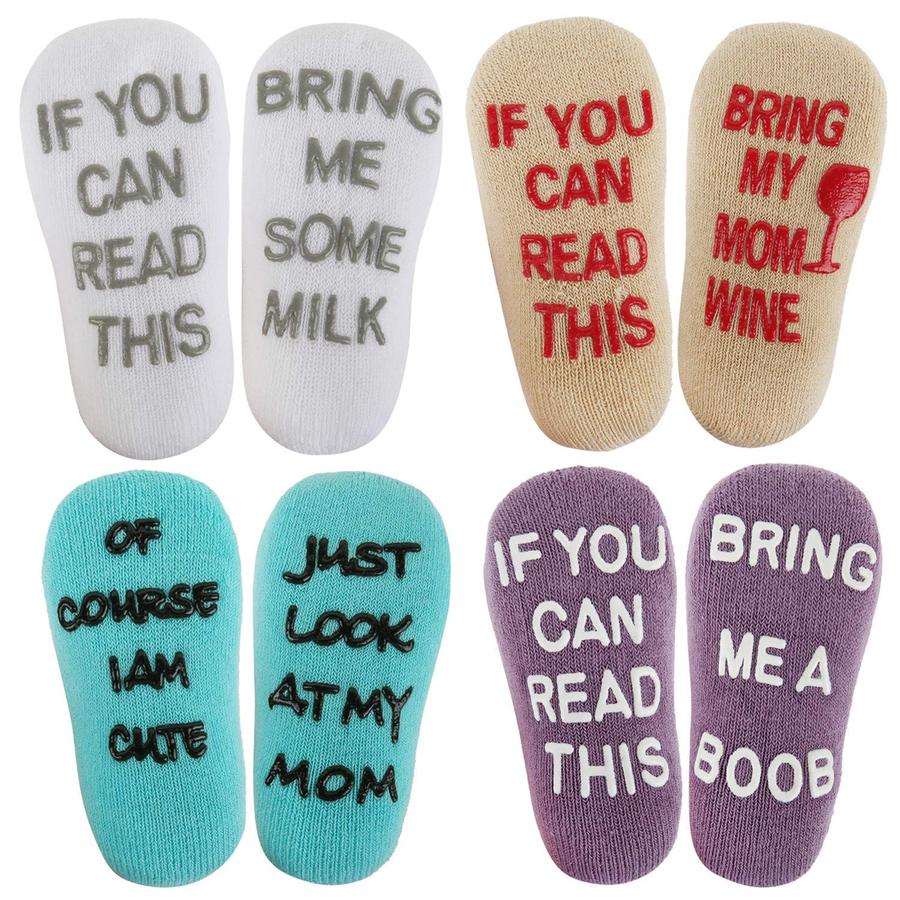 OMGoodness, when I tell you these adorable socks are cool, trust me they are! If you're seeking something unique for your baby or as a baby gift. Please take a look at these cute socks. These creative and cute ANTI-SKID RUBBER GRIPPERS ON THE BOTTOM are created with adorable rubber quotes like: IF YOU CAN READ THIS, BRING ME SOME MILK︱BRING MY MOM WINE︱BRING ME A BOOB︱OF COURSE I AM CUTE, JUST LOOK AT MY MOM. Recommended for 0-12 MONTH BOY OR GIRL and they are comfy for your little one's feet. They're great for not only baby showers but for any baby/toddler occasion. PREMIUM SOFTNESS AND BREATHABLE: Soft touch and won't irritate baby's skin – combed cotton baby socks with a touch of spandex for stretch-ability. With a thick towel bottom,  feet with great support and softness when your little one starts walking on the hardwood floor. They are available in a gift set of 4 pairs of baby socks and can be found here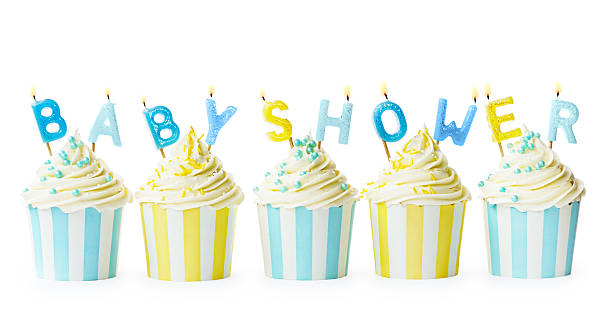 Keeping it moving our next baby gift idea is called Baby Bum Duke's Premium Gift Set
This is another great gift! This PREMIUM BABY GIFT SET: Includes (1) Baby Bum Shampoo & Wash, (1) Baby Bum Everyday Lotion, (1) Baby Bum Monoi Coconut Balm, (1) Baby Bum Hand Sanitizer, and (1) Big Duke Toy.
EXTRA GENTLE, FOAMING SHAMPOO & BODY WASH: Keeping squeaky clean is super fun with our foaming head-to-toe, tear-free and lightweight foaming wash.
MOISTURIZING LOTIONS: Baby Bum Everyday Lotion and Baby Bum Monoi Coconut Balm are specifically formulated for babies, toddlers and kids to massage, pamper and soothe dry, sensitive skin and keep baby's (and mom's) skin smooth and moisturized.
ANTIBACTERIAL HAND SANITIZER SPRAY: A no-rinse antibacterial spray with naturally moisturizing ingredients, such as monoi coconut oil, aloe and alcohol derived from Sugar Cane to leave skin soft and germ-free without drying. Tested to kill 99.9% of germs without harsh chemicals. Don't worry mom, each product is of HIGH QUALITY WITH NATURAL INGREDIENTS: Their plant-based formulas have been Pediatrician & Dermatologist tested to address the needs of delicate baby skin. No Artificial Fragrances, No Dyes, Cruelty Free, Gluten Free. Hypoallergenic, Paraben Free, Sulfate Free, Silicone Free and Phthalate Free.  So, there's nothing to harm your sweet little one! You can find this set and many other Baby Bum here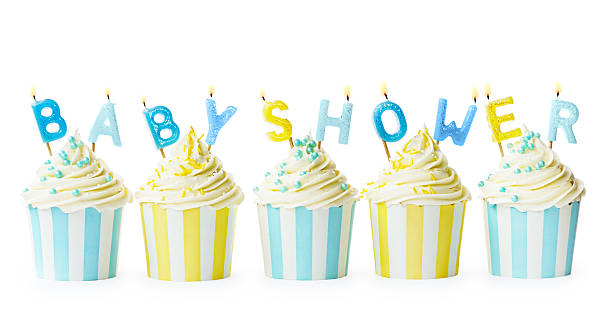 If you haven't heard of the Feltman Bros company move over because you will love this brand also!  First we have one of their beautiful Pearl Flower Fly Sleeve Bubble.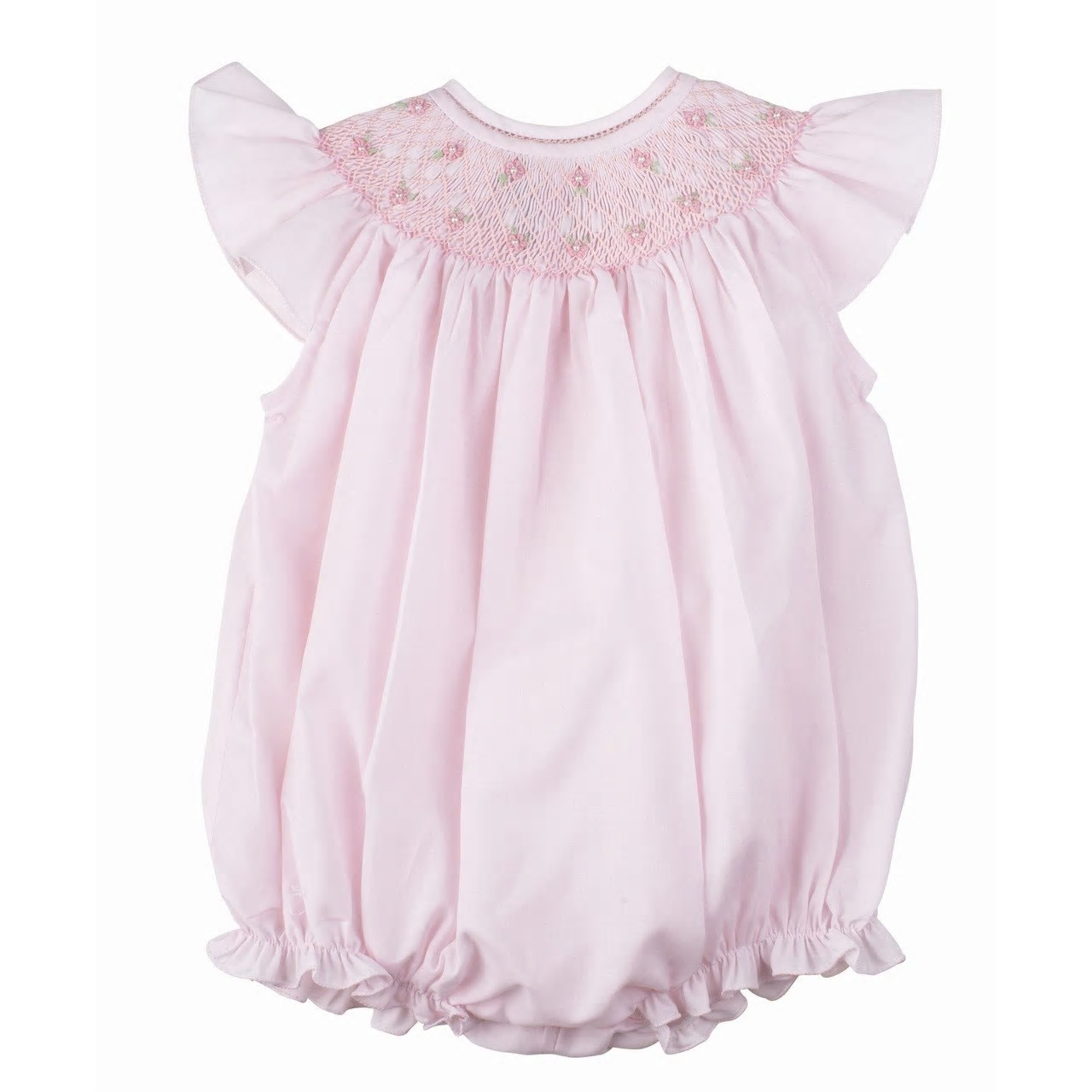 Get ready to dress up your little girl in this charming bubble pink Pearl Flower Fly Sleeve Bubble. Dainty fagoting lines the neck of this piece followed by a lovely smocked yoke. The smocking is covered in a hand embroidered diamond design, with tiny floral bullions and pearls in the center.  The intricate details, soft colors, and sweet fly sleeve cut of this bubble make it the perfect choice for any occasion – be it Easter, outings at the park, or days spent with family and friends or just hanging out with mom and dad. It's one of Feltman Bros vintage pieces that everyone will admire. Available in sizes NB to 24 months. You can check out this gorgeous Sleeve Bubble here.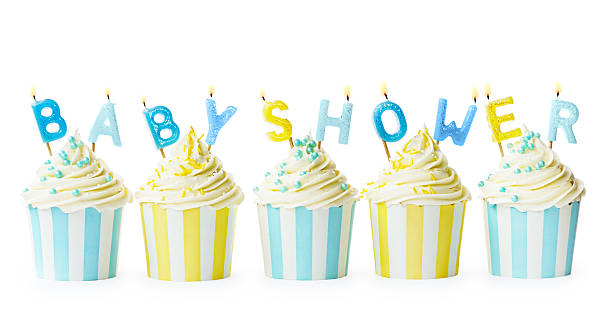 Hold on there's more from the Feltman Bros company. See, I told you guys this is a company you must check out like all the others listed. Here we have a casual knit set for your little fellow called Sailboat Knit 2-Piece with Hat.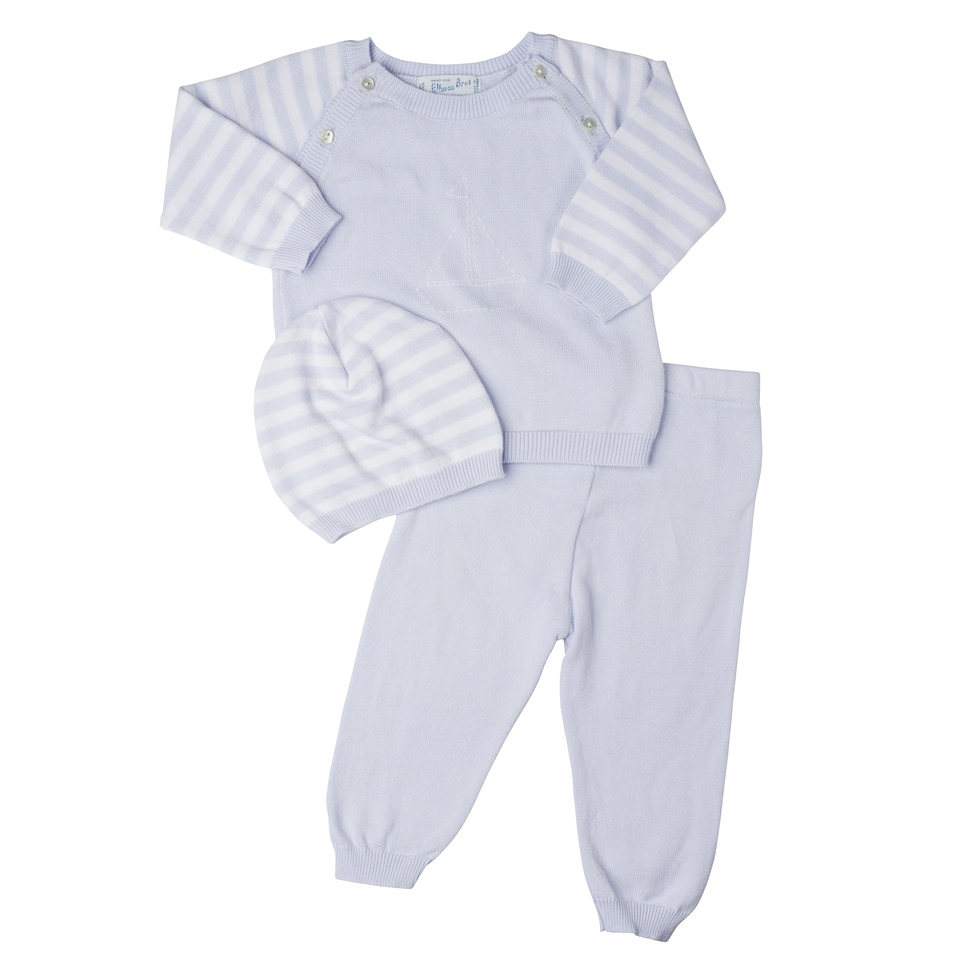 This nautical themed little boy set is oh so sweet! Made out of warm knit with ribbed edges on the shirt, pants, and hat. The sleeves and hat are striped, in contrast to the solid navy or blue body and pants.
Petite buttons at the top of the sleeves and a charming shadow stitch sailboat on the front add the perfect touch of detail. This two-piece knit sailboat set and matching hat is sure to keep your little one warm while looking absolutely precious. "Life is but a dream!" It's available in sizes NB to 24 months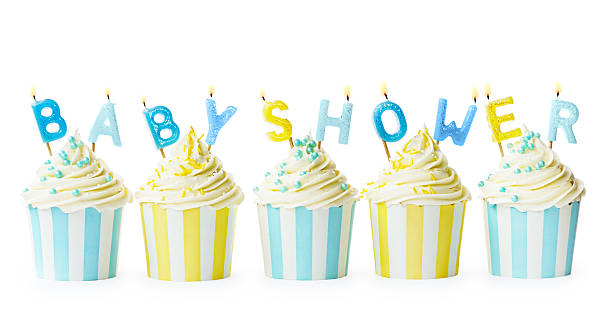 Here we have another wonderful educational brand for your little baby. This product comes from the company Teach My! It's their Teach My Baby Learning Kit.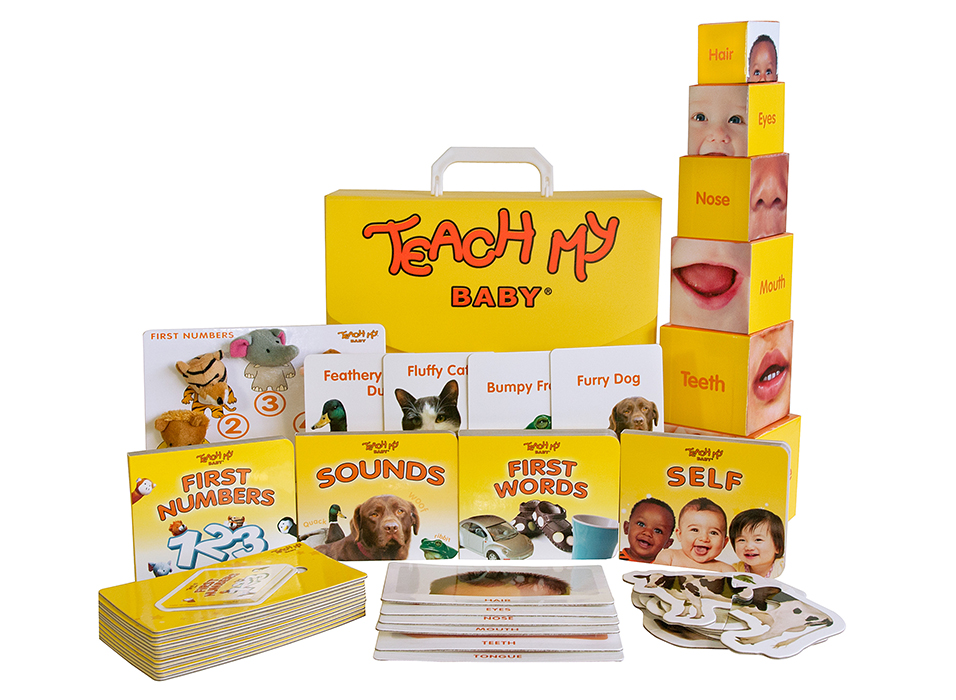 If you're seeking to enhance your child's learning / communication skills the Teach My Baby Learning kit will be the right kit for you. Using this kit every day for short intervals will surely help your baby grow. Teach My Baby is the award winning, all-in-one learning kit designed for babies 6 months+. Screen-free, the kit contains unique and coordinated tools to teach first words, first numbers, sounds, touch and self-awareness. From finger puppets and books to blocks and puzzles, the kit is full of learning toys to give your mini scholar a head start. Teach My Baby promotes fine motor skills, hand eye coordination, parent-child interaction and self-esteem in just 20 minutes a day!
The kit includes:
50+ pieces to teach baby first words, first numbers, sounds, touch and self awareness
Kit includes finger puppets, books, puzzles, blocks, mirrors
Promotes fine motor skills, hand-eye coordination, self esteem and parent-child interaction
Step by step teaching guide to ensure successful learning and development
This kit is perfect because if offers very simple activities to help your baby under the age of 2 (as young as 6 months) master some basic first words, identify facial features, numbers and also sounds of animals that helps them begin to sound out words. You can check the Teach My Baby here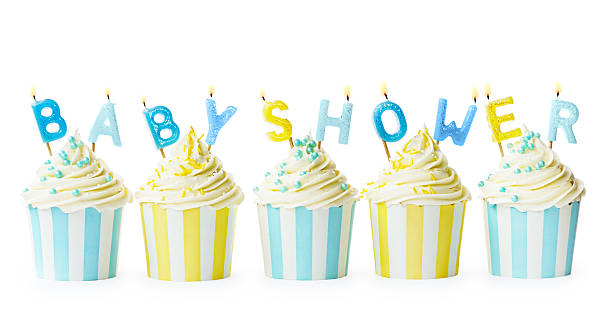 Let's keep it moving. Here we have the bblüv Üvi 4-in-1 Portable Pacifier & Nipple UV Sterilizer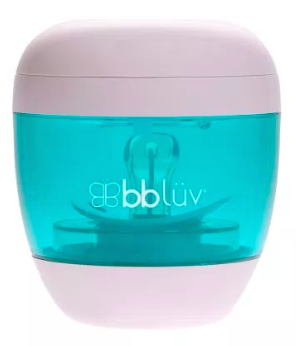 Now this is a very fascinated product if you ask me. You see, this 4-in-1 Portable Pacifier & Nipple UV Sterilizer Üvi uses an efficient and safe technology that eliminates germs from pacifiers, baby bottles, bottle nipples and sippy spouts.
It's a very convenient tool that doesn't use any chemicals and can be transported wherever mom and baby go due to its compact size. It's Hygienic and safe, has a Durable UV bulb, can Quickly sanitize your baby items, Easy to use and clean and measures dimensions (inches): 3.2 x 3.2 x 3.6. Recommended for Ages 0+. Visit bbluv to learn more here and see their other selection of baby products.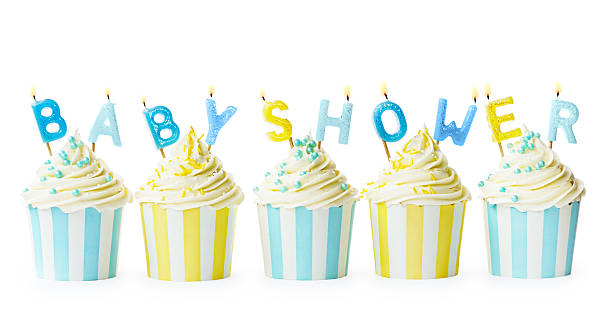 Wait, we're not done yet. This next gift idea is for Mom but, Dad can also enjoy too, it's from the company Healthy Meals Supreme!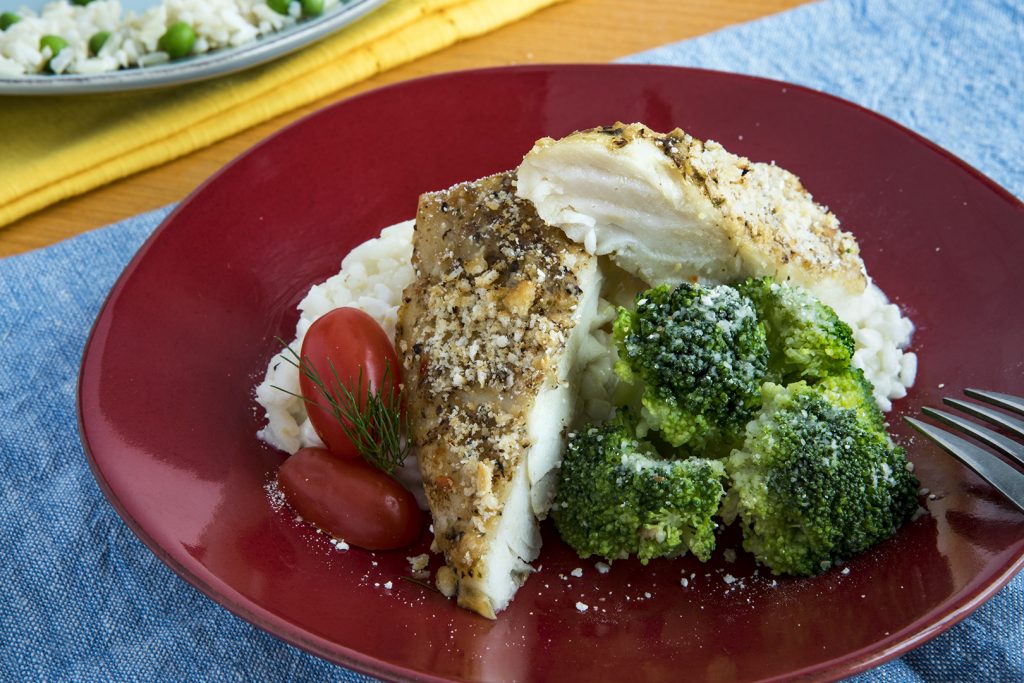 Oh, how I wish this type of service was available for me when I had my kids. You see, I had a really hard time with my pregnancy! I was sick all the time and I wasn't eating like I should, and it was a lot for my husband to help me, to prepare meals for us, keep our home in tact, and be on the road everyday as a truck driver. If I had known about Healthy Meals Supreme Meal Plans, I know our life would have been a lot easier to manage. Now Moms and residents can now save time, eat healthier, and feel better with the help of fresh, delicious, customized, culinary meals from  Healthy Meals Supreme!
What is this Healthy Meals Supreme company you are speaking of Lisa? Well, Healthy Meals Supreme is the first national, home delivery meal service with the following combined benefits for customers to enjoy.
Now the best part about this company is there is No subscription required to purchase. All your meals plans can be customized and freshly-prepared, never frozen nor freeze-dried…..this I really Love!
Every customer can easily follow the nutritional advice of their doctor, nutritionist or trainer because all meals are created using scientific and culinary medicine principals. Every meal is freshly-prepared, stay fresh and flavorful using the same vacuum pack technology that was used for astronaut meals in space…..cool ha!
There's No worries about any shopping being done because they (Healthy Meals Supreme)  do all the shopping, calculations, measuring and cooking for you. You just "heat it

, plate it,

and eat it" – it's that simple!
Every customer can see a real-time nutritional calculator that shows the total nutritional values of selected meal plans – even when it's customized.
But wait there's more, all meals are created and tested by a Top Team of gourmet food and culinary medicine experts. As
 Healthy Meals Supreme states, you can rest assure that all meals are prepared fresh each week at Healthy Meals Supremes' kitchens by staff, NOT by distributors and I can contest to this. This insures the highest quality of every meal that customers receive.
Another aspect I adore about this company is not only is the food healthy, portion sized just right for every individual, sealed with lots of flavor, they make it so easy to travel with your meals too. Meaning they are great for lunch time anywhere, work, or taking to college like my daughter has been doing, or just having mom being able to prepare a meal right after her little bundle of joy has been born. She won't have to worry about meal planning because Healthy Meals Supreme can and will cover all her meal planning needs for the entire week. The company has so much to offer not only for moms who are expecting who really don't have time to cook but, those who have chronic conditions, aging loved ones, and those like me who have a  busy daily schedule and don't have time to cook every day. Psst, let me just say I LOVE their Chicken Shawarma….wow was it delicious, seasoned just right and very fresh. Remember all Meals are delivered the day before your dining dates you can learn more about each meal plan here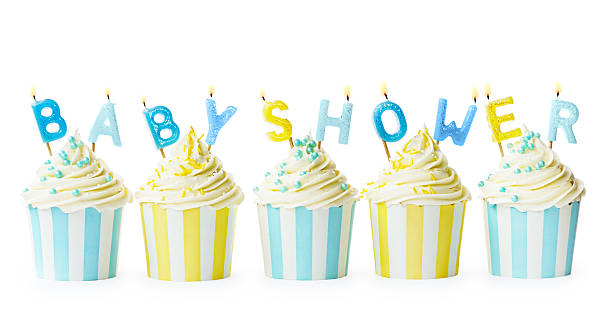 Here we have a few unique baby products from the company babydeedee. First we have their babydeedee Sleep Nest Travel baby sleeping bag.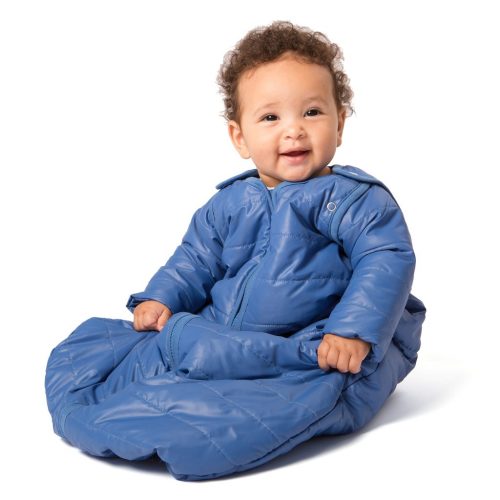 With the way this winter has gone for many of us, I think all moms need to invest in one of these adorable sleeping bags.
This cute innovative baby sleeping bag will be great for outside as well as indoors. It's also their warmest option at TOG 3.5 with an ultralight warm duvet fabric. When used in the crib, it replaces potentially dangerous loose blankets. With its removable sleeves and flap for stroller buckle the Sleep Nest Travel is also perfect for around town or for camping. The Buckle-through design is perfect to place baby in the stroller No need to wake baby up. Simply pull the stroller buckle through the slit, secure your child in the stroller three-point harness and zip up the sleep nest. Plus, it has removable sleeves and convenient shoulder snaps. it's available in three colors, Blue, Pink, and Gray Skies, and sizes s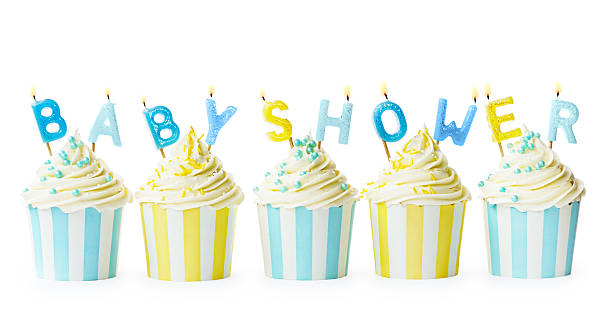 As I stated above we have another product from babydeedee called Sleepsie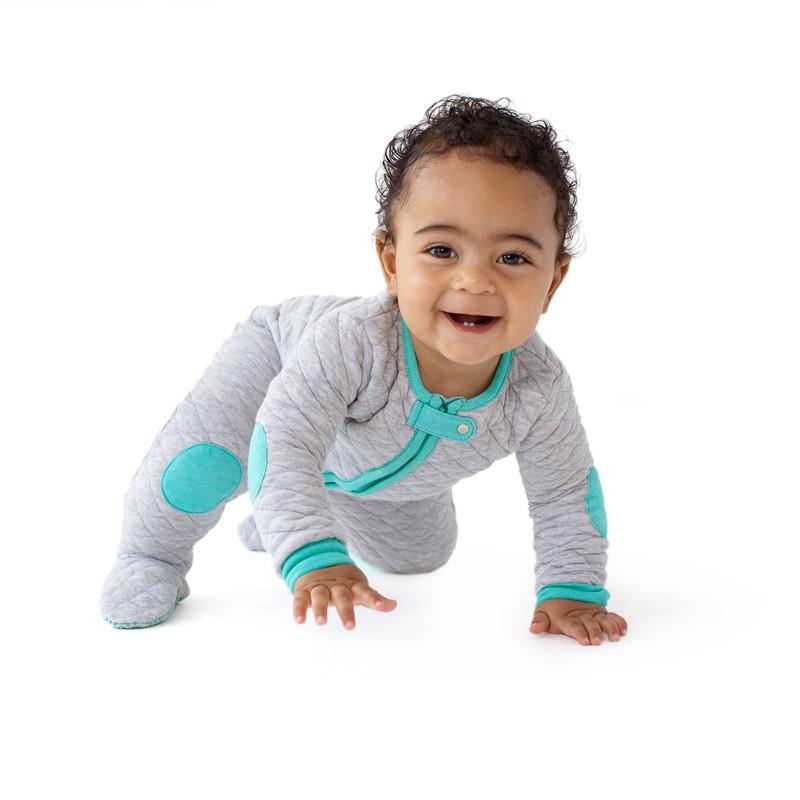 This is another great sleeper mom and baby will love. That's because this quilted sleepsie with warm-footed and easy-zip features the perfect way to keep your infant or toddler snug, warm and comfortable at night! The quilted, soft cotton keeps your infant or toddler warm and cozy. These warm baby pajamas are a fantastic, flame retardant-free alternative to fleece pajamas.
Designed to be worn tight-fitting in order to avoid the use of the potentially dangerous flame retardants that may be required for looser sleepwear. It has a signature in-between-the-leg zipper that makes it so much easier to change your baby's diaper, and they have Non-skid soles to keep your infant or toddler from slipping. Available in many colors and great for Newborns to 2T. Visit here to learn more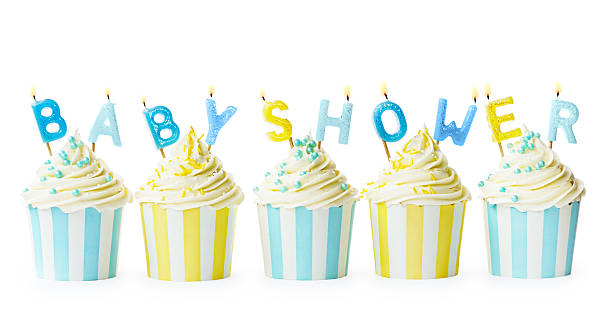 Ok, now we have another great gift idea from Spry called Dispensing Pacifier and Xylitol Tooth Gel Kit.This kit also includes  a complimentary bottle of the nasal spray.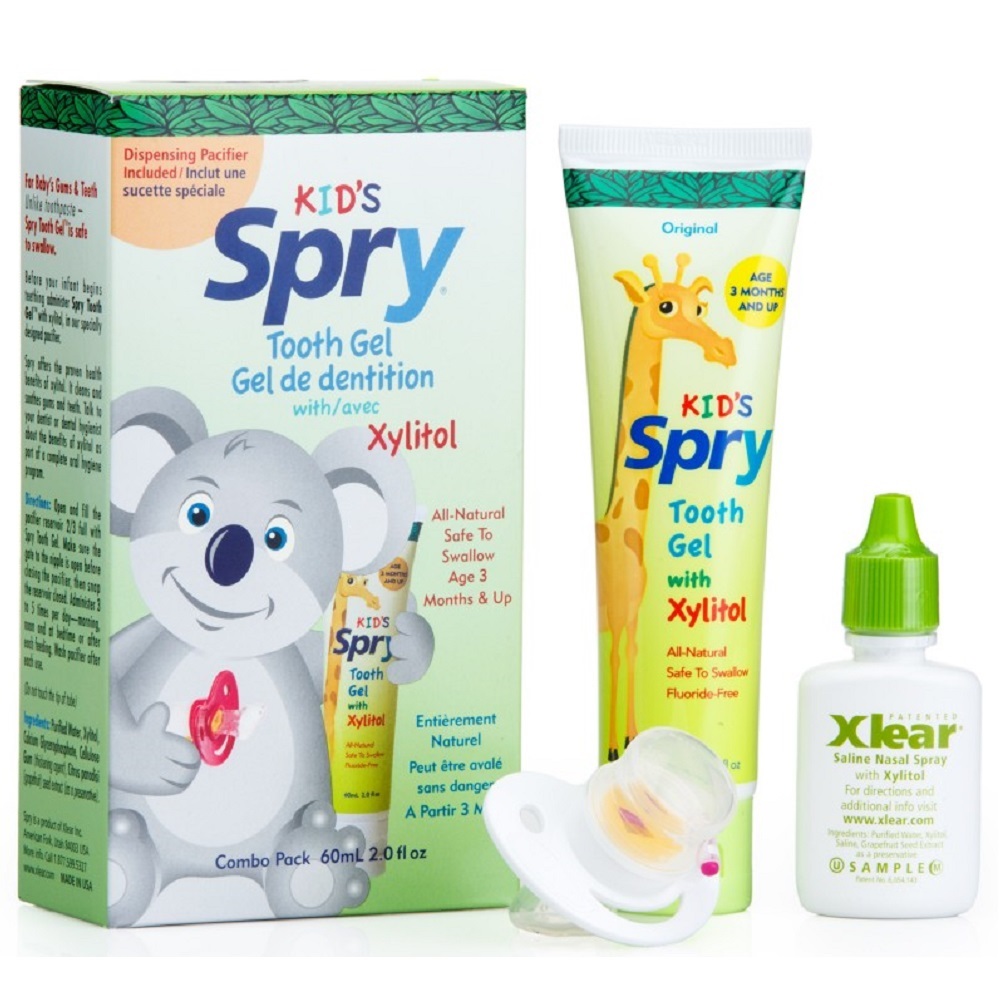 Wow how times have changed!  Check out this tooth gel for your little one. Did you know that even before babies start teething, the environment in their mouth is being molded and will influence how healthy their teeth will be? If left uncontrolled, bacteria will create an atmosphere where they will thrive.
Well this Tooth Gel Dispensing Kit will make it easy to take care of your child's oral health by using a common pacifier as a vehicle to dispense the xylitol oral gel, which has been specially formulated to be kid-safe.
It's an easy process, the dispensing pacifier slowly dispenses tooth gel into your baby's mouth. You have a refillable reservoir that is easy to refill, and snaps shut to prevent leaks. Its BPA-free plastics are used to ensure you aren't introducing your child to harmful chemicals. The Spry Xylitol Tooth Gel is included to promote a healthy environment for developing teeth and promotes oral health by neutralizing high pH levels in your child's mouth. The tooth gel kit is very easy to use, open and fill the pacifier reservoir 2/3 full with Spry Xylitol Tooth Gel. Make sure the gate to the nipple is open before closing the pacifier, then snap the reservoir closed. Administer 3 to 5 times per day—morning, noon, and at bedtime or after feeding. You can learn more here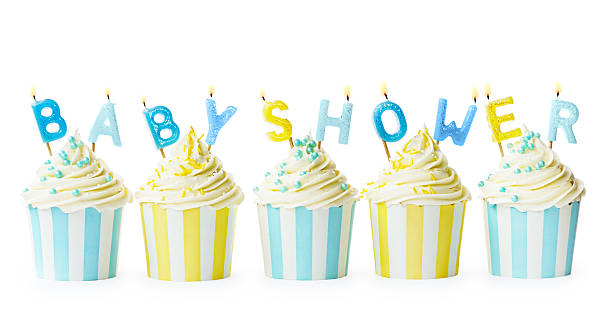 Next we have a baby gift from VIVITAR called Smart Security High Definition Wi-Fi camera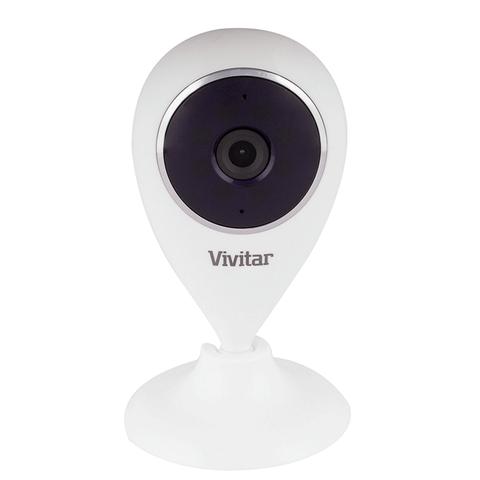 Now you can always know what's going on in your home with the Vivitar 360 view security Wi-Fi Cam. The smart security Cam comes equipped with motion detection and two-way intercom (speak and listen) for ultimate home, Dorm or office protection. The smart security Cam not only monitors your personal spaces, but can also be used to monitor your baby or pets.
Full HD 1080P resolution provides a crisp and clear image of the surroundings whether day time or night time. Easily connect resolution provides a crisp and clear image of the surroundings whether day time or night time. Easily connects to your smart phone or tablet. Works with IOS, Android, Alexa, and Google Home. So, you can now walk around your home while your baby is sleeping comfortably in their bed and view her nursery on your devices with ease. That's the best part about these type of security cameras, they take the worry away and provide moms and dads like you and I a peace of mind. You can find this Vivitar security camera at many retail stores, online, and on Amazon.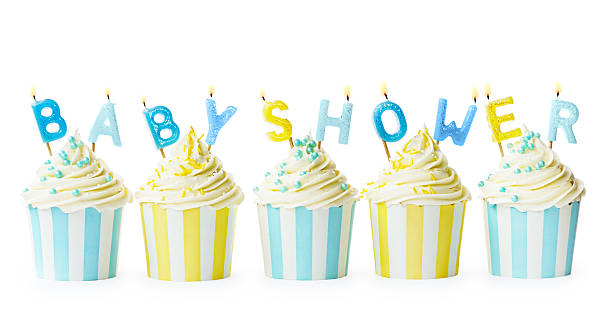 Well, we are winding down. Our next baby gift idea comes from Kinsa, it's called QuickCare Smart Stick Digital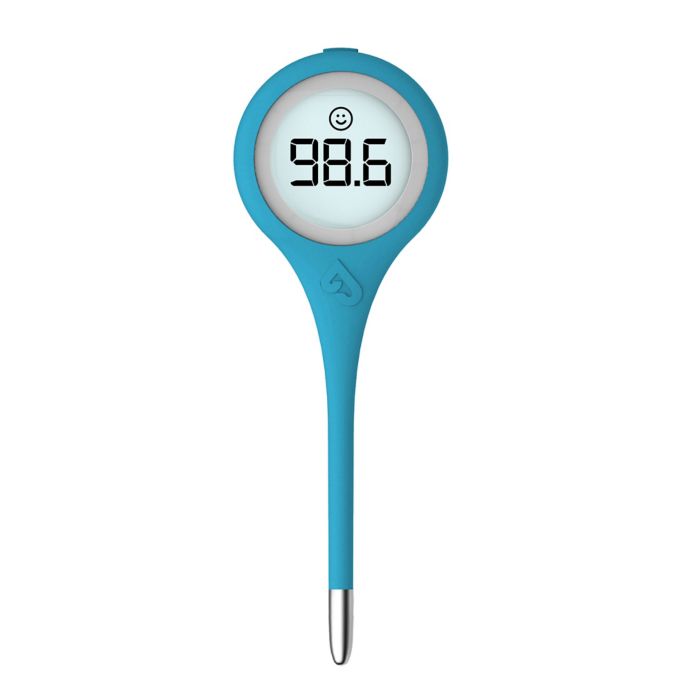 Having sick children is no joke! It's actually heartbreaking for  parents seeing their little ones sick. Sometimes we just don't know what to do nor how to make them feel better. But one thing for sure having a Kinsa QuickCare™ Smart Stick Digital Thermometer on hand can at least provide us an idea as to if our little one has a fever or not. You see, the Kinsa QuickCare Smart Stick Thermometer offers not only fast and accurate temperature readings, but also provides personalized, app-driven tips and guidance on how to soothe your little one's symptoms and help them recover. Avaliable to you is a free app that tracks up to 50 readings of symptoms and medications on your phone to share with caregivers or doctor. It's Water resistant, has a Quick and accurate temperature readings in 8 seconds, an LCD digital display, connect via Bluetooth, suitable for oral, underarm, or rectal use, wipe clean with soft cloth, requires 1 CR 2032 3V battery (included), and includes travel storage pouch. You can purchase your Kinsa QuickCare Thermometer here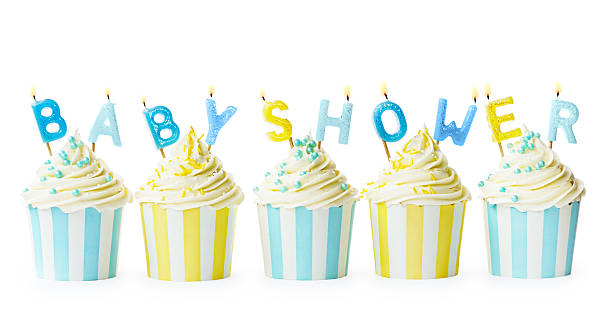 Last, we have another awesome baby gift idea from SnuggleBumpkinz which is their AdaptiFIT Clouds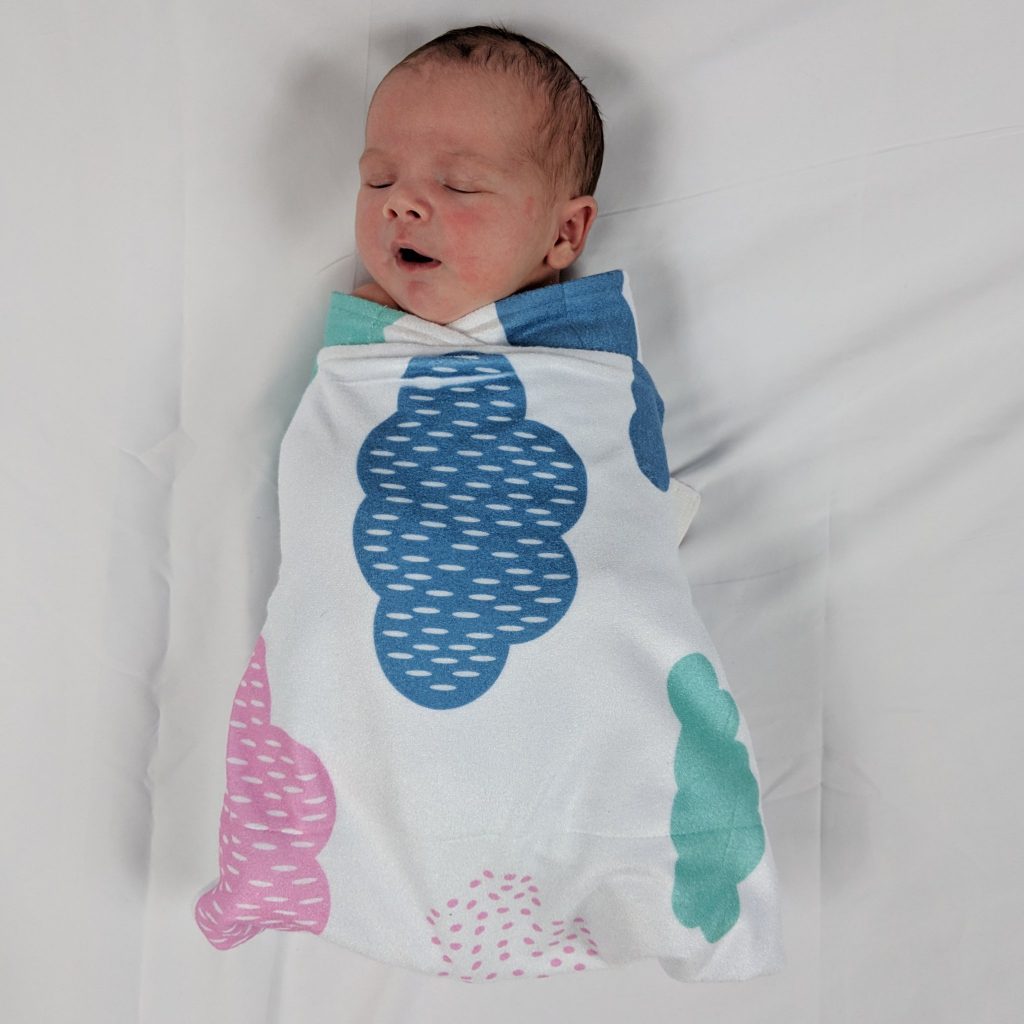 Get ready to swaddle your baby with a little TLC! AdaptiFIT is the only easy/secure swaddle that is fully adjustable to fit your baby. Many swaddle blankets do not work well for an active baby, and can come loose and create a dangerous sleeping environment. Other swaddle devices may not fit babies that are larger or smaller than average, and many parents find that they need to buy multiple swaddle devices as their babies grow. AdaptiFIT can swaddle arms in, one arm out, two arms out, hands to face (for self-soothing), or any other style which helps baby feel comfortable and supported. It is the only swaddle device that can grow with baby from their first night home until baby no longer needs to be swaddled. AdaptiFIT Easy Swaddle's innovative A side B side velcro hook closure system makes for easy diaper changes and secure sleep wrap. It's machine washable with like colors and has Lining 100% polyester or 100% cotton. You can find this SnuggleBumpkinz AdaptiFIT Clouds here along with many other swaddles.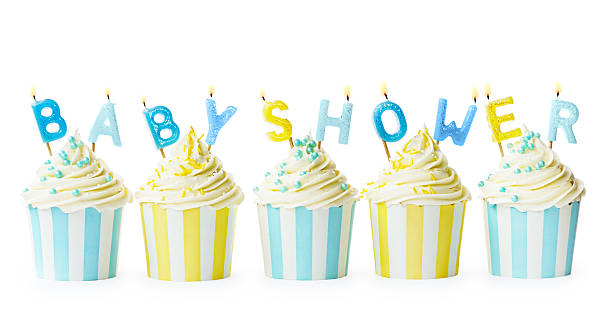 Check out this awesome baby gift from Lullabuddy.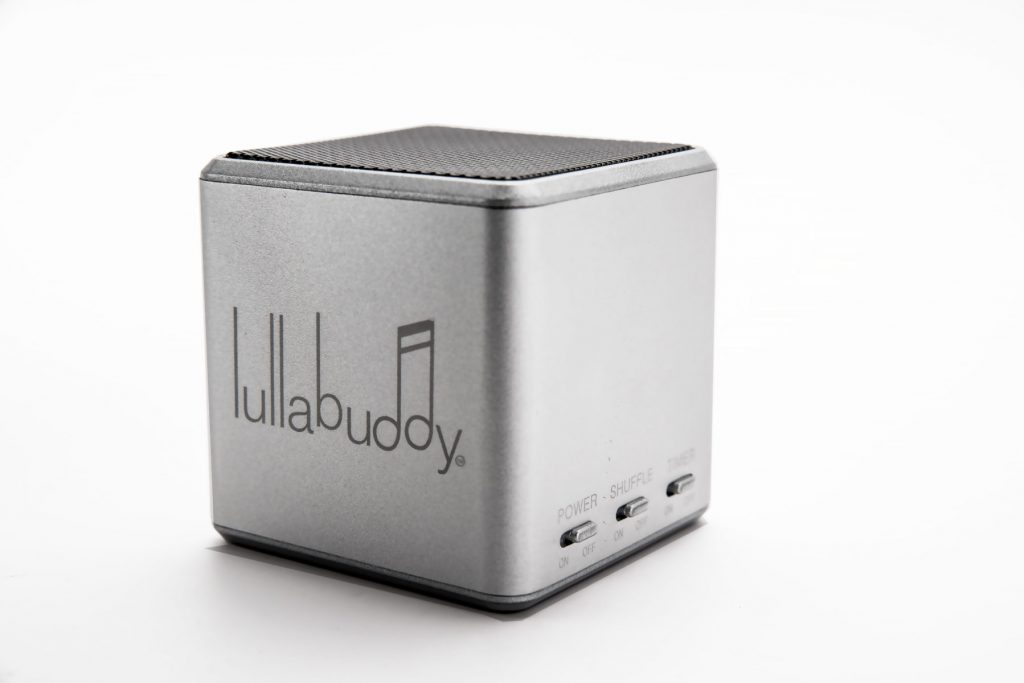 WOW, technology has really changed even when it comes to baby products. I can remember purchasing a lullaby toy for my daughter, but it was nothing like this cool speaker from lullabuddy. You see, this Lullabuddy is a lullaby player & speaker that comes pre-loaded with 2 hours of Mae Robertson's award-winning lullabies and love songs — music that both parents and babies will enjoy. The super compact music player comes with a shuffle button, a one-hour timer and a mini USB cable for charging. When fully charged, it will play for up to 18 hours. The music was remastered specifically for the Lullabuddy with wonderful sound quality. The speaker is also Bluetooth enabled so that other music can be played from a mobile device. Lullabuddy is easy to use. Just press play and enjoy. Most of all its compact ability will allow mom to take it anywhere! As many moms know music has always been a way to calm babies per medical studies and having the lullabuddy on hand would help to calm a fussy/tired baby. So, don't wait, purchase your Lullabuddy today here for yourself or for that new mom- to -be.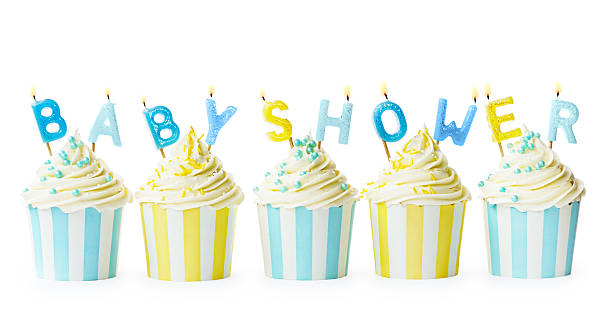 We're keeping it moving with Precious Moments. When I tell you I adore this company, trust me I really do! This company has so much to offer from home items, birthday gifts, holiday gifts, anniversary & baby gifts and much more. Here we have one of Precious Moment "Tons Of Fun" Tuk Elephant Stuffed Animal, 12 Inches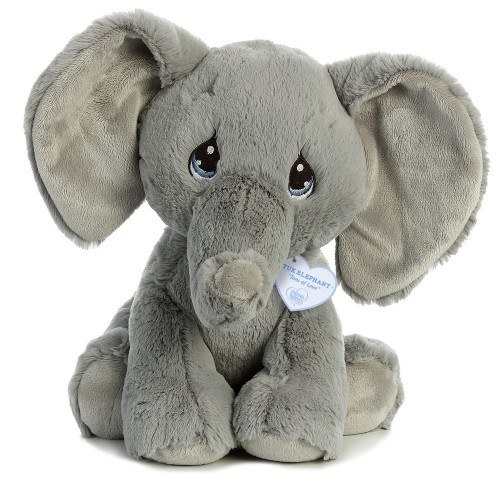 This cute little fellow is so soft and cuddly that you will never forget to grab a quick snuggle. He comes to you with safe cuddle-safe material and is sure to bring a big smile to your little one.
He will become your child's new cuddle buddy for bedtime as well as naptime. The "Tons Of Fun" Tuk Elephant Stuffed Animal will not only be a great shower gift he'll also make a great Easter gift or a perfect gift for any occasion.
You can purchase your cuddly, soft, buddy here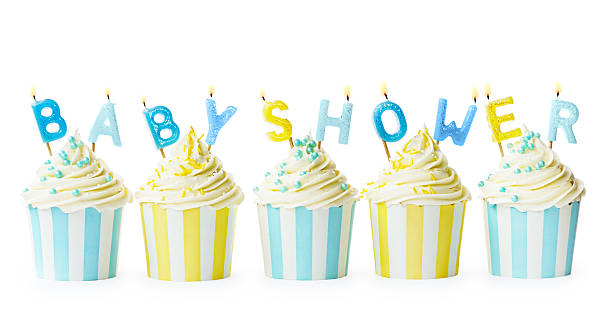 Here's another Precious Moments baby gift idea. This is the Ceramic Bless The Baby Blessing Jar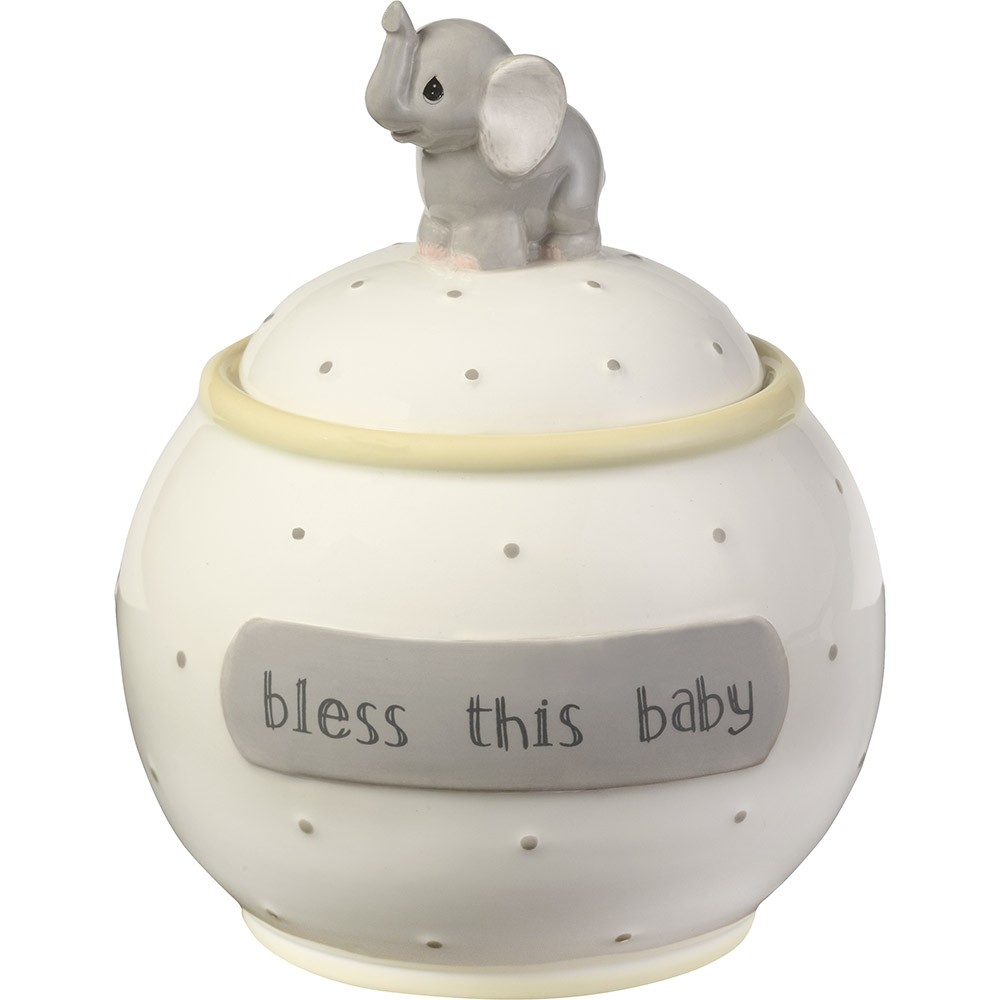 This precious Bless The Baby Blessing Jar-Ceramic will make a great keepsake jar that can be passed down from generation to generation.
The baby blessings jar features a cute Precious Moments elephant and a round shape that provides plenty of room for blessings, notes, and keepsakes
Parents really appreciate the way this thoughtful gift inspires family members and friends to contribute their thoughts and special messages for baby
Makes a heartwarming baby gift to welcome a newborn home, for baptisms and christenings, baby showers, birthdays, and other special occasions. You can purchase your baby blessing jar here.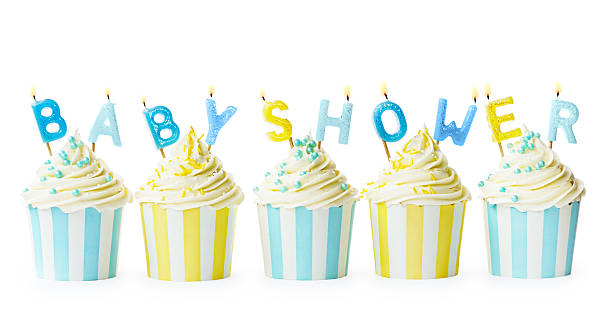 Look at this cute Precious Moments 5-Piece Elephant Mealtime Gift Set, Bamboo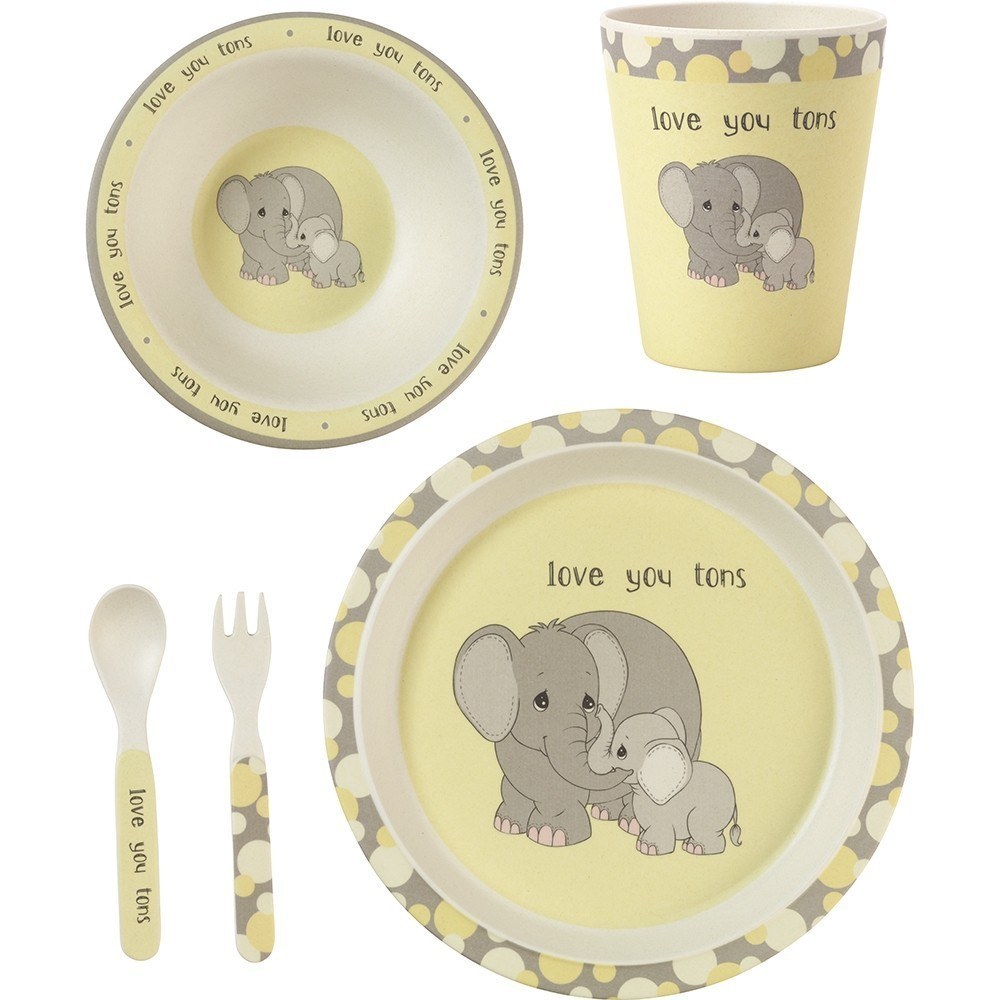 Bamboo makes this baby/toddler dinnerware extra nice for little hands to hold, while cute artwork and a wonderful message makes mealtime "tons" of fun.
Almost as adorable as your baby or toddler, this cute feeding set includes everything you need to enjoy breakfast, dinner, lunch, and snack time with your little blessing
Makes a great gift for birthdays, holidays, baby showers, and 'just because'.
Set includes plate, bowl, cup, fork, and spoon. Carefully crafted of bamboo. Dishwasher safe. Do not place in microwave or oven
Approximate measurements: Plate – 8.25 inch diameter, Bowl – 6 inch diameter, Cup – 3.5 inches high, holds 9 ounces. Fork and spoon – 5.5 inches long each.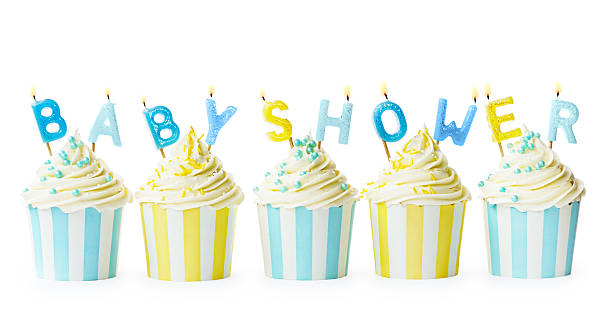 Well, we have come to the last product from Precious Moments which is "My First Tooth & My First Curl" Keepsake Set.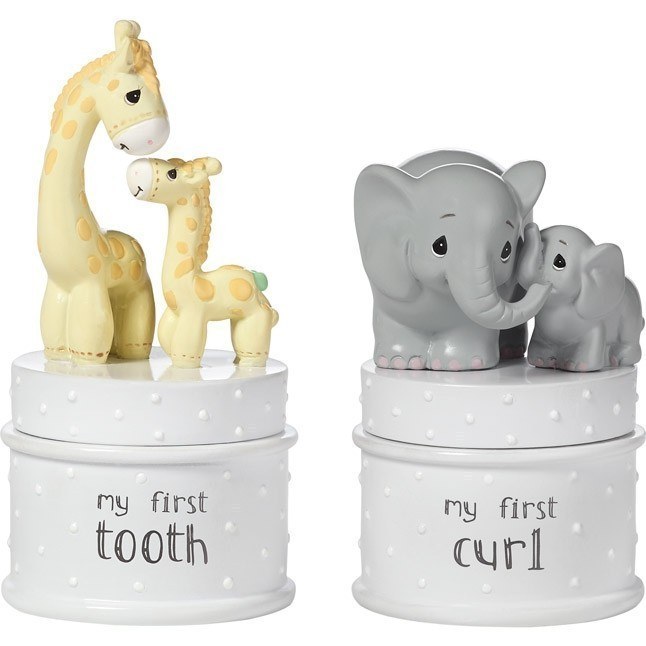 Once again, another wonderful keepsake that can be passed down.
These trinket boxes are so cute! Decorated with an adorable elephant and giraffe parent and baby, these sweet gifts keep the special milestones of that first year close for years to come
Keeping their first tooth and curl safe, these thoughtful gifts will be treasured throughout childhood
Makes the perfect gift for baby showers, birthdays, and new babies
Carefully crafted in resin
Approximately 4H x 4W x 2D inches. You can find all these great Precious Moments gifts on their website.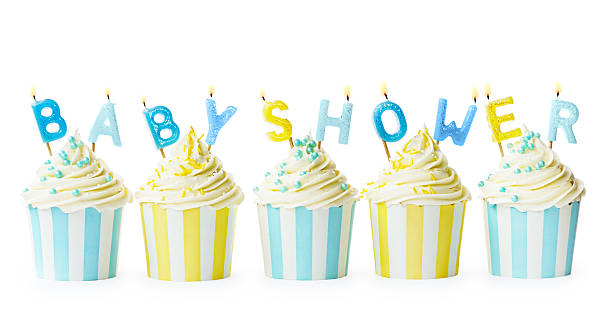 Here we have the ultimate cool stroller called: Jeep Unlimited Reversible Handle Stroller, Grey Tweed.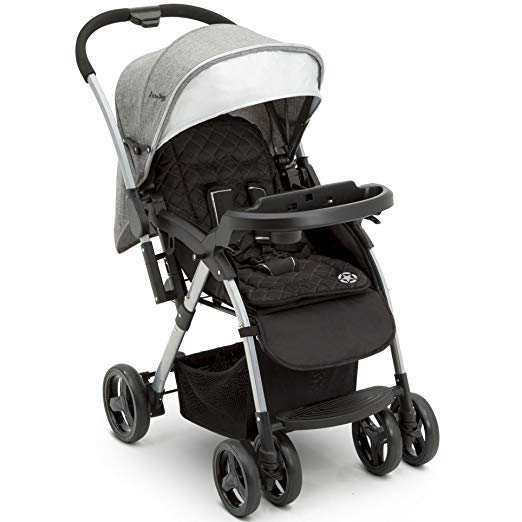 For infants who can sit upright unassisted up to 50 lbs.; THREE WAYS TO RIDE: Reversible handle allows Baby to ride parent facing or forward facing; Stroller is also as a travel system when paired with compatible car seats (car seat sold separately) CAR SEAT COMPATIBILITY: This stroller fits the following infant car seats (car seats sold separately): Greco Snug Ride, Click Connect 30, 35, 40, Evenfall Nurture, Evenfall Embrace
IDEAL COMFORT: Extendable European-style canopy with pop out UPF 50+ sun visor; Reclining seat with three positions; Adjustable footrest; Child tray with cup holder swings away for easy ins and outs
MAKES TRAVELING EASY: Stroller includes large storage basket under the frame; Quick and compact fold; EXTREMELY SAFE: JPMA Certified; Five-point safety harness; Reflective piping to ensure you can be seen at night
SMOOTH RIDE: 7″ front swivel lock wheels; 8″ shock absorbing back wheels–linked brakes lock both rear wheels by pressing a single pedal; You can grab yours here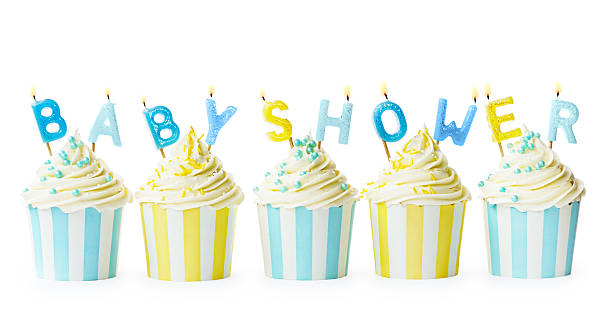 Today we have a few more wonderful baby gifts to share. Simply Chickie Baby Blanket I get squeezed a lot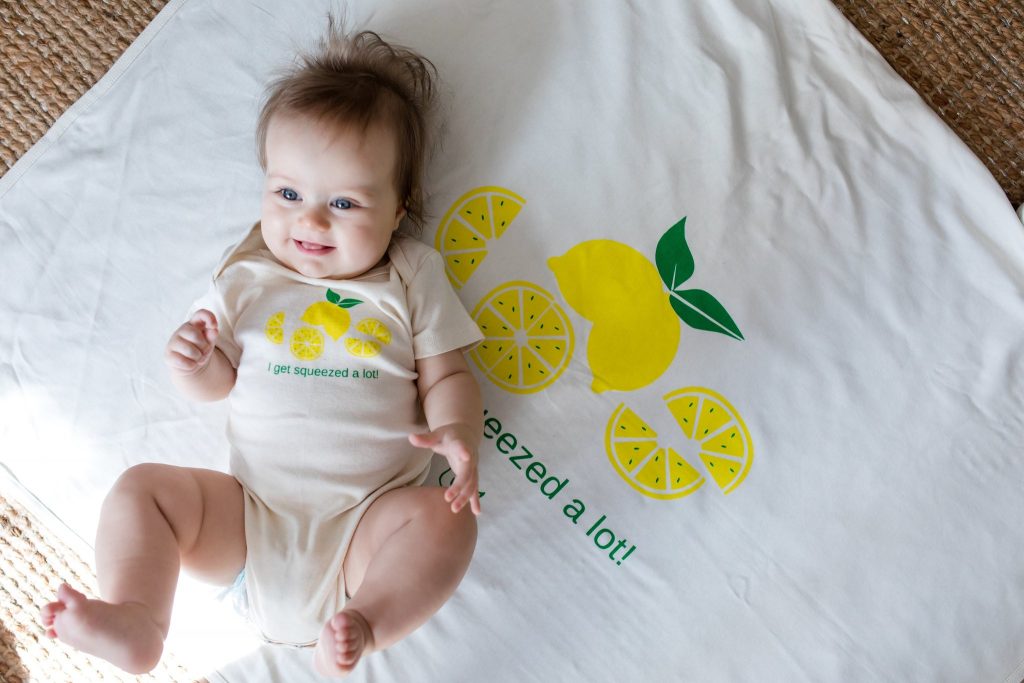 Moms get ready to wrap you precious little one in one of the softest blankets around. Simply Chickie makes organic cotton clothes for babies, toddlers and their parents – all made and printed in America in small batches using eco-friendly, water-based ink. Printed in small batches with eco-friendly, water-based ink on 100% GOTS certified organic cotton and American Made.
Simply Chickie was founded by Gwendolyn Gardner, after a life event changed her perspective. Her goal is to provide affordable and organic baby clothing. This baby blanket is 39 inches by 32 inches. It makes a great swaddling blanket. I get squeezed a lot. You can find this blanket and many other awesome products from this brand via their website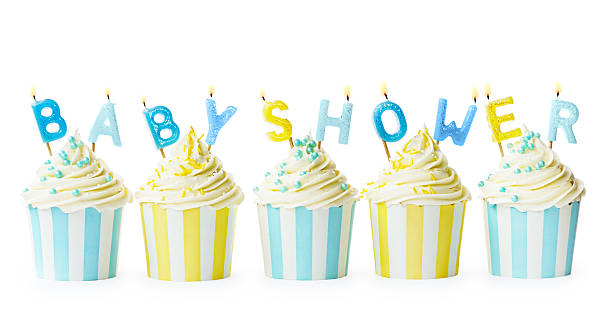 Fisher-Price® Cradle 'n Swing in Safari Dreams from Bed Bath & Beyond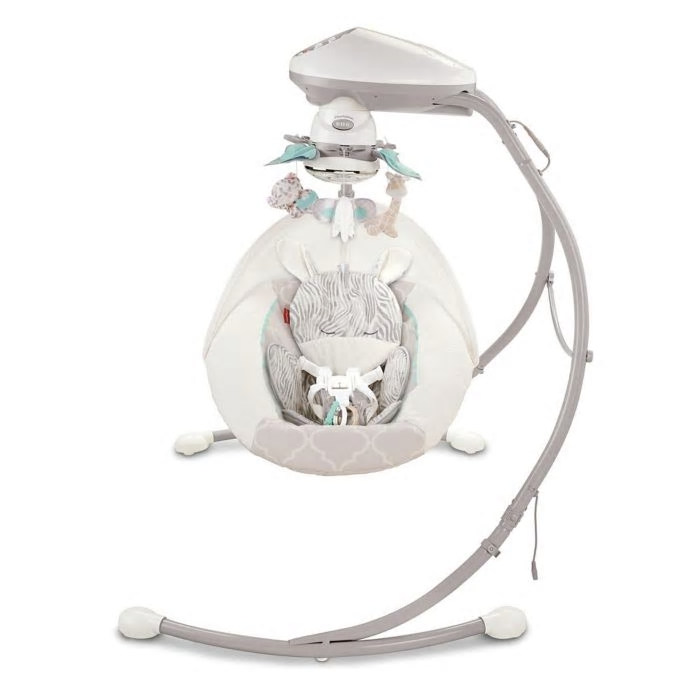 The Cradle 'n Swing by Fisher-Price gives your baby a totally customized experience with 2 motion settings and SmartSwing Technology for 6 different speeds. Songs and nature sounds keep your child happy while relaxing in the soft and cozy seat.
Use from birth until child is capable of climbing out of the seat
5-point adjustable harness
Deep and cozy Papasan-style seat with 3 adjustable seat positions and 2-position recline
Removable body insert and head support
Unit senses your baby's weight and starts without a push
2 swing motions: rock side-to-side like a cradle or swing head-to-toe. Available at many nation wide retailers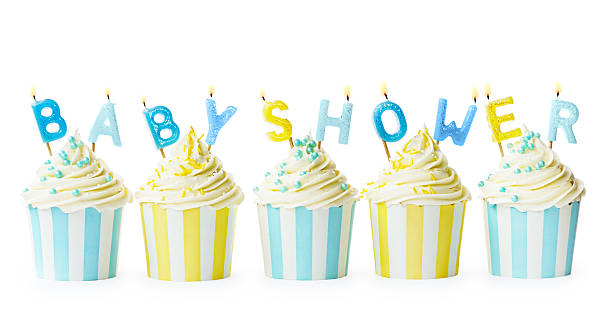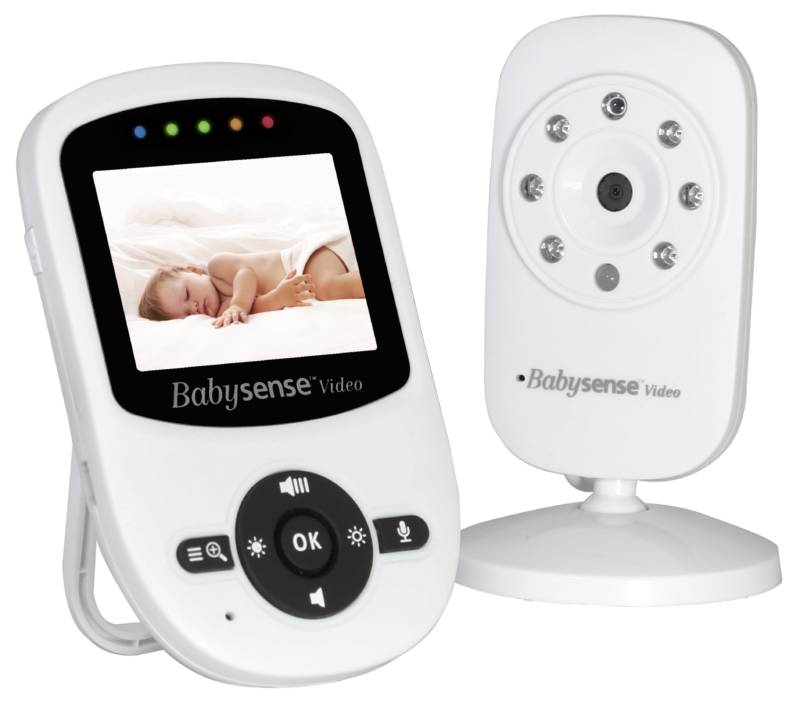 Now parents can keep their eye on their cute bundle of joy with their new Babysense Video Baby Monitor.
Babysense Video Baby Monitors feature high quality baby monitoring technology to provide parents peace of mind and an excellent user experience.
The monitor enables you to maintain a secure and private connection with your baby at all times.
Hear your baby with crystal clear sound quality.
The high quality LCD screen allows you to observe your sleeping or playing infant day and night.
You can check this video monitor out on their website