Welcome To Our 2021 Holiday Gift Guide (Part2)
Disclosure: I received products or compensation for this post. However, I did receive a product from the companies listed. I am disclosing this in accordance with the FTC guidelines.
Welcome to our annual Holiday Gift Guide! Below you will see gifts listed for everyone along with each brand's website so you can visit and see all their unique products.
Gifts for Kids:
KC Cubs- Kids ABC Numbers Shapes Classroom Area Rug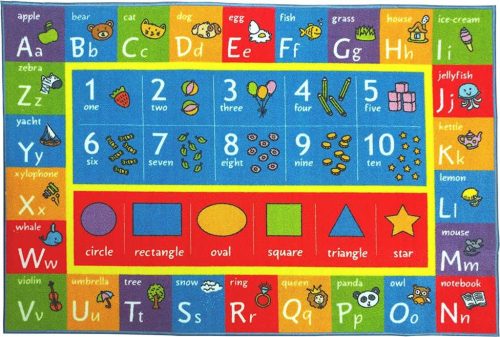 Product Features:
Latex rubber backing, low pile, fade, and wear-resistant machine-made polypropylene.
Includes the ABCs, Numbers, and Shapes

Made in Turkey.

The 8 x 10 size learning carpet is a great fit for any preschool, kindergarten, elementary school, daycare, or town library.

Fun and educational rug. Perfect to teach your child or toddler the alphabet in an interactive way with memorization games.

Available on KC Cubs
Website | Facebook | Twitter | Instagram | Pinterest |
TERTOY-Princess Dress Up, TERTOY Girls Toys Pretend Role Play Set
Product Features:
 Good quality Princess Cloak, with attractive sequins, 2 pairs of dress-up shoes for girls in different colors, 2 bangles, 2 rings, 2 earrings, crown and wand, gloves, and strong storage box to store them all neatly. All the girls love dress-up & pretend play a lot and can not resist our princess dress-up shoes set.
It's a princess dress toy that every girl should have. With pretend play, every girl will feel like a real princess in the animated. Dressing them up with fairy princess shoe Heels, cloak and dangling pretend jewelry makes them feel like a princess and boosts their self-confidence, as well as encourages creative and imaginary play.
Tertoy dress-up clothes for little girls with100% polyester, using the best comfortable fabrics to make the Princess cloak fabric more complete and soft, shiny, and silky. Every little princess needs a perfect pair of shoes to complete their getup. Your girls will love feeling like a princess when she slips on these super cute high-heeled shoes. Available on Amazon.
Coherny- Creative Spin Music Box Ballerina Jewelry Box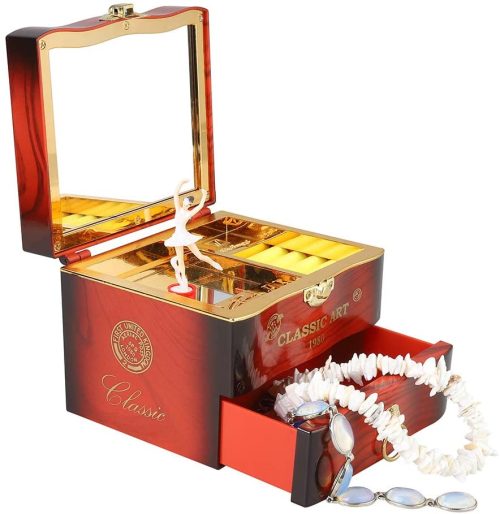 Product Features:
It will be a good choice as a gift to the child, classical violin design style, uses hard plastic as the whole material to make it strong and durable.
Double-deck three-dimensional space can accommodate more treasures. A mirror embedded in the lid can be used for dressing.

It is not only a music box but also a good jewelry box. Great for birthdays, holidays, and parties, make your friendship better.
Great for the Children's Christmas stocking fillers, will make your Children very happy and surprised. Also a Perfect Festival Birthday present for your kids. Available on Coherny website and Amazon
WeCool -iLY Activity Kings – Face & Trace Makeup Activity Set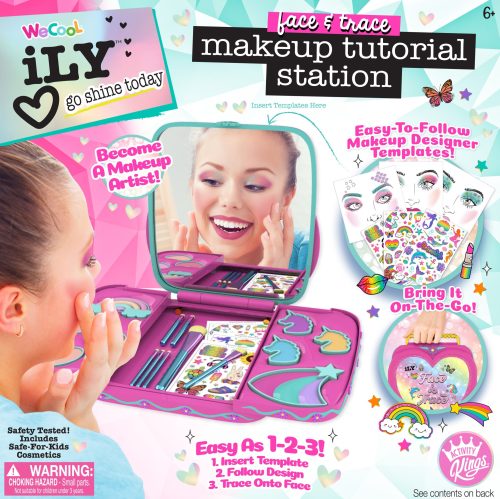 Crazy Cleanz 20 Second Soapis powerfully formulated to kill bacteria & germs on contact within 20 seconds of handwashing.
Crazy Cleanz 20 Second Soap makes hand washing more fun! Even fussy kids love using our cool colored soaps that are safe and effective in killing germs.
INCLUDES: 6 Pack of 24 pcs Available on WeCool website
Website | Facebook |  Instagram |
WeCool-Crazy Cleanz – 30ml Hand Sanitizers | 10 Pack
Product Features:
Crazy Cleanz Hand Sanitizer is made of a unique formula of 62% Ethyl Alcohol that is powerful in helping reduce bacteria on contact yet gentle for use on delicate hands.
Crazy Cleanz Hand Sanitizer Gel Berry Swirl scent smells great and is never over-powering.
Our great scented hand sanitizer is convenient for use at home or on the go. The handy size is ideal for little hands to use at home, school, office, workshop, camping, or on the go.
INCLUDES:
Quantity: 10 Pack
2 – Berry Swirl
2 – Frosted Strawberry
2 – Vanilla Swirl
2 – Strawberry
2 – Blue Raspberry Scent
Size: 30ml Get Crazy Cleanz Hand Sanitizer and Help Reduce Bacteria. Available on WeCool website
Website | Facebook |  Instagram |
WeCool-Kings Sand Cloudz Castle Bucket Set with BONUS Bucket
The fun never ends with the Compound Kings Sand Cloudz Castle Bucket Box Set. Let your creativity flow with over 2 lbs. of scented, squishy and flowy Sand Cloudz compound. This box set includes four bright and scented colors: Yellow Lemonade, Blue Berry Blast, Purple Grape and Pink Bubblegum as well as 12 sand molds for endless hours of ASMR fun. As an added bonus, each color comes in an individual glitter castle bucket, ideal for travel and storage.
Product Features:
100% ASMR fun
Four castle buckets with amazing scented sand -,LI>Lemonade, Berry Blast, Grape, and Bubblegum
12 molds included (three per bucket)
Sand is squishy and moldable Available on WeCool website and at many retail stores.
Gifts for Family:
ChefWave Elado -2 Qt Automatic Frozen Yogurt, Sorbet, Gelato, Ice Cream Maker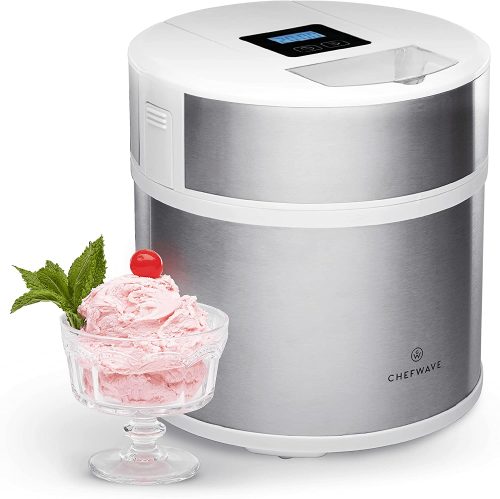 Product Features:
EASY-TO-MAKE DESSERTS: Create fro-yo, sorbet, gelato, and ice cream / Makes ice cream in just 20 minutes / Adjustable timer for custom results

CONVENIENT: 2-quart capacity double-insulated freeze bowl / Easy-to-use control panel with LED digital display

SMART DESIGN: Easy-lock lid prevents messes / Made of BPA-free plastic and stainless steel

EASY STORAGE: Includes two reusable freezer-safe storage tubs

WARRANTY: Includes ChefWave 1-year limited warranty, UL Certified Product

Available on ChefWave website and Amazon  
ChefWave has offered our readers a discount code for the ELADO ice cream maker Discount Code(NHB20ELADO)
Website | Facebook |  Instagram |
Barry and Jason Games – Game Night in a Can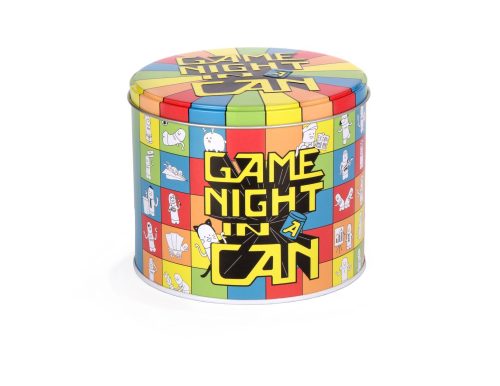 Product Features:
GNIAC (nyâk) is everything you need for a totally unique birthday party, sleepover, dinner soiree, family game night, holiday competition, 89th wedding anniversary, Welcome Home From Prison Party, and any situations you find yourself in where somebody says "We have a bunch of people who want to have fun, what do we do now?"
Just add paper & pens, and fasten those brain belts.
•30 Mini-Games
•Creative Challenges and Games Of Skill
•Includes: Frumpy Bumpers, High Flyers, Sell Me Something Good, Charaders of the Lost Ark, and 26 more
Website | Facebook | Instagram | | YouTube
Ron Burgundy's Anchorman: The Game – Improper Teleprompter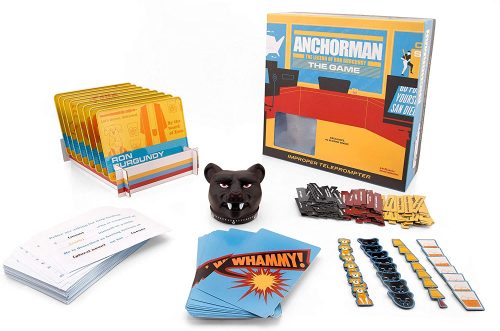 Product Features:
*The Official Party Game of Ron Burgundy and the Channel 4 News Team will delight fans of Anchorman and game lovers everywhere!
*Play with hilarious magnetic poetry words and phrases to sabotage the news and make sure your rival anchors can't keep a straight face.

*You've experienced the cologne, now get the Sex Panther timer. That's right, ladies. This little kitty winds up for 60 seconds and doesn't stop for…well…60 seconds.
*Play as Ron Burgundy, Veronica Corningstone, Champ Kind, Brick Tamland, Brian Fantana, Frank Vitchard, Wes Mantooth or his saintly mother, Dorothy.

Available on  Amazon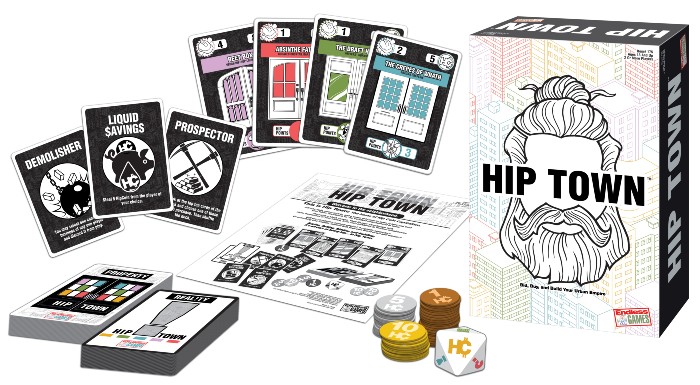 Product Features:
COOL COMPETITION: Make your way in Hip Town! Fill the streetscape with trendy businesses you choose like speakeasies and craft pickleries. With over 100 unique businesses and a variety of game-changing "reality" cards, you won't play the same game twice.
FAST-PACED AND FUN: It's a game of laughs and light strategy with unique currency and over 100 niche businesses up for grabs. Race to develop your neighborhood and collect the most Hip Points to win.

DETAILS: Contents: 108 Property Cards, 54 Reality Cards, 60 Hip Coin Currency Pogs, 1 8-sided die, instructions. For 2 or more players ages 13 years and up.

STRATEGY AND LUCK: Players use Hip Coins and Property Cards to build businesses to their benefit. Whoever has the most total Hip Points once any player builds 10 businesses is the winner. Buy, sell, and build your way to the win.

PLAY AT PARTIES: The rules are easy to learn and the game is difficult to stop playing, it's that much fun. Kids, teens, and adults love this game. Use some strategy and luck to win! 
Website | Facebook | Twitter | Instagram |
Endless Games-Horror Trivia Card Game
Product Features:
TWISTED TERROR: Challenge your friends on frightening facts with a trivia game that tests your knowledge of horror facts in every genre. Call a priest, gas up the chainsaw, and sharpen the machete…will you survive the night?
HORROR FANS: Think you know all there is to know about creepy dolls, psycho killers, haunted places, and legendary monsters? Try to answer trivia questions with your knowledge of scary movies, books, and tv shows to win.
QUICK PLAY TRIVIA GAME: Survive the night by answering multiple questions correctly to collect weapon cards. The first player or team to collect 3 different weapons cards wins. Each card has 2 ghoulish questions, playtime: 20 mins.
GAME NIGHT GORE: A variety of questions covers classic and modern horror. Easy questions for the horror novice and more challenging questions for die-hard fans make the game fun for the whole group!
THE GORY DETAILS: Horror Trivia is perfect for 2 or more players or teams and is an absolute "scream" at parties. Ideal for horror fans, adults, and teens ages 13 years and older, the game includes 150 cards with 300 questions and answers.
Available on  Amazon  
Website | Facebook | Twitter | Instagram |
Endless Games-The Floor is Lava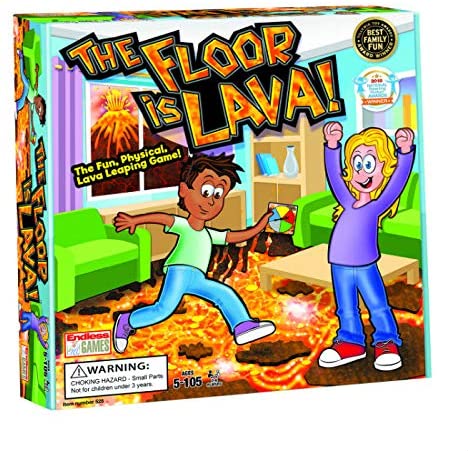 Product Features:
FUN GAME: The Floor is Lava! is a game where players must imagine the floor is molten hot lava while spinning the color wheel to jump to the right foam pieces to reach safety. The Floor is Lava! is a family game that promotes physical activity, active imagination, and engaging excitement for kids and adults. GREAT PLAY: This great game is best with 2 to 6 players who are ages 5 years old and up.
Boys and girls alike will enjoy this game which comes with 25 colored foam "safety stones", 27 challenge cards, a game spinner, and instructions.
PROMOTES PHYSICAL ACTIVITY: This game gets children jumping, leaping, playing, and improving their strength, conditioning, balance, and endurance! Each of these cushioned, durable, slip-resistant foam stepping stones can be used during outdoor parties or indoor sleepovers. FUN FOR ALL: Any child or adult will have fun taking part in this quick and easy game!
It's great for everyone, including the kids, adults, men, and women! This game is the most fun at parties and game nights. PLAY AT PARTIES: Bring this game to your next party. The rules are easy to learn and the game is difficult to stop playing, it's that much fun! Whether you are a youth or are older, you'll enjoy this game. Use some strategy and luck to win! Available on  Amazon  
Website | Facebook | Twitter | Instagram |
Endless Games-Card Sharks Game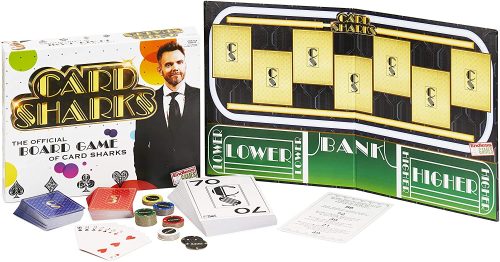 Product Features:
GAME SHOW: Card Sharks is the home version of the edge-of-your-seat TV game show hosted by Joel McHale. Like on the show, contestants will answer census questions to gain control of the cards.
GREAT GAMEPLAY: Players predict answers to survey questions & then must face the High-Low cards where a player has to determine whether the next card turned over is higher or lower than the previous.
ANNIVERSARY EDITION: The 2020 version of the game celebrates the 40-year history of the game show, with all-new art, questions, and gameplay. Play with 3 or more players ages 14 years old and up.
FAMILY BOARD GAME: For game nights, this family-friendly game is perfect for kids, teens, and adults. Includes 1 Double-Sided Board, 2 Decks of Playing Cards, 32 Betting Chips, 70 "Polling Question" Cards with 350 Total Questions
ENDLESS GAMES: Endless Games presents cards, dice, party, word, trivia, survey, and pop culture games for everyone. You'll find high-quality games that are easy to learn and provide endless play value.
Available on  Amazon  
Website | Facebook | Twitter | Instagram |
Well, this concludes our first guide; take a moment to visit each brand; we're sure they will have something you'll like.
 "Wishing You A Very Merry Christmas"!
Disclosure: Some of the links in this post are 'affiliate links.' This means if you click on the link and purchase the item, I will receive an affiliate commission.