1965 VW Kids Camper Van Pop Up Tent, every kid will be saying mom I want one!!!!
Disclaimer: I was not compensated for this post, however I did receive product sample for review purpose and all opinions are 100% my own.
Every so often I come across kids products that adds a smile on my face as well as my kids. I love it when companies reach out to me with interesting/ unique products that will have your children mesmerized. Well it just happen to us, just last week we received one of the coolest tents I have ever seen.
This tent which is created by "The Monster Factory"  is a replica of the 1965 VW which is available for kids and adults in colors  like blue/white, red/white and pink/white!
Let me just say every child will want one of these cool tents, I mean its so impressive and very attractive with its unique creative style. It comes in a very nice VW Wheel bag that looks just like a tire and can be used to re-store tent when not in use. Packed away so neatly you would never believe how big it is until you unzip the bag.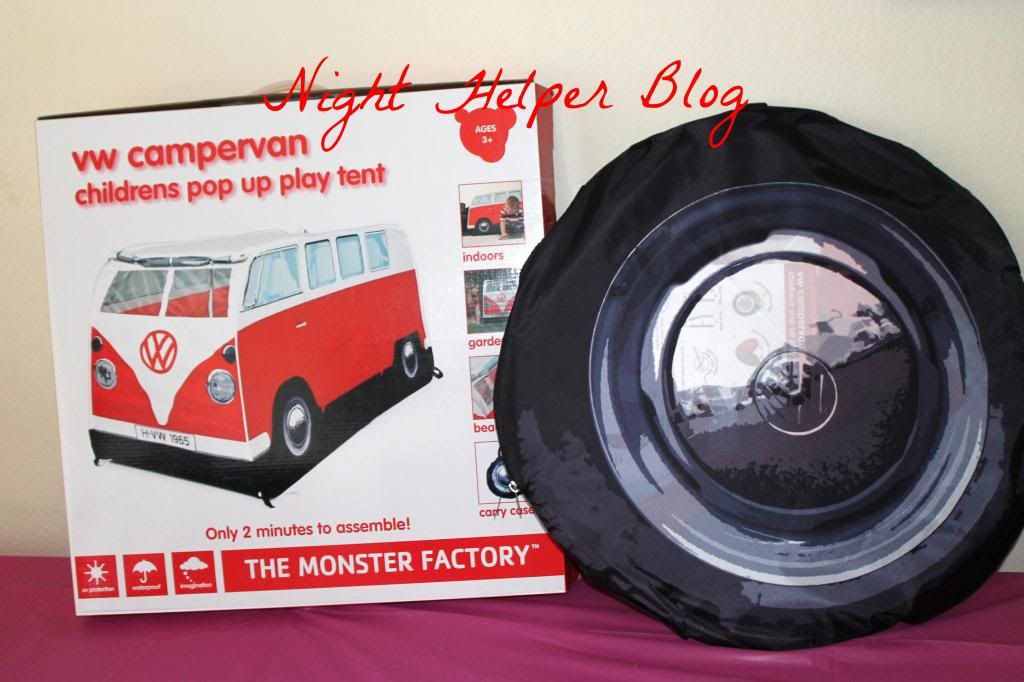 This 1965 VW Kids CamperVan Tent accommodates up to three children and is recommended for ages 3 & up. The Dimensions are as follows when set up 54 cm wide, 165 cm long and 77 cm high.  Don't worry Mom this tent is UV protected which I love so much since you can use it either outdoors or indoors plus its waterproof and fire retardant which in my opinion is such a relief to us parents! When it says its a one, two step, trust me it is. Just unzip your Wheel bag to remove tent and poles.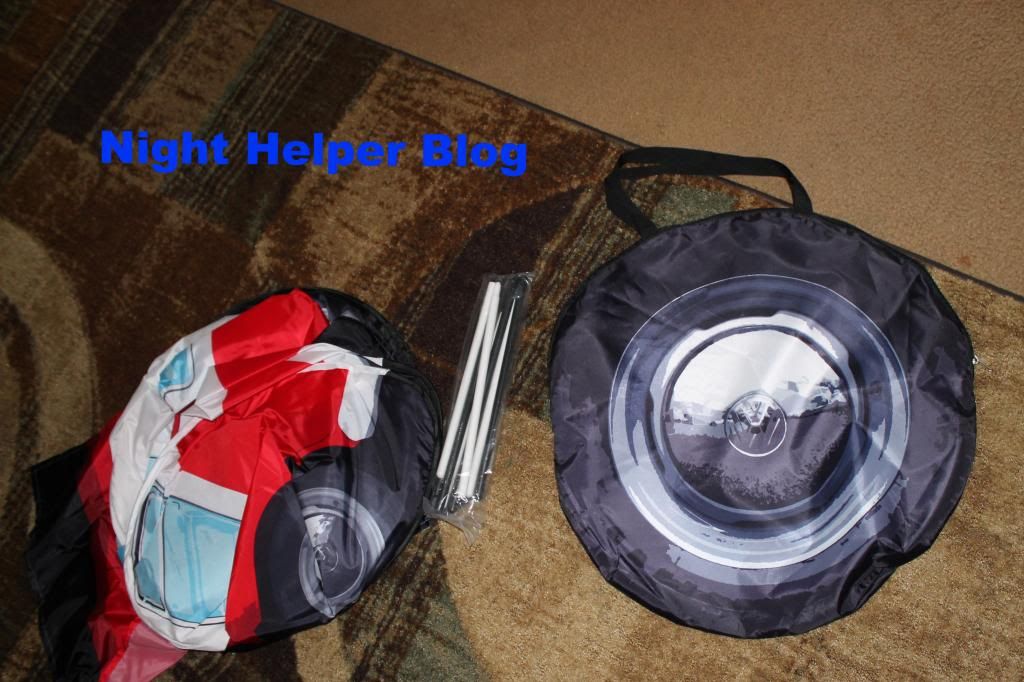 Actually there is nothing confusing about getting your 1965 VW ready for use. The directions were so clear and simple in assisting us with the set up , no strings or stake poles.
You unwrap your tent, place your white support poles at each end of the top and the black support poles at the bottom….Wola!!!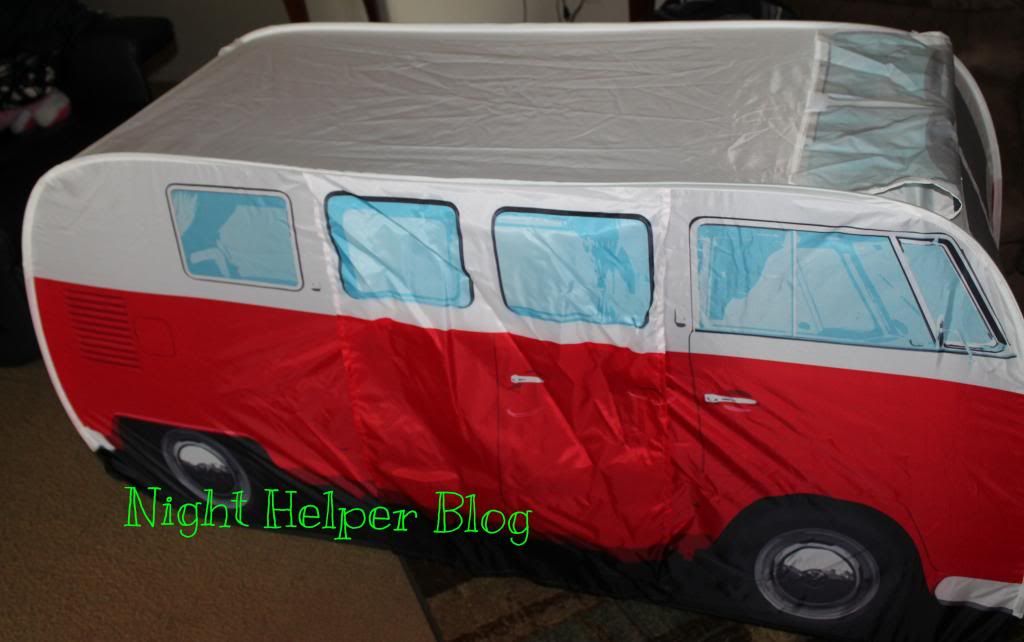 Your 1965 VW Camper Tent is ready for the kids to enjoy!! It was funny seeing my oldest daughter standing by waiting to be the first to give it a try, she even had me and her dad laughing because she mentioned she wanted to buy a steering wheel to place inside plus she is about 6″4 so some of her body was hanging out…..now that was funny!
She went and obtained her laptop,  blanket, pillow, something to drink and of course a snack…..see—>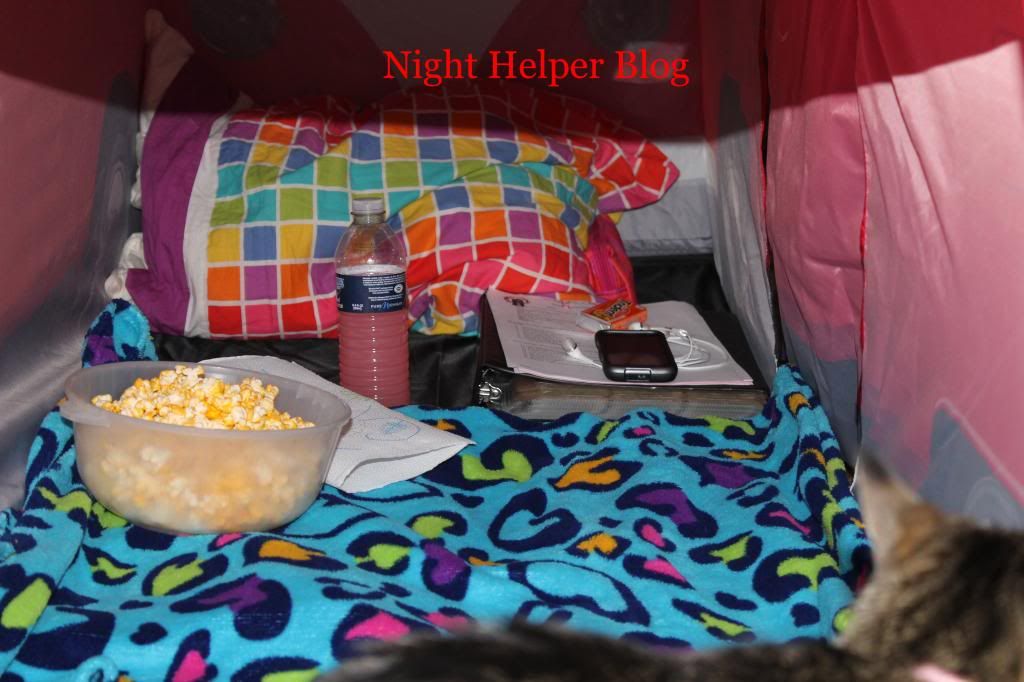 Oh yes her cat Sparkles enjoyed it even more she kept going back and forth with her toys in and out of the tent…lol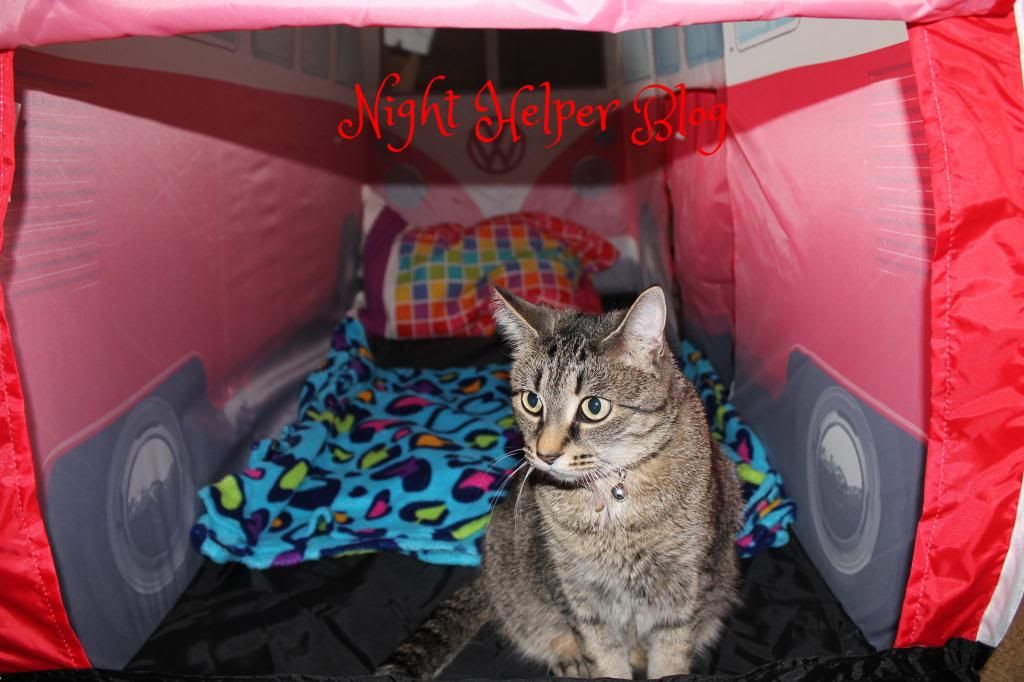 The1965 VW Camper Tent is quite sturdy and stood up to the test of my cat and daughter going in and out. I like that it has a zip entrance and a back entrance as well and two window screens that allow air to pass threw, so no matter how many times she went in that tent, it never fell over not once!!.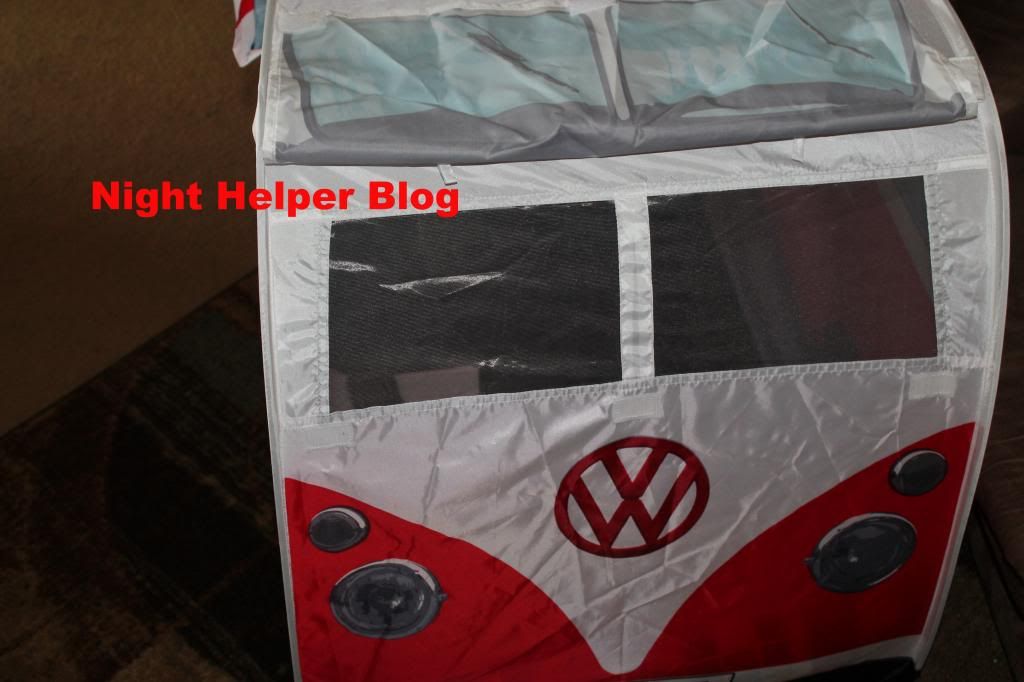 The Monster Factory did an Awesome job in creating this unique tent, I am sure my kids will be the talk of the town when they set this cool tent up in the backyard or  at camp ground even here at the house my friends and family who have visited have been mesmerized by the concept of the 1965 VW tent!! I would have to say "The Monster Factory" has truly impressed me and I give this product 5 Stars!
Oh by the way its just as easy to pack away, with the help of mom or dad just simply stand behind the tent, pull up towards you and don't let go, pull in and up and fold over each other and place tent back into storage carrying bag. Monster Factory also provides a step by step YouTube video right on their website with tips for setup, take-down and storage.
Remember this kids VW 1965 campervan tent is completely portable, easy to set up for those fun sleepovers or rainy days indoors and most of all its a safe happy place for your kids to play anytime!
About "The Monster Factory:
Established in 1998, The Monster Factory is an award winning design company specialising in extremely high quality home and outdoor products. We fully originate, design, manufacture and sell our unique and licensed products worldwide and are proud to bring you innovation combind with quality in every product we sell. Our latest licensed product, the VW campervan tent, which has pushed many boundaries and created a new licensed category also won both the Licensing awards 2011 and Gift of the Year 2012……read more here
Enter to win your 1965 VW Kids Camper Van Tent, US only ends 5/ go here
Keep up The Monster Factory via Facebook & Twitter
Disclaimer: I was not compensated for this post, however I did receive product sample for review purpose and all opinions are 100% my own.