The Unconventional Couple's Perfect Anniversary
We all have friends who veer away from the predictable and venture more into the territory of the spontaneous. There's no breakfast in bed for these two, a dozen roses or pieces of jewelry to celebrate their nostalgic day. The fantastic thing about the twenty-first century is that difference is no longer merely tolerated but, in most quarters, it is celebrated. While you might be racking your brain trying to think about the perfect anniversary gift for your closest pair of social butterfly buddies, take a look at what their idea of a perfect anniversary might be like.
Image Source
 Morning
The unconventional couple will no doubt wake up somewhere far away from home. On the spur of the moment the night before they may have packed a couple of bags, picked up the keys to their campervan or vintage Citroen C5, and they may have followed their nose and ended up where the wind blew them. The chances are they will be waking up in a yurt somewhere in the middle of an organic campsite, or they'll have explored the ever popular and unconventional option of glamping. Camping, while a passion of theirs, would definitely be too mundane and not special enough for their unique, memorable day.
The happy couple would soon be venturing out into the locality to pick up some brekkie. Like most spontaneous folk, they'd no doubt pick up a disposable barbecue and head down to the beach or wander into an enchanted-like forest to grill up their sausages, halloumi and fry their rustic bread for a romantic and secluded anniversary breakfast.
The Gifts
After a romantic stroll and mooch around the new area, no doubt reminiscing about when they first met, their wedding day and their subsequent anniversaries, it's time for some gift swapping. Depending on how unconventional the couple in question are, they will no doubt have chosen gifts totally off the wall and wacky, something mundane and boring yet ultimately life-enhancing or some cutesy little personalized thing that makes them both feel all warm and gooey inside.
A couple of the off the wall variety may choose a couple's experience. They might be planning on bungee jumping in South Africa in the summer, zorbing across a lake or skydiving over the field they've just glamped in. Adrenaline fuelled adventure with a touch of romance might be the order of the day for this gift giving pair.
For the couple that loves to be a tad kooky yet sensible, something like a new air conditioning unit from a supplier like ABC Home & Commercial, might fill them with glee. While seemingly the lamest gift you could ever give to your loved one, if you've spent the preceding summer stripping off in your own home, sweating profusely and having to keep the fridge door open whenever you have had the chance, a new AC might be the very item you've been hankering for. On the other hand, a darling wife may gift her soulmate with a car service voucher to make sure the set of four wheels parked outside the home is roadworthy. Maybe an upgrade in the double glazing within the home is more useful. Remember, this is an unconventional couple. Flowers and chocolates simply don't do it for them.
Alternatively, the quirky pair may forego the big showy gifts for something more bespoke. There's nothing more thoughtful than putting together a homemade scrapbook displaying all of their dates and significant moments. With the vast array of personalized picture frames, artwork and even coffee cups on the market, there's something schmaltzy for every couple. Perhaps the most supremely unconventional, weird and downright meaningless, yet romantic gift, is buying your nearest and dearest a star or an acre of the moon. While nigh on impossible to enforce ownership, the thought can make the most lovey-dovey of couple's swoon.
Evening
After the gift swapping, it's time to think about that celebratory evening meal. Whether a couple is conventional and predictable or quirky and unusual, dinner is the time where they can chat, chill out, unwind and enjoy one another's company. They might think back to their first date all those years ago at a cheap fast food joint and replay their very first meal together course by course. Chicken nuggets, burger and fries anyone? Some couples like to push the boat out at anniversary time and will hot foot it to the most salubrious Michelin starred eatery that they can find. While snail porridge, scallop tartare and oregano ice cream might be on the menu, this suits the most unconventional couple down to the ground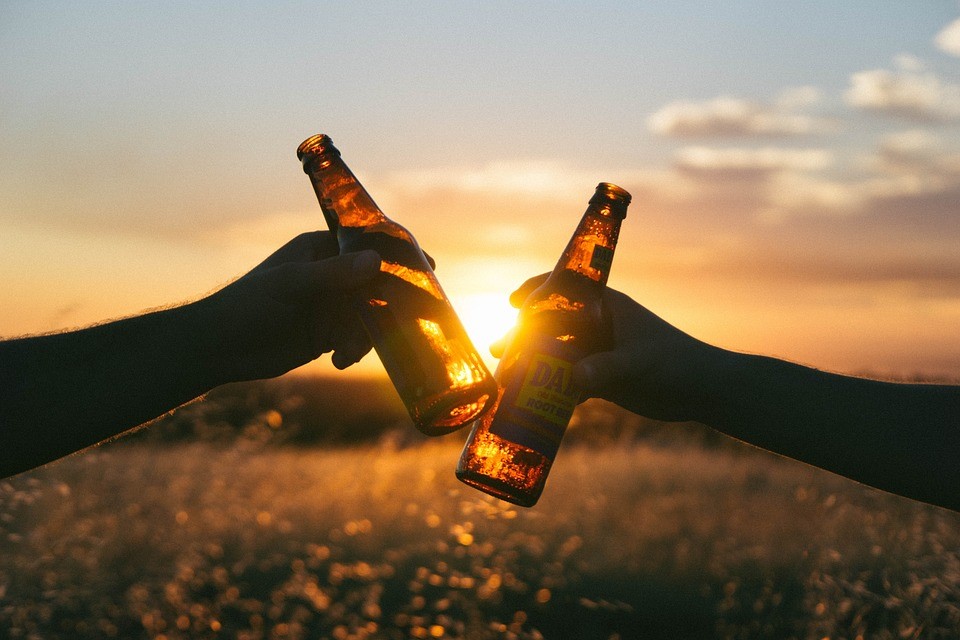 Image Source
 What Will Your Gift Be?
Having an unconventional couple within your social circle can be a wonderful thing. They show you a different way of looking at things, provide you with alternative opinions and open you up to new experiences. However, when it comes to birthdays and anniversaries, they can be nearly impossible to buy for and can cause untold stress. If in doubt, opt for something unusual, witty or fun. Instead of a picnic hamper, why not purchase them the latest picnic backpack complete with utensils, wicker interior and thermos for their next jaunt into the countryside. There's nothing more thoughtful than personalizing their favorite tipple. If they love wine, cider or a spot of port, you can design their very own bespoke vintage and label it up ready for them to enjoy on their anniversary. The thought you put into your gift is almost more important than the gift itself.
The thing about a kooky couple is that they will never feel the need to shout about how they will be celebrating their anniversary and will feel supremely comfortable in their own skin, never needing validation for their actions or approval for their choice of gifts. Whatever it is you choose to get them for their anniversary, ensure that it is as wonderful and unique as them.