Toy State introduces DUB Garage Diecast Metal Collection Cars, Dad will love them!
Toy State will have any Dad or Child jumping for joy when they see Toy State cool DUB Garage/James Bond-007 Collectable Cars. One thing for sure is my sons and their dad love collectable cars. Collecting cars has been a hobby of theirs for many years, they love to build them on their off time. My husband has been seeking to purchase new ones to add to his collection in the basement and by george I think we've found them. LOL!
Everyone who visit knows when they come down the basement no one can touch his cars and it is the same thing with my sons room. So when Toy State said they were going to send  a few DUB Garage/ James Bond-007 Diecast Metal Collectable Cars, I knew Dad and all the boys would be excited.
We received the DUB 1:24 Scale Ford Mustange Convertible, can you say WOW! Well we all did when we pulled it from the box.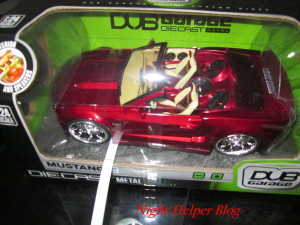 This Ford Mustange Convertible would be anyone's "Dream Car" to have rather its real or a Collectable. The detail features leaves your mouth hanging with nothing but the word WOW coming out. It's a DUB costumed convertible with detail interior blazing with super-bright light effects! Not only does it has great light effects you can also open hood to check out the turbo charge engine but that's not all, open the trunk and it will reveal a custom sound system….Sweet ha!
Next we have the DUB Dodge Challenger SRT8 which is apart of the 1:32 Scale Collection. Can you say Awesome?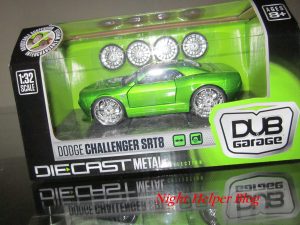 This Dodge Challenger SRT8 Diecast Metal Collectable is awesome indeed. You can open the doors to this cool vehicle to reveal a molded interior with a custom sound system. Toggle the adjustable suspension to go from high-rise to low-ride, then swap out your wheels for custom face lift in a flash. The boys would love this vehicle!
Now we are on to the last two collectable cars from Toy State. It's a James Bond–007 Feature….ARE YOU READY? Here we have the LOTUS ESPRIT S1, we call Genius?
This is one of Bonds cool cars. It also has lights, sound and is motorized but what you don't know is it has a rocket launcher mounted on the top but that's not the coolest detail….this baby can transform into a mini-submarine….."Can we say Genius"?
Last we have one of Bonds signature cars that everyone can remember seeing throughout the series….its the James Bond–007 Q–Branch
Outstanding is what we call this one, the features and details are mind blowing. This vehicle features lights  and sound fun in the classic Aston Martin design that has had James Bond driving in style for 50 years. The backlit rear window bullet holes kick-start an exciting chase sequence, as Bond pulls away with motorized driving action before unleashing a dramatic spinout feature and returning fire with his light-up hidden weapons. Plus it also has Bond signature theme song.
Well there you have it. This Father's Day, Dad will have a smile so big it may become contiguous to us all…lol!  So from Toy State and The Night Helper would like to wish every Dad a "Happy Father's Day"!