Top Interior Design Trends Of 2019 (That Are Here To Stay)
Nowadays, consumers don't want short-term interior décor trends when looking to update their home. They want trends that are sustainable and have longevity, instead of homeware and products that will only be popular for a limited amount of time.
Here are some of the best interior design trends with staying power to make sure your home will look trendy for many years to come.
In 2019 and the years ahead, we will start to see people taking advantage of their fifth wall— ceilings have been ignored for far too long. We can expect to see daring paint colors, moldings and wallpapers covering the ceiling and creating a "wow" factor.
Consider painted ceilings for spaces where you want to feel relaxed and intimate. You can include the ceiling with your base color or make a strong statement by using accent colors to add a pop of visual interest. You can also ask for some suggestions from professional painters Bloubergstrand to ensure you have a ceiling that blends well with the entire space.
With environmental issues on the rise, the trend for houseplants is here to stay. We already know that adding plants to a room not only offers a pop of fresh color but also help purify the air.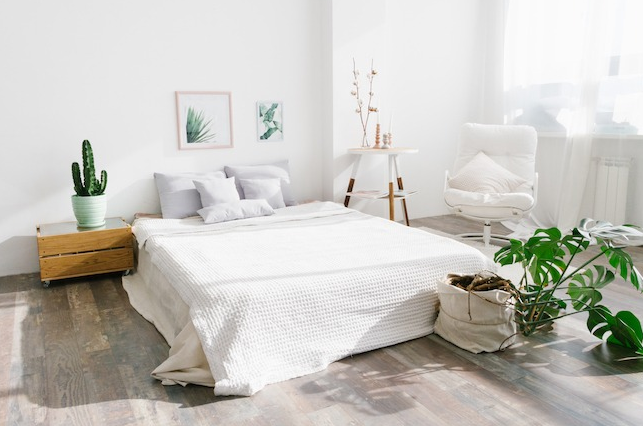 Reconnecting with nature inside your home can help relieve all the stress caused by your busy life. This desire may lead to an increase in spaces with a green, luscious, jungle-like vibe.
Other than small pot plants, big bold plants are also making their way into homes around the globe. Think rubber tree, dragon tree or any type of palm tree that make eye-catching and appealing statements anywhere in your home. Try bordering your sofa with one plant on each side or place one in every corner. The bigger, the better!
Just like adding plants to create a nature-inspired space, more and more homeowners are now turning at least one wall into an expansive window wall that delivers lots of natural light and great views from nature.
This makes a space more open so that it feels less top-heavy with a welcoming and calming appeal.
Thanks to fresh new patterns, colors and ease of installation, murals are making a big comeback.
Wall art designs grow every year and will continue to rise in popularity in the home décor space. A large piece of art may be costly, but wall murals can provide the same solution at a much more affordable price. Also, they are easy to put up and remove, providing you with the added option to change the look as desired.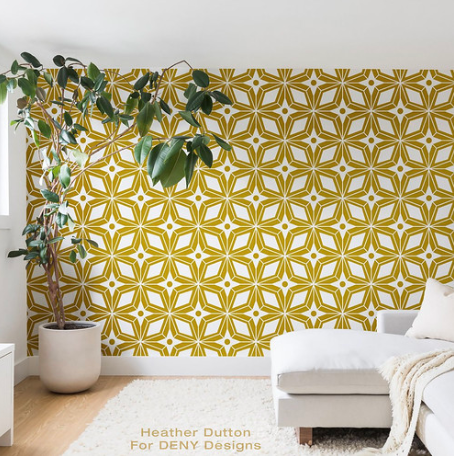 Wood is a traditional element that will never go out of style. And as expected, the use of wood has grown in popularity over the years and will continue to do so for many to come.
Wood adds loads of character and warmth and it pairs well with grays and whites which are the most popular colors for walls and kitchen cabinets right now. Whether you install wood flooring in your kitchen or add some wooden elements to your dining space, bathroom or bedroom, we are all for bringing the outdoors inside.
While most people like clean and simple backsplashes, more and more interior designers are welcoming daring and bold pattern backsplashes into their kitchens. We can expect to see these functional and fun accents to be huge in 2019 and for many years after that.
You can try a bold geometric backsplash with large and oversize patterns to transform the space in an instant, giving it a unique personality.
Boho is one of those interior décor trends that comes and goes— however in 2019 and beyond, it is expected to come back with a bang. The boho vibe is indeed back, but with a vintage modern twist including curved lines. Patterned and layered fabrics are something that you can expect to see again, but this time, it will be brighter and cleaner.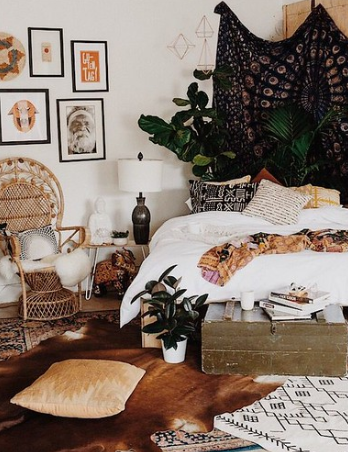 Embrace your inner hippie and layer fun prints and textures to create a bohemian vibe for any room.