Things you should know about hard drive data recovery
Losing data can quickly turn into a nightmare when it is important or sensitive data. It is never fun to lose an important presentation, an ongoing project or irreplaceable souvenir photos. When this data is deleted, there is often panic.
When a deterioration of data and files occurs, it is necessary to use a process called: Data recovery. Data recovery encompasses all the methods and techniques used to recover files, images, photos or videos that have been deleted, lost, put in the trash or for which the media partition (USB drive, hard drive, SSD, mobile phone) has been formatted. Causes of data loss on hard drive
Data loss is mainly caused by hardware failure or software failure. Both of these types of failures can result in erased data or lost data that cannot be accessed from a computer.
Here are the two types of failures that cause data to be erased:
A software failure is related to a software error, a bad partition formatting (very often it is a history of NTFS partition passed in RAW) or an external element like a virus. It could be mishandling or a data ransomware attack. Different methods exist to deal with these different types of cases. You can directly apply them yourself, but if you don't know exactly what to do this is not recommended, especially in the case of viruses or if you have never heard of NTFS.
A hardware failure is caused by a physical component that damages the device (such as a malfunction, a short-circuit, a defective hard drive, etc.) or an external event that has altered its condition such as a fall of the device. These failures are the most difficult to manage on your own. A specialist will be the best able to recover your files, lost images, or recover lost photos so precious as soon as possible.
How to recover deleted files on Windows or Mac?
The default partition format on Windows is NTFS (on Linux it's EXT). If the condition of the drive allows, you can attempt a scan to restore your deleted data after downloading and installing free data recovery software such as the latest version of Recuva (photo lost), iBoysoft Data Recovery (version for macOS and Windows, self-remove ransomware and recover its files). These software, like iBoysoft Data Recovery, will perform a partition scan to try to show you a list of files that you can recover.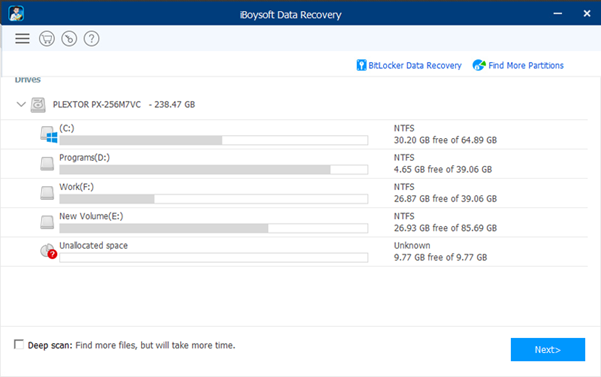 So, scanning with data recovery software is a good solution to try for deleted file recovery. With this type of troubleshooting solution, on the other hand, it is very unlikely that you will be able to recover all the data deleted by mistake from your computer, but it does not cost anything to try to recover an important Word file that has been deleted by mistake…
In addition, recovery methods may change depending on the operating system. A technique that works with software on Windows that scans systems will be unsuitable on Macs because their storage drive is formatted differently.
Data recovery for faulty hard drives and HS external hard drives:
The best option is often to use a specialized company, or even the only one in the majority of cases. Regardless of the condition of the drive, if it is a hardware failure it is in 99% of cases the only option to consider, because specialists can more easily replace certain faulty parts in a clean room and thus recover deleted file or offer you the option to repair a file and recover all the lost data even from different storage media.
A clean room is a completely dust-free environment that does not damage the components when they are open to be able to retrieve or view the raw data.
You can always try to find help on specialized forums, and depending on the cause of the malfunction, they will be able to advise you on methods and other recovery software to recover its contents. This is particularly useful in the case of bad manipulations in order to act in case of accidental file deletion loss or application crash.
Last but not least…
Making regular backups of your data will always be an effective preventive solution in case of lost data. It will be interesting to do a regular anti-virus scan and a backup to save your data on a storage device containing your personal files, but also on a virtual medium (such as the Google service: Google Drive, the Microsoft service: One Drive, but also the DropBox service).
Finally, the best weapon to face the virus remains common sense and caution, do not open shady emails or dubious sites is the key to avoid this mishap! Perform reinstallations or regular maintenance of your computer system by a professional or with a dedicated tool that you can download.