Where There's Love, There's Life: The Spring Garden.
It's springtime, and that means it's the chance to revive that feeling you had toward your garden when you started it and spruce it up. Whether it's with romantic flowers, new stone steps for lovely, spring strolls, or extra shade for more outdoor activities, it's time to love being in your garden again.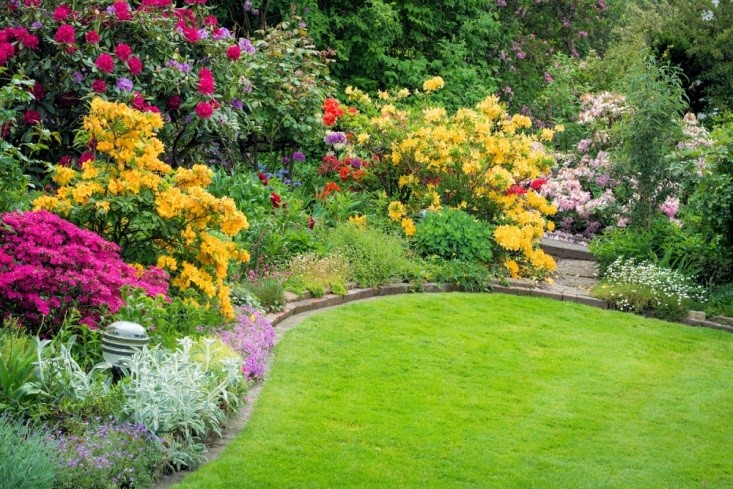 Flowers
Some fresh flowers are perfect for some romance in your spring garden. Soft pastel petals are a light addition, and deep reds and purples are make the world a little brighter. Line your garden paths with some relaxing floral scents and romantic colors.
Choose a theme; a spring romance, English teagarden, Asian zen garden, tropical wilderness, or rustic wildflower field. Renovate and plant according to your chosen theme and have the perfect escape for as long as the weather permits.
Window boxes let the effects of your garden travel around your home. Carry the bright life and loveliness with you and see the greens and other colors through every window, even the ones that don't overlook your primary garden.
Accessories
Before you make any significant changes, make sure you make use of what you have. Start by taking care of your lawn, which is really the main part of your yard. You can try spring overseeding lawn methods that will fill in those thin patches in your lawn and make your whole yard look better by association.
Then, save some money by repairing your outdoor chair and umbrellas; it's a good project that will keep you outdoors, enjoying the weather with a project in your garden. If you need new materials, there are always clearances and sales, and thrift store items ready to be upcycled.
The spring and summer sun brings outdoor fun. But, the sun can also be a hot and sweaty burden that makes us seek shade. Add some natural and fabricated shade to your space. Outdoor patio sets provide seating for parties, and single umbrellas add a touch of beachy style. A good tree can offer substantial natural shade, even a smaller, potted one.
Add to the party fun and romance with some simple lighting. You don't have to spend a lot of money on a professional; you can find some attractive, sturdy lights to gently drape around your garden for parties, or for just a touch of elegance. Wrap the trees, hang the lanterns, or give the branches a subtle glow.
Hanging bits and pieces around your garden lends an attractive ambiance. Wind chimes add a sense of calm in the spring and evening breeze. Hanging baskets of greenery and flowers let the garden travel, and feeders attract life in the form of birds and fun creatures.
Creating a full-fledged garden is a chance to have a peaceful place that's just for you, or for your family and friends. Make your own spring and summer getaway and leave everything but nature behind.
Vegetables                                                          ImageCredit
Spring gardens are not just for parties and flowers. Vegetable gardens are good most times of the year, and most true gardeners love tending to the things that will nourish them, and knowing precisely from where their food comes.
Vegetable gardens can be planted in bed, potted, hanging, or on the windows, just like any other form of garden. Choose your vegetables and fruits carefully; know what grows best in your spring weather and your soil. Give yourself plenty of space. Spacing vegetables is an important factor of proper growth, as important as watering, feeding, and fertilizing.
If your local weather is tolerable, it's best to start planting in February and March. Plant vegetables and fruits that can resist frost if it gets cold, and in weather that doesn't cause you to overheat or freeze. From tomatoes to cabbage, and squash to peppers, there are almost limitless options from which to choose if you're planting in prime spring. If you don't want to wait for seeds to grow, you can purchase the plants and pot them partially grown for a faster harvest.
Baby spinach is a good green for the spring season. It's perfect for a good salad, and it grows relatively quick, resists frost well. There are different types of spinach and you can choose one that suits your location and soil, and your taste. It's also a great vegetable for the fall, and may survive winter for springtime.
Peas are also a great vegetable for a new spring garden. Most people enjoy peas, and the kids can get into planting them easily. Once the plants are grown and ready to harvest, they may enjoy picking and shelling, as well as eating.  
There is a lot of beautiful, healthy potential for you and your spring garden. Bring it to life and start loving it today.