The Flu is coming, the flu is coming….NO THE FLU IS HERE and it's no JOKE!
I don't know about you, but I have never ever seen the Flu hit like it has this last year. It seems everyone I speak with has it, even my own family and it is horrible. It's actually knocking people to their knees literally with the side effects and taken lives.
The coughing, congestion, fever and chills are taking over their body even the CDC is now calling this flu an epidemic that is taken the lives of the young and old! If you haven't been concerned I suggest you pay close attention and become concern so you too can be aware of the symptoms and try to avoid this deadly flu.
First let's break down what is influenza? Influenza is a viral infection that attacks your respiratory system – your nose, throat and lungs. Influenza, commonly called the flu, is not the same as stomach flu viruses that cause diarrhea and vomiting. Now the CDC reports 'widespread' instances of flu in 49 states; most cases have been an aggressive strain of influenza A called H3N2
Here are some signs and symptoms that everyone should look out for that will help you determine if you have the Flu: People who have the flu often feel some or all of these signs and symptoms:
Fever or feeling feverish/chills (Keep in mind that not everyone will have a fever with the flu)
Cough
Sore throat
Runny or stuffy nose
Muscle or body aches
Headaches
Fatigue (very tired)
Some people may have vomiting and diarrhea, though this is more common in children than adults.
This (H3N2 )strain is one of those nasty airborne influenza and we all need to be prepared in making sure we are following the necessary steps to keep our family and ourselves safe.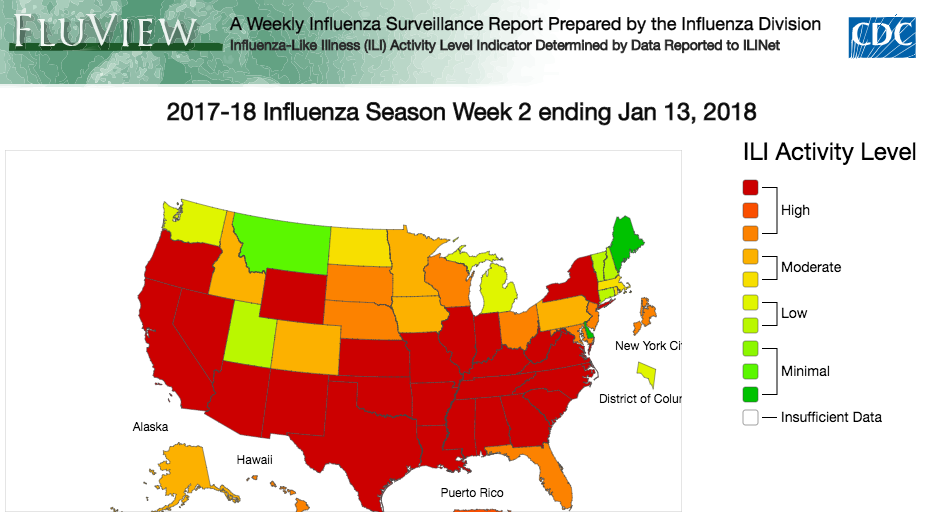 Here is a CDC influenza Activity Level Report. This report shows you the level of Influenza around you and your family.
Remember the best way to prevent spreading the flu germs is by following these recommendations from the CDC.
Try to avoid close contact with sick people.
While sick, limit contact with others as much as possible to keep from infecting them.
If you are sick with flu-like illness, CDC recommends that you stay home for at least 24 hours after your fever is gone except to get medical care or for other necessities. (Your fever should be gone for 24 hours without the use of a fever-reducing medicine.)
Cover your nose and mouth with a tissue when you cough or sneeze. Throw the tissue in the trash after you use it.
Wash your hands often with soap and water. If soap and water are not available, use an alcohol-based hand rub.
Avoid touching your eyes, nose and mouth. Germs spread this way.
Clean and disinfect surfaces and objects that may be contaminated with germs like the flu.
Well, one thing we all know for sure is if you're not feeling well make sure to seek out your physician ASAP so you can get on the road to recovery!
I would also suggest if you're worried about the flu vaccination make sure to speak with a license physician so he or she can address all your concerns.
Wash, wash, wash, those hands!!! Let's try and stay health!!!!