Spring Guide with Organizing Products, Games, Spring Fashion, and more!
Disclosure: Night Helper Blog did receive sample products & compensation from the companies to showcase in our Spring Guide. We're disclosing this in accordance with the FTC guidelines.
Spring has finally sprung, and we are here to share some excellent products in every area with you. Products that will help you organize your home, clean your house, create fun, bring your drinks to life, and spring outdoor fun & Fashion.

Now let's get started; here we have the CYETUS Espresso Machine for Home Barista CYK7602, Milk Steam Frother Wand, for Espresso, Cappuccino, and Latte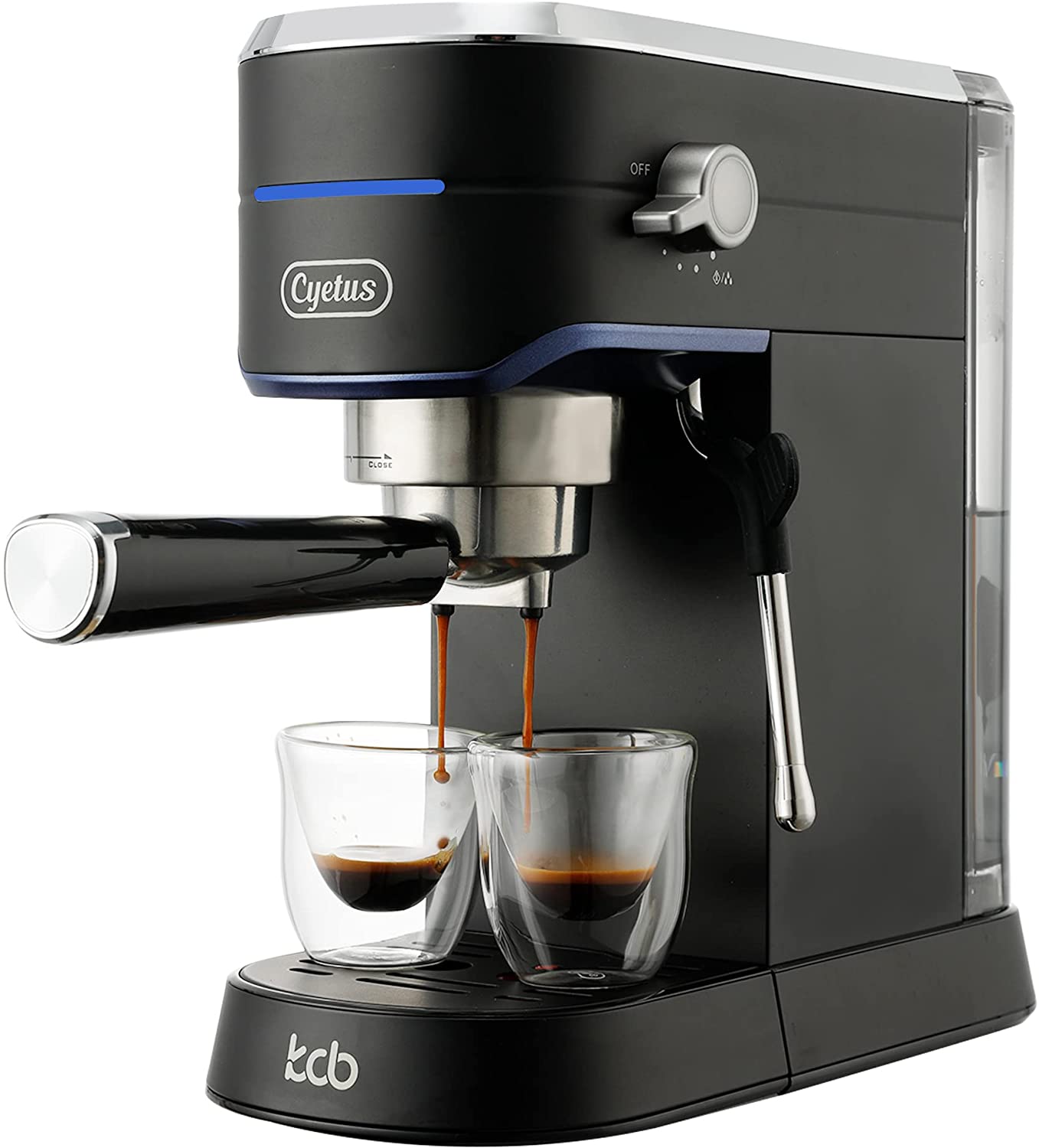 You may be asking what's this CYETUS Espresso Machine for Home Barista doing in a Spring Guide?
Let's say you need to clean out your old Espresso Machine while you're Spring Cleaning. That would mean you will have to find the right one to replace your old one….right!
The CYETUS Espresso Machine for Home Barista would be a great replacement since it has so much more to offer, and the unique design will fit in any home decor.
The CYETUS ESPRESSO MACHINE FEATURES:
Espresso Volumetric Control
Choose 1 cup or 2 cup you prefer.
Cup Warm-up Rack
Preheat glasses before extraction for better espresso taste.
A Powerful Steam Wand
Heat and froth milk for Latte, Cappuccino or Macchiato.
15-bar pressure and PCB Intelligent temp control
Rated Power: 1350W.

PCB intelligent temp control for more accurate and stable temperature.

51mm commercial brewing system, make better coffee effect.

With hot water function, for easy cleaning and warm cup.

Powerful steam wand for making cappuccino, latte, and macchiato.
CYETUS is a newly founded brand in 2021; back then, we were professional original designing manufacturers for coffee machines and small kitchen appliances with over 20 years of industry experience.
So you see, this espresso maker is one you will have to add to your kitchen, nothing like sipping on a great tasting cup of coffee or a great-tasting cup of espresso. You can see more products from CYETUS here, connect also with them via social media.

Here we have the SimpleHouseware Stackable Can Rack Organizer, White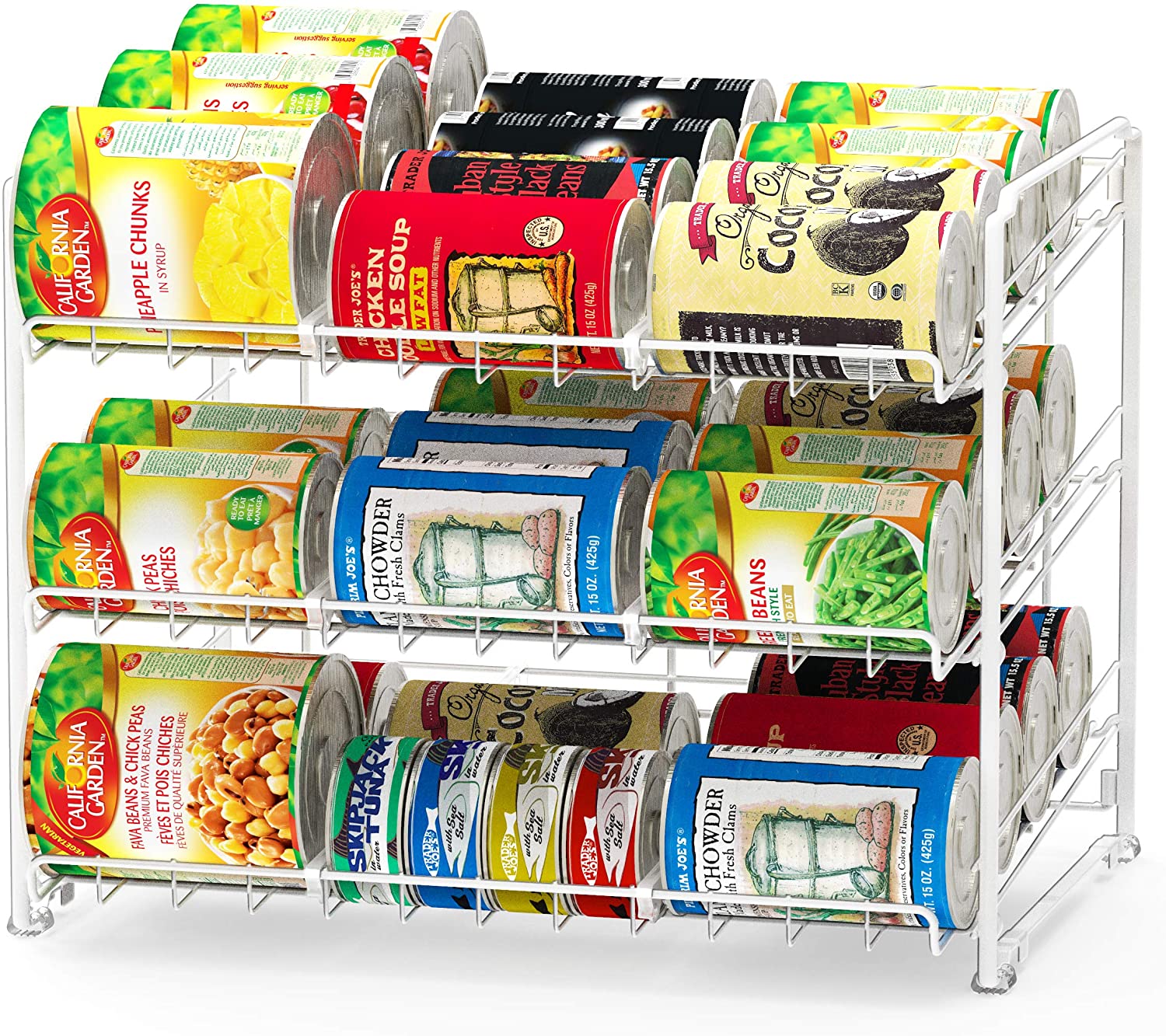 I don't know about anyone else but gosh do I need this. My pantry is full, and cans are stacked on tope of each other so this can rack will really help me get my cans more organized.
PRODUCT FEATURES:
STACKABLE DESIGN: get multiple sets and stack them together in a second

Store up to 36 can or variety size can/jars

Six adjustable plastic dividers get different size can, jars, beverage can aligned and organized

Assembled in a minute and no hardware needed, sturdy construction, White finish

Dimension: 17"W x 11.5"D x 14″H (Minimum 15″H required for regular cans); USPTO Patent No: US10051979B2
The great thing about this rack is you can basically place it any where; in your kitchen, pantry, bottom or top cabinets or on your counter.  Visit Simple Houseware here to see all of their amazing products.

Each storage container features an airtight 4 sided-locking system resulting in an airtight seal, keeping your cereal super fresh, help you get prolonged food storage. These are not only ideal for storing dry foods such as flour, sugar, rice, grain, cereals, nuts, beans, snacks, pasta spaghetti, coffee and tea and but they are also perfect for holding liquids such as water, juice, soup, and more.
PRODUCT FEATURES:
Airtight, Watertight, Leak Proof

Keep Foods Fresh

Stackable Design

Non-Slip Lids

BPA Free

Reusable and Durable

High-quality food grade plastic
The Fifame 28 Pack Airtight Food Storage Container Set is available on Amazon

Shark – ION Robot Vacuum R75 with Wi-Fi – Smoke/Ash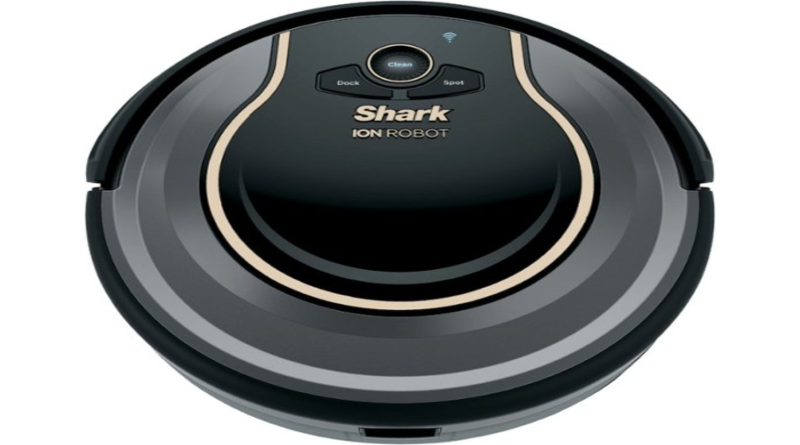 The Shark ION Robot is designed with a Tri-Brush System, combining side brushes, channel brushes, and a multi-surface brushroll to handle debris on all surfaces, corners, and edges. Use the SharkClean app or voice control with Alexa or Google Assistant to start cleaning from anywhere Shark ION Robot.
Features
Three brush types. One powerful clean:
Tri-Brush System combines side brushes, channel brushes, and a multi-surface brushroll to handle debris on all surfaces.
Completely integrated in your home:
Shark ION Robot senses ledges and stairs, avoids damaging furniture and walls, and maneuvers around potential stuck situations, truly knowing your home.
Clean from your phone:
SharkClean app lets you start and stop cleaning and schedule your robot to clean whenever you want.
Easy voice control:
Use Amazon Alexa or Google Assistant to easily make the robot clean at your command in your connected home.
Built, tested, and perfected:
Shark puts their robots through rigorous testing, performing thousands of hours of real-life use to give you a reliable, ultra-powerful clean.
Includes:
(1) Shark ION Robot,
(2) side brushes,
(1) filter,
(1) lithium-ion battery,
(1) charging dock.
So, if you're looking for a more Spring/ Organizing products I suggest you visit Best Buy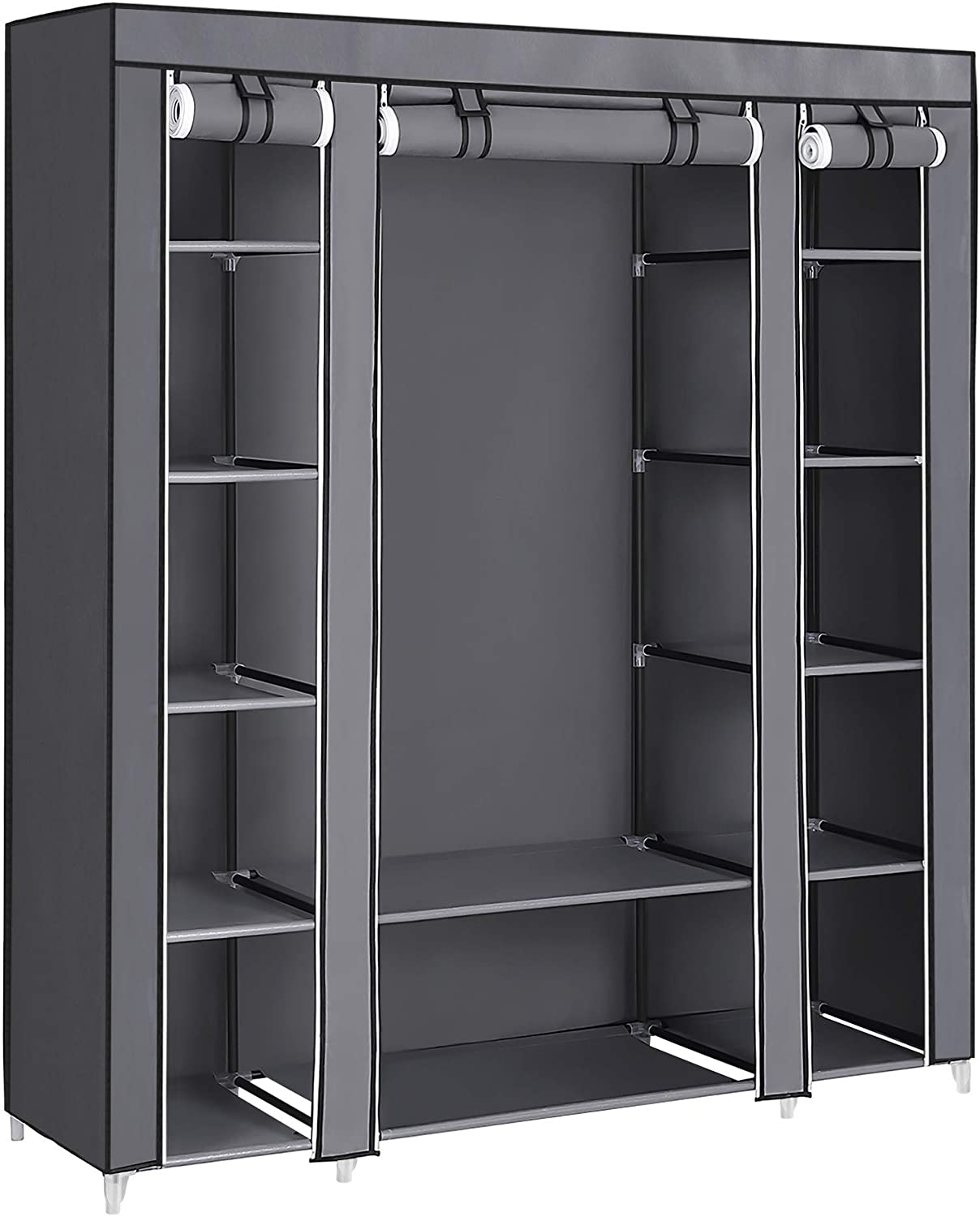 Meet all your storage needs with this SONGMICS 59″ portable closet. This heavy-duty frame construction wardrobe provides extra hanging and storage space for seasonal clothes or other daily accessories. There is roomy space for hanging clothes and shelves for storing garments or other stuffs, like shoes, bags, baby toys, hats etc.
PRODUCT FEATURES:
STURDY & DURABLE CONSTRUCTION: Made from selected Non-woven fabric cover, water-proof fabric tiers, high quality steel tube and PP Plastic Connectors, this portable storage closet will meet your long term storage needs
SPACE SAVING ORGANIZER: Great size of 59″ x 17 3/4″ x 68 7/8″, which makes it suitable for organizing your small rooms and walk-in closet
SPACIOUS STORAGE CLOSET: Movable clothes hanging rod and 12 storage shelves offers you enough space both for your longer outfits and folded clothes
DUSTPROOF COVER & WATER-PROOF TIER: Zippered dustproof cover offered to keep your item away from dust and water-proof fabric tiers are easy to clean
CONVENIENT TO USE & ASSEMBLE: This amazing closet makes your clothes or daily accessories easy to access; Installation is just easy, no tool required
The SONGMICS 59″ Closet Organizer Wardrobe Closet is available here & on Amazon. 
Facebook| Twitter | Pinterest | Instagram |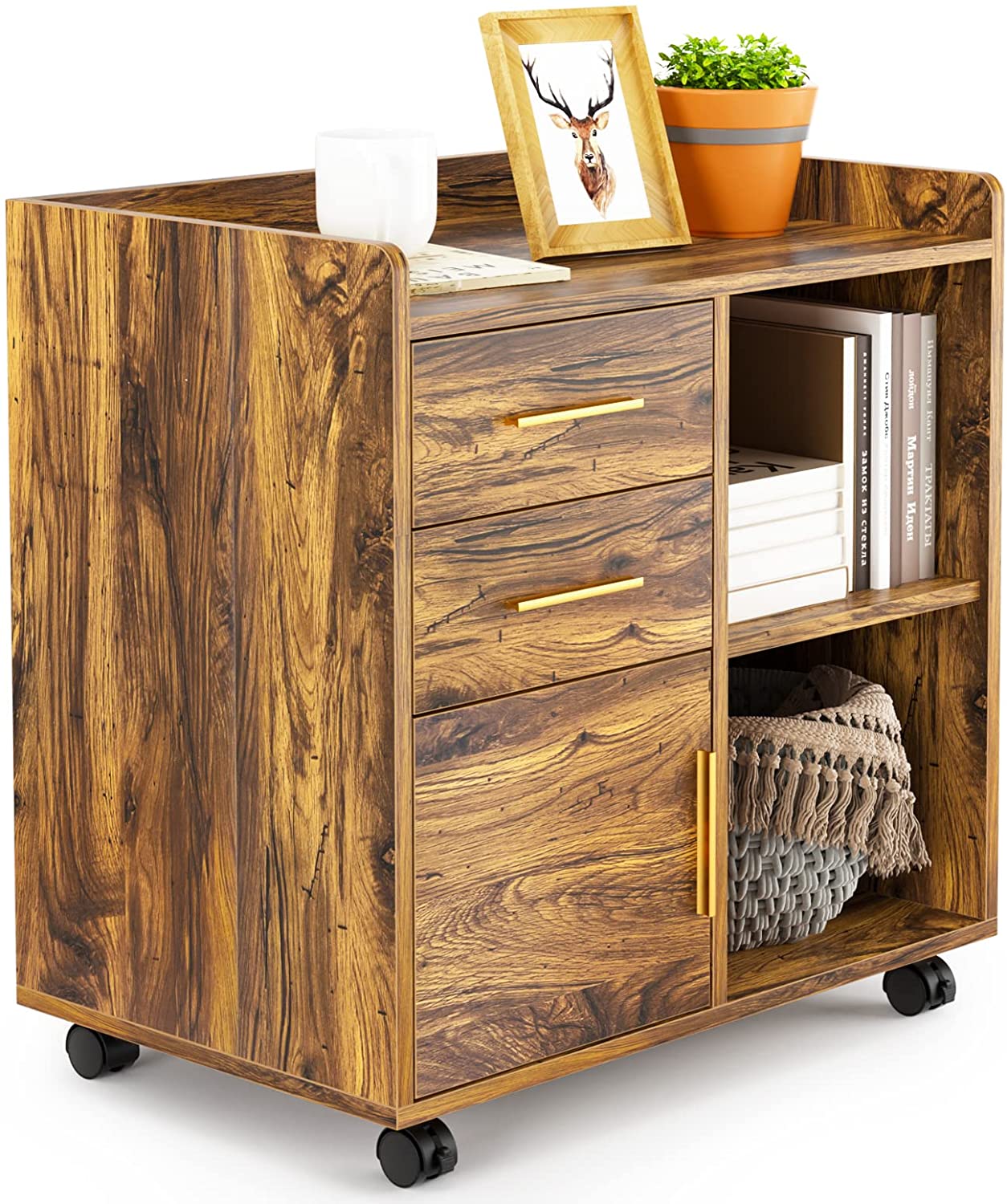 Organize your office with this cool Cabinet. Large desktop can hold your printer and scanner and other big office machines. The printer stand can be used as storage cabinet, sideboard, bookcase, showcase, console table and computer desk. 360° swivel wheels makes it easy to move around your bedroom, living room, study room, office, wall corner etc.
The mobile file cabinet with 2 open compartments, two drawers with metal runners and a large concealed storage space with door, for books, files, and other clothing .Spacious tabletop can hold your printer, scanner, paper reams, ink cartridge and accessories you may need for your job

Simple design and practicality are perfect for nightstands, end table, Rolling File Cabinet, dresser, bedside table, Printer Stand; also as a storage Table in your study, living room and office

Built-in sliding rail helps you open and close the drawer smoothly with little effort and it didn't make much noise, which is a great design for a quiet environment

This nightstand is equipped with four 360° swivel wheels, 2 of which have brakes to keep it in place. lightweight and easy to move, you can relocate this Flexible nightstand to anywhere you want, it's suitable for bedroom office and more room.

The entire file cabinet, including the inner lining of all drawers, is built using Quality particleboard and a steel with environmentally friendly finish for long lasting durability.
Available on Amazon. 

GROOMS DAY ULTIMATE ORGANIZER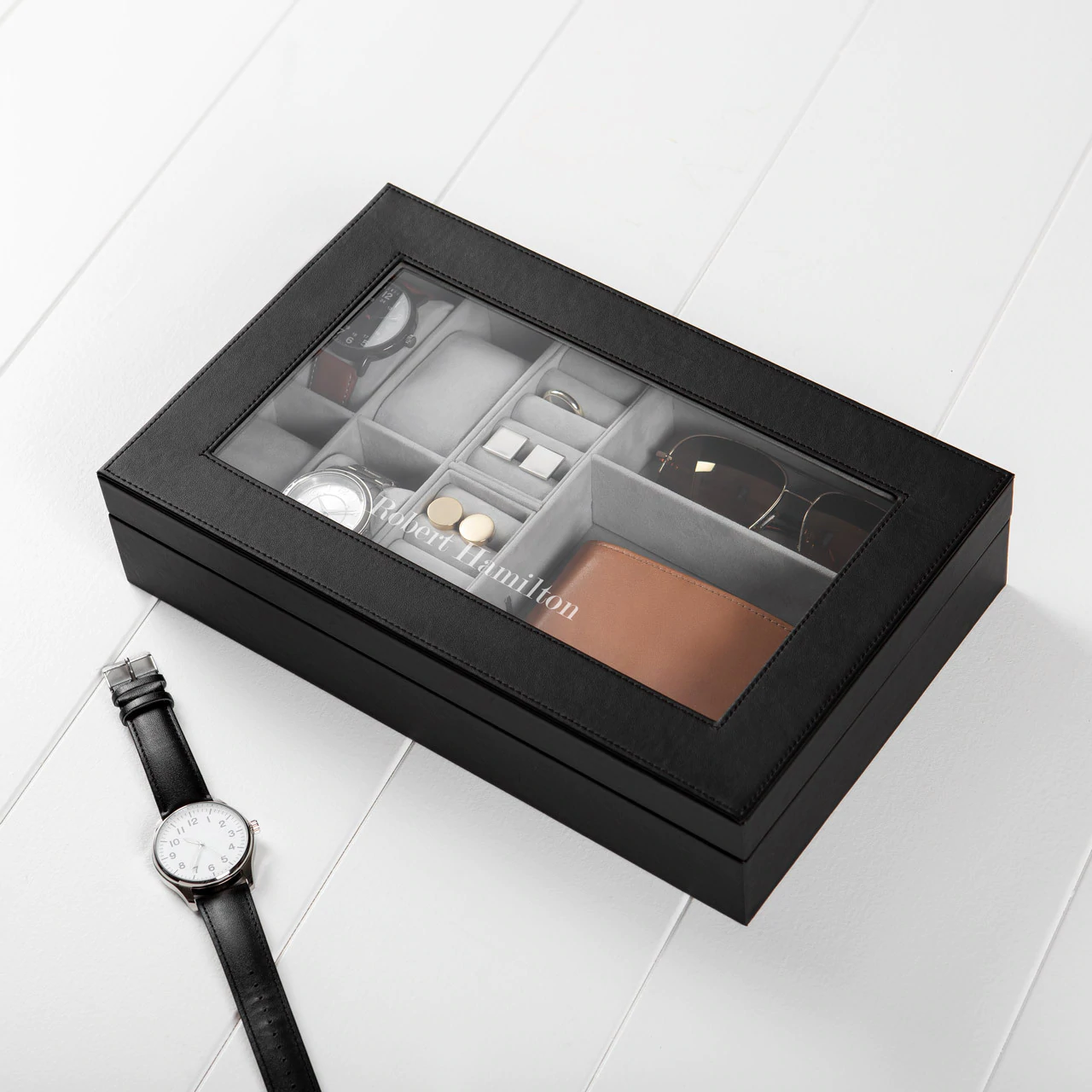 Does you spouse have all his jewelry, watches, and sun glasses all over the dresser? Well, this nice Personalized Sunglass & Watch Storage Case is the perfect addition to dressers, nightstands, or desks. This black vegan leather box features four watch slots with pillows, two cufflinks, and ring slots, and three sunglasses slots. The perfect addition to any guy's wardrobe this timeless gift will serve him well and stands to be an ideal heirloom gift.
Product Features; 
Dimensions: L: Box: 13.0″. Sunglasses Slot: 2.375″. Watch Slot: 4.75″ W: Box: 8.125″. Sunglasses Slot: 6.25″. Watch Slot: 2.0″ H: Box: 3.0″
Materials: Vegan leather, glass, faux suede lining
Features: Vegan leather construction with glass view plate, faux suede lining, 4 watch slots with pillow
Care Instructions: Outside: Wipe clean with a damp cloth. Inside: brush with a soft brush, take an almost-dry sponge and rub any stains, then brush again.
Visit GROOMS DAY  here to see all of their amazing products.
Facebook| Instagram |Twitter| Facebook    |

Here's a product I think every household & business need on hand. It's the LevTex™ Covered Portable File Tote Ensemble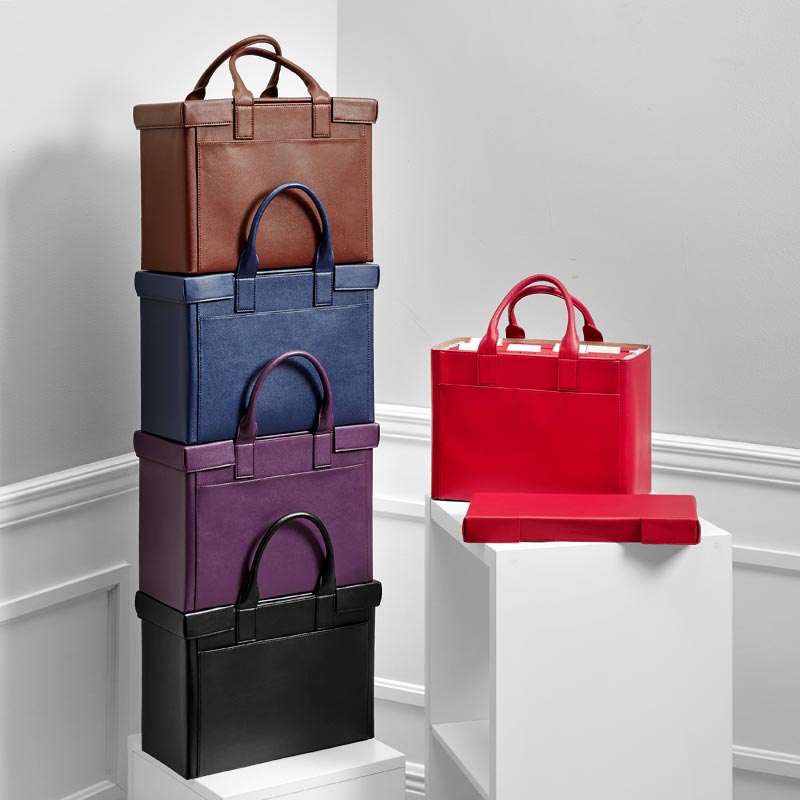 This covered file tote will help you keep track of all your important files. Keep your paperwork and work files organized and protected as you transport them from the office to home. Now including a lid, you can have peace of mind knowing your paperwork is carefully concealed inside. The top frame of the tote allows you to neatly stash files, with notched ends to keep your files from sliding off. It also features an interior slip pocket to store small items and an exterior pocket to hold your smartphone.
Available in Black, French Blue, Hickory, Purple or Red.
Product Features:
– Premium LevTex leather alternative
– Tan twill lining
– Removable top metal frame with notched ends
– Interior slip pocket with velcro closure
– Exterior slip pocket with magnetic closure
– 5 1/2″ handle drop
– Matching Hanging File Folders available separately
– Lid, 7W x 1 3/8D x 13 3/4H; 0.4 pounds
– Tote, 13 1/2W x 6 3/8D x 9 5/8H; 2.4 pounds
Visit Levenger here to see all of their amazing products.
Facebook| Instagram |Twitter| Pinterest |

OK, Let's get into some fun Spring Products like the eKids new Encanto karaoke machine.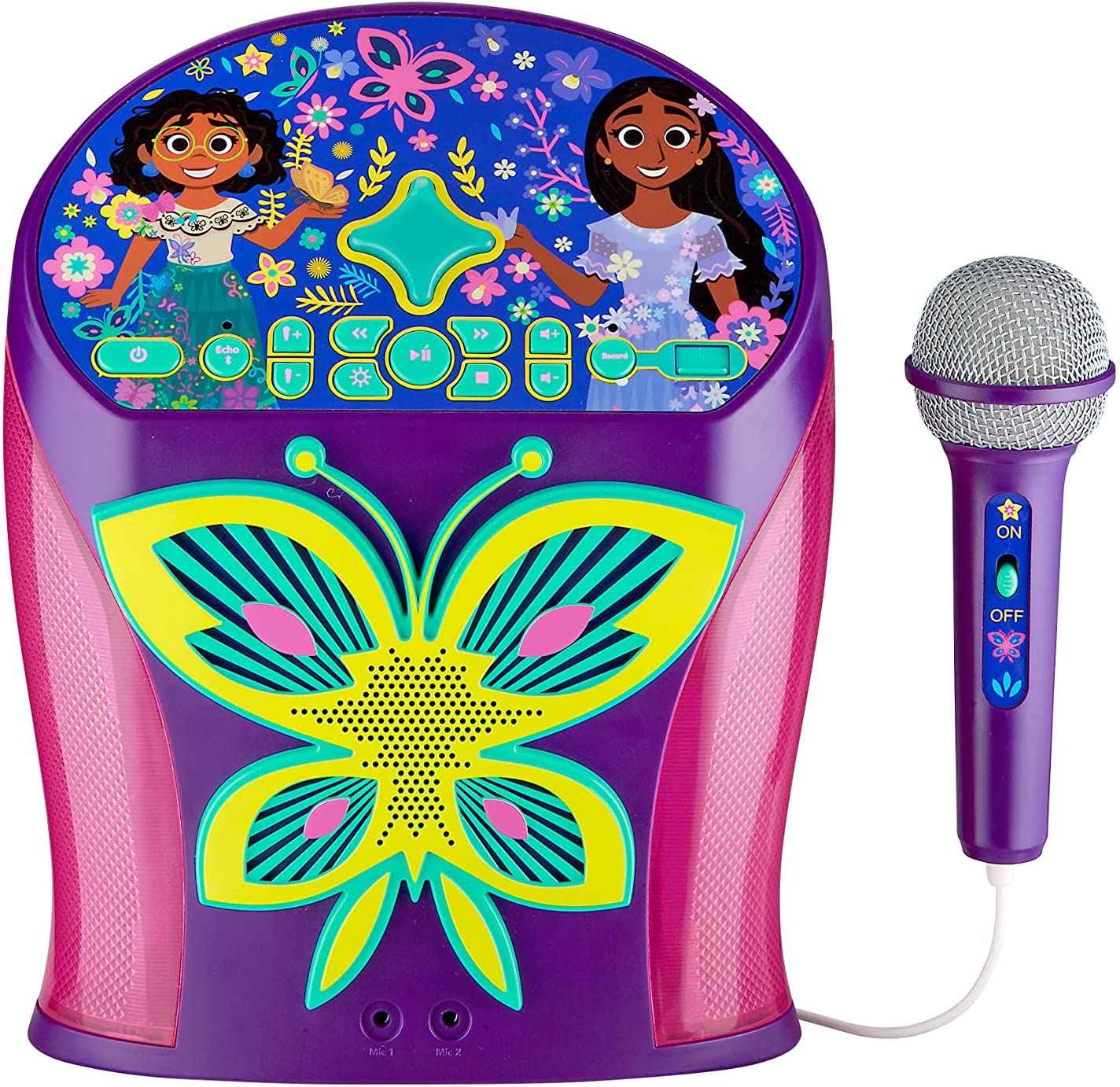 I don't know about you but if you haven't seen the Disney Movie Encanto, you are missing out! That movie is sooo awesome and every family & child is enjoying it! From the illustrations, to the beautifully designs and colors, to the awesome plot and characters this film is full of amazement.
If you haven't song "We Don't Talk About Bruno" I'm sure once you see the film you too will be singing it all day long. This eKids Disney Encanto Karaoke Machine will help your child bring to life their favorite songs from the movie Encanto! 
This kids karaoke microphone and speaker set features a built-in wired microphone and Bluetooth connectivity, so you can stream and sing along to all your favorite Disney music. Connect this portable speaker with microphone to any Bluetooth enabled device, including smartphones, tablets, and computers, and get the party started! Use the EZ Link Setup app to easily connect to a variety of curated Disney playlists! With EZ Link, you can quickly access popular Disney songs via your preferred streaming service, including Spotify, YouTube, Pandora, Apple Music, iHeart Radio, and more. Simply download the EZ Link Setup app from the Apple Store or Google Play and install it on your Bluetooth device, then follow the prompts to select a streaming service.
Product Features:
EZ Link Technology: Access your favorite Disney playlists with the push of a button! Instantly play hit songs from Encanto, including 'We Don't Talk About Bruno', when you use the EZ Link Setup app to easily connect this karaoke machine to popular streaming services. (App required; see description for more details)

Bluetooth Boombox: Connect this party speaker to any compatible Bluetooth device and stream all your content wirelessly. This karaoke recorder lets you record and save your performances, too! (USB flash drive required)

Karaoke microphone for kids: Host a Disney sing along with the included wired microphone, plus connect your own microphone to the additional mic jack and sing duets together

USB Audio Player: This kids karaoke machine makes it easy to expand your content. Connect a USB drive and play your favorite songs from your music collection
TheeKids Disney Encanto Karaoke Machine, Bluetooth Speaker with Microphone for Kids, Speaker is available on Amazon. 

Spin Master Hedbanz Picture Guessing Board Game New Edition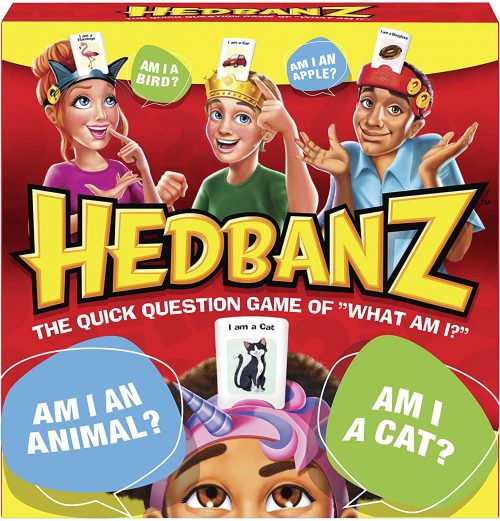 The classic game of "What am I?" is now back with all-new cards, headbands, and art. It's as easy as Pick, Place, Play! Pick your favorite headband (6 new themes to choose from!) and take a picture card without looking at the face of the card. Put the headband on and place the card in the headband so the illustration is facing all players. Then, play by asking questions with "yes" and "no" answers as you try to guess what's on your card! It's a race against the clock to be the first player to get three scoring badges to win.
Product Features:
EXCITING NEW HEADBAND CHOICES: 6 fun, new headbands for players to choose from, including a cat, crown, unicorn, pirate and more!

NEW CARDS AND ART ILLUSTRATIONS: Cards feature a brand-new art style and new items that the entire family will love.

EXCITING FAST-PACED FAMILY GAME: On your turn, flip over the timer and start asking yes/no questions to figure out the card shown in your headband!

QUICK START, ENGAGING & FUN GAME: Just take the game out of the box, read the easy-to-follow instructions and get ready for some awesome Hedbanz action! For 2-6 player, ages 8 and up.

FUN FOR THE WHOLE FAMILY: Next time you get together with family and friends, bring along a Spin Master game. The perfect activity for memorable game nights, birthdays, dinner parties, vacations, holiday & Christmas gifts, and any time you just want to have fun!
The Spin Master Hedbanz Picture Guessing Board Game New Editionis available on Amazon. 

Expand Your Mind Ultra-Power Battle Game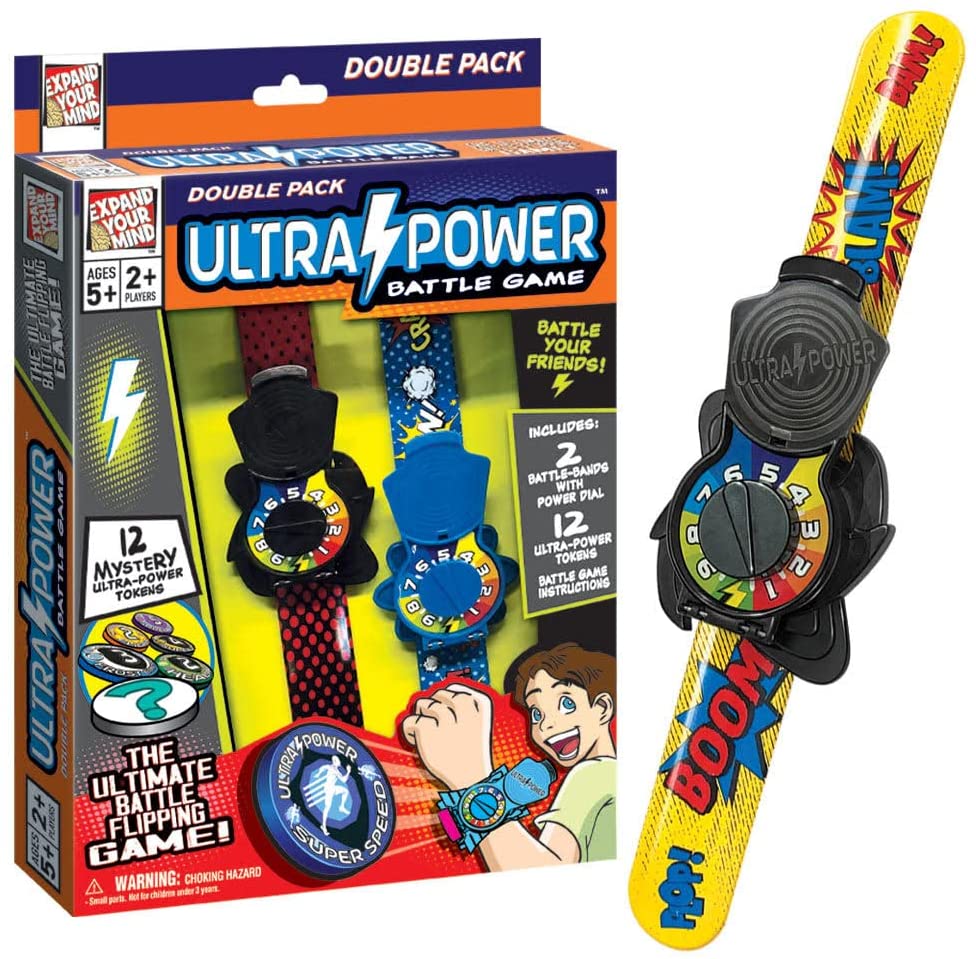 The UltraPower Battle Game by Expand Your Mind brings home all the action and fun as you duel and battle your friends by flipping the UltraPower Tokens from the Battle Band. Dial up the power and flip the token to see who wins. This fun, interactive and engaging game does not need boards, charging, or batteries making it great for on the go play. This is fun as a duel between 2 players or a group play with tons of action as everyone clashes to become the UltraPower Battle winner!
After each round, a player who loses must subtract the appropriate power from their Power Dial. The first player to get a zero power balance loses the battle; Or the player with the most Ultra-Power Tokens wins the battle! During the battle, a player may also decide to cut their losses and discontinue until later; challenge another player; or pause to resume after they have their power refreshed.
Product Features:
UltraPower Battle Game by Expand Your Mind is a fast paced and fun game with over 100 Power Tokens and 72 Battle Bands to collect!

No boards, no charging and no batteries needed to play – Action fun indoors or outdoors.

Includes 2 Battle Bands with Power Dial, 12 UltraPower Tokens and Battle Game Instructions

Designed for 2 or more players ages 5 and up.

Waybelieve LED Cornhole Lights, Remote Control Cornhole Board Edge and Ring LED Lights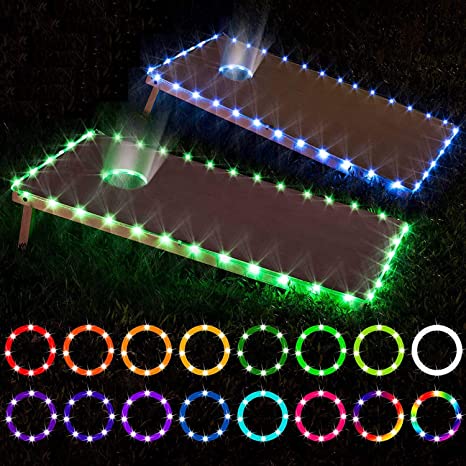 Product Features:
【LIGHT UP Cornhole RIM AT NIGHT】: Our LED Strip Light can light up the rim and ring of the cornhole hoop and have up to sixteen unique light patterns, helping to accurately record the score enjoy the fun of playing cornhole game at night.rately record the score enjoy the fun of playing cornhole game at night.

【FREE TO CHANGE COLOR WITH REMOTE CONTROL】: You can select up to 4 modes( FADE, JUMP, ASYN FADE, ASYN JUMP) and 16 colors (WHITE, RED, BLUE, GREEN, PINK, etc.) with remote control, change the light color as you like, control distance up to 16 ft.

【GOOD Addition for Cornhole】: Designed for cornhole game fans who playing at night. Fit the size of the regulation size (3 feet x 2 feet) cornhole frame. Package included: 2 x cornhole rings lights and 2 x cornhole edge lights, 1 x remote control, 2 x battery case (AA batteries not included), 1 bag of cable clips

【Thoughtful design】:The LED lights are shielded by protective tubing to withstand slams and the battery case is sealed, which is strong enough for long-term use, no worry about breakages or rain; The high-quality battery case is waterproof and anti-shock.

【Easy to Install】 The clips and nails make installation become so easy, The Flexible strip light allows you to bend or shape freely, simply tie the LED strip around the perimeter of your rim with your screwdriver, and the LED strip light will be attached to cornhole boards firmly, Then fix the battery case under the board, no need to worry about the lights or battery case falls down while tossing.
The Waybelieve LED Cornhole Lights, Remote Control Cornhole Board Edge and Ring LED Lights is available on Amazon. 

Let's get to some outdoor stuff. Here we go with the Suncast 22-Gallon Small Deck Box – Lightweight Resin Indoor/Outdoor Storage Container and Seat for Patio Cushions and Gardening Tools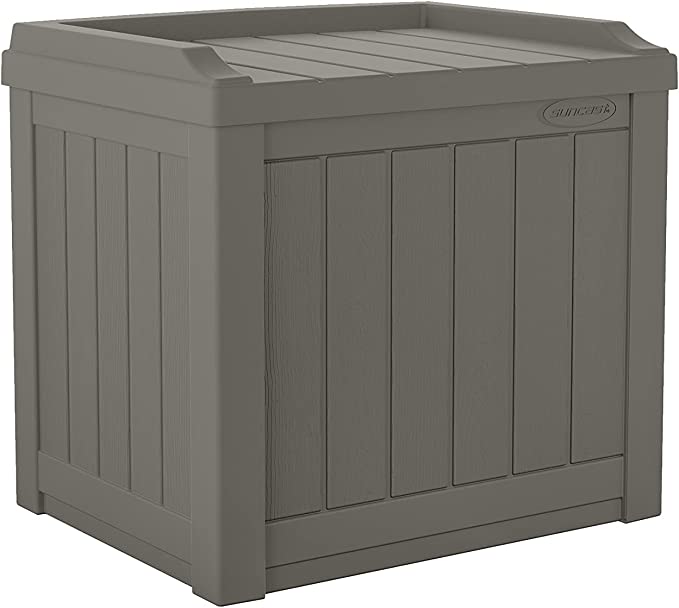 The Suncast plastic storage container is an attractive and highly versatile solution for use throughout your home and yard. The chest design and hinged lid allow for easy access to your tools and accessories. With a holding capacity of 22 gallons (17″ x 22″ x 20.5″), the deck box is compact and space-efficient, easily tucked away in your laundry room or garage. Use it on your deck to stow away patio cushions, gardening tools and grill accessories, or in your house to store boots, gloves, hats, and more. The weatherproof body will resist fading, while the rain water flows off of the box without pooling to keep your belongings dry and mildew-free. Constructed with durable and waterproof resin that is built to last a lifetime.
Product Features:
DECK STORAGE BOX: Beautiful plastic outdoor box has a 22-gallon capacity for patio, deck, yard, porch, garage, and shed storage!

DURABLE: Water-resistant poly resin construction resists fading and rust to keep your box looking new for years to come

VERSATILE: For use indoors or outdoors to store pool toys, grill supplies, patio cushions, gardening tools, sports equipment, yard gloves, and more!

FUNCTIONAL DESIGN: Lid flips open on hinges for easy access to your items. Rain water flows off of the box to keep your belongings dry and free from mildew and rust
The  Suncast 22-Gallon Small Deck Box – Lightweight Resin Indoor/Outdoor Storage Container and Seat for Patio Cushions and Gardening Tools is available on Amazon.

Indoor Garden Hydroponic Growing System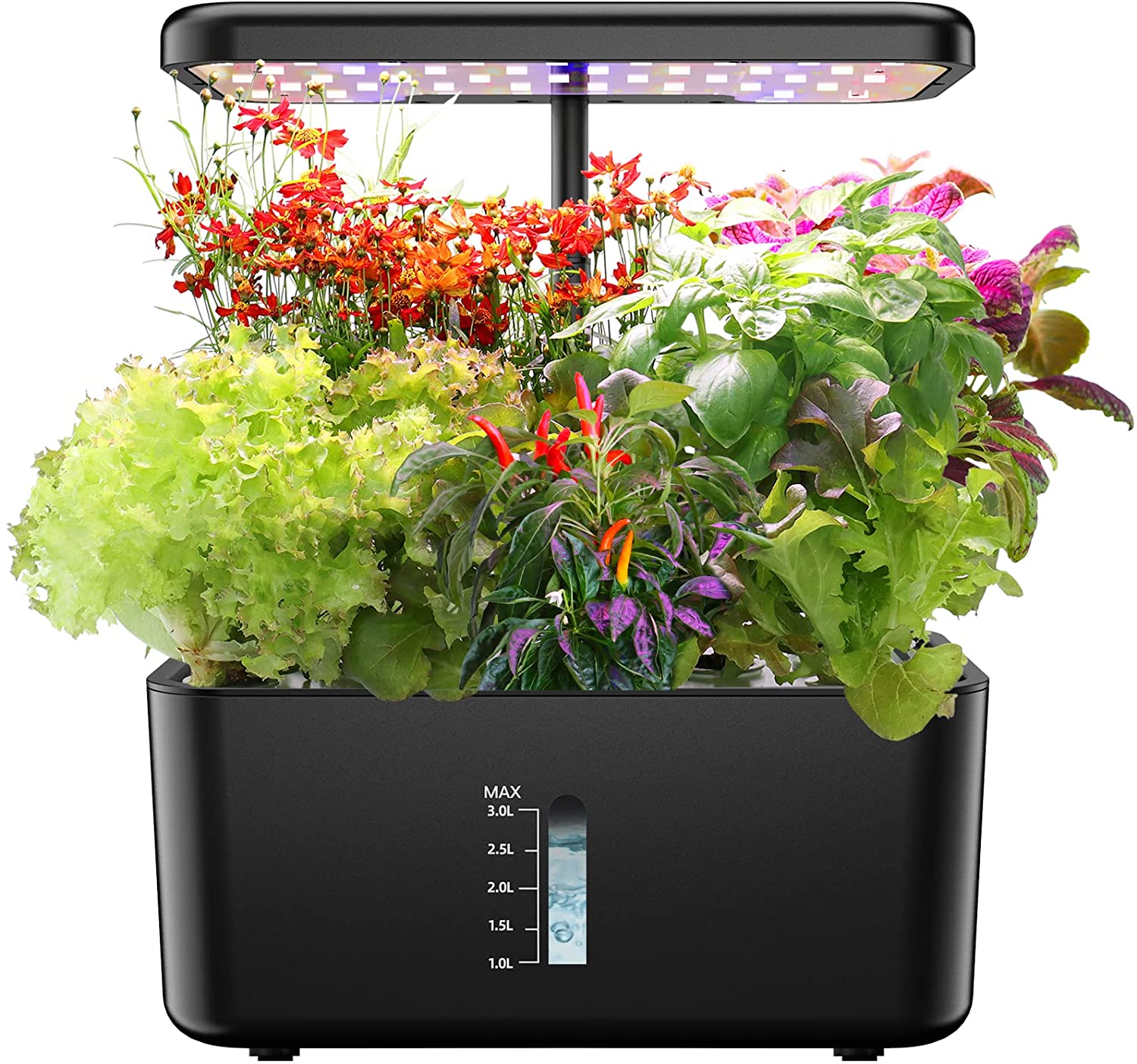 Indoor gardens are perfect additions to virtually any space, especially for those who love cooking with fresh herbs or want juicy cherry tomatoes in the winter. Here, Our hydroponic growing systems can help effectively grow flowers, herbs, fruits, and vegetables for your teas and cooking needs. This smart hydroponic planter is easy to get started: simply add the seeds, fill the water reservoir, add plant food, and wait for your garden to grow—no soil or gardening tools required.
Product Features:
30% Faster than Soil Planting: Start an indoor herb garden with the Ahopegarden hydroponic growing system, which includes a water reservoir, an overhead LED grow light, and a circulation system that keeps the water fresh. The hydroponic setup and lighting systems allow plants to grow up to three times faster and healthier in controlled conditions. Simply add plant seeds, water, and nutrients to the reservoir and watch the plants grow.

8 Pods & Water Level Window Included: This indoor grow kit with light offers 8 growing stations, yet it costs less than many six-station systems. The reservoir of our hydroponic vegetable garden kit also comes with a see-through water level window, so with a glance, you can see how much water is in the reservoir and when it's time to add more water.

2 Growing Modes for Veggies, Fruits & Flowers: The grow light of our indoor veggie growing system features full-spectrum lamps that simulate natural sunlight, and you can choose between two different light modes (vegetables or flowers & fruit ) based on what you are growing, blue for vegetables and red for fruit. Flowers also can be grown in this indoor plant grower system.

15.3 Inches Height-Adjustable Light Post: Our harvest indoor hydroponic garden comes with a bright grow light that can be adjusted in height as the plants grow taller. Plants can grow up to 15.3 inches. What's more, the grow lights are on a 16-hours-on, 8-hours-off timer. So with an automatic light timer, there's really not much you have to do to get your plants growing up.

Perfect Gift for Family: This indoor garden plant germination kit is an ideal gift for a family. Measuring 11 inches by 7 inches by 20 inches and weighing just over 2.3 pounds, this hydroponic herb growing kit is small enough to fit on the counter in the kitchen, which allows users to grow herbs and vegetables indoors year-round. This indoor planter with grow light really is the gift that keeps on giving.
The Indoor Garden Hydroponic Growing System is available on  ahopegarden & Amazon.

Omreid Garage Storage System, Garage Sports Equipment Oganizer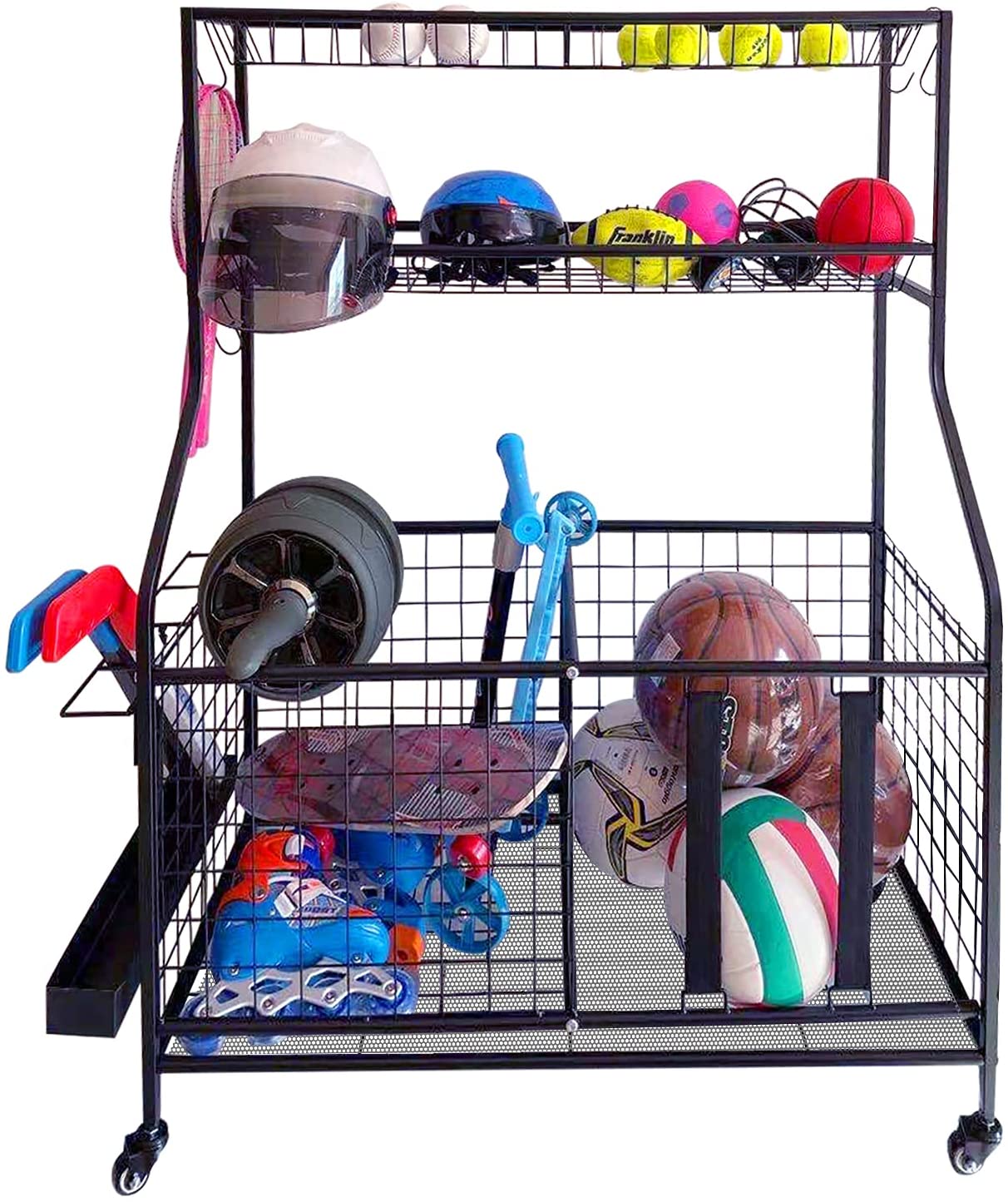 This sport utility storage organizer is ideal for a game room, garages, basement, playgroup, gym, and schools for any workplace,Simple structure makes it easy to install. With the help of instruction, you will enjoy easy installation of the whole unit. TIPS: bat rack instruction( how to put the bat rack on it ): This part does not require screws or bolts to install, just make the two top wire buckle into the two small hole. No more having all your sports balls.
Product Features:
LARGE GARAGE STORAGE SPACE : Omreid sports equipment storage cart combines 4 major parts: with 2 large bins for storage your basketballs, footballs, volleyballs and toys, etc. 2 large wire mesh basket help you storage some small balls ,such as baseballs, tennis, golf ball ; helmets, shoes ;bat racks on the cart beside for organizer hockey bats and baseball bats ; 4 garage hooks for hanging bags, jerseys, Tennis racket and all your other sportswear, making your storage easy .

MOVABLE STORAGE CART: Convenient 4 universal wheels; You can easily push the storage rack to where you want to move, and it is easy to move the organizer anywhere and fits in a specific position, organize all your indoor & outdoor sports goods.

MANY OCCASIONS: This Rolling Sports Ball Basket is ideal for a garage, home, Storage room, playroom, playgroup and schools game room, garages, basement, for any workplace. making it tidy and well-organized, preventing the chaos.

EASY TO ASSEMBALE: you can follow the instruction and install easily ;within Dozens of minutes to install. DURABLE STEEL CONSTRUCTION: the garage sports organizer made of a durable coated steel frame ,offering long-lasting strength and Wear-resistant process.

Last, if you're looking to clean out your closet and add some new Spring Fashion, check out the items below!
We have a few Spring Fashions from a few retail stores. JCPenney Jessica Howard Petite Sleeveless Floral High-Low Fit + Flare Dress
Product Feature:
Closure Type: Zipper
Neckline: Round Neck
Sleeve Length: Sleeveless
Apparel Length: 42.5 Inches
Dress Length: High Low Length
Fabric Content: 100% Polyester
Fabric Description: Chiffon
Lining Material: Polyester
Care: Machine Wash
Country of Origin: Imported

ChicMe Casual Top & Pocket Detail Shorts Set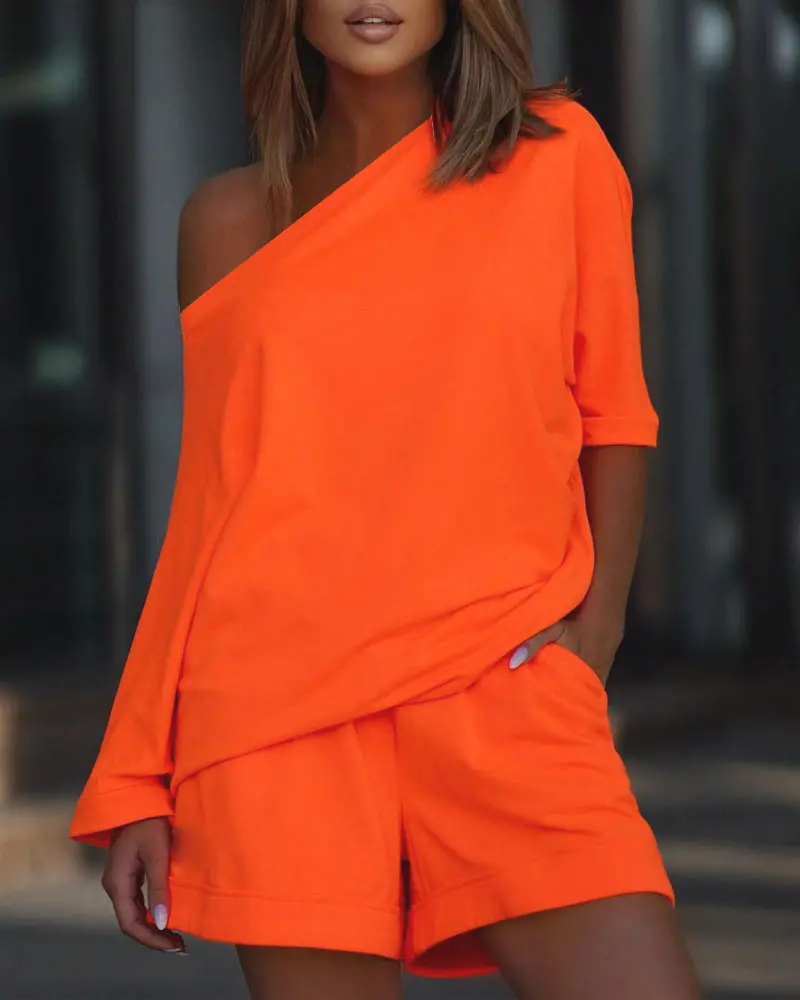 Product Features:
#Polyester
#OversizedStyle:
Casual,ChicShorts Set
Material:Polyester
Neckline:Skew Neck
Sleeve Style:Half Sleeve
Length:Above Knee
Pattern Type:Plain
Decoration:Bright,Pocket
Include:1*Shorts Set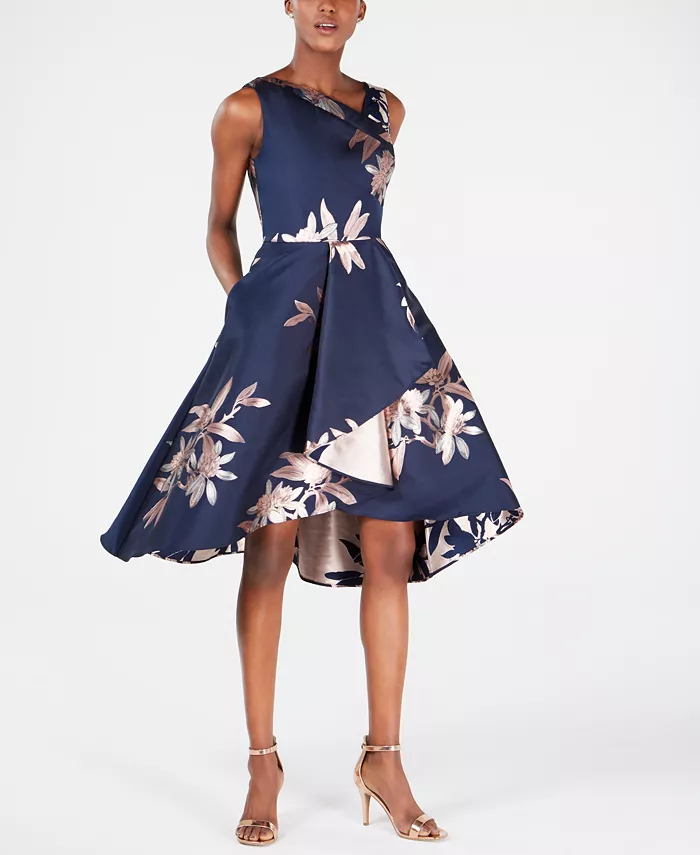 Striking floral jacquard brings a hint of shine to this updated fit & flare from Adrianna Papell, pleated and ruched for the perfect flirty shape.
Allover jacquard floral; pleated overlay skirt; side ruching at bodice
Imported
Back zipper closure
Size & Fit
Approx. model height is 5'10" and she is wearing a size 4
Approx. 38-3/8″ long from center back to hem. Length is based on size 4 and varies 1/4″ between sizes
V-neck; Fit & flare silhouette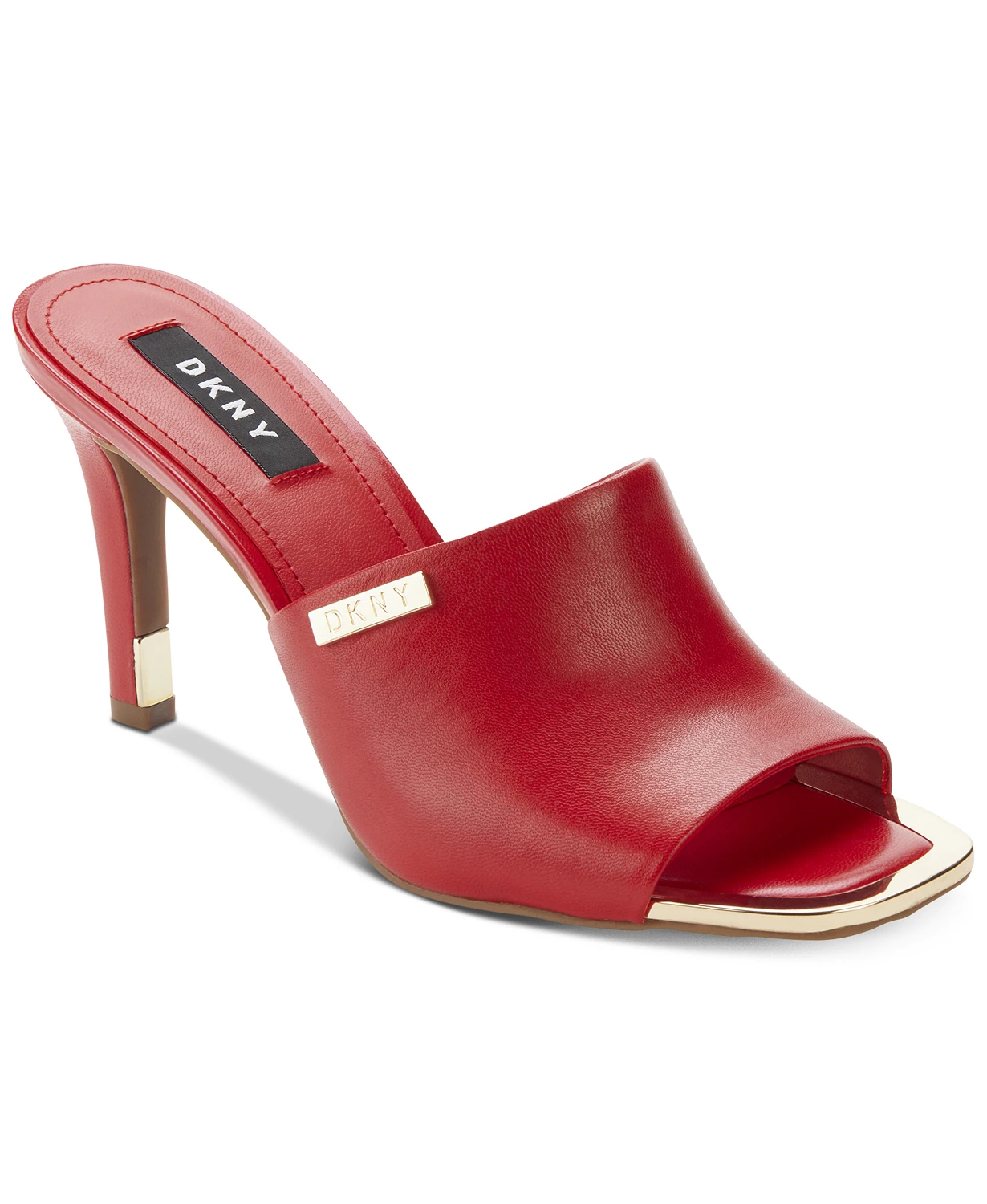 Subtle metallic flash adds brilliant shine to the versatile Bronx dress sandals from DKNY. Available in three colors, red, powder, and black.
Product Features:
3-3/4″ stiletto heel
Square-toe slip-on dress sandals
Metal rand details at toe and heel
Created for Macy's
Leather upper; leather lining; rubber sole
Imported

Women's Clipper Wide Oxford Sneaker from LUGZ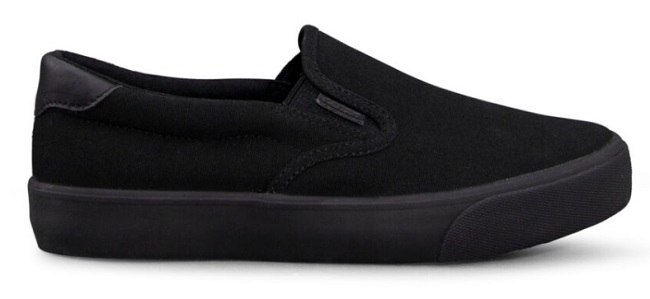 Now that Spring is in the air, put on a pair of LUGZ, head outside, and walk in comfort!
Since the brand's inception in 1993, Lugz remains a prevalent force in the ever-changing landscape of footwear. The brand continues to bolster its product offering to match the consumer's needs, while keeping a finger on the pulse of the latest trends. Outside of boots, the brand offers casual, athletic, and canvas options to help round out looks for every season. Timeless style delivered with each and every pair.
Amidst the golden age of the 90's, Lugz found its footing as a leader within the footwear and fashion space. Priding itself on quality materials and supreme comfort, the brand never wavered with the passing of trends. Whether you remember the brand's early appeal within the Hip-hop culture or the countless celebrity endorsements, one thing remains the same – Lugz distinctive style. Today, Lugz offers a full range of stylish footwear for the entire family.
Lugz product is aggressively styled using the highest quality materials for maximum durability and superior comfort. Our footwear features premium leathers and durable construction. Everything is designed with the fashion forward customer in mind.
Today Lugz has expanded beyond boots and has added casual shoes, sandals and athletics to the mix, and the brand can be found at major retailers across the country.
Kick back in style with the our best-selling fashion sneaker – the Women's Clipper Slip-On, now available in wide width. Made with soft, breathable textiles, the elastic gore on each side provides for a comfy and snug fit that you can slip into on the go. So stylish and versatile, you'll want every color (Black, Black with White, Whit) in your wardrobe. Check out all the Women's Oxford Styles. 
Well, there you have it! Some pretty awesome Spring Organizing Products, Spring fun Games and Spring Fashion. 
Disclosure: Night Helper Blog did receive sample products & compensation from the companies to showcase in our Spring Guide. We're disclosing this in accordance with the FTC guidelines.