September 13th Is International Chocolate Day, celebrate with Dave's Sweet Tooth Toffee @DavesSweetTooth
Did you know that September 13th Is International Chocolate Day? I'm going to be honest I didn't, and I was kind of shocked when I found out.
As someone who enjoys chocolate I can see myself and my kids celebrating this day in full swing! That's why when I received a few samples of chocolate from Dave's Sweet Tooth I couldn't wait to get my hands on some of their famous chocolates.
When the chocolate arrived the first thing we saw were a few bags of  DAVE'S SWEET TOOTH TOFFEE.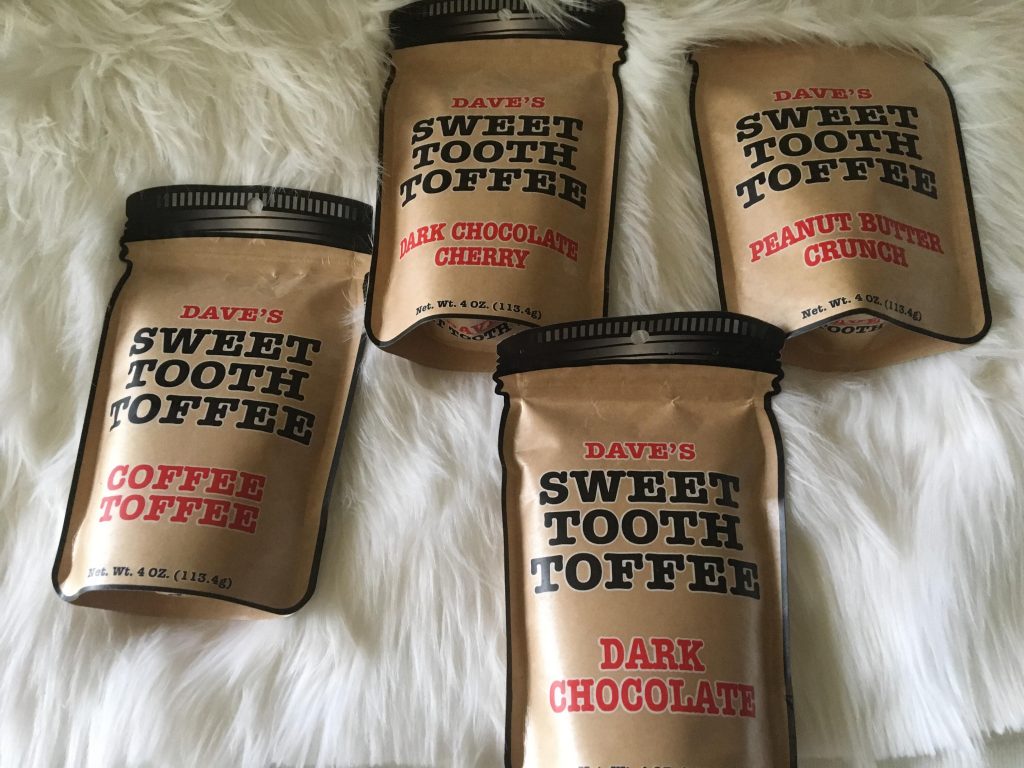 We had a bag of Coffee Toffee, Dark, Chocolate Cherry, Peanut Butter Crunch and Dark Chocolate toffee. Now let me say, we couldn't wait for International Chocolate Day lol, we had to bust open at least one of those toffee bags ASAP lol!
We all decided to try the Peanut Butter Crunch pouch first, and at the same time we all said how tasty and scrumptious the toffee tasted. As a peanut butter lover this toffee met all our chocolate , peanut butter, sweet needs. You see, the Peanut Butter Crunch ingredients involve all the delicious flavors to satisfy your sweet tooth! It has milk chocolate, peanut butter chips, almonds, and of course, the rich, buttery toffee that has made their product renowned through the midwest.
Each pouch has its own unique ingredients to makeup that awesome sweet savory taste and they are:
Naturally Gluten Free
All Natural Ingredients
No Artificial Flavors
No Preservatives
Kosher Certified
Homemade
Handmade, all right here in MI
Each toffee bag range from $5.99 but if you ask me, I would definitely buy one of the Mix & Match – 3 Pouch Option  so you can have a choice of many flavors.
Next, we have the Beanilla Vanilla Bean Toffee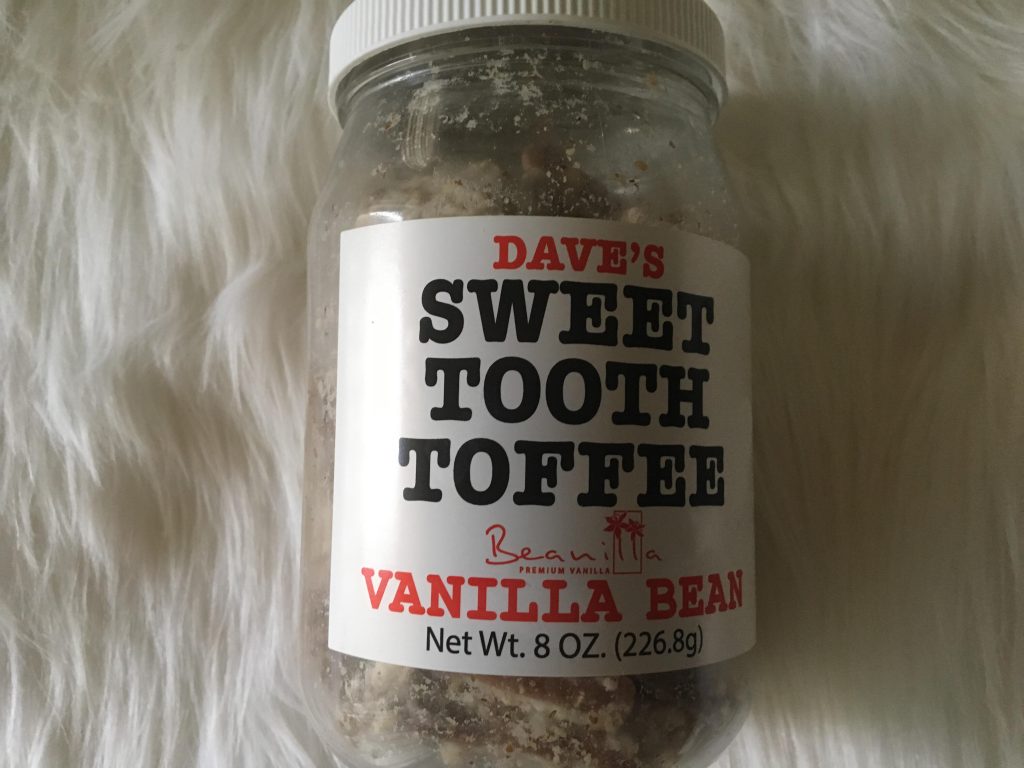 The company has stated that they first launched this tasty flavor last October as a seasonal flavor and had to bring it back sooner because of the HUGE demand.  When I say they took this flavor to another level for those of us that love sweet chocolate treats, they did that and more!
The Vanillia Bean toffee is infused with light, buttery, almond toffee, with Beanilla's premium bold, smokey, amazingly complex vanilla, and  then layering it between a perfectly balanced coating of white chocolate and crushed almonds, the flavor is the perfect for any season!
I will however like to offer one tip: If you have kids try not to allow them to consume too much because each toffee flavor is rich, and you don't want them to have a sugar high…lol
Overall, we love Dave's Sweet Tooth toffee and I'm so glad we will be celebrating September 13th Is International Chocolate Day with some good, tasting, chocolates!
What about you, have you purchased your Dave's Sweet Tooth toffee? If not visit Dave's Sweet Tooth website so you can see their wide selection of mouthwatering chocolate toffees.
You can connect with Dave's Sweet tooth chocolates via: Facebook | Twitter | Instagram|  to keep up with the latest.
Disclaimer: Howdy everyone, I just wanted to inform you that I was not compensated for this post. However, I did receive a product from the company below and the opinions expressed in this post are 100% my own. I am disclosing this in accordance with the FTC guidelines.