Seeds for a Perfect Fall Harvest
As the summer season comes to an end, it's time to start thinking about the perfect fall garden. Even if you missed the boat in the spring and summer seasons when most gardeners are busy with planting and weeding, you can still have a fall harvest and set yourself up for a colorful spring. Whether you're a novice gardener, a savvy DIYer, or a foodie looking to grow your own produce, sowing the right seeds for a bountiful fall and productive spring is essential. 
There are a variety of vegetables and tips that can be used for growing one last harvest this season, including succession sowing and using hardy or cold stratifying seeds. Get ready to dig in and discover the best seeds to sow for the perfect fall garden!
A great way to grow the ideal fall garden for a bountiful harvest is to plant seeds in late summer that will be ready for harvest by late fall. September is a crucial time for sowing seeds to yield a fall harvest. Many vegetables have a short growing season and can be planted in the spring for a summer yield and again in the fall for an additional harvest as well. 
Scallions and other hardy bunching onions are perfect for fall use and can even be overwintered for spring collection. They can tolerate mild frosts remarkably well, and they have countless uses in the kitchen. Spinach thrives in cooler temperatures and can be harvested throughout the fall and into the winter in many climates. These delicious and versatile greens are considered a super food and are sure to encourage peak health as we enter the winter season of colds and flues! 
Bush-type summer squash seeds can be sown directly into your garden, raised beds, or a container for a delicious fall vegetable. These quick-maturing squash varieties will keep your kitchen well-stocked throughout late summer and early fall! Turnips, radishes and beets are also fast-growing vegetables, with some varieties ready for harvest in as little as 40-50 days. They store very well for weeks and sometimes months to come! Quick-to-mature and cool-season vegetables are a great way to increase the duration of your garden bounty.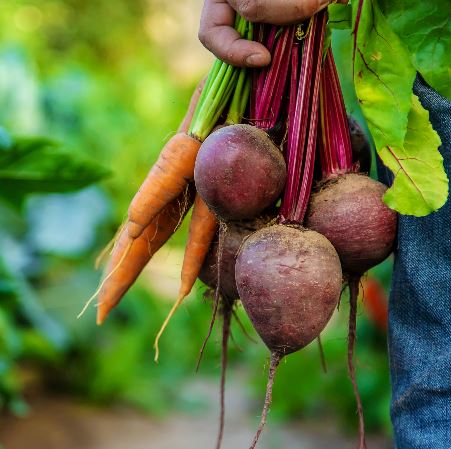 Fall succession planting is a critical tool in the fall gardener's tool belt. Succession planting is a technique that involves sowing batches of seeds at regular intervals to ensure a continuous harvest throughout the summer season and even late into the fall with some varieties. Plan ahead and determine the average date of the first frost in your area and count backward from that date to determine when to sow your last batch of seeds. 
Next, choose quick-maturing varieties that will reach maturity before your frost date. Depending on when you begin succession planting, opt for vegetable varieties with a shorter number of days to maturity, ensuring they will be ready for harvest before the first frost. 
Plant your seeds in stages. Instead of sowing all your seeds at once, stagger the planting by sowing a portion of the seeds every few weeks. This will result in a continuous supply of fresh produce throughout the fall. Some crops that are perfect for succession planting in the fall include greens, such as spinach, arugula and lettuce, as well as broccoli, kohlrabi, mustard greens and carrots. All of these options have relatively short maturity windows and can tolerate cooler weather.
Fall is also a critical time for pre-sowing seeds into the earth for an optimal spring garden; this involves sowing seeds for early blooms and bouquets the following spring. There are a variety of flowers that thrive when sown in the fall. Among these are Echinacea, also known as coneflowers, which produce beautiful blooms and are a favorite among pollinators. These flowers often bloom late into the summer and boast medicinal properties. 
Black-eyed Susans are vibrant yellow flowers that add a pop of color to any garden while attracting butterflies. Also known as Rudbeckia, these hardy, vibrant blooms are often one of the last blooms to give up at the end of the season. Lupines are known for their tall spikes of colorful flowers and are a great addition to any garden. These hardy perennials are reminiscent of mountainscapes from east to west, thriving in a variety of cooler gardens across the United States. 
Cosmos and perennial poppies are two great options that are easy to grow and produce an abundance of colorful flowers to attract bees and butterflies. Cosmos and perennial poppy seeds need to experience winter weather before they can germinate and bloom in the spring. When the spring comes, these perennials will burst into bloom much earlier than if they were sown in the spring. 
Let's also not forget the abundance of wildflower mixes on the market that provide an assortment of colorful blooms throughout the year. These mixes often grow best when they are planted in the fall and are exposed to the winter temperatures. Wildflower mixes have a wide variety of benefits that include attracting pollinators like bees, butterflies, and hummingbirds. Other benefits include erosion control and creating important habitats for a variety of beneficial organisms.
Sowing the right seeds is essential for a successful fall harvest. Whether you're planting vegetables for a bountiful harvest just in time for the holidays, or pre-seeding flowers for early spring blooms, planning and timing are key. By planting short-season plants in late summer or early fall, following fall succession planting, and pre-seeding the garden for spring blooms, novice, savvy and amateur gardeners can enjoy a productive and rewarding fall gardening experience. Grab your seeds, get your hands dirty, and prepare for a fall harvest that will delight your taste buds and beautify your garden. Learn more: www.trueleafmarket.com.
About the author: Ashleigh Smith is the managing editor at True Leaf Market, with a bachelor's degree in Horticulture from Brigham Young University – Idaho. True Leaf Market is a national certified organic, non-GMO seed and horticultural company based in Salt Lake City, Utah. The True Leaf Market staff specializes in supplying a large selection of conventional, heirloom and organic seeds to home gardeners everywhere. Learn more: www.trueleafmarket.com.