ROCKI will transform any speaker into a wireless speaker!
Disclosure: Howdy everyone, I wanted to inform you that I was not compensated for this post. However, I did receive a product and the opinions expressed in this post are 100% my own.
Not too long ago I received a small but yet interesting product called the ROCKI. To be honest when it arrived, I said to myself what is this and how does it work?
Of course I had never seen this gadget let alone heard anything about it! First, let me tell you about this cute, but yet unique product.
The ROCKI can be hooked up to any of your audio systems and speakers around the house and you can control what you want to listen to in each and every room! With ROCKI you can have more than one phone controlling the music and create a music queue together. Invite your friends to connect to ROCKI and let them add their tunes to the playlist and free their music too!
First, you have to first download the app from either the Google Play store or an Apple store. I found the app to be somewhat difficult to set up, it really took me a while to understand. I figure myself to be well versed in setting up apps, but this one was a little more tedious than the normal app I've used. After messing around with it for a while the ROCKI corresponded with my local network.
Next I named my ROCKI then I selected my ROCKI name from the top green bar and I logged into my streaming services, before I knew it my entire favorite music list was accessible through my phone.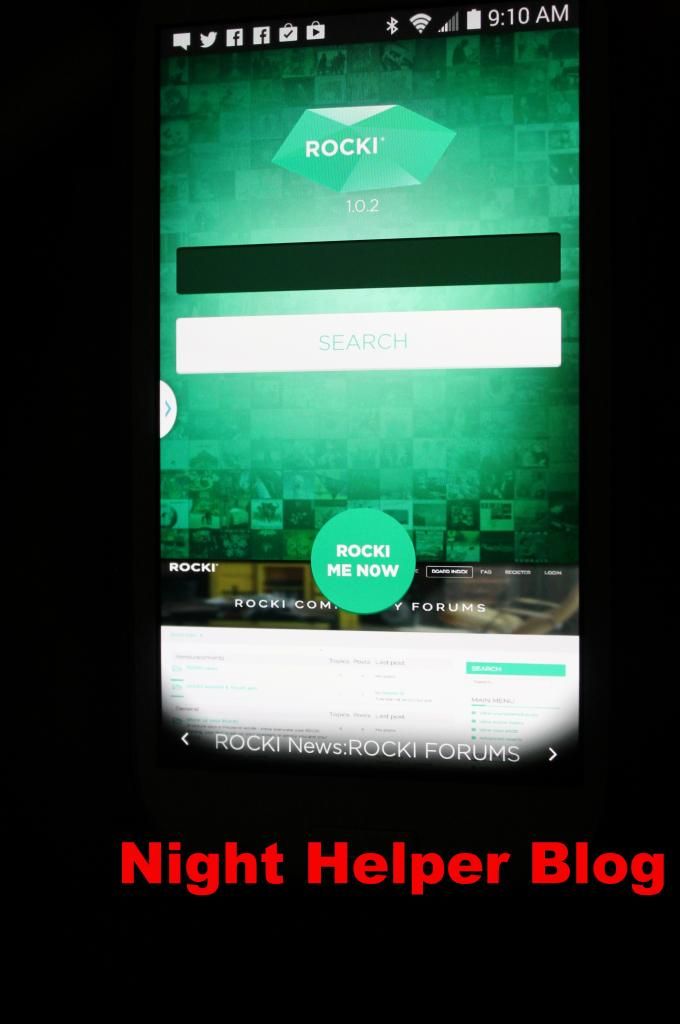 The ROCKI is equipped with two ports, a 3.5m jack and a mini USB . I paired it with one of my home systems just to run a test and I will have to say it was perfect and impressive! I enjoyed listening to my music for about an hour, I also notice that the ROCKI became a little warm during that time but overall It was nice.
I think this new little gadget( ROCKI) is a great speaker and will be a hit for all those who seek to stream their music. I'm am looking forward to seeing more services and additional apps added to the ROCKI.
Here's more details:
ROCKI: ROCKI Play
Portable WiFi enabled dongle transforms any speaker into a wireless speaker system
ROCKI works with your existing sound system by directly connecting to speakers via 3.5mm or standard RCA audio connectors

ROCKI links to your personal device via WiFi connection enabling ROCKI to transmit high quality audio, including lossless formats like FLAC, at a greater distance

Free ROCKI app allows single or multi users to conveniently stream their music. Currently available for Android and iOS with near-future launches of WindowsPhone, BB10, FirefoxOS, Ubuntu Phone

ROCKI Social Playlists app feature gives users access to multiple devices' shared music, creating socially curated playlists with a Jukebox feel

App is compatible with a multitude of sound formats: MP3, FLAC, OGG, MP4 and others

ROCKI is compatible with PC and Mac; the ROCKI app will fetch music directly from the computers' shared network folders

Use 2 or more ROCKIs for seamless sound in multiple rooms or different tunes in different rooms

Achieve up to 8 hours of playback with rechargeable Lithium Ion battery

Available in  7 stylish colors
So the next time you're looking for a small but powerful way to stream your music think of the ROCKI!!
 Connect with ROCKI via Facebook & Twitter
Visit the ROCKI website to get your ROCKI for the ROCKI is ready to ROCK with you at a reasonable price of $49, and remember the its available in 7 amazing trend colors.
Disclosure: Howdy everyone, I wanted to inform you that I was not compensated for this post. However, I did receive a product and the opinions expressed in this post are 100% my own.