Proper Pillow Proper Weighted Blanket, No Sleepless Nights!
It amazes me how some people never experience sleepless nights and many like myself always experience it! My body has become use to it now and I know exactly what time I will awake throughout the night every day.
It's so bad somedays I'm up for at least two to three hours straight. So after doing much research I found the use of a weight blanket might benefit me. I have heard that the benefits can have a wonderful experience with sleep and  can increase the body's hormonal levels and consequently help me sleep better.
Now keep in mind that weighted blankets come in various styles, sizes, weights, with various interior components so it is important that you find the right weight for your body type. They're not only good for adults, but suitable for some younger children too.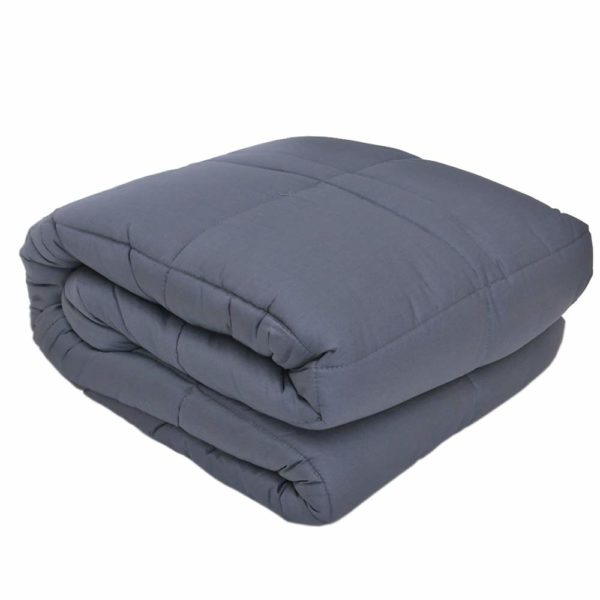 The Proper Weighted Blanket is a comfortable solution for relaxation and sleep. The Proper Weighted Blanket offers an all-natural feeling that can simulate the feeling of being held or hugged. The Proper Weighted Blanket may also help with the regulation of the autonomic nervous system. Physiological functions such as blood pressure and heart rate are proven to be affected when you sleep per the company.  Using the Proper Weighted Blanket might help to switch the autonomic nervous system to "rest" mode, encouraging the heart rate to slow and the muscles to relax. It may also promote the release of endorphins ("happy hormones"), and bring a sense of peace and calm to the body and mind. I know for a fact my issue is hormone related so I'm sure if this weight blanket can assist me with that area, I know I will get better sleep results daily.
More importantly, I really would like my sister to try this blanket . You see, she has a son with autism who has a hard time sleeping at night. I also just spoke with many of my friends just last week who also has a son/daughter that is also on the autism spectrum and they suggested she get a weight blanket to help him remain clam, relax, and sleep better at night.
Research has been shown that kids with Autism and Sensory Processing Disorder (SPD) have definite sensory needs, which is why weighted blankets are often recommended for kids with these diagnoses. I can only assume that once he is hugged up with this Proper Pillow Proper Weighted Blanket, Ben's sleep will improve and he will stay asleep!
The Proper Weighted Blanket features sterilized micro glass beads uniformly distributed throughout the blanket to ensure balanced weight distribution to the blanket. Their method of manufacturing takes into consideration the importance that these beads are woven into the pillow fill making them virtually noiseless. This weight blanket measures 48˝ x 72˝ and weighs 15lbs and is available in sizes 15-20lbs.
You can visit Proper Pillow today to see their weight blanket. Follow them via social media:  Facebook, Twitter, Pinterest
Disclosure: Howdy everyone, I wanted to inform you that I was not compensated for this post. However, I did receive a product from the company below and the opinions expressed in this post are 100% my own. I am disclosing this in accordance with the FTC guideline.