Prepare Your Home for a Newborn Baby With These Practical Tips
Congratulations on your expected blessing! Besides the joy babies bring, they come with many other bundles like expenses and numerous needs. Preparing for the arrival of a new baby is a stressful process without a proper guide. 
You may invest all your resources and strength to shop for the baby and forget to create a conducive home environment, which is critical.
Many parents, new and old, keep wondering if they are doing the right thing. These tips will take off the anxiety and confusion of prepping your home for a newborn. Read on.
Check for Electrical Fault and Water Issues
When everything is functioning, we may forget to run a check and see if there is any looming threat. Like our bodies, the electricity system in your home needs constant audit checks to prevent electrical surges, circuit breaker problems, or dead. Electrical faults are life-threatening and can also damage electronics. 
A technician can help ensure that your power flow and electricals are in the best shape and function. Imagine having a baby home during summer, and then the AC malfunctions! If that happens don't sweat it, just search online the ac tune up services available in Granbury, TX for example, to check your cooling and heating systems as you prepare for a newborn. 
Since water problems are common in many houses and can cause severe damage, have your plumbing systems checked and repaired promptly. 
Declutter
Though decluttering should happen often, there is no better time to get rid of old stuff than when you are making room for a new baby. Orderly spaces prevent mess related stress as studies confirm that decluttering positively impacts boost your mental health. 
Thinking of decluttering your home is overwhelming; hence a proper approach is crucial. Approach the project as a bit by bit undertaking. Allocating a specific period for each room will enable you to achieve your goal, as the sense of accomplishment that comes with transformed spaces is the push you need. 
Invest in storage spaces and assign space for everything to avoid cluttering spaces as soon as you have arranged them. 
Get four boxes labeled: Give away, relocate, keep and trash. Browse through every item and ensure that you place it in the correct box. While this may consume time, it helps you keep what you need in its rightful places. 
While at it, create functional spaces for baby items. 
Deep Clean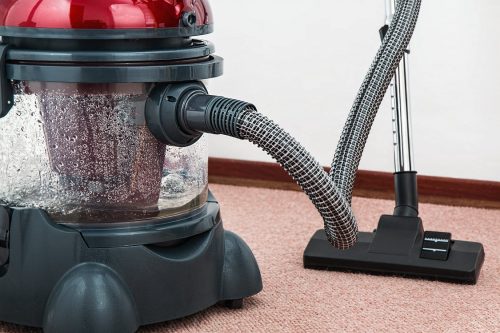 Kitchen, bathroom, and washroom harbor the most germs in your home. However, all rooms pose different risk levels of exposing you to viruses and bacteria. Babies are delicate and require a sparkling clean environment that is germ-free. 
As you approach the EDD, you may need to engage experts in the field for a thorough house cleaning, complete with fumigation services. Clean all linen and furnishings too. 
Disinfect and clean every part of the house. Take the opportunity to wash all baby clothes, shawls, and accessories, then keep them in a dust-free place, ready for arrival. 
Reorganize Your Space
You may need to move a few things around, create a room for the little one, and have things placed conveniently. Do not hesitate to move to convert a drawer into a baby storage item if you can, and take it to the newborn room. Get creative and apply a coat of paint to match to give it a fresh look. 
Remember that you may need to reorganize your wardrobe and get those loose but stylish outfits ready for the season. As you check on your wardrobe, consider the season. Preparing for a newborn will also need adequate preparation for your post-baby outfits. 
Conclusion
Getting a newborn may quickly turn into a nightmare if you are ill-prepared, while having a new life to nurture in your home is a privilege. These tips will ensure that your home is ready and conducive for the newborn baby.