Pedi Sox & Foot Cream review/giveaway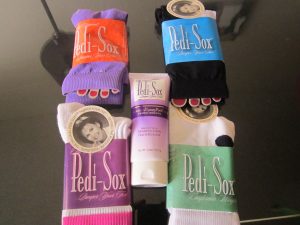 The feel of getting your feet pampered sometimes makes you want to scream with joy after working all week. I look forward to spending time with my girls every chance I get. We sometimes spend the whole day shopping and pampering ourselves. It feels so good when we visit our local spa but sometimes I don't get a chance to do it as often as I would like, so I pamper myself right in the comfort of my own home.
When I received the  Pedi Sox socks and foot cream for me and my girls to try out I was thrilled. Its been way to cold to go anywhere and this winter has brought out the worst in my skin as far as the dryness. The Pedi Sox socks come in many different colors, styles and designs.
They are very cute custom made socks you wear while doing a pedicure. Yes they are socks, toe-less socks that are unique and fashionable. Toe-less pedicure socks that help to keep your toe nails free from messy nail dilemmas.
They allow you to enjoy a pedicure year round with there toe-less feature. Great for keeping  feet moist, clean and comfortable from cold floors. I like these much better than the foot wedges many of the spa's use to assist in their pedicures. The wedges sometimes feel to tight.
No more cold feet or smudgy nails! Pedi Sox is a solution to all women's feet. They bring comfort, helps to keep feet moist, less worry about nails drying and most of all they are stylish. I'm sure any women who see you in your Pedi Sox will ask……how can I buy those.
I look forward to trying mine out this weekend with the girls. I have to wait for my oldest to come over for we never have spa day without her. Both the girls have chosen their pair already. I love the black polka dot set so I have them in my room already. LOL! I noticed that Pedi Sox  material is made for both the winter and summer.
You have the thick pair and the thin pair…I prefer the thin myself!
I tried the Pedi-Sox Cream just to see how it will feel and it felt extremely good. It applied smoothly to my feet and has a non-greasy base which I like the most. It absorbs well into my skin, leaving my feet smooth and moist. It attacked my rough soles giving my skin the nourishment it needed.
I think the creator Pamela Berryhill has invented  a great solution to enjoy the luxury of pampering your feet right in your home. I can see her products being sold in many salons and high end beauty retailers.I would only say that the thicker Pedi-Sox might need to come in an extra large size…..the one I tried on was just a little tight.
Pedi-Sox and cream are an easy solution to a common problem women face daily when we get our feet pampered and toenails polished.
So many great Benefits to Pedi-Sox:
• Feet Stay Comfy & Cozy…
• Sox Aid Moisturizer Absorption …for softer smoother feet.
• Toenails Dry Flawless …just what every girl wants.
• Lock-In Benefits….of healing serums, creams and treatments.
Just slip on Pedi-Sox® at the end of your pedicure process, right before the toenails are painted. It's that easy!
You can visit their website to see more about their wonderful products and to see how to obtain your Pedi-Sox!
Well there you have it, my Pedi-Sox & Cream review. Pedi-Sox has been kind enough to offer our readers a giveaway. Now you too will be able to enjoy these cute sox and wonderful foot cream.
Just enter below…please know all entries will be verified and please check your emails both regular and spam to see if you are a winner.
Disclaimer statement
I was not compensated for this post, however I did receive a product from Pedi-Sox. The opinions expressed in this post are 100% of my own and any product claim, statistic, quote or other representation about a product or service should be verified by the above mentioned store, PR,or product designer.