Moderno Kids Explorer 12v Ride-On Car Truck, get ready to Zoom, Zoom, Zoom away! @ModernoKids
Man, we've had a long crazy winter and now that summer is coming up soon, I can't wait to get the kids outdoors. We hibernated so much this past winter I'm for sure we all gained a few pounds. Even though we did play in the snow some we still weren't as active as we would have loved to be.
So , when I saw that Moderno kids had this bad explorer 12v kids ride-on car truck with r/c parental remote truck for Jada and Aria to ride I became so excited. You see keeping them active is so important, I would whether see them outdoors instead of playing with games or watching tv all the time.
The best part about this awesome explorer 12v kids ride-on car truck with r/c parental remote  is the kids can ride and stay active all day long.
The girls will be able to zoom, zoom, zoom throughout the neighborhood safely because not only is this explore equipped with some cool technology! It also has seatbelts for your children to be secured while they enjoy a ride.
Now the explorer 12v kids ride-on car truck with r/c parental remote arrived to us in one of Moderno signature boxes with everything you need to get your kids explore truck up and running.
It's an Explorer Battery Powered Two-Seater 12V Children Electric Ride-On Truck Car with Bluetooth MP3 Player, FM Radio, PU Foam Rubber LED Wheels, Underbody LED Kit, LED Light Bars and Full Function Parental Remote Control by Moderno Kids. Yes, you heard me right a Full Function Parental Remote Control where parents can just control this truck while the kids sit back and enjoy the ride.
Remote image
Once you have everything laid out you can begin building your Explorer 12V Kids Ride-On Car Truck with R/C Parental Remote.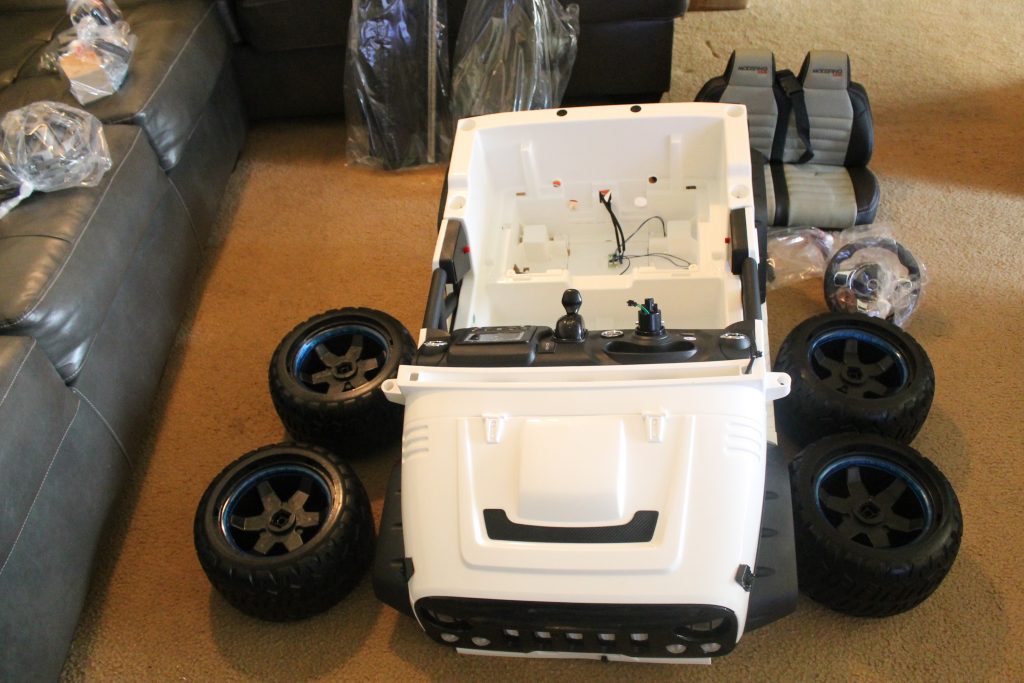 Don't worry Moderno also has a YouTube Video that can help you along the way to get the Explore running. It took us no time, at the most maybe an hour. Just make sure all pieces are included before you start, and everything is properly connected.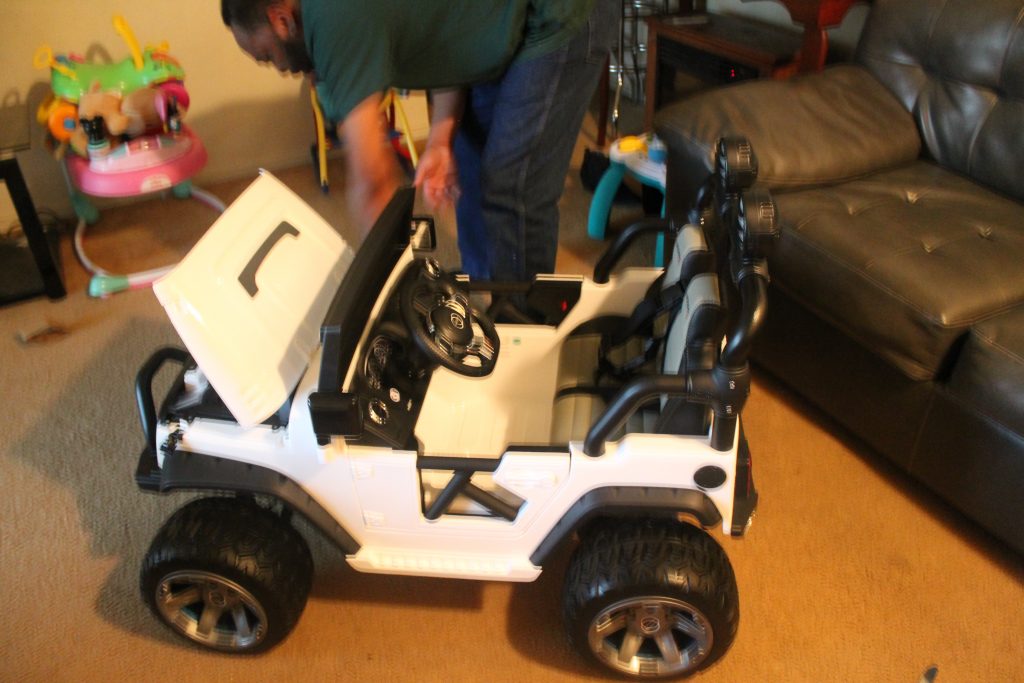 Once we were finished the Explore was ready and the kids were excited, but we had a one big problem.
We were experiencing tornadoes so the kids couldn't go outside. Instead we let Aria play around in the explore around the house.
It was so cute to see her playing like she was driving we turned on the FM radio and tried to find a station for her to listen to some music while she was driving…lol! Remember now this truck has it all Bluetooth MP3 Player, FM Radio, AUX MP3 Audio Input, Plays files from Micro SD card, USB Flash Drive or external devices like iPod, iPad, iPhone or Android Phones. Horn Sound Buttons on the Steering Wheel, On-screen Digital Battery Voltage Meter, Realistic working LED Headlights, LED Light Bars / Taillights / Dashboard Lights and Gauges. Openable Doors and Hood. I mean when you take an in-depth look at thisModernokids explore truck you'll be blown away at how awesome it really is!! My oldest daughter is 19 and the first thing out of her mouth was mom this truck is truly a realistic replica of a grown-up truck!
The LED lights might I say are very impressive. No matter where your little one is headed for their nightly stroll people will see them coming miles away due to the cool LED lights this Explore truck is equipped with.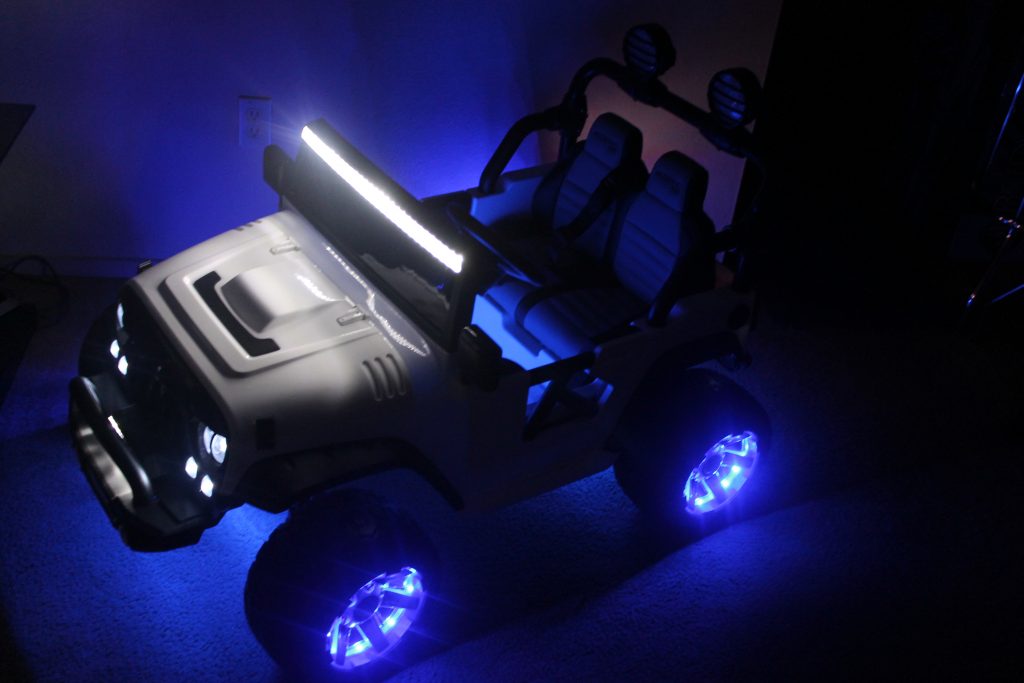 Now hold on there is much more to come. The Explore also has Soft Start and Electric Brake System for Gradual Acceleration and Reliable Braking, Wide Track Zero Maintenance Soft EVA Foam Rubber Tires with LED Lights so while your little rides they will get good traction no matter where they're riding. Preinstalled Front + Rear Spring Shock Absorbers, Underbody Soft Glow Blue LED Light Kit.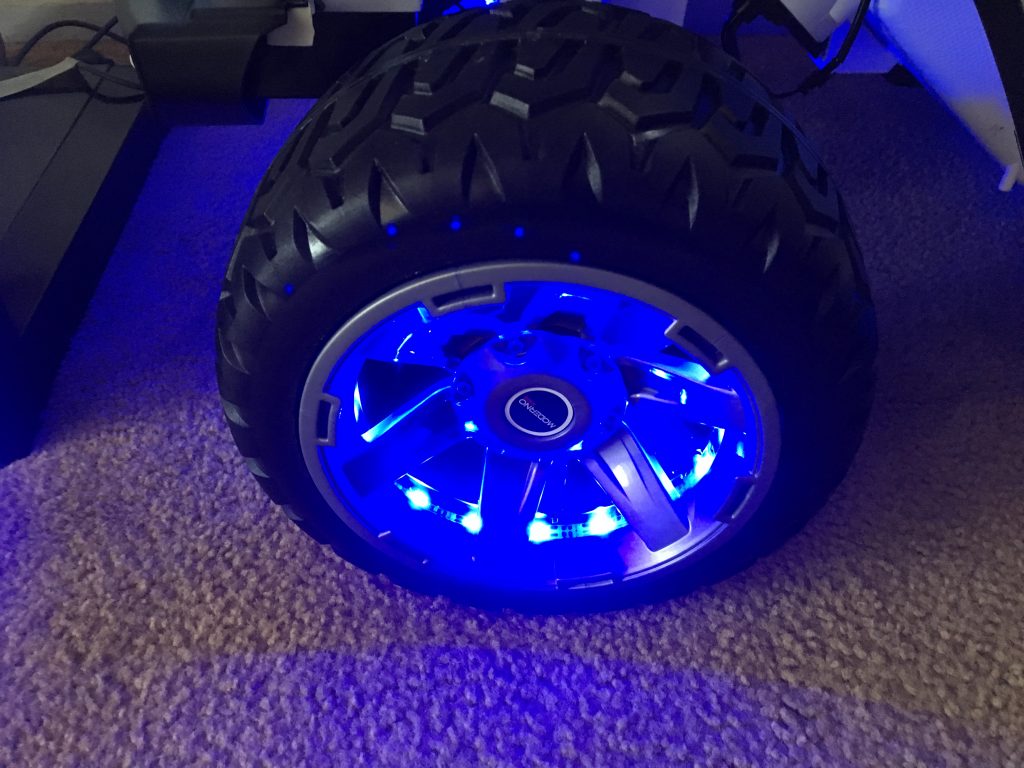 Inside your kids Explore they have a Swappable / Removable Large Capacity 12V Power Battery with Overload Protection, 2 Powerful Motors, 2 Forward Speeds (3 Speeds on Parental Remote), 1 Reverse Speed, Maximum Speed 2-5 Mph. Available to them also is Forward / Park / Reverse Shifter Switch, Lights ON/OFF Switch which is all accessible on the dashboard.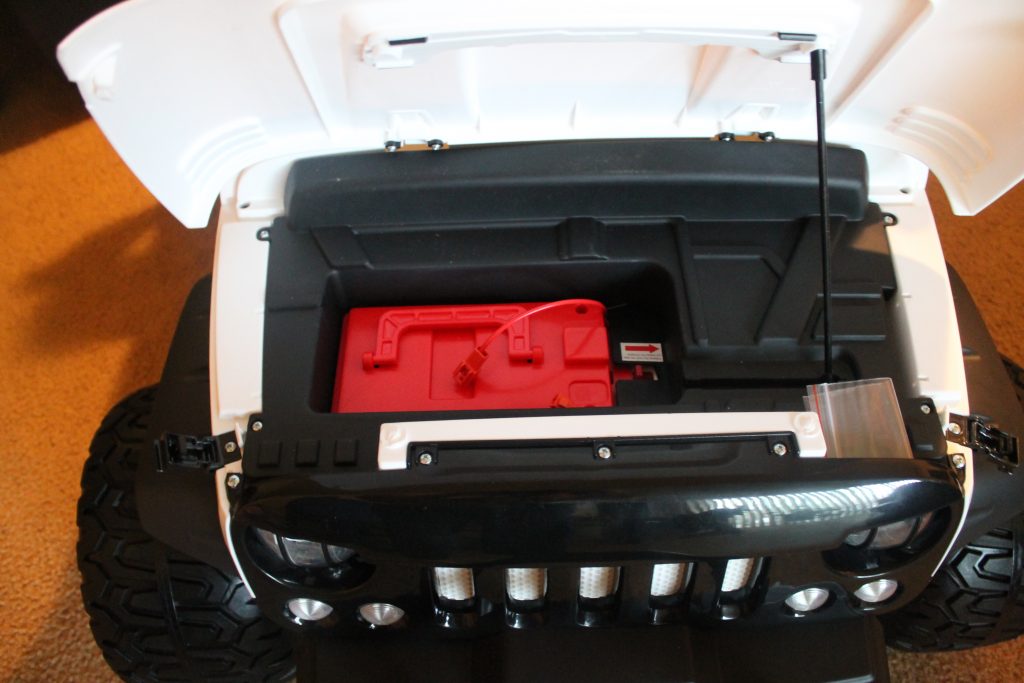 Parents don't worry about safety for Moderno made sure all their ride on vehicles are safe due to their Soft Start and Electric Brake System which also allow Gradual Acceleration and Reliable Braking. Each Moderno vehicle is ASTM F963 Compliant Product (US Consumer Toy Safety Standards).
This is the perfect truck to getting your kids up and off that couch and outside to have some fun. I can only say once again we are beyond impressed; this company took their creation of kid's vehicles to a whole new level of realistic fun.
Check out our night riding video where Jada and Aria took a little stroll in their Moderno Explorer 12V Kids Ride-On Car Truck with R/C Parental Remote | White.
This is a great investment parents and a very well-constructed, unique, spectacular, secured ride-on that every kid would love! With Spring and Summer right upon us this would be great to add to your kids outdoor activities.
You can see this awesome truck and many others on Moderno website and on Amazon. Keep in mind that this particular truck is recommended for ages three to six years old (adult supervision) and the weight recommended is 100 lbs.
Other Key Features:
NEW! Full Function Long Range 2.4Ghz Parental Remote Control with remote STOP function
NEW! Soft Start and Electric Brake System for Gradual Acceleration and Reliable Braking
NEW! Wide Track Zero Maintenance Soft EVA Foam Rubber Tires (Provide Good Traction and Comfortable Quiet Ride)
Openable Doors and Hood
NEW! Front + Rear Spring Shock Absorbers,
NEW!
Horn Sound Buttons on the Steering Wheel, On-screen Digital Battery Voltage Meter
NEW! Integrated Handlebar (Under Rear Bumper) to transport car Without Battery Power
Requires Assembly, Estimated Assembly Time is 45 min
NEW! Smart Battery Charging Technology, Automatically controls Battery Charge and Prevents Overcharging
Battery Charging Time 1 – 10 Hours (Automatically controlled), Riding Time per charge is 30 min – 90 min (Depending on ride conditions)
Assembled Dimensions: Length – 47″, Height – 30.5″, Width – 31″ (With Wheels). Seat Width – 18.5″, Seat Depth – 7.5″, Dashboard to the back of the seat – 16″ Max
Shipping Weight: 70 lb.
Warranty: 12 Month Replacement Parts / 90 Days Battery
Don't for get to connect with Moderno via  FACEBOOK | TWITTER | YOUTUBE | INSTAGRAM | PINTEREST