Koch Foods Cravers, delicious chicken for everyone!
Happy Monday everyone! Today I'm going to share with you my selection of Koch Foods Cravers. As I stated last week Koch Food Cravers has introduced a new line of chicken cravers that is sure to have everyone wanting to purchase them.
Fist let me tell you a little about the Koch Foods Co! They were established in 1985 and have created great quality products at great prices for many years. Koch Foods supplies fresh and frozen poultry products all around the world. From their cutting edge facilities that ensure unmatched food safety, to their innovative production technology designed to reduce cost and increase efficiency.
They are easy snacks to prepare, come in a variety of flavors, served in a portion  size that is for family or single use. Let's not forget about the individual sauce packages that offers more than one choice for your tenders but most importantly they are here just in time for March Madness College Basketball .
Honestly they arrived just in time for all sporting events, just grab your desired Koch Foods Chicken whether its the Oven Cravers, which consist of many selections like Breaded Broccoli and Cheese
or the Chicken Parmesan. Really doesn't matter what you choose they all taste FANTASTIC!
Sunday was game day in our home, we had one side rooting for Michigan and the other side rooting for Michigan State. It was crazy, the loud screaming for each team just wore me out but not before I decided to prepare my Sunday meal. I guess everyone was so excited about the game they didn't care what we had for dinner.
So I selected one of the Koch Foods Tender Cravers which was the Honey BBQ Tenders.
It took no time at all to cook the tenders, the baked  honey flavor was delicious and there was no need for any added sauce. Each piece was more than enough for everyone. The taste of the honey sauce and tender chicken was blended perfectly.
I decided to make a full course meal with my Koch Foods Honey BBQ Tenders, I made some Macaroni and Cheese, Greens and corn bread.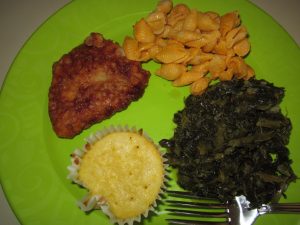 Yummy wouldn't you say! The Cravers BBQ Honey chicken was excellent and the servings were more then enough. Each piece is really big, so big I decided to cut mine in half.
Once again Koch Foods new line of Cravers are more then delicious, they are easy to prepare, great to serve for any event.
You can always visit your Local Walmart store to purchase Koch Foods Cravers.
Disclaimer Statement
I received one or more of the products mentioned above from Koch Foods at no charge for review purposes only. All opinions expressed are 100% my own and were not influenced by any other source. I am disclosing this in accordance with the FTC.